From Benedicts to Bloody Marys, this list of 55 brunch ideas are perfect for special occasions, holidays, or brunching any time of year.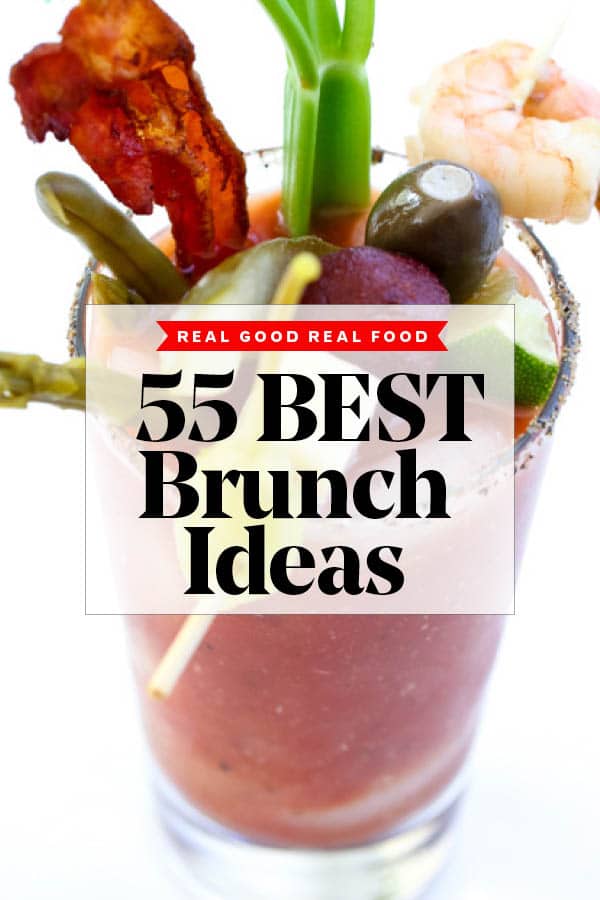 While I love breakfast food, I'm not an early-riser breakfast eater. I prefer to get my quad-shot vanilla latté in the old system before adding food to my day. That's why when it comes to brunch, I'm ready to roll. The convergence of sweet and savory (please don't make me choose) sometime around noon with a bloody mary in hand is my idea of a well-played weekend—or weekday for that matter.
From my dad's famous breakfast potatoes, a super easy-to-make hollandaise-laced eggs benedict, or classic quiche to sweet Dutch babies, I love it all, and I especially love that brunch is a great excuse to have samplings of this and bites of that. You feeling me? Good. Here's 55 sweet and savory recipes (including beverages) to answer all of your weekend brunch cravings.
Eggy Brunch Ideas
You can tell a lot about a person by what they eat for brunch. Do they go for the pancakes or do they make a beeline for something savory? No matter which category you fall under, brunch wouldn't be the same without some type of eggs.
from FoodieCrush
Traditional eggs Benedict is the Queen of brunch dishes. Toasted English muffins, savory Canadian bacon, perfectly poached eggs, and a luxuriously creamy sauce—what's not to love?
from FoodieCrush
This classic French quiche lorraine recipe is made of a luxuriously creamy egg custard, bacon and cheese filling. It's perfect for an easy, make-ahead breakfast, brunch, or lunch.
from Foodiecrush
Breakfast for a crowd has never been easier thanks to this incredibly easy to assemble, ham and cheese with bread, make-ahead overnight breakfast casserole that some may call a soufflé or a strata, but I just call delicious.
from FoodieCrush
These scrambled egg, roasted asparagus, and pancetta toasts make a light and savory breakfast or brunch that will keep you full for hours.
from FoodieCrush
This deep dish spinach bacon quiche recipe has a tender cream cheese crust that bakes up light and fluffy. Greek yogurt adds a tang and creaminess to the fluffy egg center baked with spinach, sautéed leeks, and crunchy bacon bits.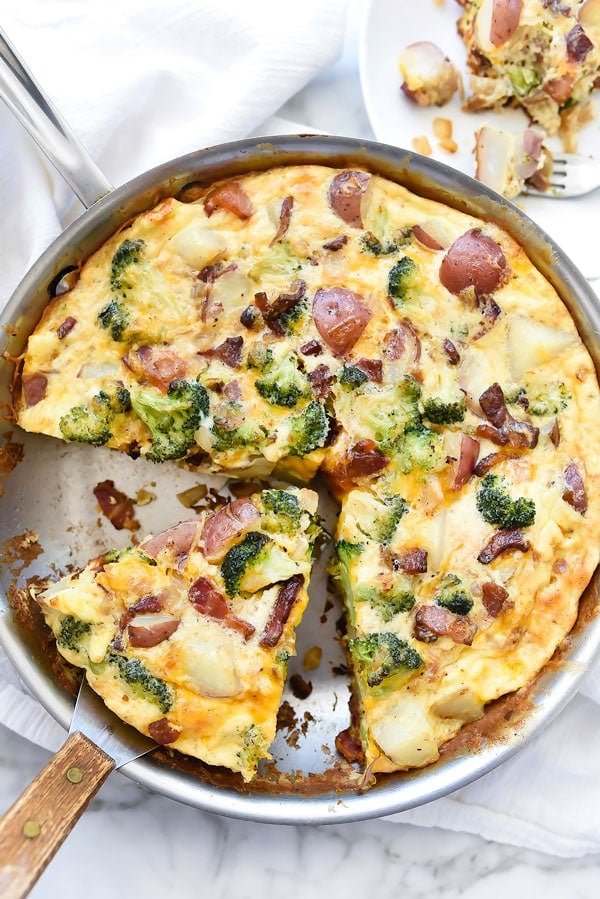 from FoodieCrush
Invented to be the perfect vehicle for any sort of leftover lounging in the fridge or flavor combination you can't get out of your head, the essence of this frittata's baked egg goodness is delivered in each and every bacon, broccoli, and potato-filled bite.
from Walder Wellness
This easy, Middle Eastern classic is so easy to make and can be made entirely on the stove and in just under 30 minutes! It's also vegetarian, gluten-free, and loaded with healthy veggies.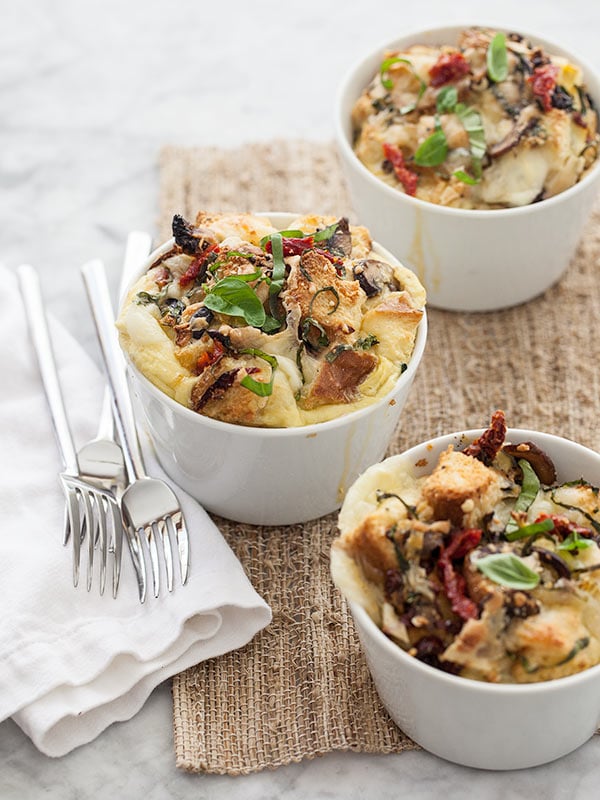 from FoodieCrush
This super easy breakfast strata is full of Mediterranean flavor thanks to kalamata olives, artichoke hearts, basil, and marinated sun dried tomatoes, and it's made extra cheesy with Parmesan and mozzarella.
from Fork in the Kitchen
This classic French sandwich is made with with Dijon, bechamel, ham, Parmesan, Gruyere, and an egg, but this recipe also includes an equally delicious vegetarian version with caramelized onions and garlic.
from FoodieCrush
Thanks to a pre-made puff pastry crust, this recipe comes together in no time for an easy breakfast or brunch. Serve with a simple salad or fresh fruit to complete the meal.
from FoodieCrush
Simple homemade chile enchilada sauce and sunny side up eggs make chilaquiles one of the quickest, most delicious Mexican brunch recipes to make at home.
from FoodieCrush
Frittata egg breakfasts are usually a meal to share, but this two-egg, single-serving recipe packed with fresh asparagus, mushrooms, green onion and a sprinkling of goat cheese is the perfect way to enjoy a quick and healthy breakfast idea for one.
Sweet Brunch Ideas
One of the best things about brunch is it's perfectly acceptable to consume cake before noon, something anyone with a sweet tooth will easily delight in. These sweet eats make me glad I don't have to wait until after dinner for dessert!
from FoodieCrush
I've searched for the best homemade cinnamon roll recipe forever. Perfectly fluffy and slathered with a buttery cream cheese frosting, this is it.
from FoodieCrush
This incredibly easy blueberry bread gets an added dose of healthy with the addition of Greek yogurt and oats, making it an even better option than banana bread or blueberry muffins.
from FoodieCrush
This easy coconut scented baked French toast is made lighter with almond milk, and features an oatmeal crumble topping for a crunchy granola texture.
from FoodieCrush
This easy lemon poppy seed muffin recipe gets a healthy boost with almonds and yogurt to make a moist muffin everyone will declare the very best.
from FoodieCrush
This easy pull-apart bread starts with frozen dinner rolls that rise overnight and are then baked in the Instant Pot pressure cooker for a sweet and fast cinnamon sugared breakfast or brunch treat.
from FoodieCrush
These pancakes go far and beyond a simple mashing of banana into pancake mix when healthy additions like old-fashioned oats and chopped pecans make your day.
from FoodieCrush
This easy Dutch baby recipe (aka German Pancake) is mixed in the blender and can be served sweet or savory with your favorite toppings.
from FoodieCrush
Want sticky buns but don't want want them fast? Enter one of my favorite shortcut recipes ever. Store-bought frozen rolls make these super easy but delightfully delicious pull-apart cinnamon pecan rolls easy to make for any weekend or holiday brunch.
from FoodieCrush
These melt-in-your-mouth buns are baked in the oven and tossed in melted butter and dusted with sugar and lemon zest, for an irresistible brunch treat.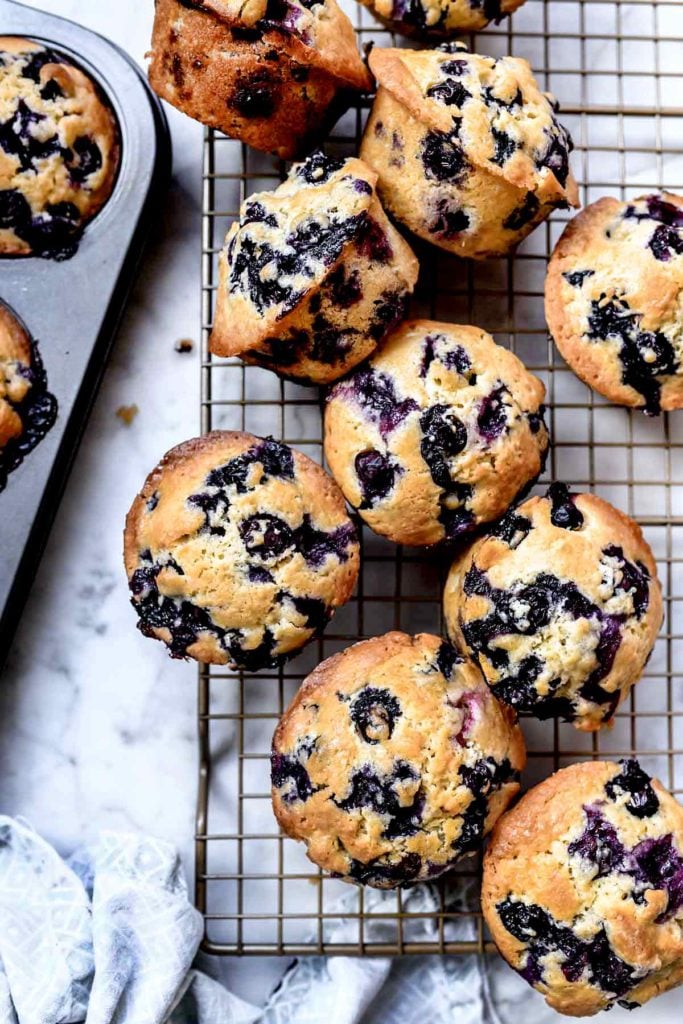 from FoodieCrush
These homemade blueberry muffins are moist, loaded with berries, and so easy to make from scratch that I'll never make the boxed kind again.
from FoodieCrush
Bananas are always in season, and even better if they've hung around a bit, making any time the right time for this classic banana bread that's moist, sweet, and perfectly delicious every time.
from FoodieCrush
This banana bread inspired French toast is made with store-bought cinnamon swirl bread for an extra layer of flavor and has an awesome, crunchy oat topping. The addition of chocolate chips make it super indulgent.
from FoodieCrush
This award-winning blueberry buckle recipe is studded with sweet, juicy blueberries and topped with a crumbly streusel and lemon glaze for a sweet brunch treat.
from FoodieCrush
Dark, sweet cherries are added to an almond flavored batter for an easy quick bread recipe that's a sweet treat to eat and share with friends.
from FoodieCrush
Individual servings of french toast are an easy make-ahead breakfast. This recipe serves 3 to 4 so double the recipe if you're feeding more.
from FoodieCrush
This super easy crepe recipe is customizable, so you can add your favorite sweet or savory fillings and have the best of both worlds.
from FoodieCrush
This French toast casserole gets an extra dose of special with a sweet and nutty crunch PLUS savory sweet bacon with each bite. Bonus? It can sit in the fridge for up to 2 days before baking.

Sandwiches, Salads, and More
From chicken salad sandwiches on buttery croissants to the breakfast pizza of your dreams, these dishes are the ones your brunch dreams are made of.
from FoodieCrush
An overnight brine of buttermilk and Cholula® Hot Sauce gives a juicy kick to these chicken and waffle slider sandwiches.
from The Modern Proper
These fully loaded breakfast tacos feature bacon, scrambled eggs, cheddar, avocado, and pico de gallo, and are an excellent brunch option since you can set up a taco bar and let people build their own.
from FoodieCrush
This chicken salad recipe with grapes and nuts is a classic when it comes to a light, springy brunch, and is especially delicious served on a buttery croissant.
from Hapa Nom Nom
You eat a BEC for breakfast, so why not a BEC pizza? This pizza is topped with crispy pancetta, runny eggs, and cheese and tastes just like carbonara in pizza form.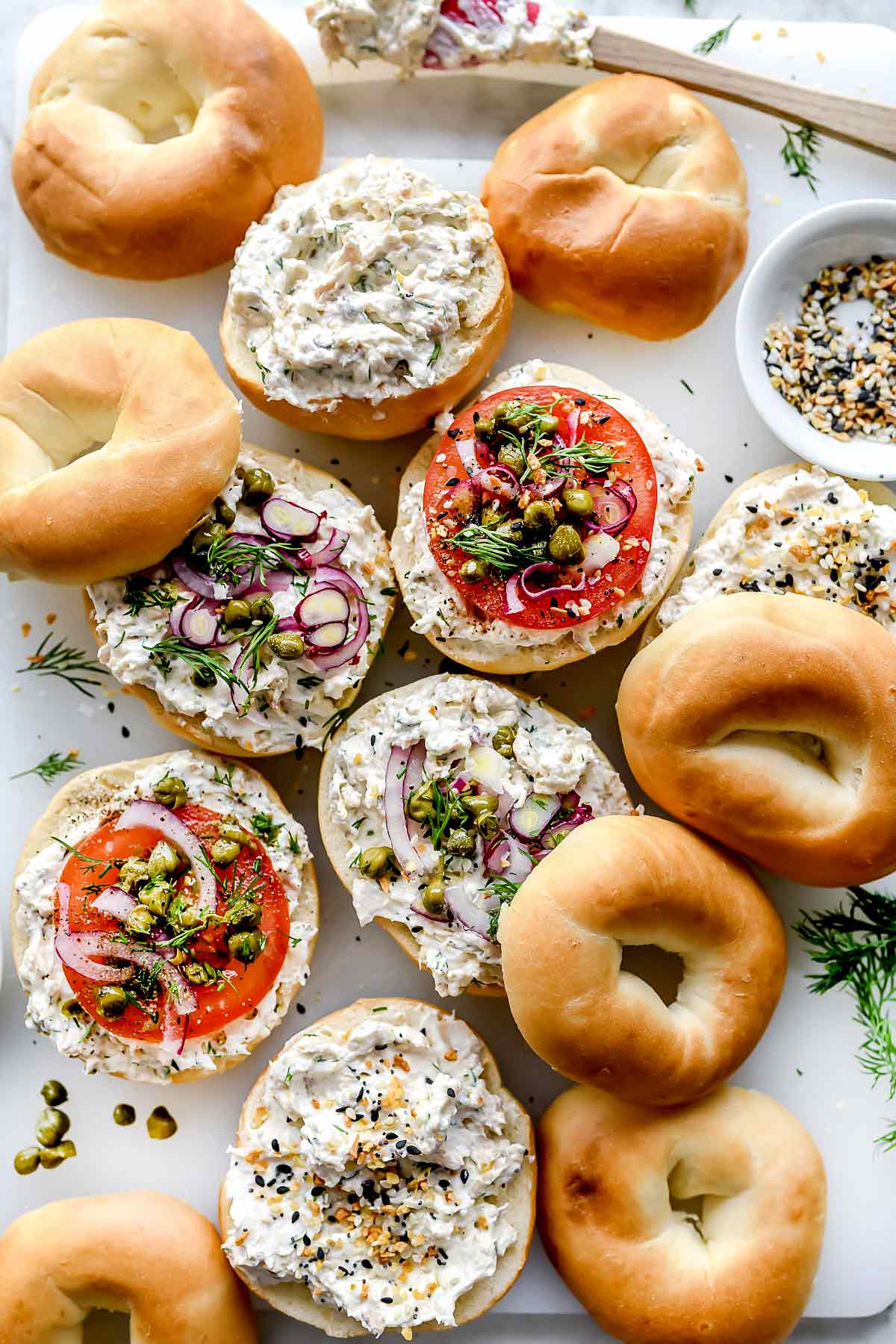 from FoodieCrush
This whipped smoked salmon cream cheese spread is my favorite bagel topping, but I don't just stop there. I love adding a tomato slice, some capers, fresh dill, and a bit of thinly sliced red onion for the ultimate bagel sandwich.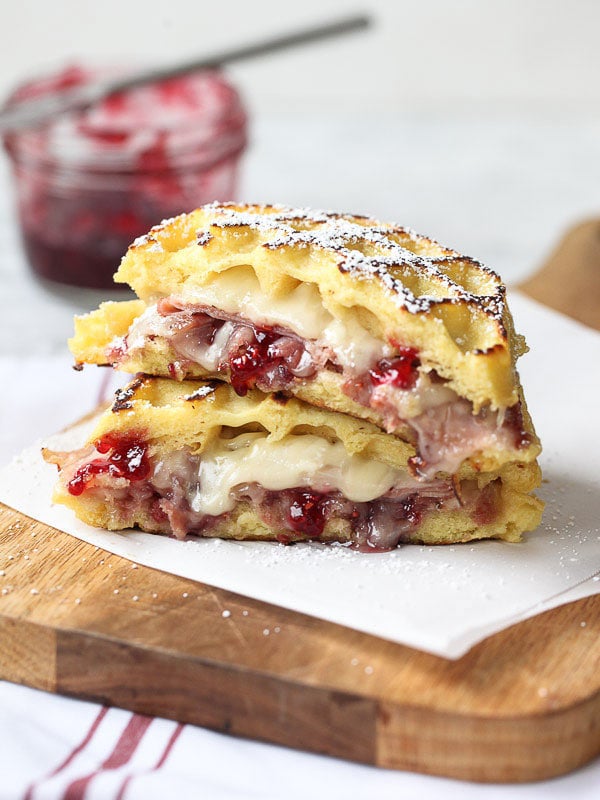 from FoodieCrush
The Monte Cristo sandwich is a masterful blend of sweet and savory. Made with honey baked ham, deli turkey, Swiss cheese, and raspberry preserves, I take it up another notch and swap bread for toaster waffles (and will never go back!).
from How Sweet Eats
This savory tart is just begging you to invite your friends over for brunch. Inspired by the perfect bagel sandwich, buttery puff pastry is smeared with cream cheese and sprinkled with everything seasoning, then topped with smoked salmon, capers, pickled red onion, and dill.
from FoodieCrush
Curry and onion powder add an exotic heat to the traditional egg salad sandwich, making it fit for an every day breakfast, lunch or light nibble. I love cutting these into little triangles and serving them as a light appetizer.
from FoodieCrush
This light and easy-to-make pizza is topped with salty prosciutto, juicy strawberries, and raspberries, creamy ricotta, and fresh arugula, and is perfect for warm spring or summer brunches or dinners!
from FoodieCrush
This classic shrimp and grits recipe comes from Washington D.C.'s popular Founding Farmers restaurant. With its smoky bacon and Andouille sausage flavor, you'll never want to eat tender shrimp over creamy grits any other way.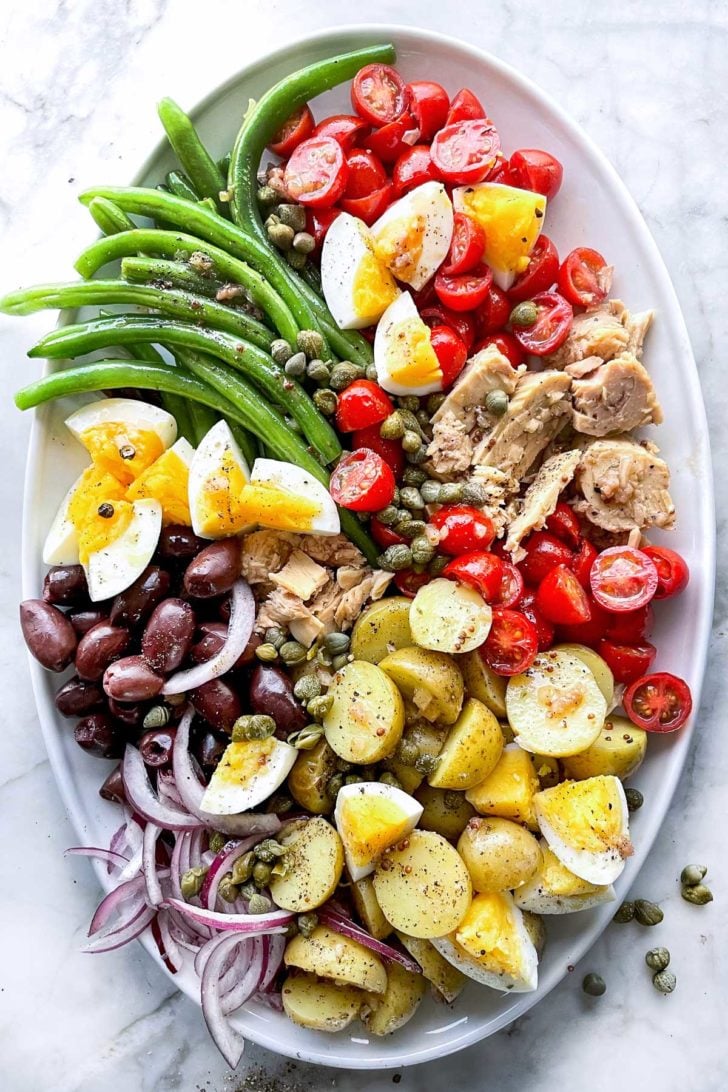 from FoodieCrush
This classic Nicoise salad is light, fresh, and colorful, and the perfect dish to make easy spring or summer lunches or brunch.
from FoodieCrush
A simple balsamic dressing does double duty as a marinade for the chicken in this light and healthy, fresh avocado and strawberry spinach salad.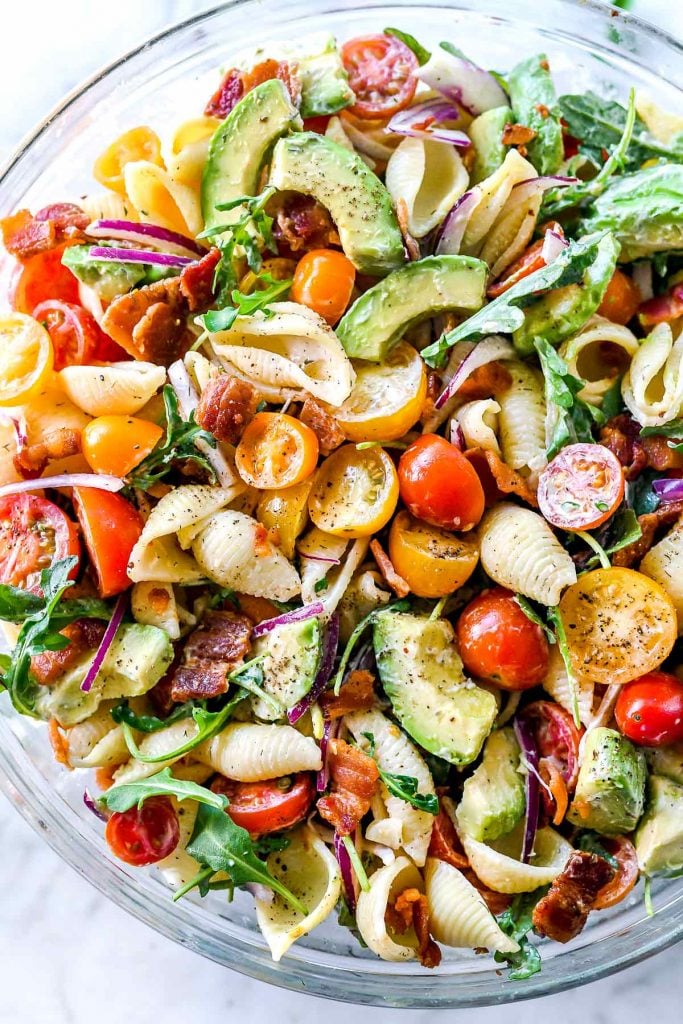 from FoodieCrush
This creamy, easy BLT pasta salad recipe is loaded with tomatoes, arugula, and avocado, plus crispy bacon that's all topped with a super simple Ranch-style dressing made healthier with a combo of Greek yogurt and mayo.
from FoodieCrush
This Chinese Chicken Salad takes the lighter road than the heavier versions I always see at those popular food chains that everyone loves. It's made with crunchy romaine, wontons, and an almond crunch, and is topped with protein-packed chicken breast, pasta noodles, and a flavor-flav sesame dressing.
Brunch Ideas Bevs
Brunch wouldn't be complete without a fun libation. From the BEST bloody Mary to classic mimosas, here are some of my favorite brunch sips.
from FoodieCrush
This Bloody Mary recipe with the best homemade mix makes a spicy, flavorful vodka cocktail. Add as many toppings as you'd like to get your drink just right!
from The Speckled Palate
Made with orange and pineapple juice, grenadine, and orange bitters (instead of tequila), this alcohol-free version of the tequila sunrise cocktail is tropical tasting and delicious.
from Brooklyn Supper
This classic British cocktail is especially perfect for spring or summer celebrations. It's made with fresh strawberries, cucumbers, tarragon, mint, and lime, and is a refreshing, lower-alcohol drink.
from FoodieCrush
Mimosas made with bubbly sparkling wine instead of expensive champagne adds one more reason to toast "cheers" to lazy weekend brunches or any special occasion.
from Zestful Kitchen
For a vibrant spin on the classic bloody mary, this green version is made with tomatillos, yellow tomatoes, tart green apple, jalapeño, and fresh herbs. It's sweet and refreshing with just the right amount of heat.
from Irena Macri
This fruity, fizzy drink is perfect for any time of year, and there are also fun and easy variations such as raspberry bellini, guava. You can even make frozen versions!
from Joy the Baker
Perfect and playful for a crowd, these savory, slightly spicy micheladas are made with light Mexican beer, spicy tomato juice, salty clam juice, lime, hot sauce, and a salty rim.
from FoodieCrush
Lightly sweetened with honey and banana, this healthy mango smoothie is perfect for a quick breakfast or snack. It's perfectly creamy and oh-so good!
Brunch Side Dish Ideas
From fresh fruit salads to the best breakfast potatoes, brunch would be definitely be remiss without these supporting sides.
from FoodieCrush
Ditch the bag of frozen hash browns and make my Dad's better-than-your-favorite-restaurant fried breakfast potatoes with onions instead.
from FoodieCrush
This easy Greek yogurt fruit dip recipe is made with just 3 ingredients and makes eating fruit dip with apples, strawberries and more seem like a party.
from FoodieCrush
A mix of berries, melon, oranges and pineapple gets tossed with honey, fresh orange and lime juice and mint, making for a healthy, colorful and bright fruit salad that's both light and refreshing.
from FoodieCrush
This ambrosia salad recipe is a favorite family holiday side made with a mixture of tropical fruit and marshmallows bathed in a sweet and tangy whipped sour cream, but it's so yummy, I love it all year-round.
If you make this recipe, please let me know! Leave a ⭐️⭐️⭐️⭐️⭐️ rating on this recipe below and leave a comment, take a photo and tag me on Instagram with #foodiecrusheats.
Print
55 BEST Brunch Ideas | The BEST Bloody Mary Recipe
This list of 55 brunch ideas starts with a Bloody Mary recipe that makes a spicy, flavorful vodka cocktail. Make it a bloody Mary bar and add as many toppings as you'd like to get your drink just right!
Ingredients
1

48-ounce

can of tomato juice

, or about 6 cups

3

tablespoons

prepared creamy hot horseradish

3

tablespoons

Worcestershire sauce

2 ¼

teaspoons

celery salt

3

teaspoons

garlic salt

Tabasco sauce

Freshly ground black pepper

vodka

1

tablespoon

celery salt

1

tablespoon

kosher salt
Instructions
Mix the tomato juice, horseradish, Worcestershire sauce, celery salt, garlic salt and black pepper in a large pitcher. Season with 10-15 shakes of Tabasco sauce, or to taste. Refrigerate until ready to serve.

To assemble drinks, mix the celery salt and kosher salt on a small plate. Dip the rim of your glass in a shallow amount of water, then dip into the salt mix and twist. Fill an 8-ounce glass to the top with ice. Add 2 ounces of vodka then top with bloody mary tomato mixture.

Garnish with limes, lemons, celery ribs, blue cheese stuffed olives, bacon strips, pepperocinis, cooked shrimp, hot sauce, pickles, pickled asparagus or green beans, pickled beets, chunks of cheese, and anything your heart desires.
Notes
Be sure to have skewers on hand that are long enough to fit the size of your trimmings for maximum loadability.
Nutrition
Calories:
139
kcal
|
Carbohydrates:
2
g
|
Protein:
1
g
|
Fat:
1
g
|
Saturated Fat:
1
g
|
Polyunsaturated Fat:
1
g
|
Monounsaturated Fat:
1
g
|
Sodium:
3377
mg
|
Potassium:
66
mg
|
Fiber:
1
g
|
Sugar:
1
g
|
Vitamin A:
6
IU
|
Vitamin C:
2
mg
|
Calcium:
12
mg
|
Iron:
1
mg
We send good emails. Subscribe to FoodieCrush and have each post plus exclusive content only for our subscribers delivered straight to your e-mail box.
Follow me on Instagram, Facebook, Pinterest, and Twitter for more FoodieCrush inspiration.
As always, thank you for reading and supporting companies I partner with, which allows me to create more unique content and recipes for you. There may be affiliate links in this post of which I receive a small commission. All opinions are always my own.