Store-bought frozen rolls make these super easy but delightfully delicious pull-apart cinnamon pecan rolls easy to make for any weekend or holiday brunch.
This post is in partnership with McCormick
I am a nut about Christmas traditions.
Even today, I still make sure the garish Christmas ornament I made in third grade from a paper plate wrapped with red and green yarn to look like a wreath and sporting a photo of my Brownie Scout-buck-toothed grin hangs in its place of glory, in the same spot, every year, on my mom's elegantly decorated Christmas tree.
When it comes to holiday traditions, it's the little things that count.
For our family, one of the most revered traditions is our Christmas morning breakfast. In fact it's so special, we only serve it once a year, and this pecan cinnamon monkey bread is a favorite part of it. 
I can't remember even one Christmas as a kid that we didn't have these pull-apart pecan rolls. Every Christmas Eve, the last thing my mom would do before we went to bed was put the pecan cinnamon rolls together to rise on the counter overnight.
"Don't let me forget to make the pecan rolls," was pretty much our signal it was time for us to get our little elfin' booties to bed, close our eyes, and begin searching for visions of sugarplums so my mom Santa could put the presents around the tree.
I've been meaning to share this pecan rolls recipe on the bloggity blog for several years, so when McCormick asked me to share a holiday recipe with cinnamon included, I knew right away what it was going to be. I'm not sure where this family recipe originated, because my mom passed it along to me along with a bunch of other family favorites, including the other only-served-at-Christmas-time-treasure: my favorite Ham and Cheese Breakfast Casserole.
Later in life I discovered a few variations of this caramel clustered bread that some call sticky buns or monkey bread. But no matter what you call it, these pecan rolls will always be my signal that Santa is almost here.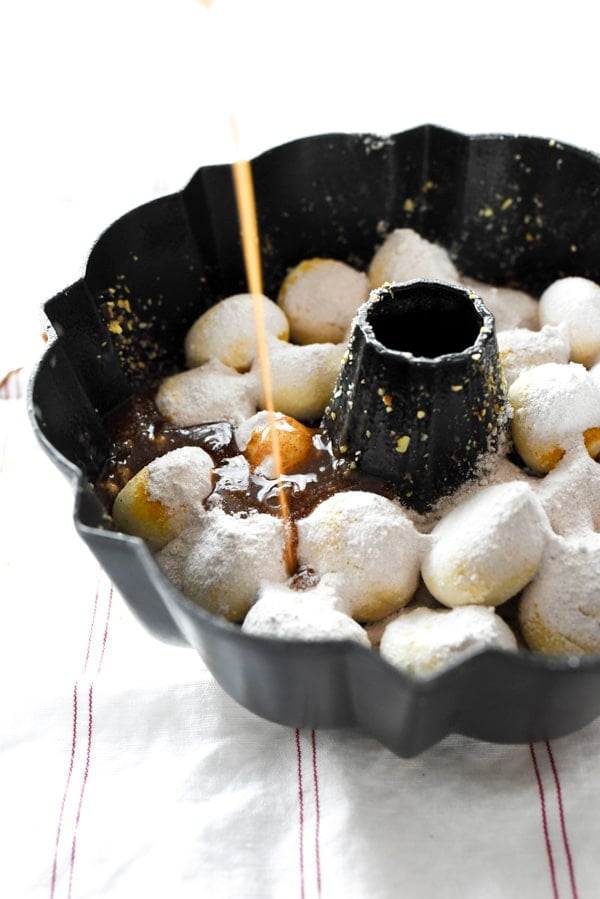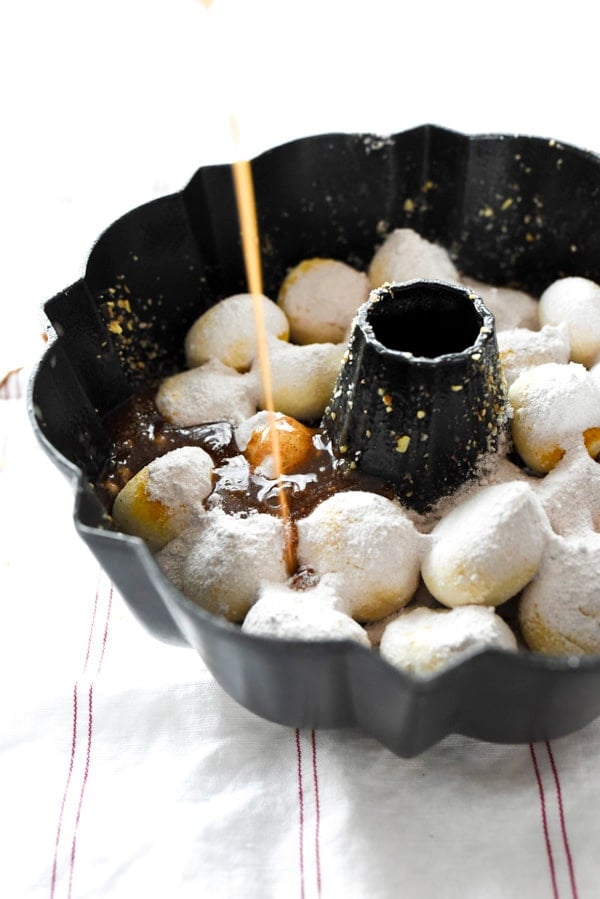 What's in These Pecan Rolls?
This bundt pan roll recipe couldn't be easier. Which means it also couldn't be better.
It starts with a classic dinnertime shortcut many eat all year round for dinner, but work equally as well for serving an easy brunch sweet treat: Frozen dinner rolls.
Chopped pecans add a caramel-crunch factor that lie on the bottom of the pan so that when inverted immediately after pulling from the oven, create a really pretty, stick to your fingers crunchy topping. 
The caramel base gets extra holiday flavor thanks to McCormick ground cinnamon added to melted butter and brown sugar then poured over the butterscotch pudding dusted rolls.
McCormick's ground cinnamon is a favorite of kids and adults alike for its mild but distinct flavor. In the U.S. we mainly associate it with sweet dessert or brunch dishes, but it's a favorite spice in savory dishes worldwide like North Africa, Spain, Mexico, and the Middle East.
But in breakfast and brunch rolls? I know you'll agree that the cinnamon flavor is a holiday classic.
How to Make Pull-Apart Pecan Rolls
This monkey bread with biscuits comes together in no time. First, I liberally spray the bundt pan with non-stick spray. Care must be taken when greasing the pan, as the caramel coating that's created when baking will stick to the sides like nobody's business if you don't. 
Then, I sprinkle the nuts on the bottom of the greased bundt pan. I usually chop a few of the nuts really finely and sprinkle on the edges of the pan so they stick to the sides of the rolls as they rise. 
Next up, the still-frozen rolls are loaded in. Sprinkle the rolls with the packet of butterscotch pudding, then top with a mixture of melted butter, cinnamon, and brown sugar. 
Set the pan out in a non-drafty place overnight to rise. Once risen, bake the pecan rolls until golden on top.
Do I Have to Let the Rolls Rise?
If you forget to make the rolls the night before to rise overnight (it happens), don't despair! Prepare the rolls and place the bundt pan in the oven at 200 degrees for 1 hour then increase the oven temperature to 350 degrees F and bake.
Can I Add Other Spices?
I don't see why not! I bet nutmeg, ground ginger, and maybe even cardamom would taste delicious in this cinnamon monkey bread.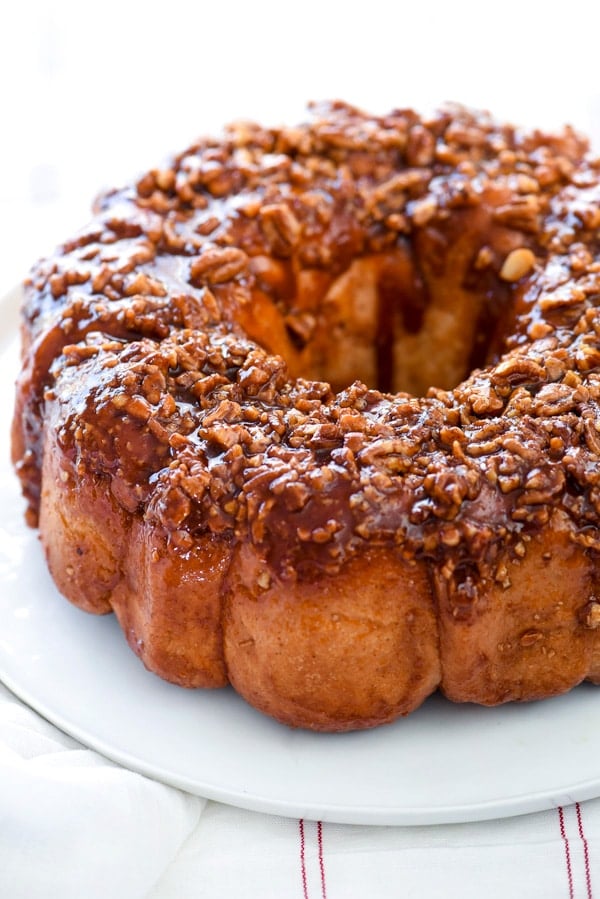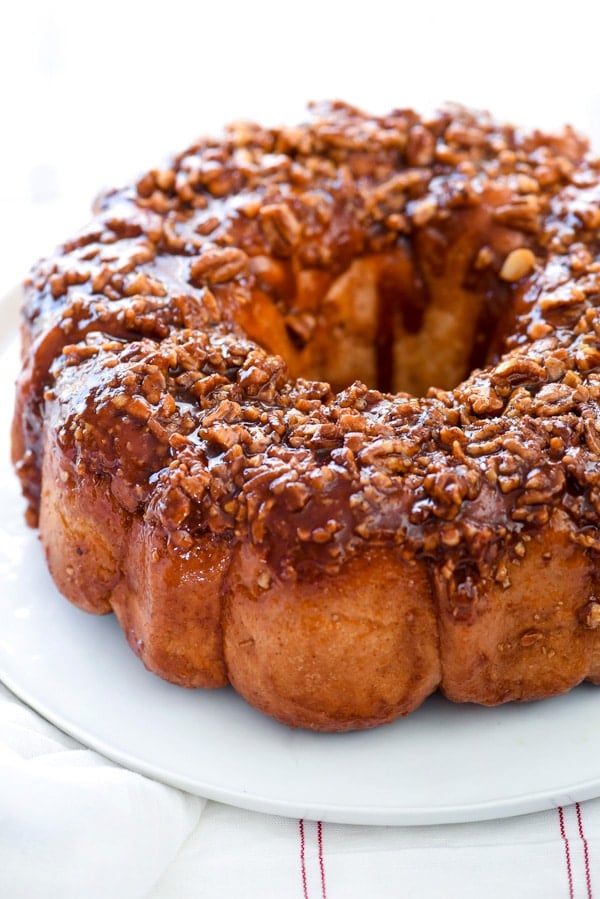 Can I Bake These Pecan Rolls in Advance?
No, these pecan rolls are best enjoyed fresh from the oven while they're warm and gooey.
Can I Make This With Biscuits?
I've seen plenty of monkey bread recipes that use canned biscuits instead of frozen dinner rolls. I don't think this pull-apart pecan rolls recipe would work with canned biscuits, as they don't require any rising. I also don't know how many biscuits, etc. you'd need to make this recipe work.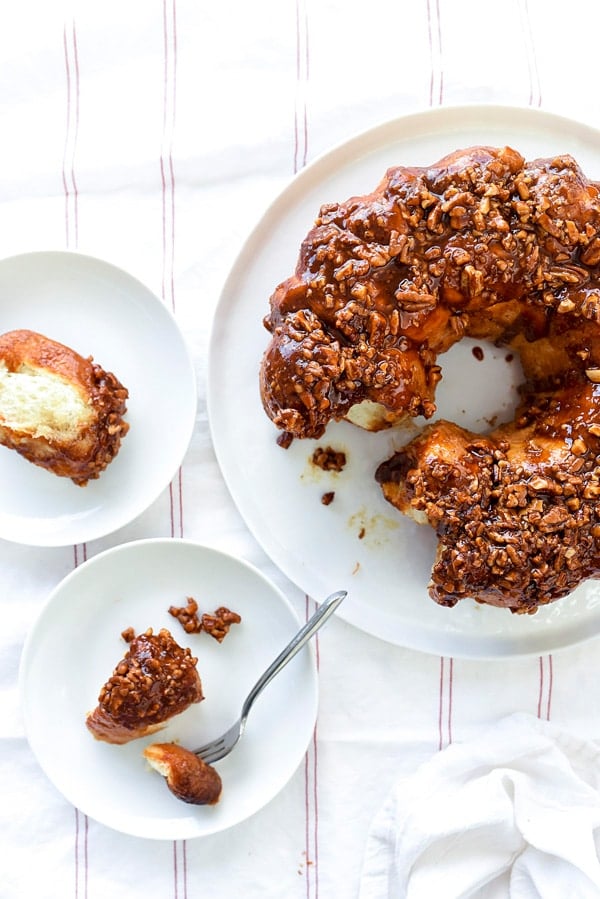 Tips for Making Cinnamon Pecan Rolls
When loading the bundt pan you might think, "Hey self! That pan sure doesn't look very full, I should add a few more rolls." Resist this temptation The rolls will rise to the tip top of the pan with exactly this number and you don't want your rolls to overflow the pan.
Because all ovens heat differently, I check my rolls at about the 15-minute mark to see how toasty they're getting up top. If they're beginning to brown too much, I'll spray a piece of aluminum foil with cooking spray and then lightly set it atop the rolls to shield them from the heat. No burned rolls for my family on Christmas morning!
Be sure to quickly turn out the rolls after pulling them from the oven while the caramel coating is still soft for the easiest way to remove the ring all in one piece from the bundt pan.
If I'm feeling extra cautious, I'll use a knife to gently pry the rolls from the sides of the pan, but if I've done my job greasing the bundt pan, a quick rap-a-tap-tap of the bottom of the pan on the countertop does the trick to separate the caramel seal.
More Holiday Breakfast Recipes You'll Love
If you make this recipe, please let me know! Leave a ⭐️⭐️⭐️⭐️⭐️ rating on this recipe below and leave a comment, take a photo and tag me on Instagram with #foodiecrusheats.
Print
Pull-Apart Cinnamon Pecan Rolls
Store-bought frozen rolls make these super easy but delightfully delicious pull-apart cinnamon pecan rolls easy to make for any weekend or holiday brunch.
Ingredients
1

cup

chopped pecans

20

frozen dinner rolls

1 3.5

ounce

package butterscotch pudding

, (not instant)

10

tablespoons

butter

1

cup

brown sugar

1 ½

teaspoons

McCormick Ground Cinnamon
Instructions
Spray the bottom and sides of a non-stick bundt pan generously with cooking or baking spray. Sprinkle the nuts evenly on the bottom of the pan and lightly on the sides. Place the rolls on top of the nuts. Sprinkle the rolls evenly with the butterscotch pudding. Melt the butter and mix in the brown sugar and cinnamon then pour evenly over the rolls.

Set the pan out in a non-drafty place overnight or for 6-8 hours. For a faster rise method, place the prepared bundt pan in the oven at 200 degrees F for 1 hour.

Preheat the oven to 350 degrees F. Bake the rolls for 30 minutes, checking to see they aren't browning too much on the top at the 15 minute mark. If they are, place a piece of cooking spray coated aluminum foil gently over the top of the rolls to shield them from the heat.

Immediately turn out the rolls from the bundt pan and serve.
Nutrition
Serving:
1
g
|
Calories:
259
kcal
|
Carbohydrates:
23
g
|
Protein:
1
g
|
Fat:
19
g
|
Saturated Fat:
8
g
|
Cholesterol:
30
mg
|
Sodium:
106
mg
|
Potassium:
74
mg
|
Fiber:
1
g
|
Sugar:
22
g
|
Vitamin A:
356
IU
|
Vitamin C:
1
mg
|
Calcium:
29
mg
|
Iron:
1
mg
More Easy Bread Recipes to Master
We send good emails. Subscribe to FoodieCrush and have each post plus exclusive content only for our subscribers delivered straight to your e-mail box.
Follow me on Instagram, Facebook, Pinterest and Twitter for more FoodieCrush inspiration.
This post is sponsored by McCormick. As always, thank you for reading and supporting companies I partner with, which allows me to create more unique content and recipes for you. There may be affiliate links in this post of which I receive a small commission. All opinions are always my own.