Invented to be the perfect vehicle for any sort of leftover lounging in the fridge or flavor combination you can't get out of your head, the essence of this frittata's baked egg goodness is delivered in each and every bacon, broccoli, and potato-filled bite.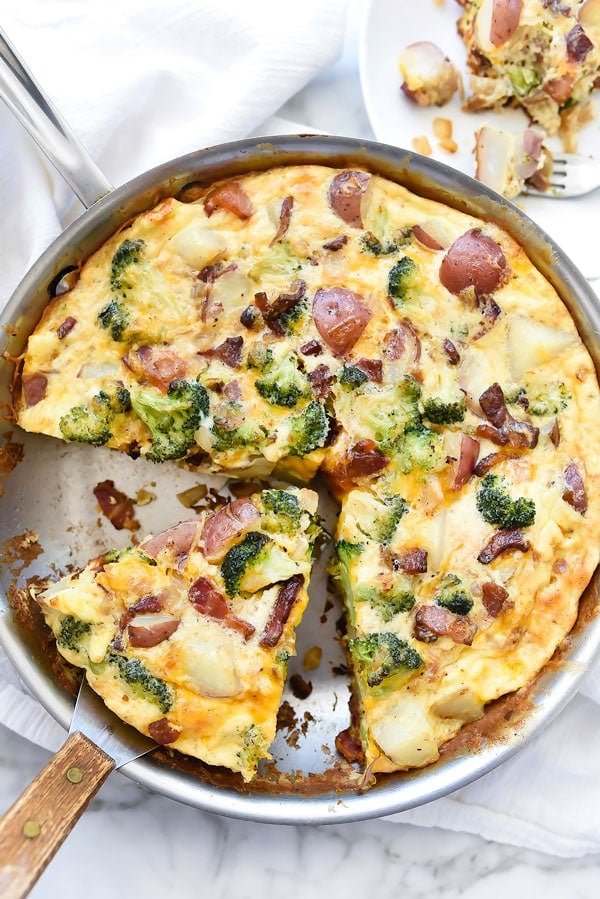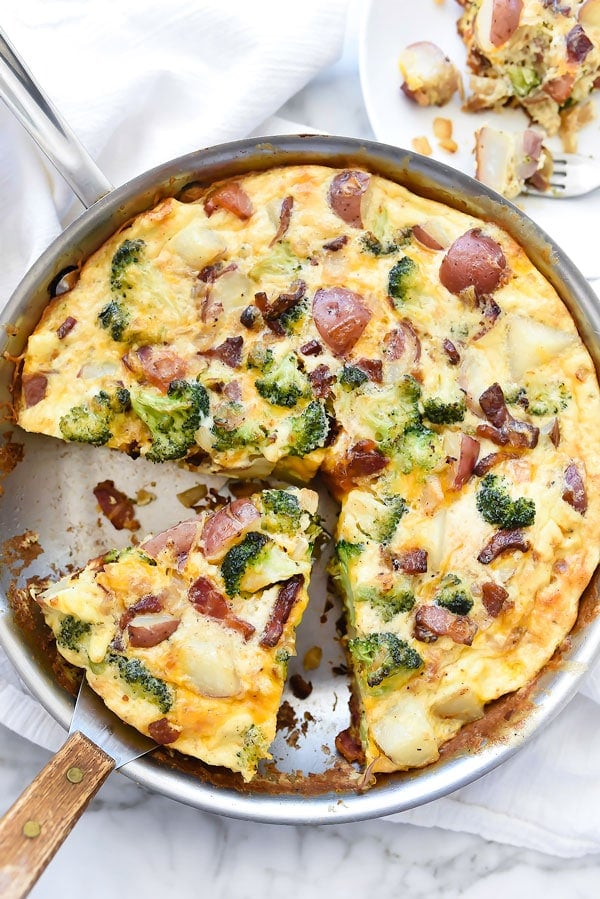 This post is brought to you by Kroger
Frittatas are a meal that leads a double life, possessing the wow factor of the uppity and far more finicky egg soufflé with the utilitarian goodness of a hardy egg omelet. They're comfortingly adaptable. You can add meats, cheeses, and veggies of any sort. You can serve them hot, or serve them cold. You can eat them on fine china or from a napkin in your hand, in the car, on the way to work.
It's true. Frittatas may just be the ultimate all-in-one food.
Even better, once you have the method and the proportions down, you can customize these custardy skillet bakes to your food craving's content, making for a delicious breakfast, brunch, lunch, and even dinner that serves a crowd with minimal fuss.
Minimal fuss. Now, THAT is what I call the ultimate crowd pleaser.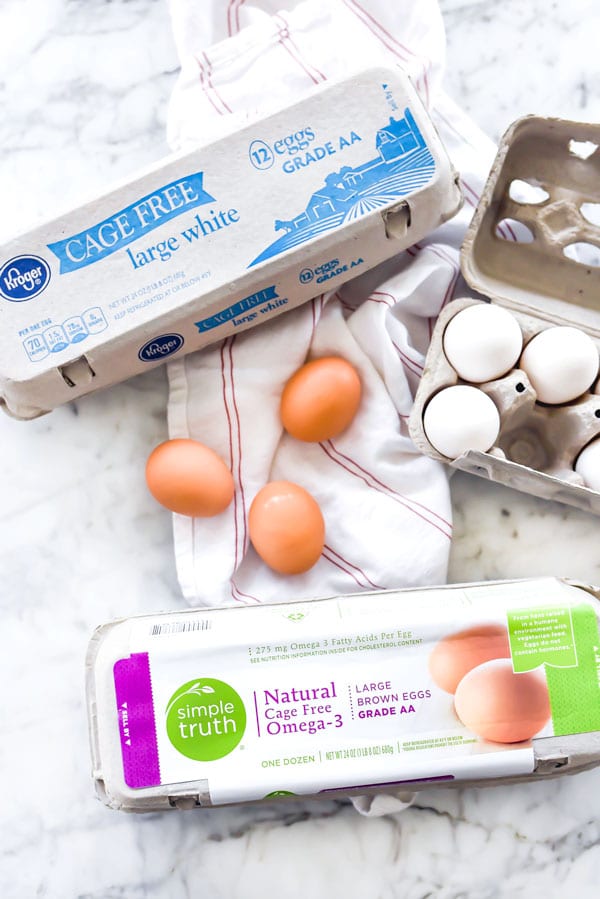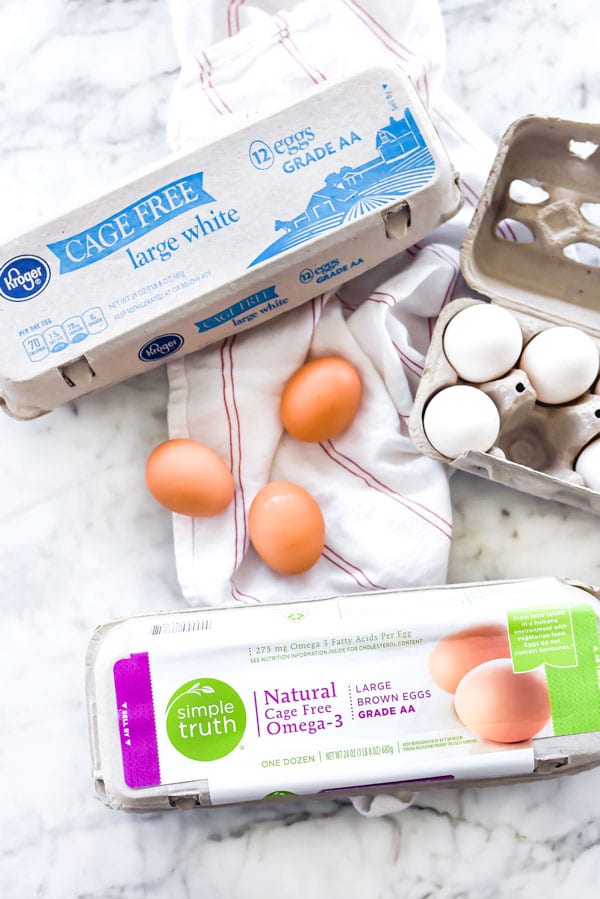 At the heart of every frittata is the all-mighty egg, the high-protein orb that some have deemed to possibly be the healthiest food on the planet. For me, I typically buy cage free eggs, and most often those that are fortified with Omega-3 fatty acids, where the hens are fed a diet containing flaxseed that then produce eggs with yolks fortified with those same good for you fatty acids.
My local Smith's Marketplace aka Kroger sells their own brand of these eggs plus the Simple Truth brand, and even my local farmer's brand too, making cooking with eggs "egg-stra" easy to do at our house. Oh boy, here we go.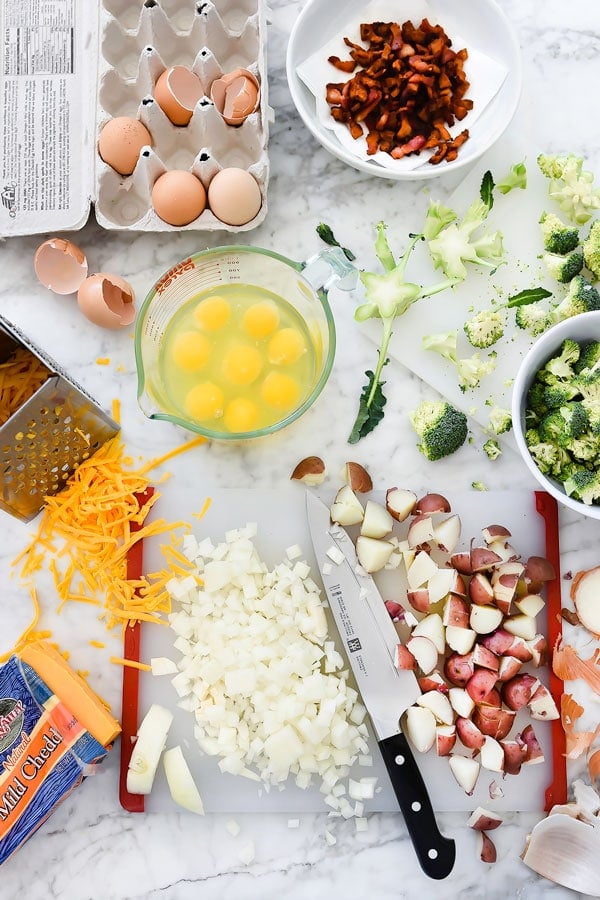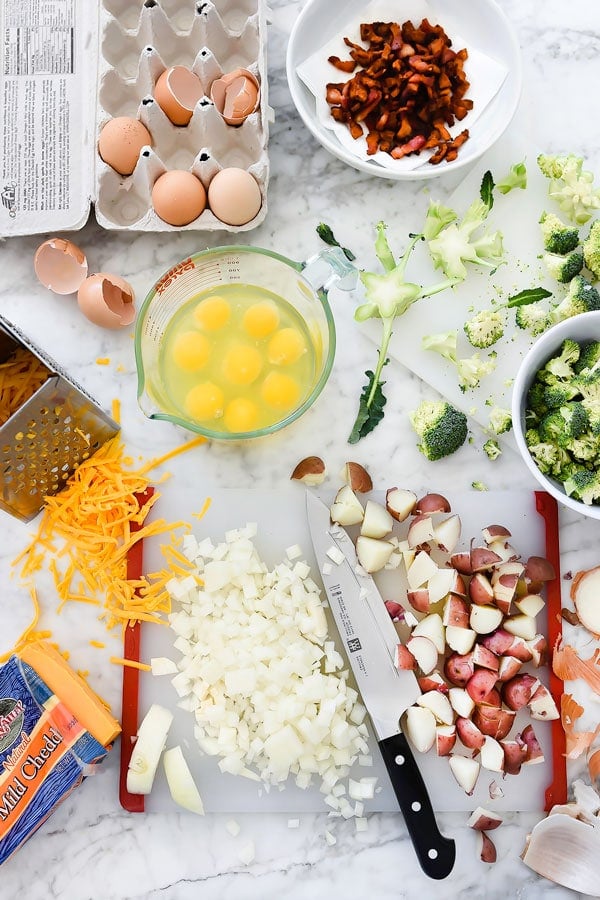 The beauty of any frittata is swapping your own ingredients for those suggested (sausage or ham for bacon, zucchini or spinach for broccoli), but do keep in mind that onions and potatoes will always give a more robust and savory bite to the crustless quiche-like meal.
After frying the bacon (thick-cut bacon is my favorite), don't become too alarmed and then thrifty at the amount of bacon fat rendered in the pan and decide to squander away any of that liquid gold. Sure, bacon fat seems super heavy and calorie-laden but it is the base for cooking a whole lot of vegetables, flavoring this dish and ensuring the egg doesn't stick as it cooks in the oven.
And yes, bacon infused potatoes and egg does indeed taste good.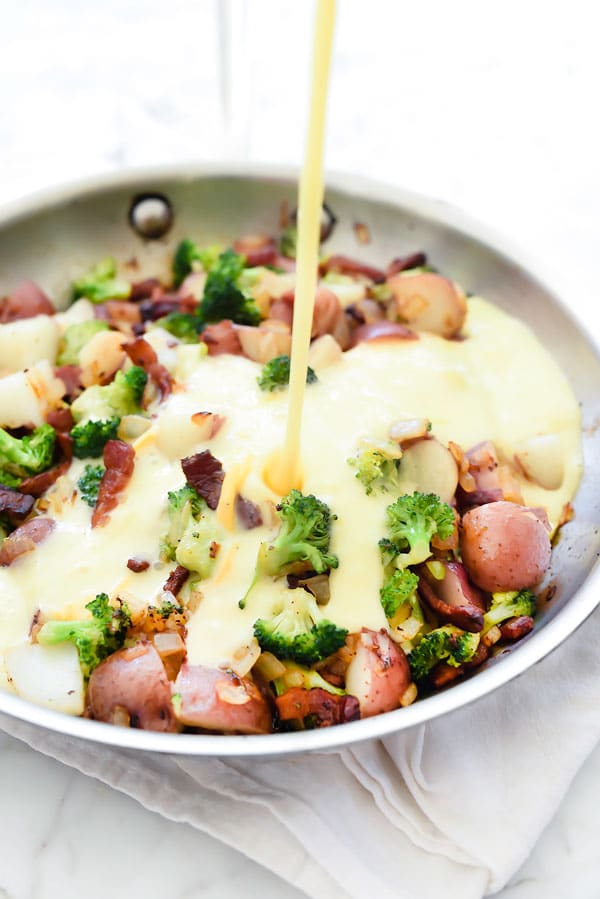 Adding whole milk, half and half, or even cream to the egg mixture ensures a more custard-like bake. You could leave it out, but like the bacon fat, the proportion is spread amongst all of the slices of this egg-i-fied pie, so why leave it out when it contributes so much?
I sprinkled a bit of shredded cheddar cheese over the veggie and bacon mixture before pouring the eggs into the pan so that it would melt into the base and not just be melted on top. Feel free to add a few more sprinkles on top for an extra cheesy bite.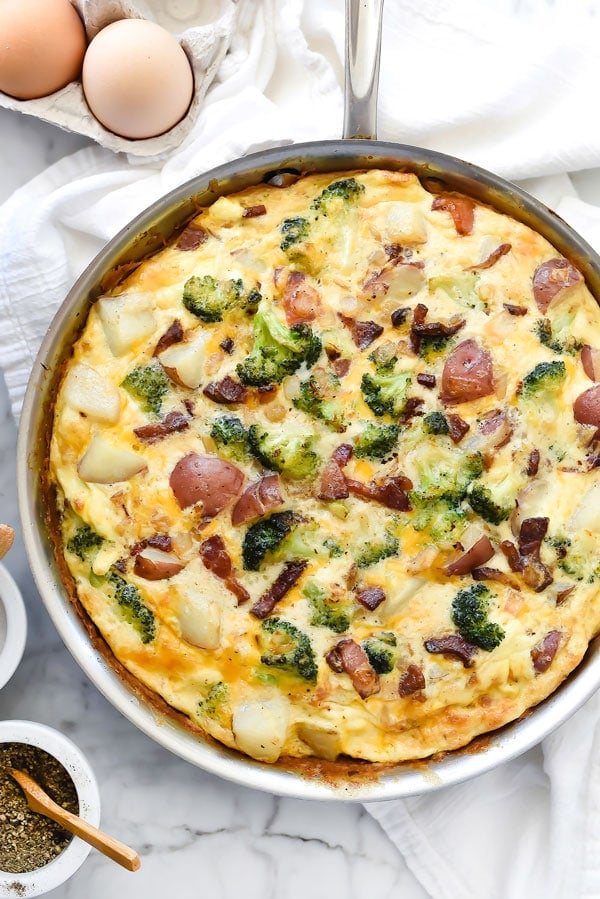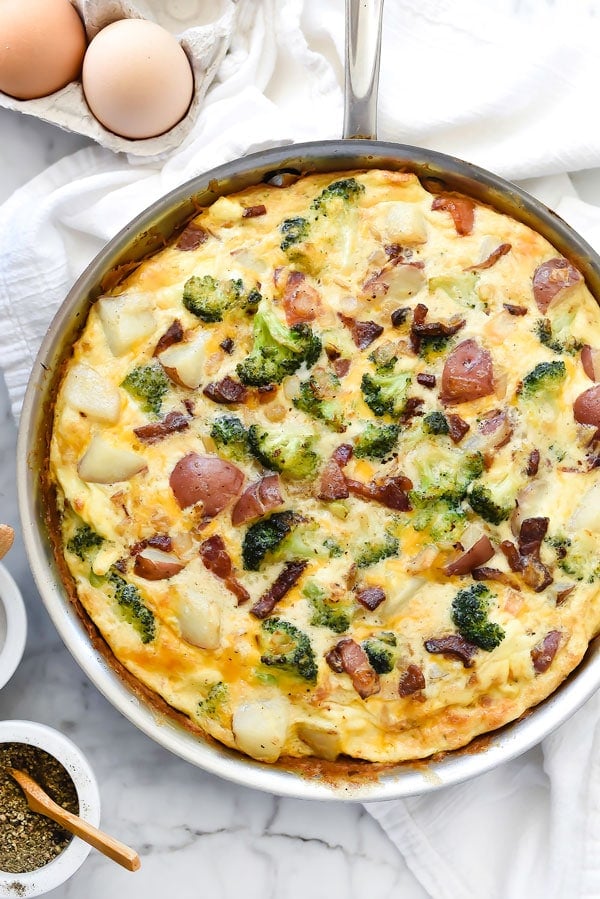 And now, please join me and my skillet on this egg-cellent frittata adventure. And then, let us retire from the eggs-asperating puns once and for all. Or at least until next time.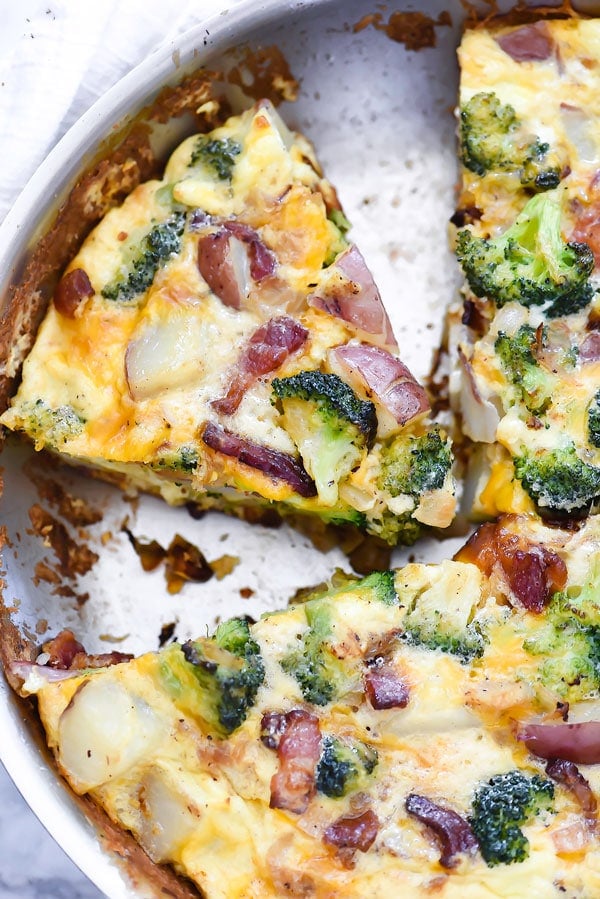 If you make this recipe, please let me know! Leave a comment below or take a photo and tag me on Instagram with #foodiecrusheats.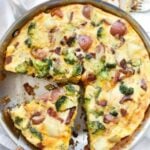 Print
Bacon Broccoli and Potato Frittata
This all-in-one skillet egg dish is cooked part way on the stove like an omelette and then finished off in the oven, making it an easy breakfast, brunch, lunch or even dinner.
Ingredients
10

ounces

small red potatoes

, quartered, about 2 cups

Kosher salt and freshly ground black pepper

6

slices

thick cut bacon

, sliced into ½-inch pieces

2

cups

broccoli

, chopped

1

medium onion

, chopped (about 2 cups)

8

eggs

½

cup

whole milk

½

cup

shredded cheddar cheese
Instructions
Preheat the oven to 400°F.

In a medium sauce pan, add the potatoes and cover with water. Bring to a boil, add 1 teaspoon of kosher salt and cook until the potatoes are fork tender, about 6-8 minutes. Drain the water and set the potatoes aside.

While the potatoes are cooking, add the bacon to a large skillet over medium-high heat and cook until the bacon is crisped, stirring often, about 6-8 minutes. Use a slotted spoon to transfer the cooked bacon to a plate lined with a paper towel, leaving the bacon renderings in the pan. Add the chopped broccoli and the onion to the bacon renderings and cook over medium heat until softened, 3-4 minutes, then add the potatoes and bacon to the skillet, stir, and cook for 2-3 more minutes.

Whisk the eggs and milk in a 4-cup measuring cup, and season with kosher salt and freshly ground black pepper. Top the potatoes and broccoli mixture with the shredded cheese and then pour the egg mixture evenly over the cheese. Cook the eggs lifting the edges of the eggs as they cook so that the egg mixture flows under the cooked portion and the egg is almost set. Place the skillet in the oven and cook for 20-25 minutes or until the egg is puffy and completely set. Slice and serve warm or at room temperature.
Nutrition
Calories:
251
kcal
|
Carbohydrates:
10
g
|
Protein:
13
g
|
Fat:
18
g
|
Saturated Fat:
7
g
|
Polyunsaturated Fat:
3
g
|
Monounsaturated Fat:
7
g
|
Trans Fat:
1
g
|
Cholesterol:
190
mg
|
Sodium:
306
mg
|
Potassium:
394
mg
|
Fiber:
1
g
|
Sugar:
2
g
|
Vitamin A:
488
IU
|
Vitamin C:
24
mg
|
Calcium:
112
mg
|
Iron:
1
mg
This post is in partnership with Kroger. As always, thank you for reading and for supporting companies I partner with, which allows me to create more unique content and recipes for you. All opinions are always my own.
Are you following me on Instagram, Twitter, Facebook and Pinterest? 
Thanks for reading and subscribe to FoodieCrush to have each post delivered straight to your e-mail box.