These easy and fluffy buttermilk pancakes taste just like banana bread, thanks to a simple mashing of banana into pancake mix, warm spices, and healthy additions like old-fashioned oats and chopped pecans.
These pancakes have a few secrets going on. Secrets that pancake purists should probably just ignore. But they'll come around, and will totally be asking for just one more flapjack. That's just the way it goes.
These pancakes are a mash-up. Oh, did I really just say that? Yes, a forcefully forked mash-up of super ripe bananas, pancake mix, nuts, buttermilk and spices whose smell as the cakes cook conjure up cravings for fresh baked banana bread.
But hold on tight, I haven't even hit the secrets that lie in them there hot cakes.
Little Victories: Success!
You know what I consider a successful recipe? When I can hide a few healthy sneaks in and nobody's the wiser. Like using whole wheat pasta and packing it with broccoli in their favorite pasta or when I sneak in superfood chia seeds into my Smudge's favorite smoothie.
That's when I feel like I've just scored a little victory. A victory against the, "Ahhh, mom! But I don't WANT to eat that."
This month I'm partnering with Kroger to share my ideas on how we can all score our own little victories. Big, small, long or lean.
Kroger wanted to make sure I had plenty of inspiration to put me on the right track to triumph and achieve my own (re)Solutions. They kicked off my little victories tour by sending me a Fitbit to track my comings and goings and get me moving.
Kroger knows that achieving goals isn't only about eating and exercising, it's also about being happier. So they included one of my favorite things of 2014, The Five-Minute Journal. I love this journal. It's a spot to document my daily challenges, affirmations and to acknowledge me, myself and I. Haven't heard of it? Check out this podcast with it's author on how and why he created it. I really liked hearing the back story.
So now I want to know:
What are the little victories you're making to make your days a little better, brighter and overall healthier?
Sharing yours will enter you in this big, Big, BIG giveaway from Kroger. Here's what you could win by simply entering in the Rafflecopter widget below.
1 grand price giveaway ARV: $1,500
$1,000 Kroger gift card (who couldn't use that!)
$500 in kitchen products including:
  $250 Kitchen Aid Mixer
  $50 Magic Bullet

  

$200 in cookware  (i.e., pots and pans)
2 other winners will be drawn for $500 Kroger Gift Cards, too. 
If you want a chance to win one of these 3 prizes, use the widget below to enter.
Stand In Line, They're Worth Every Bite
I'd never had, nor even heard of, banana bread pancakes until my little fam and I visited Nashville a few months back. Even the rep at the car rental agency told us we HAD to hit The Pancake Pantry. "There'll be long lines, but it's worth the wait," she said. "It's legendary!"
And wait we did. For over an hour. Along with at least 60 other patient pancake enthusiasts. And somebody got "hangry."
I didn't realize how famous these pancakes were until I posted a pic to Instagram and I discovered I could possibly be the only one in Nashville that day who hadn't eaten there before. That's when I knew I had to recreate them at home.
Because It's All About These Cakes
These pancakes go far and beyond a simple mashing of banana into pancake mix. Oh no. I did more plotting and planning to create some easy ways to add healthy ingredients for a banana blowout breakfast to start the day off right.
These are the secrets to this recipe's little victory in the kitchen: 
Mashed banana and chopped pecans are classic banana bread, so of course, they represent. Fruit + nutty protein boosts these cakes to another level. Use bananas that are super ripe. The darker the skin, the sweeter within.
To make these pancakes extra tall and fluffy, I added baking powder to Kroger's pancake mix. And two eggs. And boy do those two things make these hotcakes stand at attention.
Instead of using a pinch of nutmeg here and a dash of cinnamon there, I use pumpkin pie spice instead. All those warming flavors in one fell swoop.
And finally, my big addition that only I know is there: Old-fashioned oats! Oats are a serious superfood that help stabilize the body's blood sugar, lower cholesterol and are one of the best sources of fiber around.
Does my 10-year-old need to know that? No. But I do. And that's this recipe's sneak attack. And my little victory.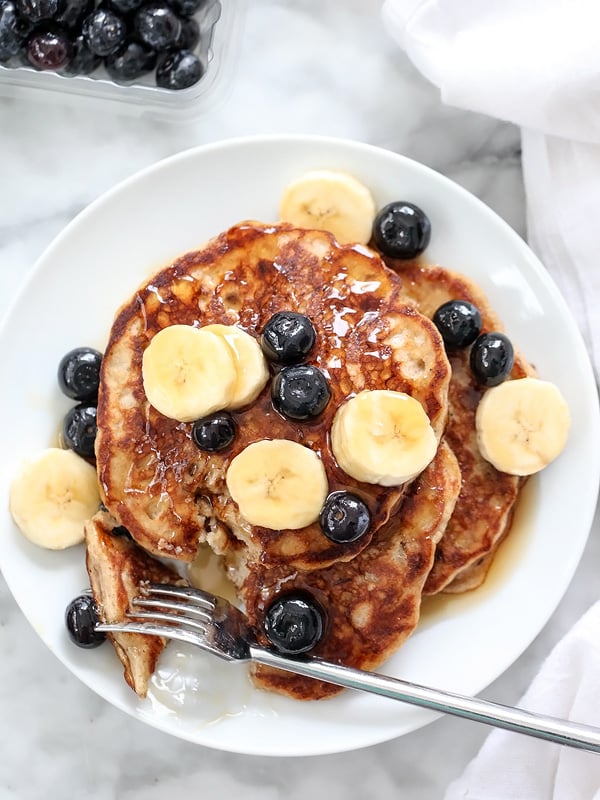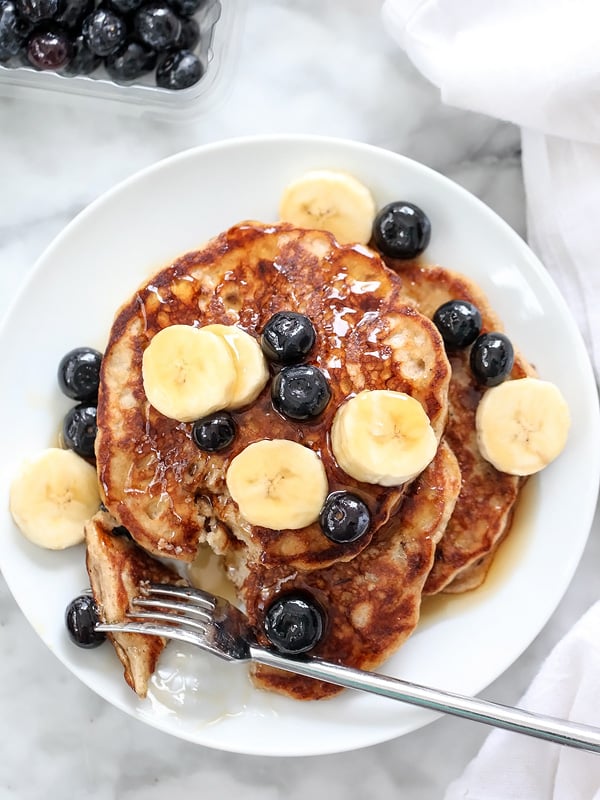 Let's go Bananas! If You Liked This Recipe, You'll Like These:
If you make this recipe, please let me know! Leave a comment below or take a photo and tag me on Instagram or Twitter with #foodiecrush.  
Print
The Best Banana Bread Pancakes
These pancakes go far and beyond a simple mashing of banana into pancake mix when healthy additions like old-fashioned oats and chopped pecans make your day.
Ingredients
2

cups

Kroger buttermilk pancake mix

2

teaspoons

pumpkin pie spice

2

teaspoons

baking powder

½

cup

Kroger old-fashioned oats

½

cup

Kroger chopped pecans

2

large eggs

2

cups

buttermilk

1

teaspoon

vanilla

3

medium very ripe bananas

, mashed

Maple syrup
Instructions
Whisk the pancake mix, pumpkin pie spice and baking powder in a medium bowl. Stir in the oats.

In another bowl, whisk the eggs and then stir in the buttermilk, vanilla and mashed bananas, mixing well. Add the wet ingredients to the dry stir to combine. If the batter is too thick, add a little more buttermilk. Let the mix sit for 10 minutes or so while the griddle or fry pan heats.

Spray the griddle with cooking spray over medium heat, about 375 degrees F. When the griddle is hot, pour or scoop the pancake mix onto the griddle, about ¼ cup per pancake. Cook until the bottoms are lightly browned and top is beginning to bubble, flip, and repeat with the other side.

Serve with maple syrup, blueberries and sliced bananas if desired.
Thanks for stopping by and visiting FoodieCrush. Have something to say? I'd love to hear from you. Let me know in the comments below.
Make it a great day and cook something good.
This post is in partnership with Kroger. As always, thank you for reading and for supporting companies I partner with, which allows me to create more unique content and recipes for you. All opinions are always my own.  
Are you following me on Instagram, Twitter, Facebook and Pinterest? 
Thanks for reading and  subscribe to FoodieCrush to have each post delivered straight to your e-mail box.
SaveSaveSaveSave
SaveSave