Homemade blender hollandaise is a quick and easy classic sauce any French cook would declare très bien.
Classic hollandaise sauce is one of those lush additions to a dish that immediately elevates the stature of whatever it drizzles or lathers. I mean, an Egg Benedict is really just an Egg McMuffin until it gets the hollandaise treatment.
However, from scratch hollandaise can be a tricky recipe to master and feel like one of those recipes only a trained chef can carry off.
Not the case monsieur!
Unlike traditional hollandaise that requires whisking and tempering over a water bath and a fair amount of practice to master, this blender hollandaise is incredibly easy and fast with no cooking involved, and can literally take just about 3 minutes to whip up.

How to Make Blender Hollandaise
Back in the day, my husband and I were rather famous for our Salmon and Avocado Egg Benedicts,  a brunch favorite, and we always took the easy way out by using a packaged mix for the hollandaise.
But after my friend Sherrie taught me the how to make hollandaise in the blender trick, there really wasn't any reason to go back to the gloopy, packaged dry mix again.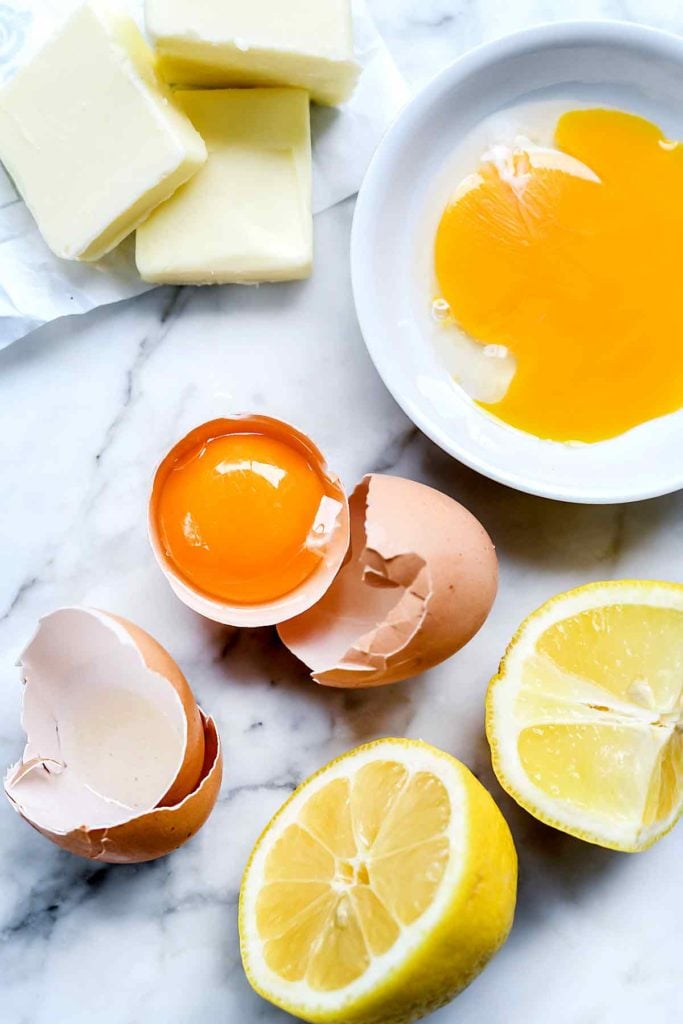 Blender hollandaise is just 4 ingredients:
Egg yolks: Choose the freshest you can find and save the whites for tomorrow's breakfast.
Lemon juice: There's no room in this recipe for anything but fresh squeezed.
Butter: I call for unsalted butter but if salted is what you have, use it. Just make sure it's a high-quality one.
Kosher salt: Always use the larger crystalled kosher salt instead of the more bitter table salt, and just a pinch will do.
Tips for Making Blender Hollandaise
Clarify the butter. Clarified butter is where the butterfat separates from the liquid gold. I find it easiest to do when I melt the butter in a measuring cup in the microwave in 15-30 second blasts. The solids then separate and drop to the bottom of the measuring cup and can be discarded after drizzling into the blender.
Keep your butter warm but not bubbly hot. The warm butter and fast whisking whir of the blender is the cooking agent for the hollandaise. If your butter isn't warm enough it won't thicken but if it's too hot it will over cook the eggs. Warm butter works wonders.
Blend hot water into the eggs and lemon. Slowly adding hot water into the eggs gives them a head start in cooking and lightens the sauce for later.
Drizzle the warm butter into the blender slooooooowly. This is the most important step so the sauce doesn't break and separate. Place a kitchen towel over the hole of the blender or cover with your hand as you add the butter so the sauce doesn't splatter all,over you and your kitchen.
Add just a pinch of salt to brighten the flavors. Taste as you go, this isn't an essential addition but does add just a bit of balance.
Add heat. Other additions if you'd like can include adding 1/4 teaspoon of Dijon mustard or a few dashes of Tabasco or a pinch of cayenne pepper.
How to Fix Broken Hollandaise
Take it slow! Drizzling the butter into the eggs and lemon is the key to creamy hollandaise. If your sauce looks like it might break, add a few drops of cold water and blend more.
Worse, if you get ahead of your hollandaise and it curdles or turns into a runny river, start over. Add new yolks and lemon to the broken sauce in place of the butter and blend until thickened and smooth.
Recipes with Hollandaise Sauce
If you make this recipe, please let me know! Leave a comment below or take a photo and tag me on Instagram with #foodiecrusheats.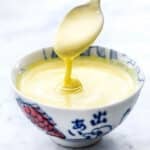 Blender Hollandaise Sauce
This blender hollandaise sauce calls for just 4 ingredients, so make sure they're the highest quality you can find.
Ingredients
3

egg yolks

1

tablespoon

lemon juice

1/4

cup

hot water

1

cup

unsalted butter

1/2 pound

Pinch

of kosher salt
Instructions
Melt the butter over low heat in a small pan on the stove until melted, or in a microwave-safe bowl or measuring cup on high heat in the microwave for 30-45 seconds.

Add the yolks and lemon juice to the blender and blend on high for 15 seconds. Scrape down the sides and slowly add the water until incorporated.

Drizzle the hot butter into the egg yolk mixture, covering the hole of the lid with a kitchen towel to avoid splattering. Blend on high until thickened, about 30-60 seconds.

Taste for seasoning and add more lemon juice or salt to taste. The sauce is best when used immediately. If you have leftovers, the hollandaise will keep stored in the fridge up to 3 days. To reheat, warm slowly on low heat.
Recipe Notes
If you like a little more gusto to your hollandaise, add more lemon juice or the following ingredients if you'd like 1/2 teaspoon Dijon mustard, a dash or two of Tabasco, or a pinch of cayenne pepper.
Nutrition Facts
Blender Hollandaise Sauce
Amount Per Serving
Calories 300
Calories from Fat 297
% Daily Value*
Fat 33g51%
Cholesterol 178mg59%
Sodium 8mg0%
Potassium 18mg1%
Protein 1g2%
Vitamin A 1075IU22%
Vitamin C 1mg1%
Calcium 21mg2%
Iron 0.3mg2%
* Percent Daily Values are based on a 2000 calorie diet.
Other Sauces You Will Want to Make Too
Craving more life balance, less stress, and better health? Check out my Nourished Planner, the daily planner to help create simplicity and under-schedule your life.
We send good emails. Subscribe to FoodieCrush and have each post plus exclusive content only for our subscribers delivered straight to your e-mail box.
Follow me on Instagram, Facebook, Pinterest and Twitter for more FoodieCrush inspiration.
As always, thank you for reading and supporting companies I partner with, which allows me to create more unique content and recipes for you. There are affiliate links in this post of which I receive a small commission. All opinions are always my own.
SIGN UP FOR FREE!
THANK YOU FOR VISITING FOODIECRUSH.COM

Subscribe to the FoodieCrush email newsletter and have every new post plus exclusive content delivered straight to your email box,
FOR FREE!