From quick and easy made with basic pantry ingredients to Italian pastas that stick to tradition, this is the list of 45 of the best pasta recipes to make now.
You guys all love pasta, and you keep asking for more. To make it easy to find more pasta recipes quick, I've created this reference post where you can find 45 of the best pasta recipes on FoodieCrush.
Pasta is probably in the top 5 list of the most versatile dishes to make for any level of home cook. It fits the bill when cooked for a crowd or potluck, and makes an easy family meal or simple dinner for two. And with pasta, you'll always have variety. It can be made creamy or saucy, vegetarian or with chicken, fish, meat and more. Cooking pasta can be an all day affair, a 5 minute homemade sauce, or store-bought in the jar, and taste amazing every time.
TIP: What can I add to pasta for more flavor? The answer is simple: SALT! Once the cooking water comes to a boil and before adding the pasta, season the cooking water with a generous amount of salt, so it tastes salty like the sea. To avoid pitting pots, add the salt after the water has come to a boil. And kosher salt instead of table salt is best in my book.
The great debate of who invented pasta (was it China or Italy?) becomes less of a discussion when the noodles start cooking and the eaters start slurping. Whether it's authentic Italian pasta like my Spaghetti Pomodoro, or the best American-ized mac and cheese to ever pass your lips, this list of 45 homemade pasta recipes are what you should be cooking now.

Cathy commented: "I tried this recipe for your mom's spaghetti sauce, and it was perfect ! I'm Italian and was taught many years ago how to make a good sauce. But over the busy years, it started not tasting so good, and it seemed okay to just buy a nice jar already prepared. But after reading your recipe which was very close to my mom's, and being inspired to try again, now I'm hooked and loving it. Thank you for turning my "cooking" back on !!! This is a great recipe!"

Vanessa commented: "Hubby has congestive heart failure. This recipe is not only heart healthy but with few adjustments (no salt) he said it tasted like a delicious meal that he hasn't had for over a year now! Huge compliment! Please keep them coming! Absolutely Deeeeelicious!"

Charlie commented: "Great!!! I utilized an entire 19 oz. bundle of turkey. Additionally, I utilized a pound of child bella mushrooms. This was simple, beautiful, and the best part is that it tasted wonderful!"

Ana commented: "Made this recipe today and I think these are the best meatball's that I have ever made. I already shared this recipe with my mom. My husband is also a big fan of the sauce. Thanks for the recipe!"

Nicole commented: "This is the ultimate spaghetti carbonara! I love pasta, this recipe is going to be perfection. It is a dish that is required at dinner table at least once a week in my house. I can't wait to try it, thanks for sharing :)."

Rachel commented: "I just made this for a girls night in. I was looking for a go-to vegetarian-friendly lasagna recipe and this one delivered. I love that it uses jarred sauce since my homemade version never tastes as good. I highly recommend, especially because it's not difficult to make."

M commented: "I'm gonna try this today. I'm a college student on campus for the summer, so this should be a fun meal for dinner this week!"

Bridget commented: "This pasta is calling my NAME!!! I really can't think of anything I'd like better at this very moment…not even a cupcake."

Megan commented: "I just wanted to comment since I've made this recipe like 5 times and I love it so much! I use thin spaghetti instead of angel hair and I add the zest of the lemon in with the juice. I usually undercook the pasta and finish it in the sauce. Everyone loves this awesome recipe!"

Marcy commented: "I was looking for something that the whole family would like, including out two picky boys aged 8 & 12, and this recipe hit the mark! I already had all these ingredients on hand so it was pretty easy to throw together. It was really yummy! We our definitely going to add this our rotation! Yummy!"

Adela commented: "Omg, this is absolutely wonderful. I wanted to make it for dinner but couldn't wait. If you love spicy, this is perfect. If you want your significant other to fall in love all over again, definitely serve this. Delicious!!!!!!!"

Kay commented: "Just wanted to tell you I made this for a large group having Christmas dinner that I went to today. I used chipotle Gouda and the Havarti. People RAVED about it. I had no less than 10 people searching me out to see if I was the one who made it and to tell me how good it was. And I didn't even get one bite! Making it again for a NYE party. Thanks for the great recipe."

Matt commented: "This is an awesome recipe! Have cooked it 3 times in the past 2 weeks. It's the height of brussels sprout season over here in Australia right now so it wont be the last we cook it this season. Thank you!"

Beth commented: "Ahhhmazing!! I've made this twice now and we can't get enough. My husband "thinks" he doesn't like cream in anything, so whenever I'm using it in a recipe I try to hide it. Well, per usual, he came snooping around and spotted the cream on the counter. He groaned "you're not putting cream in it are you?" I just smiled and told him not to worry. He took one bite and was hooked. This is soooo good! Thank you!"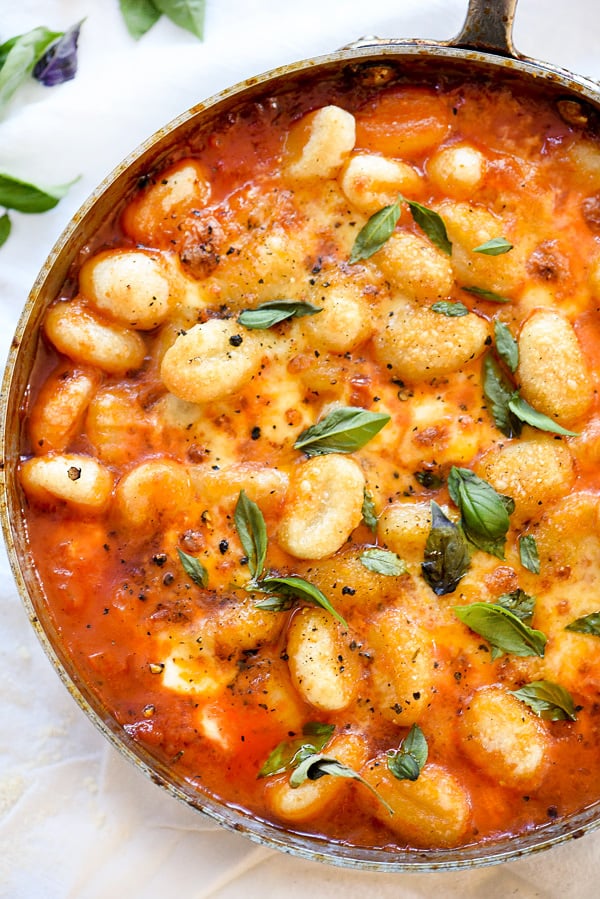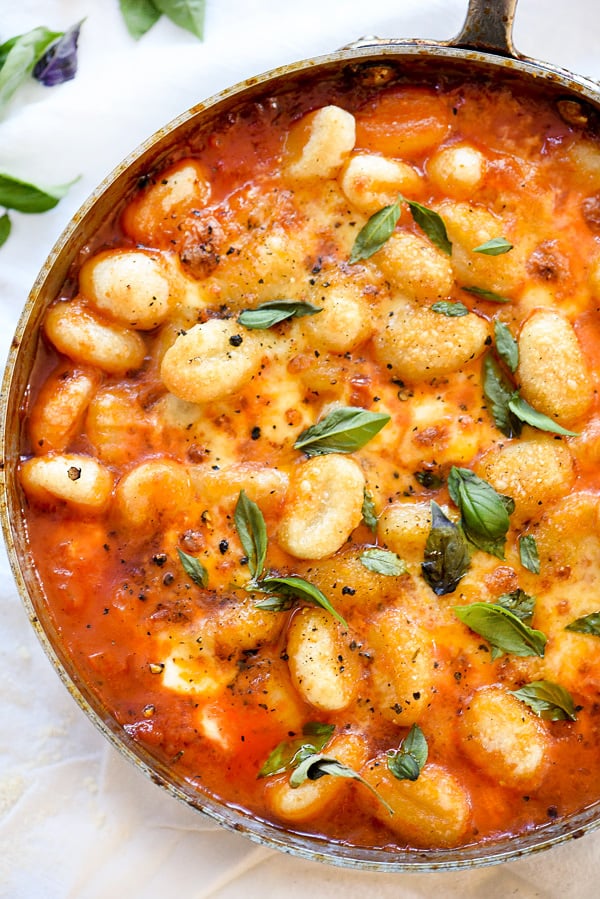 Ana commented: "The dish turned out so well! This was the first time I have ever made a tomato-based sauce from scratch. Infusing the olive oil with the herbs from the outset was pretty cool. Thank you for the recipe! It's definitely a keeper."

Court commented: "Made this a few times since I found the recipe over the past year and it's amazing every time! We use the gremolata on our salad now too, it's very tasty! Gonna try it tonight with some lobster tails I got on sale at WF. I'm sure it'll be delicious again, but can't wait for dungeness crab season to fully arrive for the holidays!"

Rachel commented: "I made this for dinner with friends. I was concerned that it was going to taste flat and one dimensional. I was wrong. I made it the night before so it was ready to go into the oven when I got home. I swapped out the zucchini for 8 oz of fresh spinach. I also left out the nutmeg as I find it overpowering. I would say the mozz is necessary. Definitely not light but great as a fall dinner."

Jennifer commented: "Made this tonight and it's delicious! Filing in the permanent recipe binder. I barely deviated from the original recipe…only variations were that I didn't measure the shallots and cilantro so there may have been a bit more in my version. The cinnamon seemed strange at first but it becomes a "mystery ingredient" at the end; you can tell there's something interesting there but you can't quite figure out what it is."

Kelly-Jo commented: "Made this last night for myself and fussy hubby, we both loved it! Thanks for the recipe, will be making it again for sure."

Ana commented: "Love this combination of two classic sauce staples. Everything turned out well and I like your idea of mixing in the flour via shaking versus trying to chase down the flour clumps in the pan. Thanks for the recipe! It's another keeper."

Jennie commented: "I made this gloriously cheesy alfredo the other night and fell in love with its flavor. It's slightly spicy, extra creamy, and easy to make. Thanks for such a great recipe, Heidi!"

Ruth commented: "I love this recipe and have made it many times for my family. It has been my go to recipe for taking meals to families that just brought home a newborn. Add a nice a salad and garlic bread…perfect!"

Laura commented: "Cauliflower and Parm cheese is like batman and robin, like PB & Jelly, like Snoopy and Charlie, like Tom Brady and his ego. I mean, it's the best. I'm loving your roasted brownish cauliflower, that is the way to go!!! I'm like excited to make this and it's been a looooog time since I've been hyped about making dinner. You rock!!!"

Amanda commented: "I made this tonight and it was divine. I traveled to Boston last month and had some lobster mac and cheese that was really tasty, and I've been craving it ever since. This was even better! They don't sell fontina here (at least in the part of New Zealand where I live) so I used gouda and it turned out great. The kids ate it and my husband had thirds. Success! Thanks for the great recipe."

Angie commented: "The butternut squash lasagna recipe is amazing! My husband loved it."

Karen commented: "I made this Clam linguini for a crowd and it was a hit. So easy and yet so satisfying. I did use a can of baby clams and fewer fresh clams and added fresh basil. We will do this dish again."

Robin commented: "This creamy roasted red pepper and chicken sausage pasta is the food of champions! Dying to eat this! Thanks for posting it Heidi!"

Erin commented: "LOVE penne alla vodka, but the heavy factor felt like such a commitment. What a wonderful way to lighten it up!"

Robin commented: "Great recipe. I added some turkey sausage for extra heft. Didn't even simmer it for that long, maybe 20-30 mins. Delicious Sunday Supper!! Thanks Heidi!"

Danielle commented: "Made this tonight for dinner, it was a big hit. It had everything my pasta and shrimp loving family craves. Made it as written, and got to use my spirolizer for the first time ever. What a neat gadget!"

Zoe commented: "Wow! I've never cooked a Primavera like this before. It was amazing and is now a firm favourite amongst my friends, so thank you."

Sharon commented: "Delicious and so easy! I'm making it for the second time tonight. That makes my family quite happy!"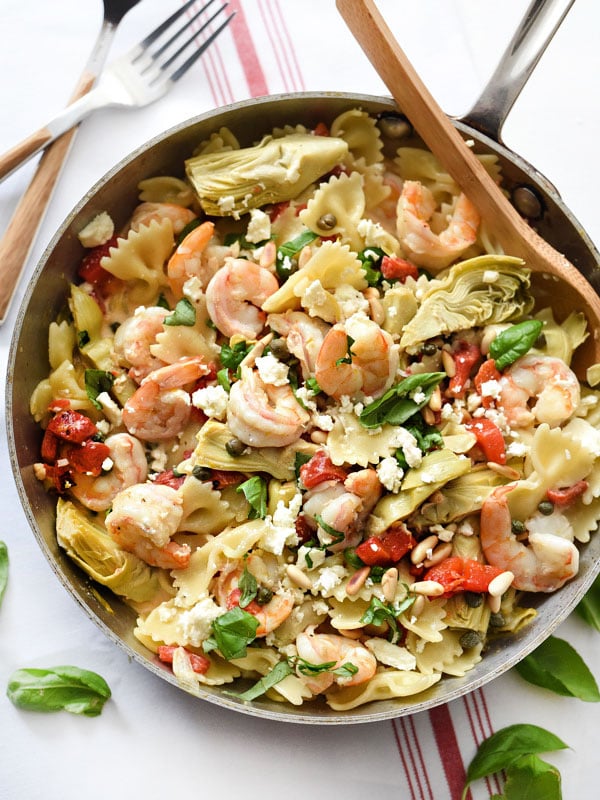 Dana commented: "Absolutely delicious! I'm not much of a measurer when it comes to recipes so I'm sure my ratios may have been a bit different, but this was simply amazing." 

Karen commented: "I made it work and hubby liked it. That's saying a lot, lol. Will make again. By the way…only 4th meal in IP, so pretty good, I'd say."

Carol commented: "Just read this recipe and will be trying it for Wednesday Supper. Sounds delicious."
Deb commented: "I can't express how much we loved this. I omitted the sliced lemon and cut the butter to 4 Tbsps, and only used half the capers (put the rest on the side for everyone to add as they saw fit). The combination of lemon and capers is one of my favorites, and this delivered beautifully. Thank you for a great recipe!"
Puttanesca sauce takes basic pantry staples and transforms them into a light but lush sauce over spaghetti or penne in mere minutes. It's an Italian classic made quickly and easily to become full-bodied and oh so wonderful.
Genelia commented: "Thank you for this share! I prepared this dish this past Monday night as a "going away meal" for my long weekend guests and we all loved it!! I even had stretched it out to a lb and a half of pasta and they still wanted more! Delicious, simple and fresh! I followed your recipe and because I needed extra pesto sauce and only had exactly a half of a cup of pine nuts, I stretched it with walnuts and it was perfect!"
Everyone needs a solid, go-to marinara recipe. This is mine. Canned San Marzano tomatoes mingle with fresh basil, garlic, and olive oil to make a classic homemade marinara sauce you can whip up in no time and pair with any shape of pasta.
Luanne commented: "If you are a cheese & pasta lover, this dish is going to become a forever favorite. I have been dreaming of trying Cacio e Pepe since I watched "Dream Of Italy Season 1, Episode 2" on Amazon Prime. The restaurant Da Enzo is famous for this & I'm determined to go there & try it some day. The dish was incredibly delicious & very easy to make. I've made it three times now and it just keeps getting better & better. Thank you so much for sharing this recipe!"
Fall-off-the-bone, red wine braised short ribs and their lush sauce coat tendrils of fettuccine for an irresistibly hearty comfort food dinner.
A combination of dried mushrooms and fresh mushrooms are cooked then added to the rice as stock is slowly added and absorbed into the rice. Adding butter and Parmesan cheese at the end of cooking transforms into a creamy rice dish that doesn't actually call for any cream.
Liz commented: "My family's new favorite!! They are always asking me to make it. It's delicious!!!!!"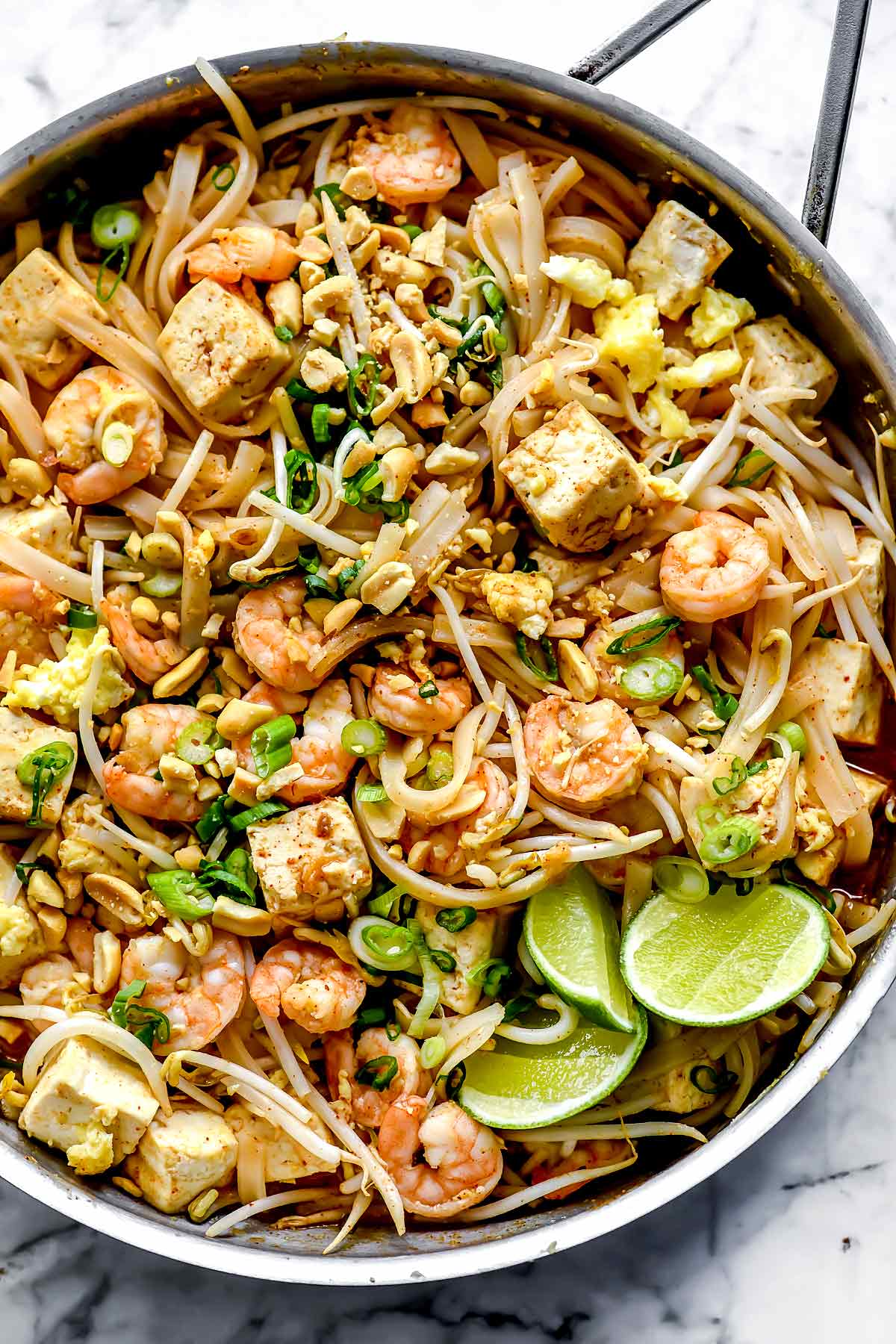 This easy pad thai recipe is made with an authentic tamarind pad thai sauce that lushly coats flat rice noodles, shrimp, tofu, and egg.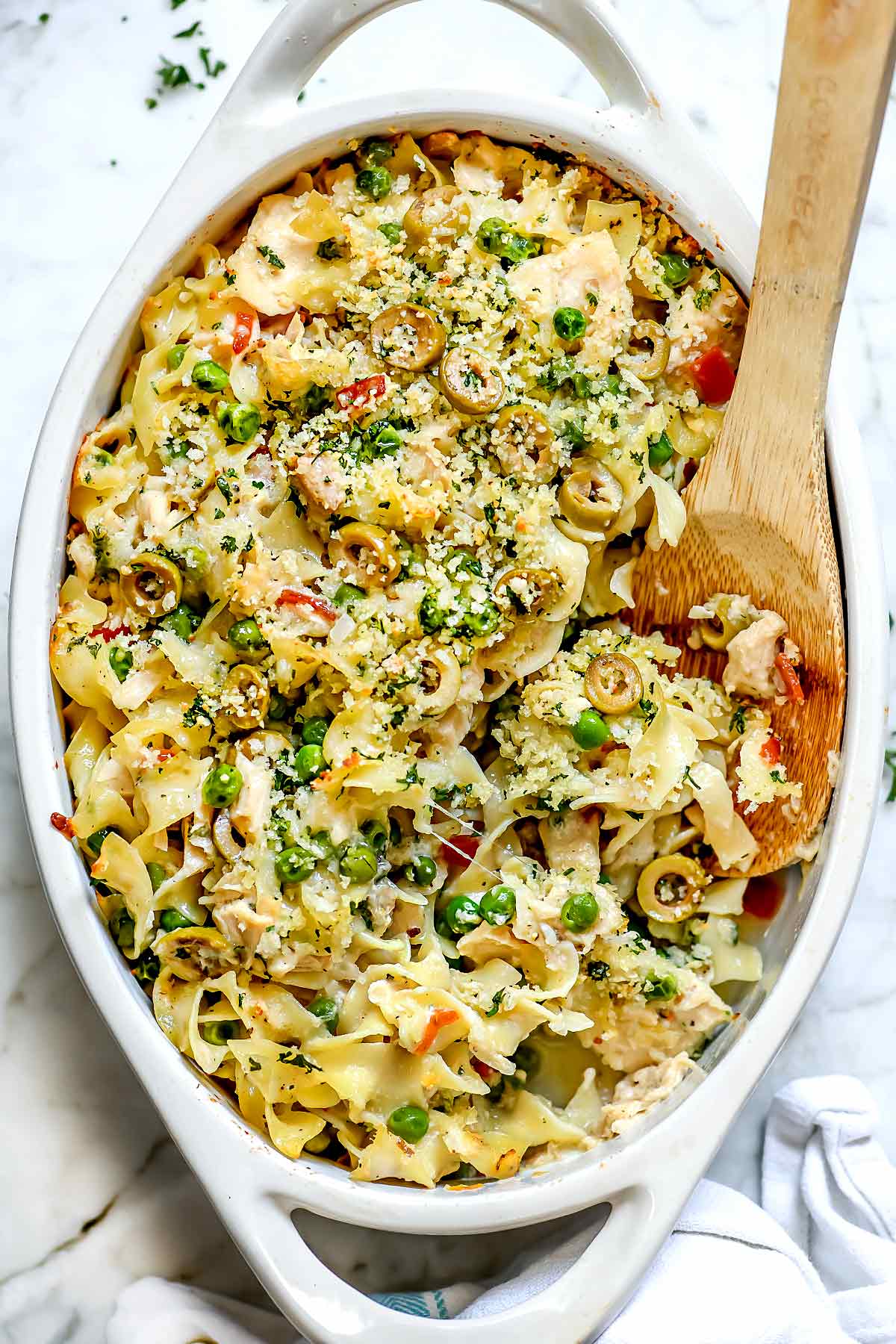 The best classic tuna noodle casserole starts with a homemade sauce from scratch. This one is deliciously cheesy, creamy, and easy with no soup from a can.
What to Serve With Pasta Recipes
While noodles served in a tasty sauce make the meal, it's the simple side dishes that completes it.
Easy side salads to serve with pasta recipes:
Vegetable side dishes to serve with pasta recipes:
Easy desserts to serve with pasta recipes:
If you make this recipe, please let me know! Leave a 
 star rating on this recipe below and leave a comment, take a photo and tag me on Instagram with #foodiecrusheats.
Print
Quick and Authentic Pasta Pomodoro Sauce
Light and easy to make with fresh tomatoes, this simple Southern Italian tomato sauce takes just 20 minutes to make and is a terrific base for many Italian dishes.
Ingredients
1

pound

medium size fresh tomatoes, such as campari or cocktail tomatoes

6

tablespoons

DeLallo extra virgin olive oil

, divided

6

large

fresh garlic cloves

, of the same size, divided

12-15

basil leaves

1 ½

tablespoons

kosher salt
Instructions
Begin cooking the pasta noodles in boiling water seasoned with 1 tablespoon kosher salt for approximately 5 minutes. *NOTE: Reserve 2 cups of the pasta water to add to the sauce later. While the pasta is cooking, start the sauce.

For the sauce, cut the tomatoes in half, then quarter the halves, and set aside. Heat 3 tablespoons of extra virgin olive oil in a large sauté pan over medium high heat, and add three of the garlic cloves to the oil. Tilt the pan so the garlic is immersed in the oil to flavor it as the garlic cooks. Cook until the garlic becomes fragrant and begins to color, then to avoid splatters, carefully add the tomatoes along with their juice to the flavored oil. Cook for 1-2 minutes, stirring and breaking apart the tomatoes as they cook. Pull out the garlic cloves and discard. Continue cooking the sauce for 6-8 more minutes where it will thicken and become creamy as it cooks. Tear the fresh basil leaves into pieces and add to the sauce when cooking is nearly complete.

As the pasta is cooking, heat the remaining olive oil in a large sauté pan over medium high heat with the remaining garlic. Cook until lightly browned and remove the garlic and discard. Carefully ladle 1 to ½ cups of the pasta water ¼ cup at a time into the garlic infused oil. Transfer the noodles to the pan and continue cooking the pasta for 1-2 more minutes or until the water and oil is absorbed. Divide the noodles among four plates, and top with the sauce. Garnish with more fresh basil and finish with a drizzle of extra virgin olive oil before serving. Or, toss the noodles with the sauce and serve family style
Notes
Be sure to reserve 2 cups of pasta water to add to the garlic oil and continue cooking in the last step. 
*Note: Avoid splatters and burns by being extra careful when adding the tomatoes to the oil in step 2, and when adding the water to the oil in step 3.
Nutrition
Serving:
4
ounces
|
Calories:
542
kcal
|
Carbohydrates:
91
g
|
Protein:
16
g
|
Fat:
12
g
|
Saturated Fat:
2
g
|
Sodium:
2630
mg
|
Potassium:
542
mg
|
Fiber:
5
g
|
Sugar:
6
g
|
Vitamin A:
1010
IU
|
Vitamin C:
17.3
mg
|
Calcium:
44
mg
|
Iron:
1.9
mg
More Dinner Recipe Ideas to Make Now
We send good emails. Subscribe to FoodieCrush and have each post plus exclusive content only for our subscribers delivered straight to your e-mail box.
Follow me on Instagram, Facebook, Pinterest and Twitter for more FoodieCrush inspiration.
As always, thank you for reading and supporting companies I partner with, which allows me to create more unique content and recipes for you. There may be affiliate links in this post of which I receive a small commission. All opinions are always my own.