These easy, cheesy vegetarian lasagna roll-ups put traditional lasagna on its side with a smaller portion that won't leave you with a whole pan of leftovers.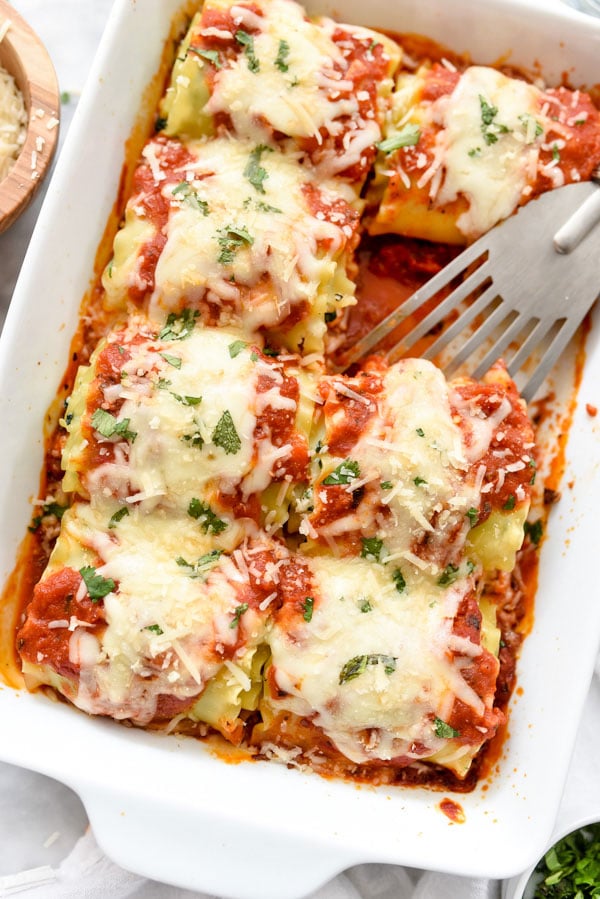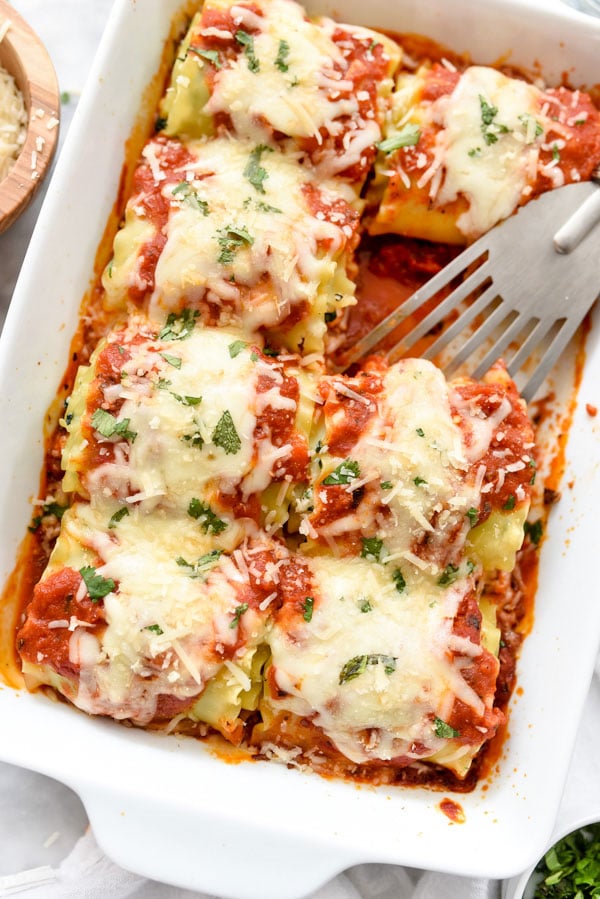 There are some food blogs you come to rely on — your go-to blogs when you're having chef's block trying to figure out what to cook. Julie Wampler's blog Table For Two is one of those blogs for us. Time and time again, we know we can visit Julie's site for some sound and easy inspiration in the kitchen.
Her recipes are healthy, fast and pretty darn delicious, and while her blog offers several savory recipes, Julie's penchant for sweets means that her dessert section is really something to behold. Hellooooo, Peanut Butter Cheesecake and Cookie Dough Brownies! The D.C.-based blogger is also a seasoned traveler, and we love living vicariously through her adventures around the globe.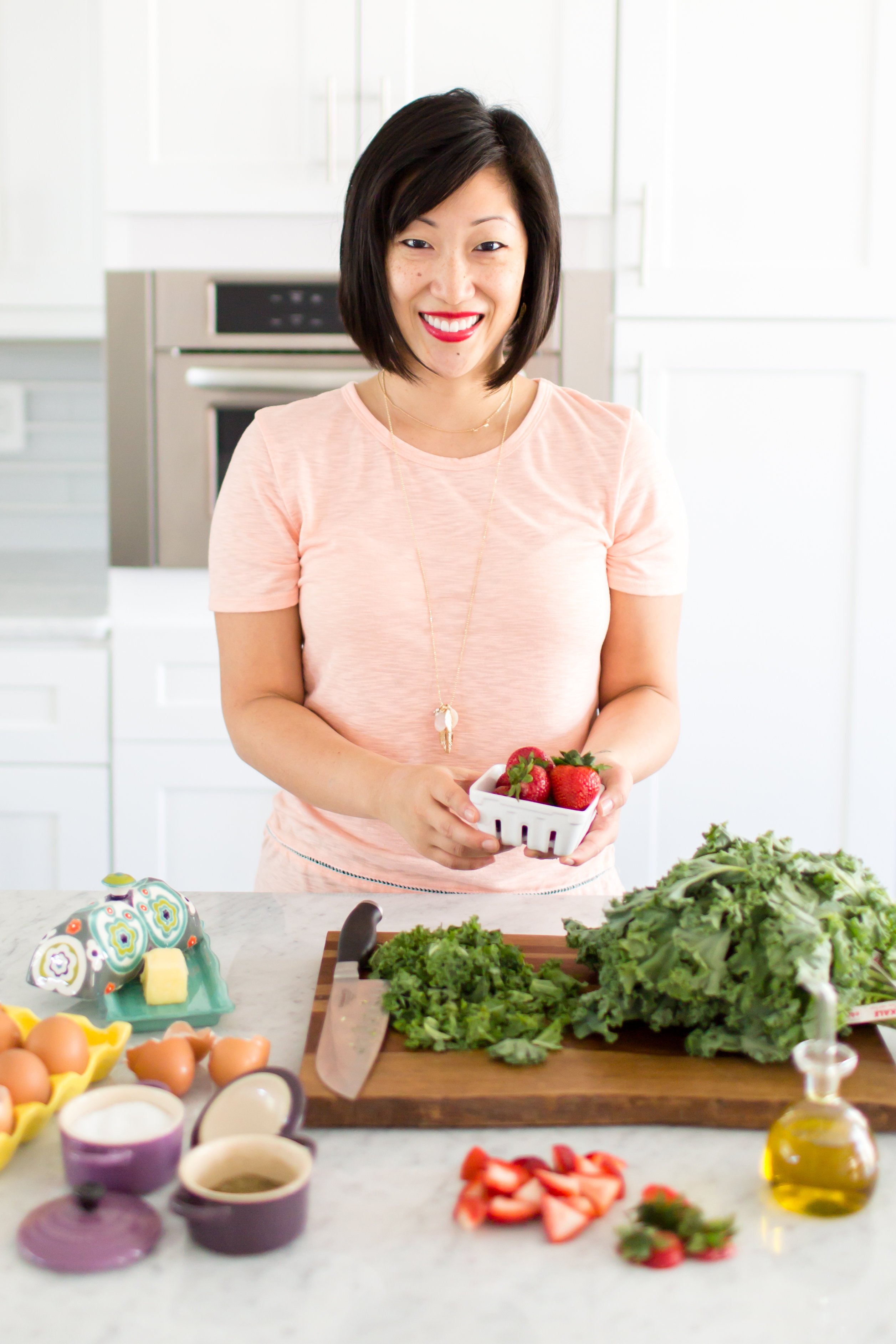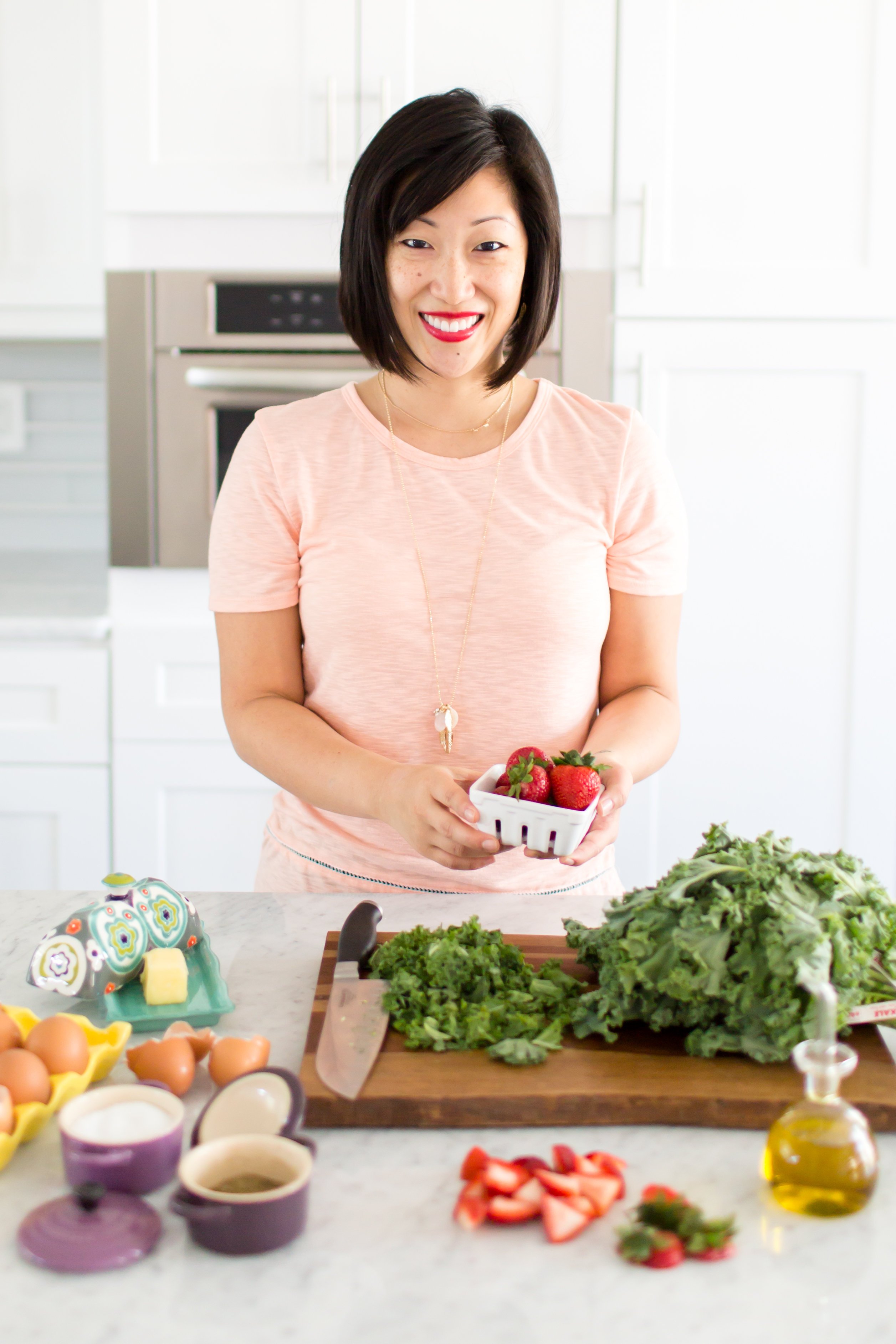 Julie's new book, Dinner for Two, features 70 recipes designed for couples. The book mainly features dinnertime fare, with a special section for one of my favorite mealtimes: breakfast for dinner, or "brinner."
"I noticed there wasn't a huge market share for 'for two' cookbooks, especially dinner recipes. Every busy couple out there seems to always struggle with what to eat/make for dinner and I wanted to change the whole, 'let's just grab something to-go' mentality. I wanted people to get into the kitchen and see how you can easily make a delicious meal at home — plus, I do the math for you!"
Conceiving and writing a cookbook is a challenging and lengthy process. Nearly a year later, Julie finds that the tangibility of being able to hold her cookbook is incredibly rewarding. We're pretty excited about being able to get our hands on that book ourselves. Well done, Julie!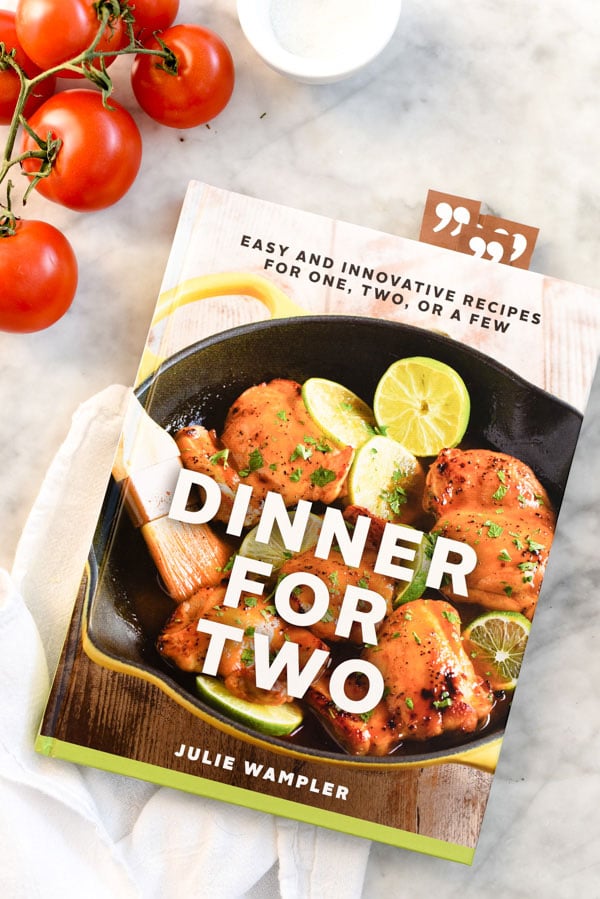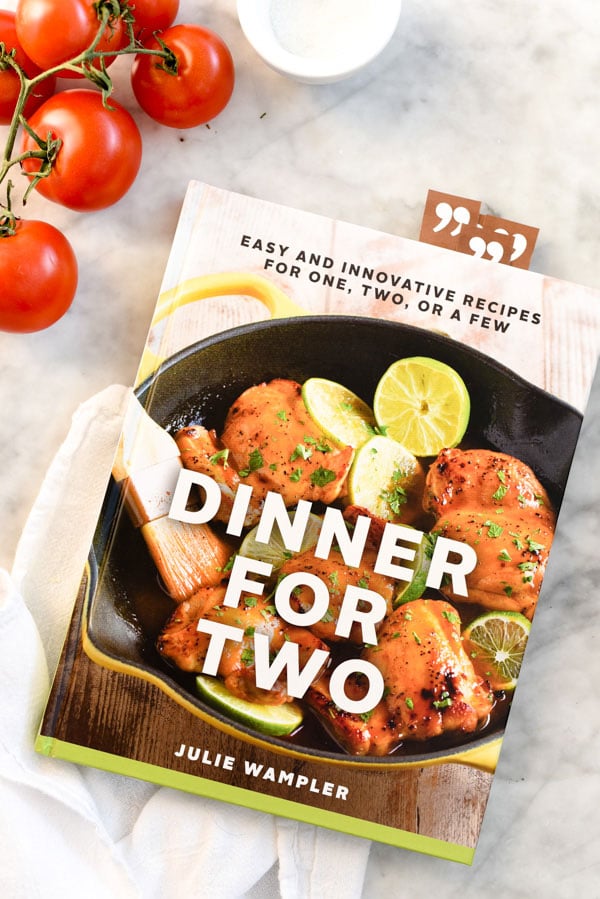 And Now, the List of 10 Q's for Julie A's
1. Describe your blog in 3 words:
Fun, comforting, delicious.
2. If you could be one blogger other than yourself, who would you be?
Jessica Merchant of How Sweet Eats is such a constant inspiration to me. I love her creativity and her unique recipes and her hilarious sense of humor and personality. I wish I were ballsy-er with recipes and flavors like she is.
3. Which 3 blogs do you follow/are obsessed with/can't live a day without?
4. What is the one kitchen tool you could never give up?
5. What dish are you obsessed with mastering that you just can't get quite right?
French macarons! Those darn feet!
6. What did you have for dinner last night?
Beef with snow peas and rice.
7. What's one secret talent outside of the kitchen nobody knows about you?
I'm a web developer, aka nerd.  ;)
8. You're happiest when cooking/eating: 
Pasta! I could honestly cook and eat it every day. I love that it's a blank slate for anything!
9. The one secret to your success is?
Social media. Even though we all hate it sometimes, I built my brand from the ground up using social media and I truly believe it is a very powerful tool to one's success (or failure).
10. What's next for you? Do you see another cookbook in your future?
To be honest, I just want to chill and have more free time. My goal for 2016 is to do more with less, if that makes any sense. I want to learn to say 'no,' and not feel bad about it. 2015 was incredibly busy and full of life events, so I want a slower pace for 2016 and to be able to relish in my accomplishments. I don't see another book in my future. I wasn't thrilled with the entire process that I went through and it's a ton of work with having a full-time job.
Spinach Lasagna Roll-Ups from Dinner for Two
Thank you for the great interview, Hayley! It's Heidi here, and now, it's my turn to introduce you to one of Julie's easy Dinner for Two dinner recipes.
Twice a week my husband has band practice (I live the real-life version of "Honey! I'm getting the band back together!") which leaves me and my Smudge for girls night. Most nights I try to get Smudge to go out to eat with me for a special mama-daughter-date, but she's a homebody and prefers to eat at home. After leafing through Dinner for Two, I had plenty of inspiration for a special dinner for just the two of us.
The cookbook's recipe list is long and crave-worthy with the focus on classics with a twist. I'd narrowed our dinner options down to Parmesan-Crusted Chicken Rice Bowls, Creamy Sun-Dried Tomato Fettuccine (one of Julie's most popular blog recipes) or Loaded Taco Tots.
But in the end, I went with this super simple twist on classic lasagna. Spinach Lasagna Roll-Ups.
What's in These Lasagna Roll-Ups?
These spinach lasagna roll-ups require mostly pantry staples. You'll likely need to make a run to the grocery store for the cheeses and frozen spinach, but that's it. Here's everything you'll need to make these spinach lasagna rolls:
Ricotta cheese
Mozzarella cheese
Frozen spinach
Kosher salt and pepper
Marinara sauce
Dried oregano
Dried basil
Garlic powder
Crushed red pepper flakes
Lasagna noodles
Fresh parsley or basil, for garnish
Parmesan cheese
How to Make Lasagna Roll-Ups
Julie shares in her book, "We love lasagna, but we don't like making an entire casserole and eating leftovers for days on end. Lasagna roll-ups are a great alternative because you can easily make the perfect portion for the two of you."
These spinach lasagna rolls are also really fast to pull together and easy enough that Smudge can help with no problem. To make them, simply stir together the cheese filling and cook the lasagna noodles according to package instructions.
Then, whisk together the marinara sauce and spices. To assemble the lasagna roll-ups, lay a lasagna noodle on a flat surface. Spoon a little cheese filling onto each noodle, using your fingers to gently press the mixture in a thin, even layer across the entire noodle.
Gently roll up the noodle from one end of the noodle on the short side.
Place the rolled noodles on a layer of the spruced-up jarred sauce in a shallow baking dish.
Add more sauce on top. You may use more than the recommended ⅓ cup of marinara to top the rolled noodles, and that's perfectly okay. Just go with your taste and your gut.
Then, sprinkle with mozzarella cheese. Place in the oven topped with a tented piece of aluminum foil for 15 minutes, then remove the foil for the final 15 minutes.
And wha-la! Dinner is served.
Roll-on, crouton.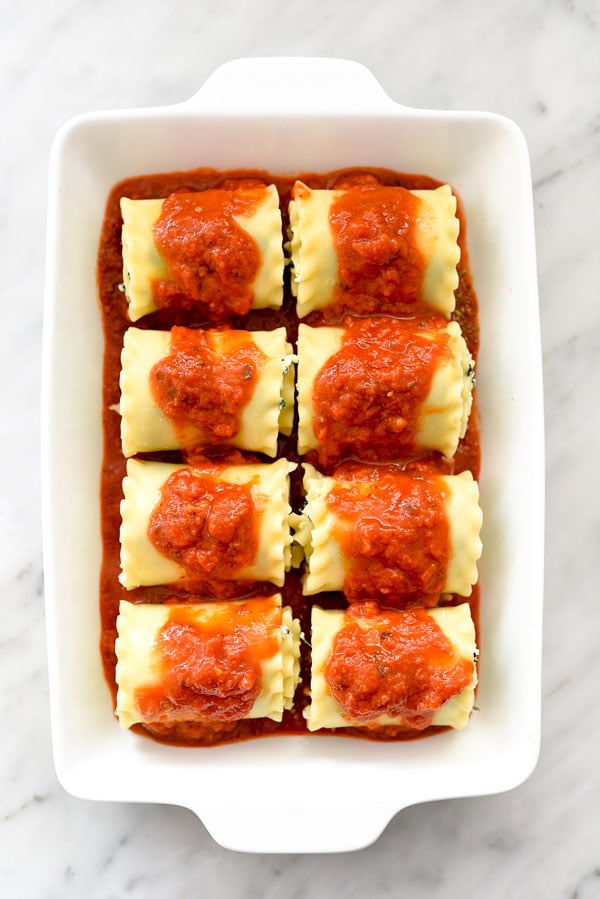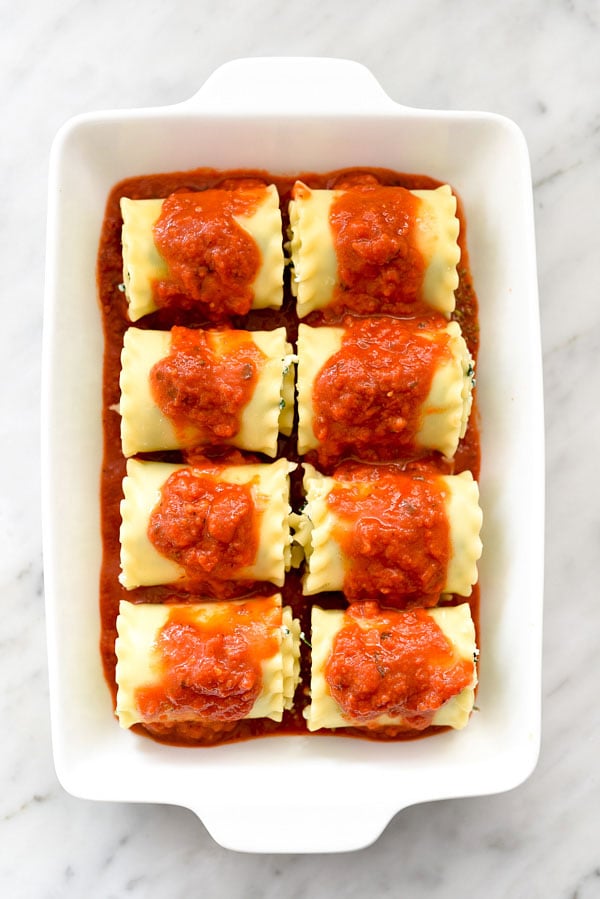 Can I Add Ground Meat to the Sauce?
You likely can. I'd start with ½ pound of browned ground pork, turkey, or beef and see if that's enough.
Can I Use Fresh Spinach Instead of Frozen?
Sure, but you'd want to cook it down first in a skillet with a little water in it to help it steam. Note that you'll need a lot of raw spinach to make as much as you get in a frozen package.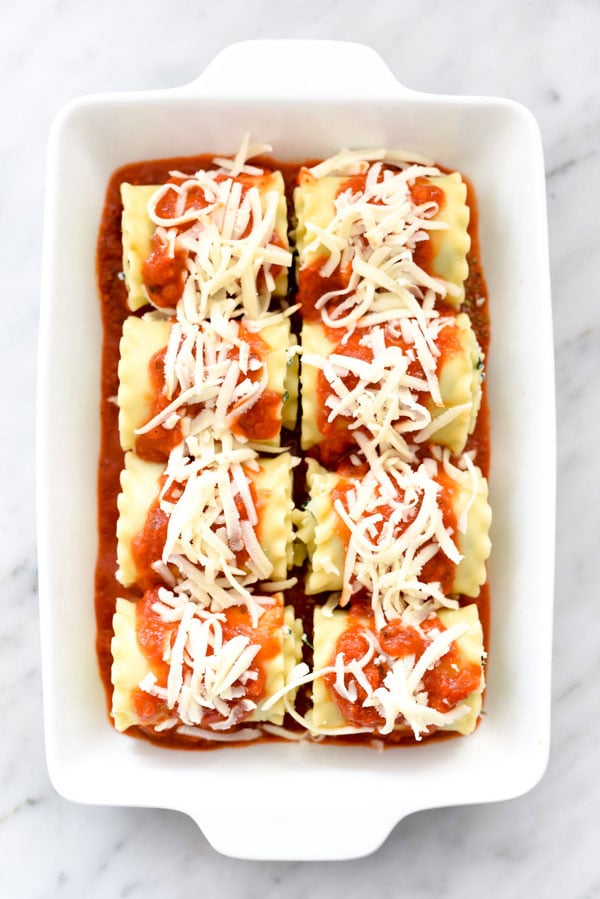 Can I Freeze Lasagna Roll-Ups?
I haven't frozen these myself, but I bet they'd freeze nicely. Roll them up, pop them into a freezer- and oven-safe dish, then bake from frozen.
How to Reheat Lasagna Roll-Ups
To avoid drying out the noodles or making them rubbery, skip the microwave and warm these spinach lasagna rolls in the oven instead. Cover them with foil to prevent them from drying out.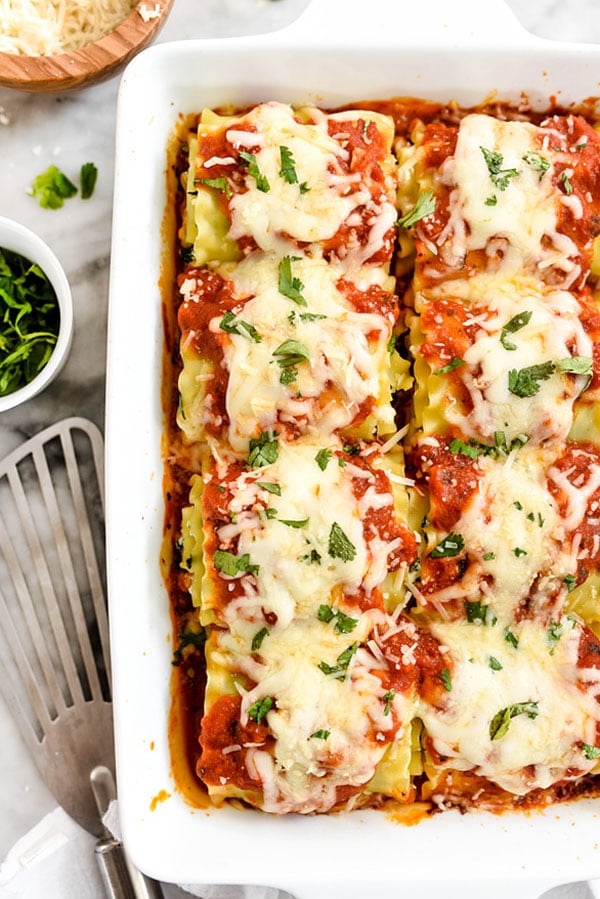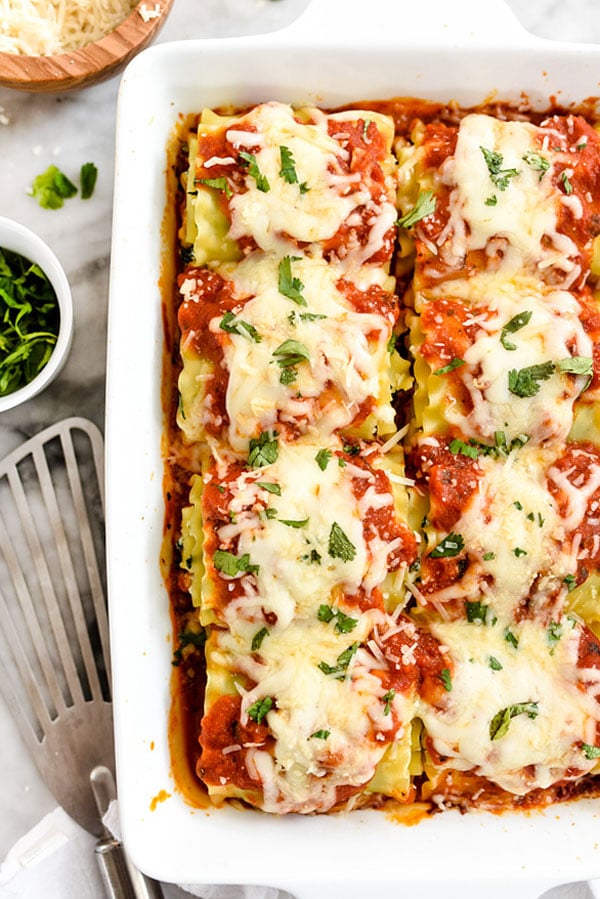 What to Serve with Lasagna Roll-Ups
Need an easy side dish to serve with these spinach lasagna rolls? Here are a few of my favorites: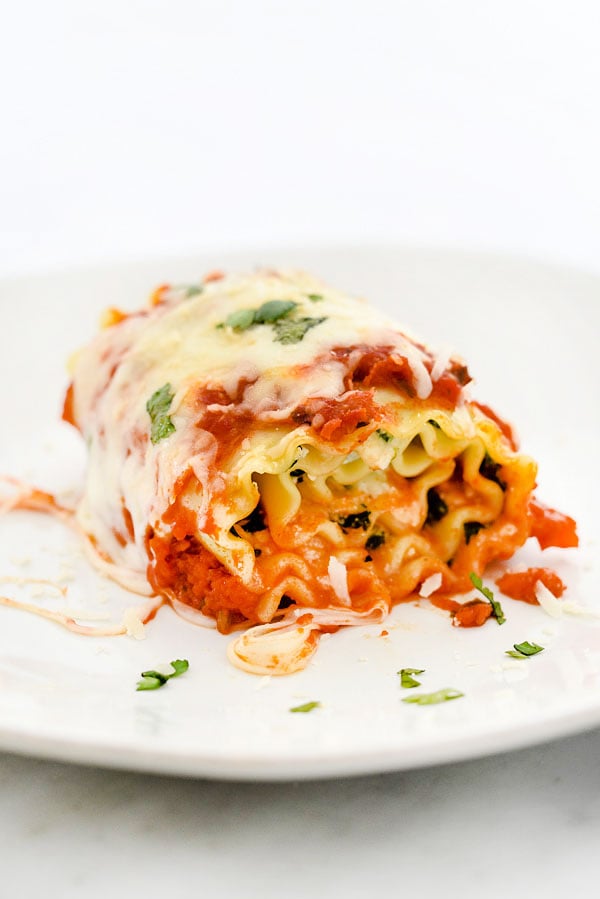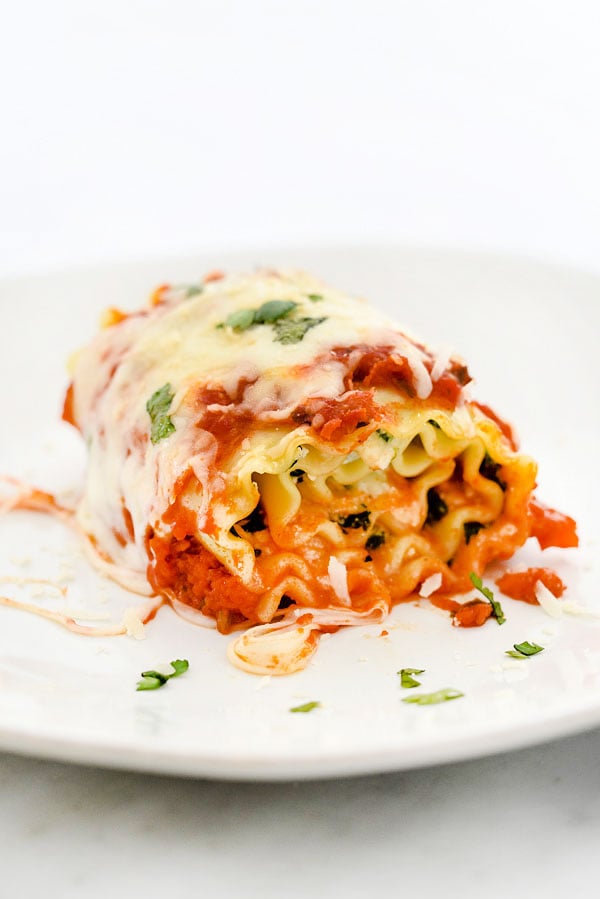 Tips for Making Spinach Lasagna Roll-Ups
Jarred marinara is one reason this recipe is perfect for weeknight eats. Choose a good quality marinara or pomodoro sauce so this sauce is a success. This is one of my favorites but if you have a little more time on your hands and are inclined to make your own, my roasted tomato sauce is a fast and flavorful time saver.
For these lasagna rolls, you want to use frozen chopped spinach that's been thawed. Squeeze the thawed spinach really well to avoid a watery filling.
When cooking the lasagna noodles, pay attention to your cooking time and undercook the noodles just a bit, so that they still bend to roll, but not so much that the rippled ridges fall apart. The noodles will continue to bake in the oven.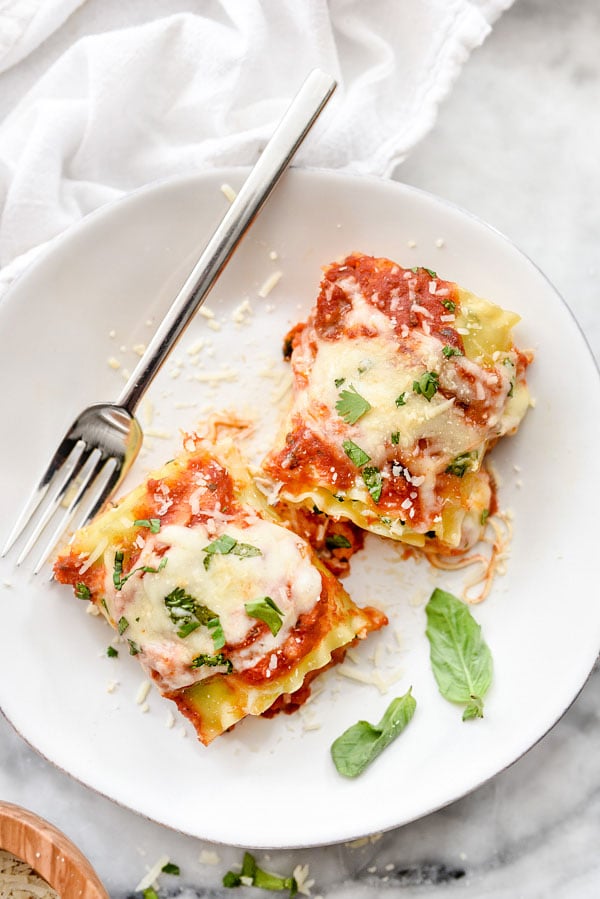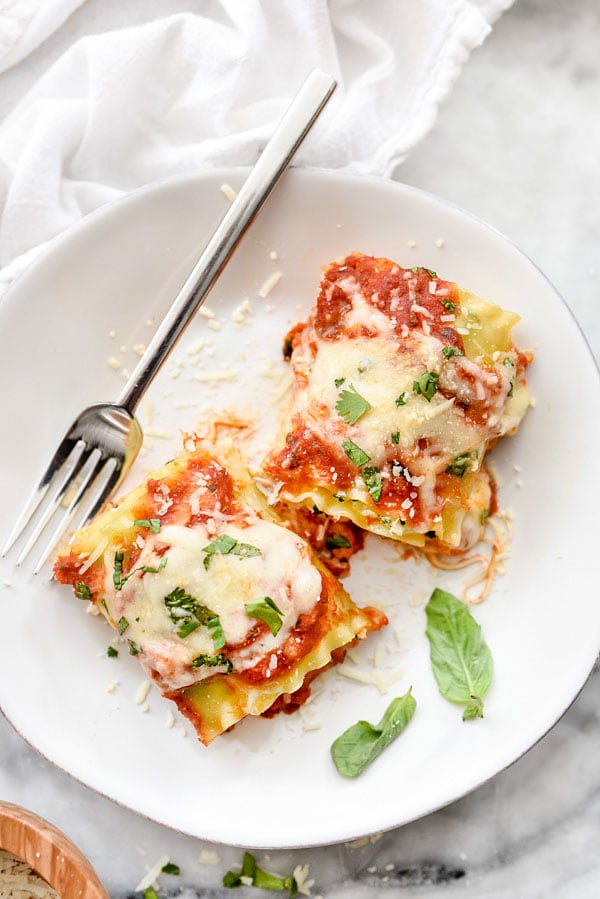 More Lasagna Recipes to Master
If you make this recipe, please let me know! Bookmark this recipe and leave a comment below, or take a photo and tag me on Instagram with #foodiecrusheats.
Print
Spinach Lasagna Roll-Ups
These easy, cheesy vegetarian lasagna roll-ups put traditional lasagna on its side with a smaller portion that won't leave you with a whole pan of leftovers.
Servings
8
lasagna roll-ups
Ingredients
For the filling:
1 ½

cups

park-skim ricotta cheese

1

cup

mozzarella cheese

divided

¾

cup

frozen chopped spinach

thawed and drained of excess liquid

½

teaspoon

kosher salt

¼

teaspoon

fresh ground black pepper
For the remainder of dish:
1

cup

marinara sauce

½

teaspoon

dried oregano

½

teaspoon

dried basil

¼

teaspoon

garlic powder

¼

teaspoon

crushed red pepper flakes

8

lasagna noodles

cooked

Parsley or basil leaves

slivered, for garnish

Parmesan cheese for garnish
Instructions
Preheat oven to 350 degrees F.

For the filling:

In a small bowl, stir together all of the filling ingredients (using only ½ cup of the mozzarella and setting the remainder aside.)

For the remainder of the dish:

In a small bowl, whisk together the marinara sauce and spices.

Spread ⅔ cup of the marinara sauce mixture in a thin layer on the bottom of a 2-quart rectangular baking dish. Set aside.

To assemble the lasagna roll-ups, lay a lasagna noodle on a flat surface. Use a ¼ cup measuring cup to measure out the filling for each noodle. Use your fingers to gently press the mixture in a thin, even layer across the entire lasagna noodle. Gently roll up the noodle from one end of the noodle on the short side. Be careful not to press too hard.

Place the lasagna roll-up, seam side down, in the prepared baking dish and repeat until all the lasagna noodles are filled.

Pour the remaining ⅓ cup of marinara sauce over the tops of the lasagna roll-ups. Sprinkle the remaining ½ cup of mozzarella cheese on top of the roll-ups.

Loosely cover the baking dish with aluminum foil, and bake for 15 minutes. Remove foil, then bake for another 15 minutes.

Garnish with parsley, basil leaves and Parmesan cheese if desired.
Nutrition
Calories:
154
kcal
|
Carbohydrates:
23
g
|
Protein:
7
g
|
Fat:
4
g
|
Saturated Fat:
2
g
|
Cholesterol:
11
mg
|
Sodium:
395
mg
|
Potassium:
174
mg
|
Fiber:
1
g
|
Sugar:
2
g
|
Vitamin A:
227
IU
|
Vitamin C:
2
mg
|
Calcium:
84
mg
|
Iron:
1
mg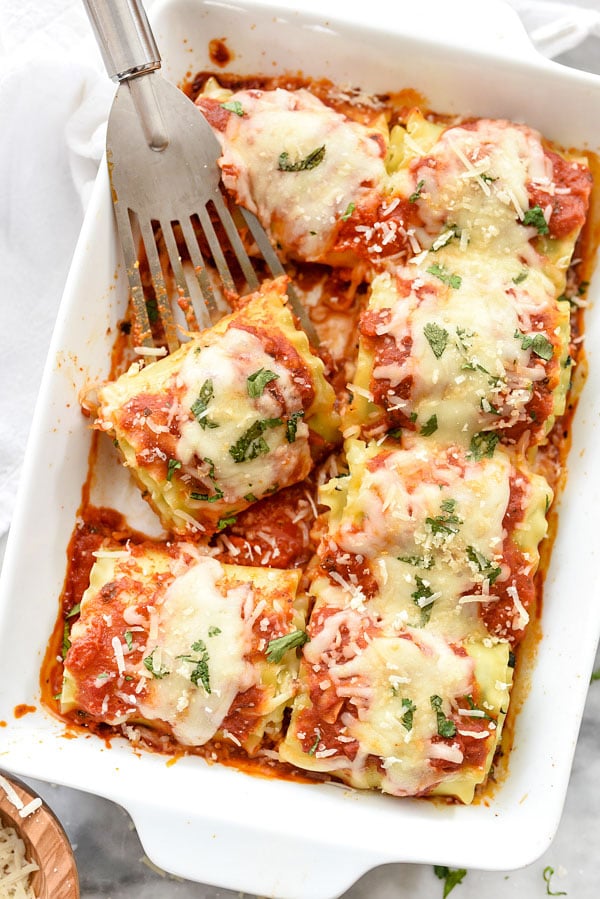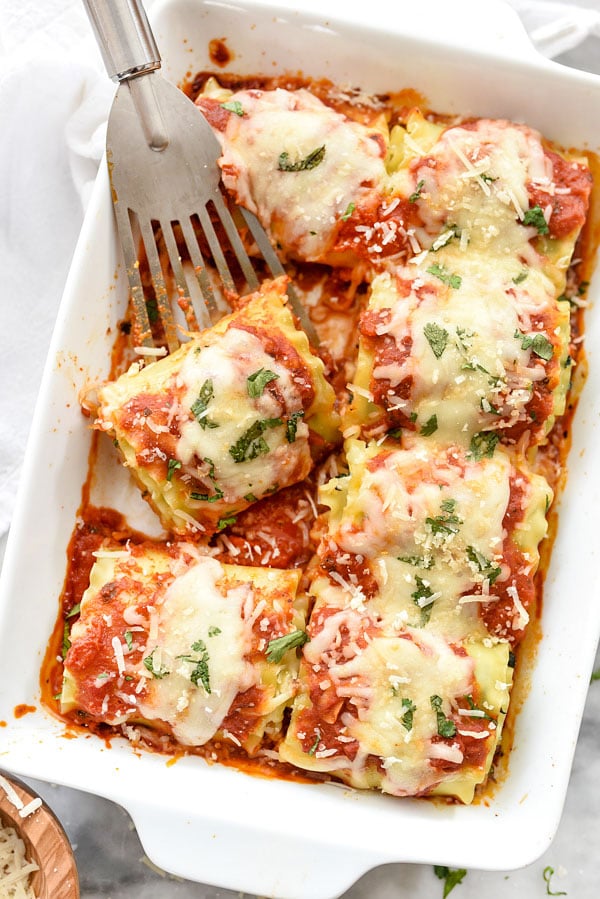 More Easy Pasta Dinners You'll Love
Thank you for a great recipe Julie, and thank you for being our foodie crush!
Discover more of Table for Two on Julie's blog and purchase Dinner for Two here.
Written by Heidi and contributor Hayley Putnam. Follow Hayley and her foodie tastes and other flights of fancy on Pinterest and Instagram.
Craving more life balance, less stress, and better health? Check out my Nourished Planner, the daily planner to help create simplicity and under-schedule your life.
We send good emails. Subscribe to FoodieCrush and have each post plus exclusive content only for our subscribers delivered straight to your e-mail box.
Follow me on Instagram, Facebook, Pinterest and Twitter for more FoodieCrush inspiration.
As always, thank you for reading and supporting companies I partner with, which allows me to create more unique content and recipes for you. There are affiliate links in this post of which I receive a small commission. All opinions are always my own.