Simple, homemade marinara sauce should truly be simple! Made with canned San Marzano tomatoes, this is a quick, 5-ingredient sauce deep with flavor that's ready to serve in under an hour.
Of all the popular Italian sauces to dress pasta and pizzas, the classic marinara is likely the most well known. But along with it's notoriety, comes the mistaken notion that this is a sauce with a laundry list of ingredients that require hours of slow cooking to achieve greatness. I mean, isn't that how all Italian sauces are made? Definitely not this one!
Traditional marinara sauce is the little black dress of Italian sauces. It's meant to be cooked quickly and simply adorned. It can be loved on it's own or built upon to create more complex recipes. Marinara shines in it's simplicity.
Homemade marinara is a recipe that's easy to turn to when cooking inspiration has all but been abandoned, and returned to when comfort and ease is what's needed most. Of course you can pick up a jar from the store and be perfectly satisfied, but just like most things, marinara sauce made from scratch is simply the best.
Homemade Marinara Sauce Ingredients
Marinara sauce is an extremely simple recipe to make. Similar to pomodoro sauce where fresh tomatoes are used, this ingredient list is short and sweet for a sauce that's easy and light.
In my sauce, I skip the onion and don't bother with wine. I like it light and bright, stripped down to the essential, best-quality ingredients I can find:
Whole San Marzano tomatoes in their purée. Be sure to choose legit San Marzano tomatoes that are canned whole in a sauced tomato purée. I use DeLallo San Marzano style tomatoes that are grown in Italy and imported to the U.S. Interestingly, 95% of the San Marzano tomatoes sold in the U.S. aren't actually from Italy as they claim, and are actually grown in the U.S. instead.
Extra virgin olive oil. The olive oil imparts a LOT of flavor in this recipe so choose the best extra virgin olive oil you can afford. I prefer olive oils with a clean taste that are clean, fruity and bright.
Garlic. Choose firm cloves of garlic.
Tomato paste. Tomato paste is simply concentrated tomato, and adds depth to this sauce. I prefer using it from the tube rather than the can for less waste.
Basil or oregano. Regardless of which herb you choose, make it fresh.
Kosher salt and freshly ground black pepper. Salt is what balances the tomatoes acidity in this recipe with black pepper bringing the heat.
How to Make Marinara Sauce
The secret to making a great marinara is marrying simple ingredients that infuse flavor without overcooking.
Use canned, whole tomatoes you crush yourself. This step will take you back to kindergarten where everything was tactile. It's time to get in there! Pour the tomatoes into a bowl then crush with your fingers or the back of a spoon. Whole tomatoes give the sauce body but keeps it thin, light, and just the right bits of chunk. Don't substitute puréed or crushed tomatoes. They will make the sauce too thick.
Start With a Skillet
When thinking of making sauces, most likely the first thought is it cook it in a sauce pan. Sure you can, but cooking this sauce in a skillet adds more surface area for the oil and tomatoes to meld together and cook down in a quicker amount of time.
The skillet doesn't have to be too large, so I use my favorite 10-inch stainless steel skillet like this one.
Infuse the Oil With Garlic
Flavor the oil with crushed garlic instead of minced. Flavoring the oil with smashed cloves of garlic infuses flavor with less chance of the garlic burning and becoming bitter, or overtaking the sauce with striking garlic-bit-bites.
As the garlic steeps in the oil and later cooks in the sauce, it becomes sweet and soft. The smaller bits will likely melt right into the tomato mixture. As for the bigger garlic chunks, fish them out of the sauce after cooking, or leave them in for sweet, jammy surprise bites.
Brown the Tomato Paste Then Add Tomatoes for More Flavor
The concentrated tomato flavor of tomato paste adds richness and depth to this sauce. In many sauces, tomato paste is added late in the game to simmer away as it deepens in flavor. In quick sauces like this one, there's no time for long simmers, so add it earlier in the process.
Once the garlic has become golden brown, carefully, and I repeat, CAREFULLY, add the tomato paste to the oil. Take care so it doesn't splatter, spit, and burn you.
Brown the tomato paste in the oil and garlic for 1 minute. Stir constantly to coax out the tomato paste's richness.
Slowly spoon the crushed tomatoes into the skillet, add the whole, fresh basil stems, season, and simmer for 30 minutes.
A Few Notes About the 30-Minute Simmer…
Simmer so it bubbles. A rapid simmer with a few bobbling bubbles is what you're looking for.
The oil will separate. As the sauce cooks, the olive oil will separate from the tomato mixture. Don't be too concerned about the separation. The flavor is infusing and melting into the tomatoes as they cook down. Stir or whisk to emulsify.
Fish out the garlic cloves and basil stems—or leave them in. Once the sauce is finished cooking, the garlic cloves will have become soft and jammy and done their job. Consider smashing them more to incorporate into the sauce (use an immersion blender if you'd like) or fishing them out and discarding.
Balance the flavor with more salt or a pinch of sugar. Take the taste test. If needed, add more salt to bring out more tomato flavor, or add a pinch or two of sugar to balance the acidic flavor.
How to Can Homemade Marinara Sauce
This sauce recipe makes enough for several servings. If making it to can or freeze for later, double, triple or make more times the recipe.
Sterilize glass canning jars and lids before adding the marinara sauce plus ¼ teaspoon citric acid or 1 tablespoon bottled lemon juice per pint (double quantities for quarts). Process in a water bath with sealed lids for 35 minutes.
How to Freeze Marinara Sauce
Ladle the cooled sauce into gallon freezer bags. Lay the bags flat in the freezer then for easy storage, stack upright like envelopes. Freeze the sauce for up to 4 months.
Recipes to Make With Marinara Sauce
If you make this recipe, please let me know! Leave a 
 rating on this recipe below and leave a comment, take a photo and tag me on Instagram with #foodiecrusheats.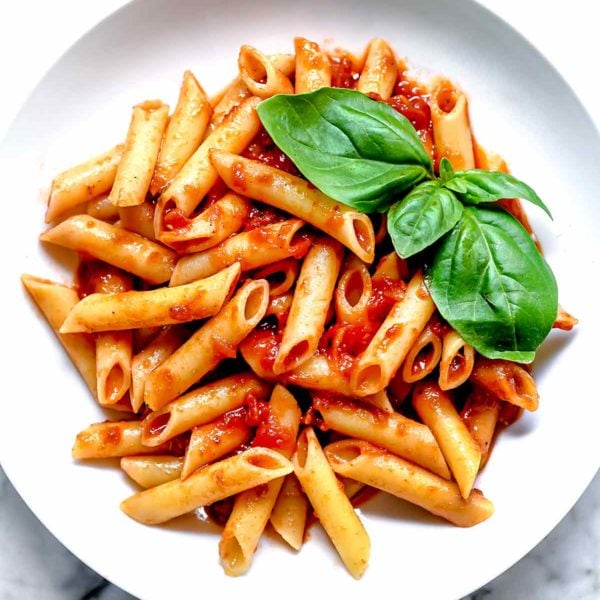 Print
Penne Pasta with Marinara
Ingredients
kosher salt

1

28-ounce

can whole peeled San Marzano tomatoes

, with purée

¼

cup

extra-virgin olive oil

4

garlic cloves

, peeled and smashed

1

tablespoon

tomato paste

1

teaspoon

kosher salt

½

teaspoon

freshly ground black pepper

2

sprigs fresh basil or oregano

, plus more basil for garnish

1

pound

dried penne pasta

, or other favorite pasta of your choice
Instructions
Bring a large pot of water to a boil and season generously with kosher salt.

Meanwhile, begin preparing the marinara. Pour the tomatoes and purée into a bowl and crush with your hands or the the back of a spoon, then set aside.

In a large cold skillet, add the extra-virgin olive oil and garlic cloves, and bring to medium heat. As the garlic begins to sizzle, stir occasionally, and cook until fragrant and golden, about 5 minutes. Monitor the heat so the garlic doesn't cook too quickly or burn.

Very carefully stir the tomato paste into the garlic and oil—take care so the oil doesn't splatter and burn you as the paste is added—and cook for 1-2 minutes. Carefully spoon the tomatoes into the pan with the oil and paste and season with salt and pepper. Add the basil sprigs and bring to a boil. Reduce to a bubbling simmer over low heat, stirring occasionally, for 30 minutes. Stir to mix the oil that rises to the top, then discard the basil sprigs and garlic.

Meanwhile, cook the pasta in the boiling water until 2 minutes shy of suggested cooking time on the packaging. Use a slotted spoon or spider to transfer the pasta directly to the sauce to continue cooking until tender but still toothy. Toss the pasta to coat it well, and add 1-2 tablespoons of the pasta water if needed to extend the sauce. Garnish with fresh basil and serve.
Notes
Make the pasta sauce ahead and refrigerate for up to 5 days or freeze up to 1 month, warm the sauce in a skillet then cook the pasta and finish as directed. 
Nutrition
Calories:
366
kcal
|
Carbohydrates:
58
g
|
Protein:
10
g
|
Fat:
10
g
|
Saturated Fat:
1
g
|
Sodium:
414
mg
|
Potassium:
204
mg
|
Fiber:
3
g
|
Sugar:
2
g
|
Vitamin A:
41
IU
|
Vitamin C:
1
mg
|
Calcium:
19
mg
|
Iron:
1
mg
More Easy Tomato Sauce Recipes
We send good emails. Subscribe to FoodieCrush and have each post plus exclusive content only for our subscribers delivered straight to your e-mail box.
Follow me on Instagram, Facebook, Pinterest and Twitter for more FoodieCrush inspiration.
As always, thank you for reading and supporting companies I partner with, which allows me to create more unique content and recipes for you. There are affiliate links in this post of which I receive a small commission. All opinions are always my own.