This recipe for roasted red pepper pasta has been rattling around in my head for a while. It just needed an occasion to be born to the world. So why not deliver it in celebration of a virtual baby shower for one of my favorite food bloggers, the insanely funny and talented Bev of Bev Cooks.
If you're a food blogger, you know Bev. She's a regular voyeur on most blogs, commenting on bloggers' recipes with announcements like, "GET IN MY FACE!" or "Where's my diving board? I'm going in." And with her blogging raves about Wilson Phillips and Phillip Phillips and probably other Phillips we don't even know about, we all know she has her obsessions. Which is pretty much how we all feel about her recipes. Obsessed.
Whenever I think of Bev, I think of…well…sarcasm accompanied by juuuuuuust a litttttttle drama. Her burgeoning belly, thanks to being just one month away from delivering TWINS! Whoa, she's a better woman than I. And some seriously delish comfort food. Pasta. Pizza. Crazy inspirations like Chicken Taco Twists and Buffalo Shrimp Tostadas.
I can only imagine what she dreams about at night. Okay, maybe I don't want to do that.
But I do know one thing she's been dreaming of. Make that two. Those little babes cooking in her belly. Will and Natalie. Soon to join the world. 20 baby toes to nuzzle. I'm a tad jealous of all of the baby love that will be going on.
It's been a long road to get to this point, a story Bev opens up and talks about with her usual humor and unusual candor (which made me love her even more) and we can all only IMAGINE what will be going on in the Weidner household once those babies hit the threshold.
How a girl can look this good, and still be this funny this far into having twins makes her even more of a marvel.
To celebrate with a virtual shower recipe ode, I took inspiration from Bev's blog. And the fact that she's having twins. Maybe she and I can be twins! See, I can dream too ya' know.
Okay, so she likes sausage. A lot. Lots of recipes with sausage. And chicken sausage. Me too! And she digs pasta. So do I. Wow! We're almost sisters. Cream. I like cream. Check! Okay, we may have to get matching tattoos. Or at least duet some Summer Lovin' karaoke. Okay Bev, you can be Olivia. Just this once.
So decision time. How about a riff on her Skillet Pasta with Chicken Sausages and Creamy Green Pepper Sauce. I doubt I'll be able to compare, but I'm giving it a go. Maybe we can be Wonder Twins. Activate! Aaaaand, I'm still probably going to have to be the boy.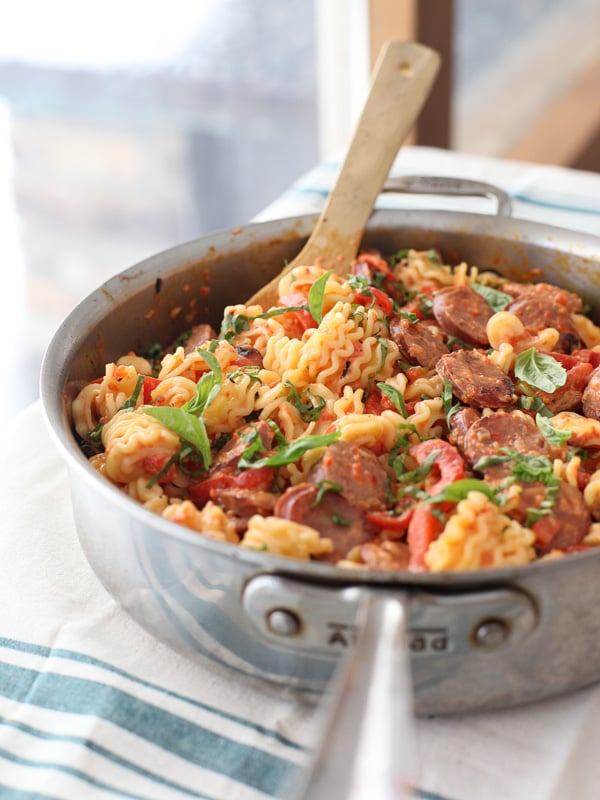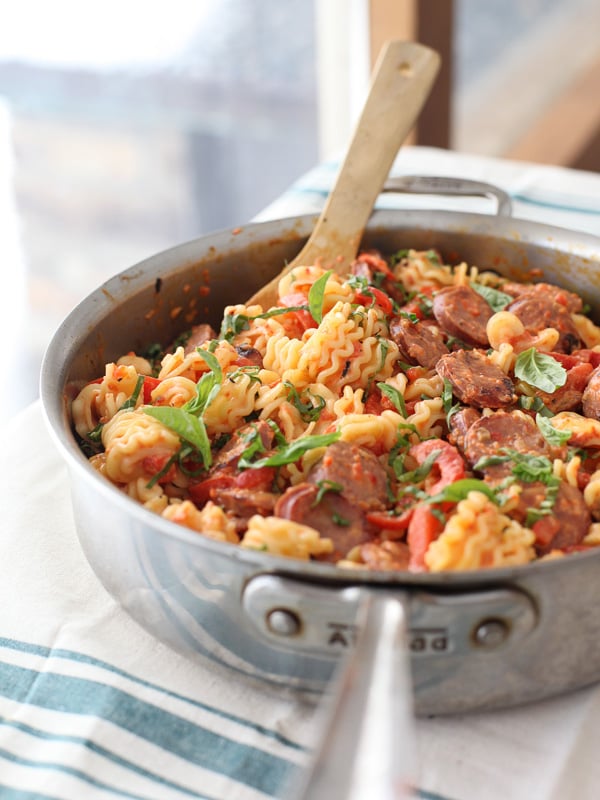 About this recipe:
My favorite roasted red bell peppers cooked down in cream sauce is usually a topping we use for Salmon Cakes (DING DING! must make and post those soon) but makes a tasty sub for Bev's green peppers and gins this whole concoction together. I could drink this stuff. I'm not kidding, I do drink it.
Chicken sausage is pretty key here. Italian sausage is just a bit too flavored for this dish but if you have to, go ahead. A kielbasa would work too. I use Aidells Chicken and Apple Sausage.
Cayenne pepper. Add it to the red pepper sauce. It really balances the flavor. With a little kick.
Bev doctors her recipe with a pop in the oven and melty mozzarella cheese. I decided to keep it simple (shocking because I rarely do) but it would def be a great add. So if you're feeling it, do it.
And mushrooms. They'd be a great addition too. They're always a staple in my pastas. I use brown button mushrooms for pastas like this. But again, I kept it simple for once.
Don't have basil? I can't believe the stuff I bought at the store looked decent for once. I miss my garden already. If you can't find good basil, go ahead and use parsley. The Italian flat leaf is the only kind to buy. Leave the curly stuff on the plate at the diner along with the orange slice.
Print
Creamy Roasted Red Pepper and Chicken Sausage Pasta
Ingredients
1

pound

short pasta

I used Radiatori but penne or rigatoni would be great

2 16

ounce

jars roasted red bell peppers

or 4 whole roasted red bell peppers

2

cups

whipping cream

Extra virgin olive oil

1 13

ounce

pack chicken and apple sausages

about 5 sausages, sliced into coins. I use Aidell's Chicken and Apple Sausage

⅛

teaspoon

cayenne pepper

kosher salt

2

tablespoons

fresh basil

slivered

Parmesan cheese
Instructions
Cook pasta in a large pot of water seasoned with kosher salt until al dente, about 7-8 minutes. Drain.

While pasta is cooking, slice the roasted red bell peppers into thin slices. Add to a medium size pot with the whipping cream and bring to a boil. Reduce to a bubbling simmer and cook for 15 minutes or until reduced by half, stirring occasionally.

Meanwhile, cook the sausages in a large pan with a circle or two of extra virgin olive oil over medium high heat for about 7 minutes, or until lightly browned. Remove from the pan, wipe it clean with a paper towel and return the sausage to the pan to rest.

When the cream has reduced, remove ¼ of the peppers and set aside. Blend the remaining peppers and the cream with a

hand immersion blender

and then pour into the pot with the sausages. Add the additional peppers and pasta and cook over medium heat for another 2-3 minutes or until everything is warmed through.

Garnish with basil leaves and grated parmesan cheese. Serve immediately.
I'm not the only one celebrating the Bev's D-day (delivery day.) Jump over and visit the other fantastic bloggers who've jumped onto this baby train.
Appetizers
Bacon Cotija Guacamole from Gaby of What Gaby Cooking
Gruyère Gougères from Shaina of Food for My Family
Lemon Risotto Tarts from Kelly of Live Love Pasta
Goat Cheese Crostini with Pesto and Roasted Red Peppers from Liz of The Lemon Bowl
Spinach and Feta Quinoa Bites from Aggie of Aggie's Kitchen
Roasted Red Grape, Brie and Rosemary Flatbread from Laurie of Simply Scratch
The Fastest Appetizer Ever from Brooke of Cheeky Kitchen
Apple Pear Tart – Two Ways from Sarah of Daisy at Home
Drinks
Chocolate Chai Frappe from Brandy of Nutmeg Nanny
Cherry Chocolate Kiss Smoothie from Amy of Very Culinary
Cranberry Sorbet Bellini – Non-Alcoholic and Alcoholic from Megan of Country Cleaver
Peppermint Mocha Affogato from Christina of Dessert for Two
Toasted Marshmallow Cream Hot Chocolate from Jessica of How Sweet It Is
Pomegranate Lemonade Punch from Heather Heather Christo
Salads
Kale Salad with Pomegranate, Orange and Pine Nuts from Rachel of Rachel Cooks
Pear Cranberry Arugula Salad from Tracy of Shutterbean
Brussels Sprout Salad + maple roasted cranberry dressing from Katie of Yes, I Want Cake
Gluten-Free Pasta Salad from Lisa of With Style and Grace
Hearty Roasted Winter Vegetable Salad with Honey Ginger Dressing from Heather of Heather's Dish
Winter Citrus Salad from Catherine of Weelicious
Entrees
Eggplant Parmesan Lasagna from Joanne of Fifteen Spatulas
Cheesy Chicken Enchilada 'Double' Stacks from Lauren of Climbing Grier Mountain
Jalapeno Popper Chicken Soup from Kevin of Closet Cooking
Thai Spiced Chicken with Coconut Cream Swiss Chard from Brandi of Bran Apetit
Sausage and Red Pepper Quiche from Tasty Kitchen
Roasted Red Pepper Pasta with Goat Cheese from Julie of The Little Kitchen
Desserts
Soft and Chewy Oatmeal Coconut Chocolate Chip Cookies from Averie of Averie Cooks
Glazed Dulce de Leche Pound Cake from Meagan of Scarletta Bakes
Mississippi Mud Pie Brownie Ice Cream from Megan of Take a Megabite
Buttermint Frosted Sugar Cookie Cups from Shelly of Cookie and Cups
4-Ingredient Peanut Butter Chocolate Cookies from Ali of Gimme Some Oven
Sweet Potato Creme Brulee from Brian of A Thought for Food
Whole Wheat Double Chocolate Mint Cookies from Aimée of Simple Bites
Mini Chocolate Stout Cheesecake with Salted Beer Caramel Sauce from Jackie of The Beeroness
Red Velvet Hi Hat Cookies from Kristan of Confessions of a Cookbook Queen
Double Chocolate Panini from Kathy of Panini Happy
So happy for you Bev. Seriously. Congratulations on becoming a mom.
As always, all opinions are my own. Thanks for supporting companies I partner with, which allows me to create more unique content and recipes for you. This post contains affiliate links.
Are you following me on Instagram, Twitter, Facebook and Pinterest? Thanks for reading and  subscribe to FoodieCrush to have each post delivered straight to your e-mail box.