**This giveaway is now closed.
There are few things I enjoy more than spending an afternoon cuddled up with:
A: A warm body I love (Smudge, G Dawg or one of the pups all take first place),
B: Either my iPad loaded with new online mags to scroll through or a fresh batch of my favorite print titles to savor,
OR
C: A new cookbook to glean tasty inspiration from.
Lucky me, I have exactly three of those reasons to make a fresh iced coffee, kick off my shoes, and steal away for some "me" time but this time it's with the debut cookbook from one of the web's most popular food bloggers, Lori of Recipe Girl, appropriately titled The Recipe Girl Cookbook. Well said Lori.
Lori was one of the first food bloggers I discovered after being introduced to her blog by a friend of a friend. I had just started FoodieCrush and after blogging for a just a few months I boldly asked Lori if I could interview her. She was probably wondering what she got herself into, but graciously said yes to this newbie.
I got to know her a lot better on a blogger's trip to visit Harry & David, and in person realized this girl not only knows food, but she's generous and creative, offering advice when asked and encouraging others to reach their goals. Plus she likes a nice glass of wine. I can totally get down with a gal like that.
So when Lori asked me to take a look at her new cookbook, and cook and eat and share one of her recipes, it wasn't hard to respond with an "Absolutely!" Send over the echo-sign, I'm in.
Lori paired my post with one from Amanda, who chose to make Lori's Cheese Ravioli with Brown Butter & Fresh Tomato Sauce. My plan was to choose a side dish that would work with her choice, creating a complete—and simple—dinner. Oh but which recipe was would it be?
I had the toughest time narrowing down my recipe creation choices, maybe because there are 195 of them.
Avocado and Pine Nut Salad (oh, what a perfect combo), Gorgonzola Smashed Potatoes (it's not like I'd be caught without a fridge full of cheese so I had all the ingredients) or Cheese and Herb Beer Bread (my idea of two essential ingredients joined in perfect union.)
But my daring pairing skills took over and I finally decided Garlicky Swiss Chard with Chickpeas would be the perfect mate to the Cheese Ravioli. 
Luckily spring has produced some gorgeous ribs of Rainbow Swiss Chard that are populating one of my go-to grocery stores. Okay, you might be thinking, ew, swiss chard. What even is that? Hippie dippie food? No, it isn't hippie dippie food, it's delicious. And a veggie you really need to incorporate into your diet thanks to it's many, many health benefits that offset our love of cheese and butter. It's all about balance people.  And I think it might be one of my recently acquired and newly coveted veggies crushes.
A few notes about the recipe:
1. Follow Lori's advice on the ingredient list and do not halve this recipe. It seems like a TON, literally a TON, of swiss chard, but like spinach, it cooks down a bunch, so if you're serving for a crowd, plan accordingly.
2. There's plenty of room for interpretation here by switching up the noted ingredients for what you have on hand, just like Faith did in her Recipe Girl Cookbook Review. You can always sub out kale or spinach for the swiss chard, parmesan or goat cheese for the feta cheese and regular onion for the shallot (which I had to go back to the store to get since I was out!) Be adventurous and play a little people. 
3. While this recipe lives in the "sides" section of the cookbook, I totally ate the entire thing for lunch. It was that good.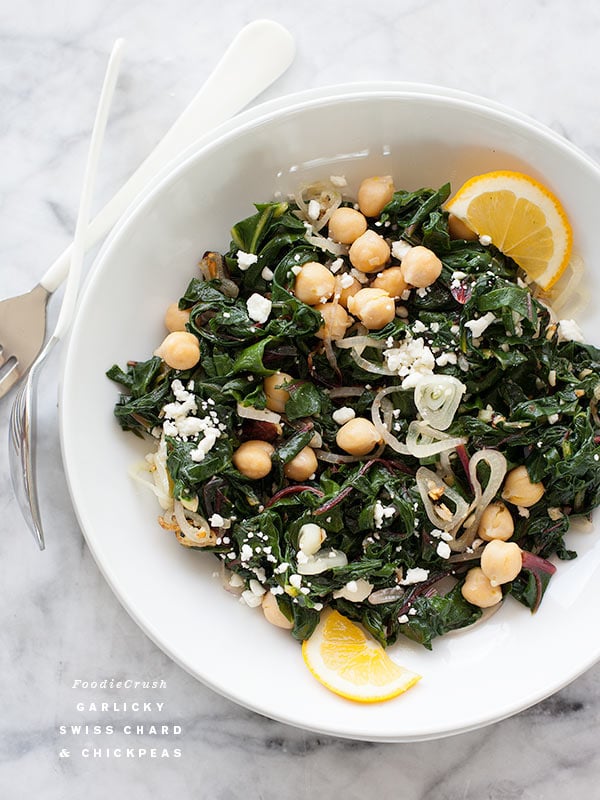 If you try this recipe, please let me know! Leave a comment below, or take a photo and tag it on Instagram with #foodiecrusheats.
Print
Garlicky Swiss Chard and Chickpeas
Ingredients
1

tablespoon

olive oil

divided

2

bunches Swiss chard

center stems cut out and discarded and leaves coarsely chopped

2

cups

low-sodium chicken broth

or vegetable broth

2

medium shallots

finely chopped (about 1/2 cup)6 medium garlic cloves, minced

15.5

ounce

can garbanzo beans

chickpeas, rinsed and drained

2

tablespoons

freshly squeezed lemon juice

Salt and freshly ground black pepper

to taste

1/2

cup

crumbled feta cheese

optional
Instructions
In a larges skillet, heat 1 tablespoon of the olive oil over medium-high heat. Add half of hte chard and cook, 1 to 2 minutes. When the first half has wilted, add the remaining chard. When all of the chard is wilted, add the chicken broth. Cover the skillet and cook the chard until tender, about 10 minutes. Drain the chard through a fine sieve (strainer) and set it aside.

Wipe out the skillet and heat the remaining 1 tablespoon olive oil over medium-high heat. Add the shallots and garlic and cook, stirring, until they are softened, about 2 minutes. Add the chard and chickpeas and cook until heated through, 3 to 4 minutes. Drizzle the lemon juice over the mixture and season with salt and pepper, to taste. Sprinkle cheese on top just before serving, if desired.
Being a bit of a print junkie who happens to make online magazines because I can't afford to print it, the first thing I noticed when I handled the The Recipe Girl Cookbook was the delicious cover stock. It has a velvet feel that is so soft to the touch it just begs to be opened. Okay, will do. 
After a few drool marks skirted the pages thanks to lush pics by another fave food blogger/cum photographer Matt Armendariaz (who I interviewed here) I noticed each of the recipes has an icon noting it to be gluten-free, dairy-free, vegetarian or a web favorite. Thanks for that awesome idea I may borrow for upcoming eBooks. Mwah.
The recipes are unique enough for skilled home cooks, but easy enough for the novice to pull off and just about each recipe features a 'Change It Up' idea suggesting how to get creative and use Lori's recipes as a baseline to create your own interpretation. As a winger, I totally get that.
Congratulations on your new cookbook Lori, I'm betting it will leave plenty of people happy and belly-full.
Lori and KitchenAid want you to enjoy the book at home with a new blender to boot. One winner will win a copy of The Recipe Girl Cookbook and a 12-Speed KitchenAid Blender in your color choice. I of course like orange, but you get your pick. Please read the complete rules found on the widget. Valid for U.S. residents only.
Good luck!
Thanks for reading and please keep in touch by subscribing to FoodieCrush and follow me on Twitter, Facebook, Pinterest. This site includes affiliate shopping links of which I receive a small percentage of sales to allow me to create new and special content like this for my readers, so thank you for your support. All opinions are my own.