The sunny skies of California made me want to do it.
Before I moved to the big lights and bigger stars land of L.A., I was a Utah girl, born and bred. So when the opportunity to leave my home state appeared, sure, I had a couple of romantic thoughts about what it would be like to live in the golden state, where dreams are big and sometimes come true.
There I was, the classic wanna be L.A. cliché.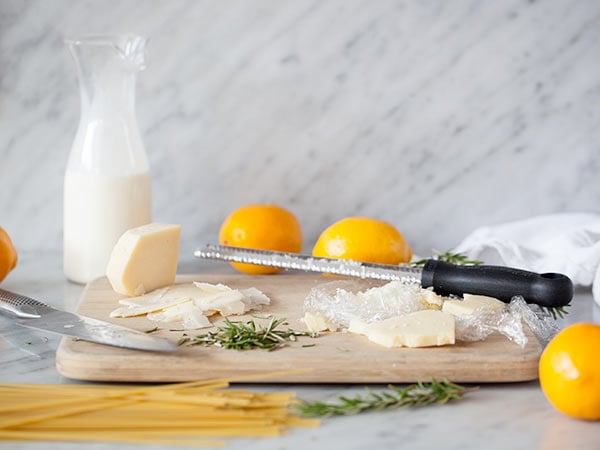 Let's see if the sugarplums of your California dreaming jive with mine. 
No. 1: Digging my toes in the sand on long walks along the beach, as salt water gathered at my ankles and the setting sun disappeared beyond the ocean line. (Check. Made that happen as often as I possibly could. It always amazed me how so many people I met in Los Angeles, never, ever went to the beach. Seriously?)
No. 2: Hopping into my top-down convertible, shopping bags in hand, driving down the freeway with the wind whipping through my hair. Que the prop stylist: I need long, perfectly blonde hair, big sunglasses and sultry lips. (Strike that one off the list, although it was a 1992 Saab convertible, and I had super short cropped hair and would never dare to wear such a bold treatment on these thin lines I push food through some call lips.)
And No. 3: While prepping dinner, taking a step outside into my home's backyard to pick fresh lemons from a bountiful tree, to squeeze on the night's fresh fish or use as a twist for an weekend cocktail. (Yes! Yes! and Yes!) 
No. 3 was truly one of my favorite parts of living in such a sublime climate, far, far different than Utah's scorching desert summers and it's bone chilling winters. Luckily, I love both.
After weeks and weeks of searching, one weekend I found my beloved lemon tree at the Santa Monica Farmer's Market. This was no ordinary lemon tree, it was a MEYER lemon tree. Meyer lemons, a cross between an orange and a lemon, are far sweeter with a smooth, thin rind and hardly any pith delivering half the pucker power as their grocery store relations.
I was in love. So much so that the tree made three moves with us. Sadly, the third move was our last as a family.
If you've never tried a meyer lemon I cannot tell you how badly you're missing out. You might balk a bit at the price of these babies, but given that the flavor and juice of one Meyer lemon is equal to about 9 regular lemons (okay maybe that's an exaggeration) you're price to pucker ratio is pretty much straight up even.
Now I've heard and seen some recipe creators say recipe XX or recipe YZ is their all-time favorite, the bestest in the world, so good I swear on my child's tennis shoes I will never eat anything else again.
Normally you'd never hear me striking such an allegiance to one recipe. It's like choosing your favorite child. Lucky for me I only have one kid. But I'm almost inclined to go out on a limb, right here and right now, and become yet another cliché when I say that this fettucine recipe just might be…my favorite pasta ever. EEEEK! Thunderbolts and lightning! Did I really just say that?
This recipe also has L.A. roots, where years ago I savored a version called Tagliolini al Limone at Angelini Osteria, where celebrities can eat incognito thanks to the spot's chilled out vibe. With only 5 ingredients (oh, how on trend is that too?) the lush communion of lemon, cream, rosemary and cheese enveloping al denté pasta is nearly too simple to fathom. But you need to. You must fathom.
I almost wrecked the whole simplicity of the dish with my habit to doctor up a perfectly balanced recipe thanks to my inclination to first add mushrooms (no, no, no! Come on Heidi, keep it simple sister) and then possibly butter (no need, there's cream!).
Print
Meyer Lemon Fettuccine
Ingredients
1

pound

fettuccine

2

cups

heavy cream

1

sprig or about 2 tablespoons of fresh rosemary leaves

chopped

Zest of 2 Meyer lemons

½

cup

freshly grated parmesan cheese

⅛

teaspoon

cayenne pepper

kosher salt and freshly ground pepper
Instructions
Bring a

large pot

of water to boil and cook fettuccine according to package directions until al denté.

Meanwhile, pour cream into a

10-inch skillet

and bring to a boil, reduce to simmer and cook until reduced by half.

When noodles are done cooking, drain in a colander. Add rosemary, lemon zest, parmesan cheese, cayenne, kosher salt and pepper to the cream and stir until parmesan is melted into the cream. Add the noodles to the skillet and toss to coat. Add more salt and pepper if desired and top with more parmesan. Serve immediately.
While some of the following lemon-flavored recipes don't call specifically for Meyer lemons, I really think you owe it to yourself and mankind in general to give them a try. Wishing you much pucker power.

Who says you can't have a fresh, home-cooked and healthy dinner in 12 minutes or less? Robyn proves her lemons creating prowess with Add a Pinch's recipe for Tilapia with Brown Butter and Lemon Sauce. 
Speaking of Robyn above, I featured her and her BFF Amy in the winter issue of FoodieCrush where Amy shared She Wears Many Hat's Meyer Lemon Creme Brulee. I just couldn't bear to not mention it again. I mean seriously, look at that crackle!
A quick appetizer with a citrus punch, Jeanine creates the perfect compliment to a crisp glass of white wine, or her dad's penchant for a cold beer. Both go perfectly well with Love and Lemon's Lemon Chive Ricotta Bruschetta.
I love how honest Kristen is on her blog. Sharing the challenges of every working parent, she somehow zeroes in with laser like focus when it comes to creating delicious eats, like Dine and Dish's Lemon Chicken Spaghetti Toss. Now, where was I?
After chocolate chip cookies, Lemon Bars were one of the very first recipes I made as a kid, Stephanie found a little sunshine in her Monday routine thanks to Sarcastic Cooking's Lemon Bars.
It's a lot about the basics in our house, and nothing is more basic and made more often than a homemade vinaigrette. I love that Lindsey agrees when she created Cafe Johnsonia's Meyer Lemon Vinaigrette.
How can I create a list about lemons and not include lemonade? But check this lemonade out, far from the ordinary as we would only come to expect from Todd and Diane in White on Rice Couple's Blueberry Meyer Lemonade Fizz.
I am 100% in agreement with Bridget when she declares meyer lemons as "sunshine in a bowl." Just don't stare at her as she stands in the veggie aisle and breathes in the lush aromas they produce. What? Is that weird? Not when you're gathering the goods to bake Bake at 350's Meyer Lemon-Brown Butter Cookies.
Heather scales down a favorite dessert treat to create an incredibly cute individual serving, of Whipperberry's Meyer Lemon Mini Doughnuts. Perfect for dunkin'.
Related Recipes
Meyer Lemon Tart and a Recipe Round Up
Dutch Baby for Breakfast
Lemon Almond Poppyseed Muffin Mania
Thanks for reading and please keep in touch. This post may include affiliate shopping links of which I receive a small percentage of sales to help keep this blog and magazine going so thanks for your support. Subscribe to FoodieCrush and follow me on Twitter, Facebook, Pinterest and check out FoodieCrush magazine.