This list of 31 quick dinner ideas will have you in and out of the kitchen (or manning the grill) with plenty of time left to chill out on any hot summer night of the week.
Hello August = Hello end of summer. Please! Say it isn't so!
There's no time in what's left of the quickly dissipating summer schedule for cooking all day in the kitchen. Suntans still need to be worked on. Outdoor activities must be conquered. So with summer readying to sing it's swan song, laid back summer eats are what's called for now.
But what should you make for dinner on a hot summer night? Make it real, make it good, and make it happen fast.
This list of 31 favorite summer dinner recipe ideas will put the savor in your last days of summer. So sit back, relax, and chill out with these easy seasonal summer eats.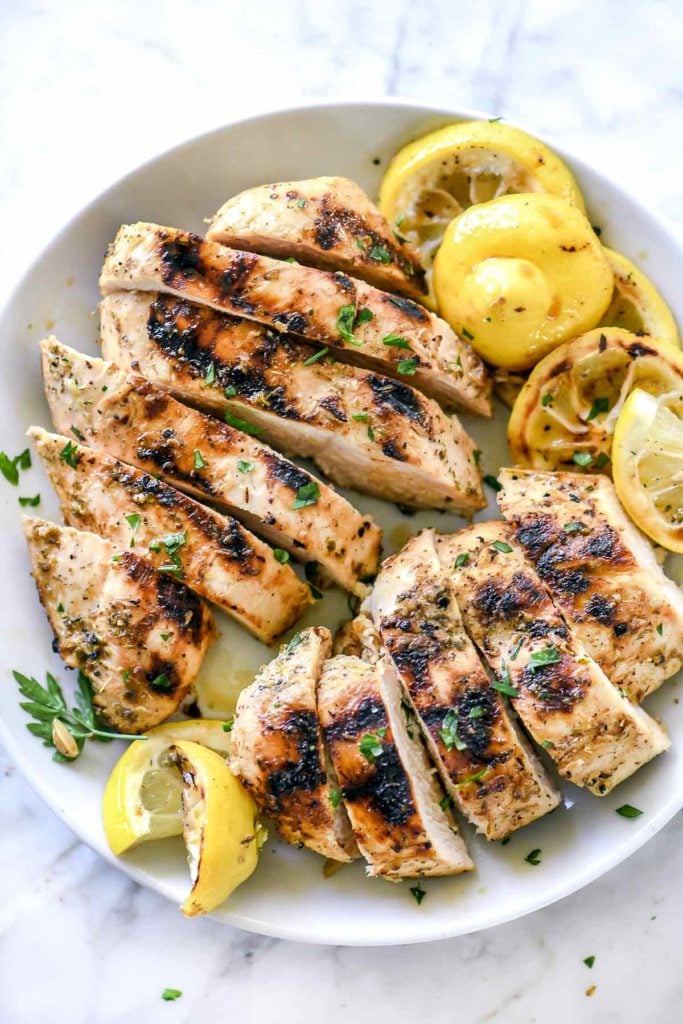 FoodieCrush
This easy marinade has a dollop of yogurt that adds moisture to the bird so it's tender and juicy come grilling time, every time.
How Sweet Eats
The only thing better than a bowl of tender-cooked summer zucchini is when it's drizzled in creamy goat cheese, brown butter and nestled in pasta.
Joyful Healthy Eats
Smoky chicken breast made with fresh ingredients and spices from the pantry, these tacos take just about 30 minutes to make. Arriba!
Food Faith Fitness
This salad IS the meal. Piled high with protein-packed edamame beans, tender black beans, chewy red rice and crispy sesame seeds, and topped with chunks of creamy avo, you'll never want to eat steak any other way.
The First Mess
Think of these ricotta stuffed zucchini as pillows from heaven that make quick and healthy dinner dreams come true.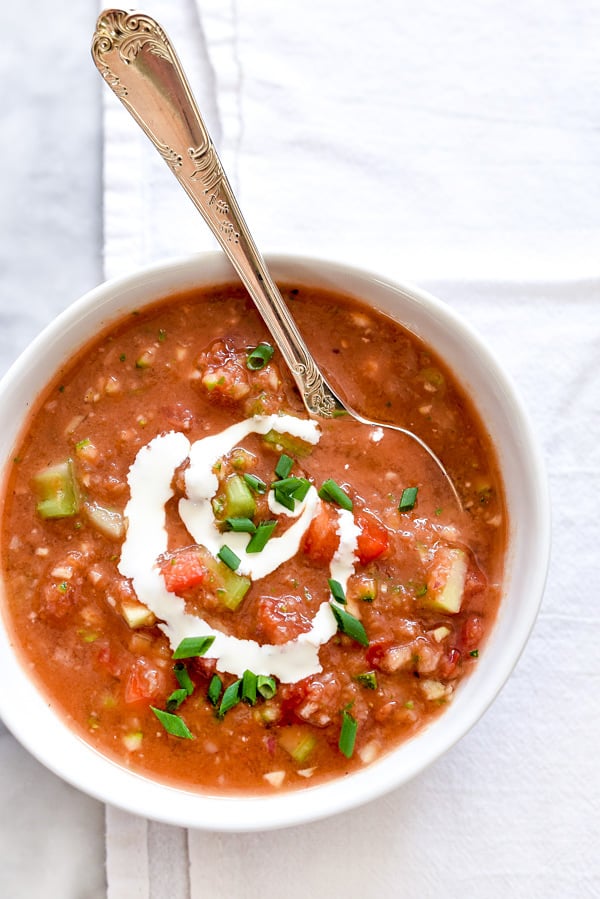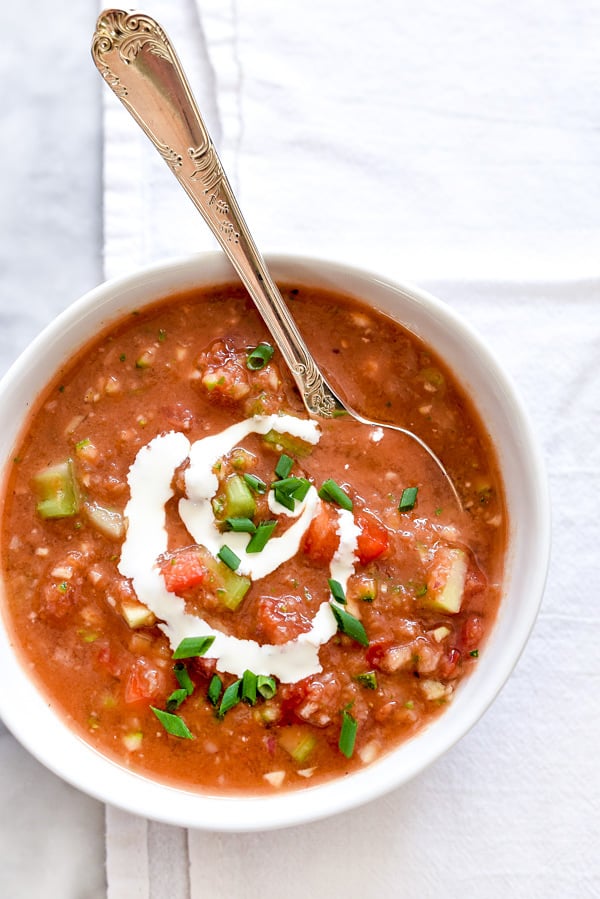 FoodieCrush
Served with a side salad and totally cool on a hot day, this no-cook gazpacho is a mix of fresh veggies and a secret ingredient: Store-bought tomato based vegetable juice for the extra veggie win.
Cooking for Keeps
The perfect crust on the perfect cut of fish with perfectly cooked creamed corn makes the perfect dinner.
FoodieCrush
When dinner needs to be on the table fast, a quick toss of fresh tomatoes in garlic is all you need for a healthy meal in minutes.
Gimme Some Oven
Cooked first in the Instant Pot, then crisped in the oven, these carnitas are ready to fill any shell coming their way.
Foodness Gracious
With a quick toss in olive oil, sea salt and black pepper, these grilled scallops are totally simple to make and ready to dip in 1-2-3.
Shutterbean
With crisped edges and creamy centers, these corn fritters make the perfect light summer dinner, and their made in minutes.
Reluctant Entertainer
The only thing that could make my fave sloppy joe even better is when you spice it up, reeeeeaaaallll good, like these Thai-infused flavor bombs.
FoodieCrush
Talk about a dinner that comes together fast! The clams and sauce cook just as quick as the pasta for a light but filling summer dinner with flare.
Alexandra's Kitchen
Loaded with healthy veg and power-packed quinoa, this vegetarian meal will fill up everyone at the table.
Chelsea's Messy Apron
For anyone on the no-carb kick, these tacos fill your bill. Or, throw caution to the wind and load up a tortilla or taco shell. It's all in how you crunch it.
FoodieCrush
These are tops on my list of favorite summertime burgers. Juicy. Flavorful. Delicious. And above all, healthy.
Cookie and Kate
Bowl me over. This healthy dinner features my favorite veg protein: crispy tofu. Love.
Pinch of Yum
Step 1: Head to the farmers market and load up. Step 2: Make this pasta. Step 3: Bask in happiness.
Grandbaby Cakes
More napkins please. Nothing says summer eats like an authentic Po' Boy 's creamy sauce slopping down the chin. Love this.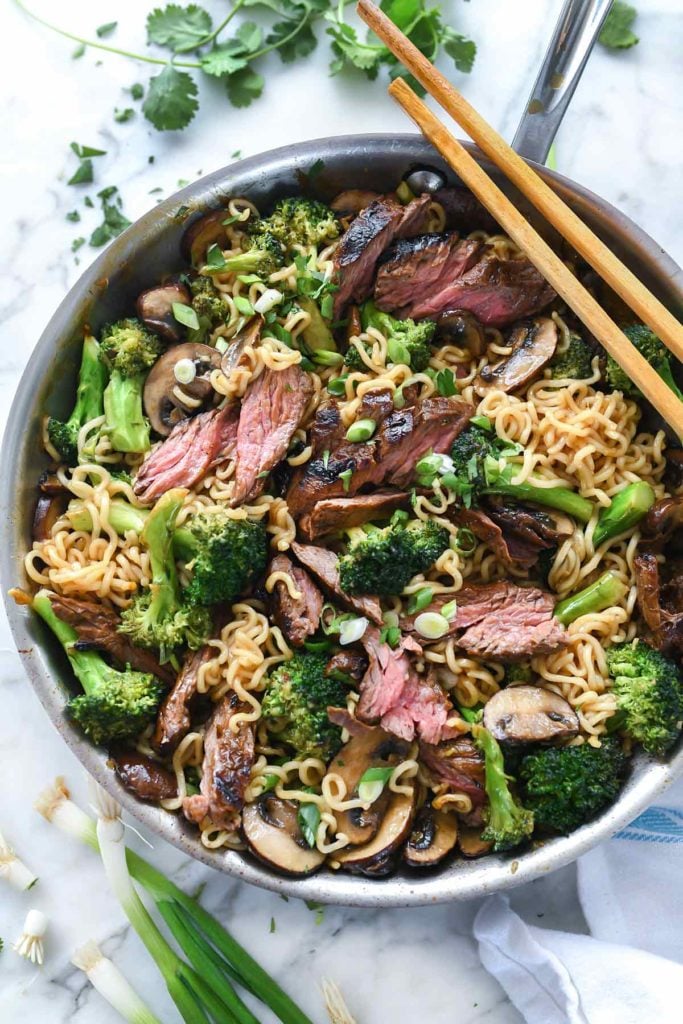 FoodieCrush
Nobody at the table will deny these quick to make ramen noodles made healthier.
Platings + Pairings
Now is the time to take advantage of fall's fountain of zucchini and switch up the traditional taco shell for something even more healthy.
A Spicy Perspective
Sweetened with fresh fruit and pineapple juice, this salsa takes Alaskan salmon where it's never been: to the tropics!
FoodieCrush
Tender and totally juiced in flavor, these kebabs are easy to skewer and even easier to eat.
Rachel Cooks
Packing in all the healthy flavors, quinoa is the secret addition they'll never realize is healthy when it's covered with cheesy chicken.
Skinnytaste
Another light and easy dinner is in the cards without the carbs with these easy buffalo shrimp lettuce wraps.
The Movement Menu
Low-carb but full of flavor, this dinner recipe is a lasagna and pizza lover's recipe mash-up.
FoodieCrush
The Instant Pot does all the work while keeping things cook, making these ribs fall off the bone tender before a quick blitz on the grill for everyone's favorite char.
Two Peas and Their Pod
Vegetarian but you'd never know it thanks to grilled haloumi cheese that adds a cheesy bulk to these taco babies.
Insprialized
A healthy dinner is easy when you toss it on a sheet pan, drizzle with oil, and let the oven do the work.
The Modern Proper
Roast them on a sheetpan, or fry them in a skillet, these chicken meatballs are made for dinner.
FoodieCrush
A simple balsamic marinade brings this grilled chicken loads of flavor that pairs perfectly with pizza'd peaches. Manjia!
So tell me, what are your fave summer eats? Email me at [email protected] or leave a comment below.
As always, thank you for reading and supporting companies I partner with, which allows me to create more unique content and recipes for you. All opinions are always my own.
Thanks for reading and subscribe to FoodieCrush to have each post delivered straight to your e-mail box.
Learn more about my printed day-planner Nourished Planner here, and sign up for free, emailed weekly meal plans.
Follow me on Instagram, Facebook, Pinterest and Twitter for more FoodieCrush inspiration.