It takes just three ingredients (plus salt and pepper) and about five minutes to create this zucchini side dish that easily slides into just about any main meal menu plan.
So you've answered the question of what the heck you're going to fix for dinner tonight. Congratulations! Hey, it's not easy to come up with a dinner plan that pleases everyone's likes, dislikes, and food craving fancies. But you did it!
Next comes part 2 of the dinner-time equation, the one that is typically a stumper. "So…what should we have with it?"
This question seems to be the one that can lead most home cooks down the rabbit hole only to pop back up with the same rotation of the same side dishes they fix over and over and over again. That's why, moving forward, my goal here at the FC blog HQ is to provide you with more ideas of simple, sides that appeal to the whole gang at the table, have a healthy bent, and are neutral enough to go with just about anything.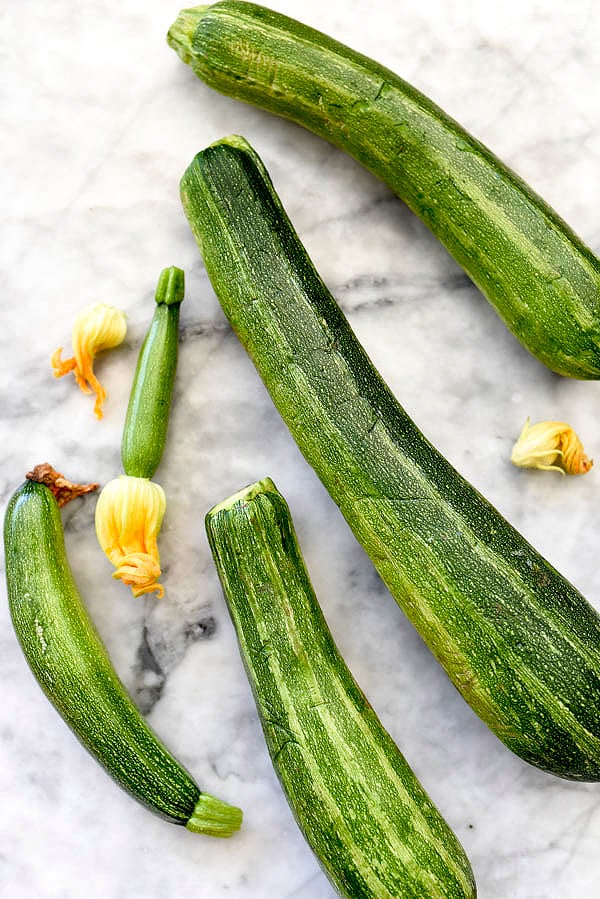 So let's get started with a super simple side dish I grew up on that right now in August is totally in season now, but can also be made just as easily in February: 5-Minute Parmesan Zucchini. 
About the Recipe
Because you've likely already spent the bulk of your prep time on your main dish, choosing a side dish that's simple to prepare and won't throw off the timing of your plating execution is paramount. With just 3 ingredients, this zucchini side checks all the boxes.
It all comes down to the zucchini and there are two options for cooking it. If you're looking for the sure-fire 5 minute method, cook your sliced zucchini is a bowl with a tablespoon or two of water in it. Or, if you've microwave averse, use a steamer basket in a saucepan with water to go the steaming route. Either way, you'll want your zucchini to still be just a touch firm rather than limp as a dog on a hot summer day.
Be sure to drain your zucchini before adding the butter or you'll end up with zucchini watery butter soup. I always use salted butter because salt is the flavor sealer.
For this recipe I prefer good, old-fashioned grated Parmesan. Not the one from the green can, but freshly ground Parm I typically find in the deli section of my grocery store. I like the ground parm simply because it creates a more homogenous bite. Seasoning is key, and a sprinkling of kosher salt and lots of freshly ground black pepper is all you need to complete the dish.
If you make this recipe, please let me know! Bookmark this recipe and leave a comment below, or take a photo and tag me on Instagram with #foodiecrusheats.
Print
Easy 5-Minute Parmesan Zucchini
I use regular green zucchini for this dish but yellow squash or a combination of the two taste simply delicious, too. Instead of slicing in coins, you could also spiralize your zucchini and make it a base for spaghetti sauce or other noodle-ish sauce.
Ingredients
2

medium zucchini

sliced into coins

2

tablespoons

butter

cut into chunks

2

tablespoons

grated Parmesan cheese

or more to your liking

Kosher salt and freshly ground black pepper
Instructions
To prepare the zucchini in the microwave, add the zucchini rounds to a microwave-safe bowl with 2 tablespoons of water and cook for 4 minutes on high, or until zucchini are just tender. Drain the water from the zucchini and add the butter, tossing to melt. Season with the kosher salt and freshly ground black pepper and sprinkle with Parmesan. Cover until ready to serve while still hot.

To prepare the zucchini on the stovetop, place a steamer basket in a saucepan with 1/2 cup water or just below the bottom of the steamer. Fill the steamer basket with the zucchini and cover with a lid then bring to a boil. Steam covered for 3-4 minutes or until the zucchini are just tender. Drain the water from the zucchini, remove the steamer, then add the butter, tossing to melt. Season with the kosher salt and freshly ground black pepper and sprinkle with Parmesan. Cover until ready to serve while still hot.

#eatseasonal August
As we have for the past few seasons, Becky of The Vintage Mixer has posted her list of what's in season to eat now and from that list, has amassed a group of us who are posting #eatseasonal recipes today. Some are some are sweet, some are savory and they're all in season now. Hop over to the other bloggers pages to discover some great eats to eat now.
Healthy Turkey, Zucchini & Rice Casserole by Cookin' Canuck
Caramelized Onion Galette by The Vintage Mixer
Roasted Blueberry Cheesecake Ice Cream with Graham Cracker Waffle Cones by Food for My Family
Italian Plum Upsidedown Cake by Suitcase Foodist
Grilled Chicken and Vegetable Panzanella Salad by Completely Delicious
Coconut Cherry Cobbler by Kitchen Confidante
Chicken Parmesan Stuffed Zucchini Boats by Flavor the Moments
Healthy Berry Crisp with a Coconut Oat Crumb Topping by Joy Food Sunshine
Zucchini, Cherry Tomato, and Gorgonzola Bites by Letty's Kitchen
Okay, and that's your eat seasonal list for the day. I hope you'll find a bevy inspiration that'll get you in the kitchen to make something good.
As always, thank you for reading and for supporting companies I partner with, which allows me to create more unique content and recipes for you. All opinions are always my own.  
Are you following me on Instagram, Twitter, Facebook and Pinterest? 
Thanks for reading and subscribe to FoodieCrush to have each post delivered straight to your e-mail box.