This simple penne pasta recipe calls for canned tomatoes, basil, garlic and olive oil to make it's homemade marinara sauce for an easy, healthy meal any time of year.
Simple Penne Pasta Marinara
Consider this healthy penne pasta recipe with tomato sauce the Forrest Gump of easy dinners: Simple is as simple does. It's straightforward in both its ingredient list and method, but it's full of heart too. Like my favorite tomato soup with a grilled cheese, or the best stovetop mac and cheese, I turn to this dish when uncomplicated home cooking is what's needed fast.
This penne with quick-from-scratch marinara is made with canned tomatoes, tomato paste, and fresh garlic steeped in olive oil to make an all season pasta that's warm and comforting in the fall and winter but light and bright for spring and summer eats. If you're looking for a pasta sauce using fresh tomatoes, check out my homemade pomodoro sauce recipe here.
I've served this penne pasta with a fried egg on top for breakfast, whipped it up as an easy dinner, and then eaten it straight from the fridge as leftovers for lunch the next day—if I'm lucky enough to have leftovers! Yep, it's that good.​
Penne Pasta with Easy Marinara
Marinara sauce is an extremely simple recipe to make. Similar to pomodoro sauce where fresh tomatoes are used, in this recipe we're using canned tomatoes that are available any time of year. The rest of the ingredient list is short and sweet for a sauce that's easy and light.
Whole San Marzano tomatoes in their purée. Be sure to choose legit San Marzano tomatoes that are canned whole in a sauced tomato purée. I use DeLallo San Marzano style tomatoes that are grown in Italy and imported to the U.S. Interestingly, 95% of the San Marzano tomatoes sold in the U.S. aren't actually from Italy as they claim, and are actually grown in the U.S. instead.
Extra virgin olive oil. The olive oil imparts a LOT of flavor in this recipe so choose the best extra virgin olive oil you can afford. I prefer olive oils with a clean taste that are clean, fruity and bright.
Garlic. Choose firm cloves of garlic you will be cooking whole.
Tomato paste. Tomato paste is simply concentrated tomato, and adds depth to this sauce. I prefer using it from the tube rather than the can for less waste.
Basil or oregano. Regardless of which herb you choose, make it fresh.
Kosher salt and freshly ground black pepper. Salt is what balances the tomatoes acidity in this recipe with black pepper bringing the heat.
How to Make Marinara Sauce
With just 5 ingredients, this easy marinara turns out light and bright and is supremely easy to make from scratch.
Get the full recipe for my homemade marinara sauce here. 
A few tips to get you on your merry marinara way:
Use your fingers to crush canned, whole tomatoes for the sauce. Pour the tomatoes into a bowl then crush with your fingers or the back of a spoon. Whole tomatoes give the sauce body but keeps it thin, light, and just the right bits of chunk. Don't substitute puréed or crushed tomatoes. They will make the sauce too thick.
Flavor the oil with crushed garlic instead of minced.  As smashed, whole garlic cloves steep in the hot extra virgin olive oil, it becomes sweet and soft and continues to cook in the tomatoes when combined. Some of the garlic will melt into the sauce as it cooks, leaving the larger pieces to be fished out before combining with the pasta, or, leave them in if you wish.
Brown the tomato paste for deeper flavor. Cooking the tomato past in the garlic-laced oil takes away the raw edge of tomato sauce to create a richness that deepens this sauce's flavor.
Add a pinch of sugar if needed. Tomatoes are acidic vegetables and sometimes require a pinch or two of sugar to coax out their sweetness.
Finish Cooking the Penne Pasta Directly In the Sauce
Formed to look like fountain pen's steel nibs, penne's cylinder shape and bias-cut ends capture pasta sauces that sneak inside it's tubular straw, making just about any sauce the best to go with penne.
Authentic Italians cringe at the idea, but most Americans style of saucing pasta is to pile the cooked pasta in a bowl, plop the sauce on top, and call it a day. Not this American. I go the Italian route.
Here's the the best way to finish this and every sauced pasta dish:
Cook the pasta 2 minutes shy of being al denté. The pasta will continue to cook in the sauce, absorbing the flavors as it does.
Don't drain the pasta. Instead, transfer the pasta from it's cooking water directly into the simmering sauce (don't worry too much about bits of water coming along for the ride.)
Toss the pasta in the sauce and continue to cook until done. If needed, add a few tablespoons of the pasta water to loosen the pasta or if it seems like there won't be enough. The starch in the sauce helps thicken it as well.
Taste for seasoning, garnish, and serve. Add more salt or red chili flakes if a little more punch is needed, and don't forget a big bunch of basil.
Can You Freeze Penne Pasta?
Instead of buying one of those containers of frozen pasta at the grocery store, this penne pasta makes a great freeze-then-heat, make-ahead dish. Prepare the pasta to completion then freeze in individual portion containers (these containers are microwave and freezer safe) to be warmed before eating later. Pasta can be frozen for up to 2 months.
What to Serve with Penne Pasta
If you make this recipe, please let me know! Leave a 
 star rating on this recipe below and leave a comment, take a photo and tag me on Instagram with #foodiecrusheats.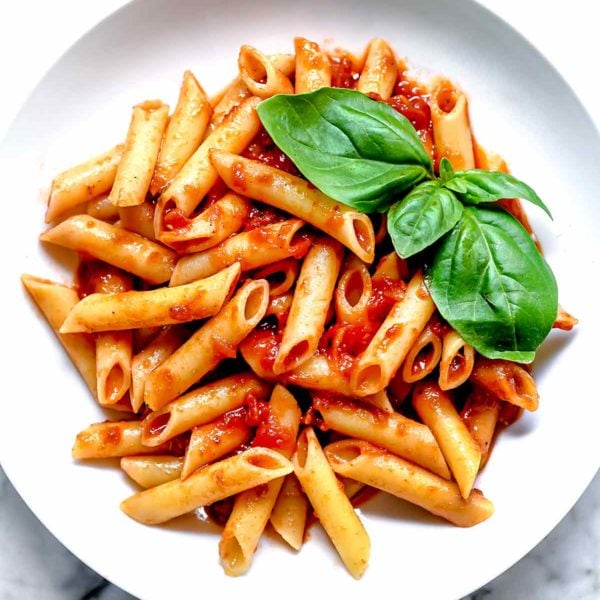 Print
Penne Pasta with Marinara
Ingredients
kosher salt

1

28-ounce

can whole peeled San Marzano tomatoes

, with purée

¼

cup

extra-virgin olive oil

4

garlic cloves

, peeled and smashed

1

tablespoon

tomato paste

1

teaspoon

kosher salt

½

teaspoon

freshly ground black pepper

2

sprigs fresh basil or oregano

, plus more basil for garnish

1

pound

dried penne pasta

, or other favorite pasta of your choice
Instructions
Bring a large pot of water to a boil and season generously with kosher salt.

Meanwhile, begin preparing the marinara. Pour the tomatoes and purée into a bowl and crush with your hands or the the back of a spoon, then set aside.

In a large cold skillet, add the extra-virgin olive oil and garlic cloves, and bring to medium heat. As the garlic begins to sizzle, stir occasionally, and cook until fragrant and golden, about 5 minutes. Monitor the heat so the garlic doesn't cook too quickly or burn.

Very carefully stir the tomato paste into the garlic and oil—take care so the oil doesn't splatter and burn you as the paste is added—and cook for 1-2 minutes. Carefully spoon the tomatoes into the pan with the oil and paste and season with salt and pepper. Add the basil sprigs and bring to a boil. Reduce to a bubbling simmer over low heat, stirring occasionally, for 30 minutes. Stir to mix the oil that rises to the top, then discard the basil sprigs and garlic.

Meanwhile, cook the pasta in the boiling water until 2 minutes shy of suggested cooking time on the packaging. Use a slotted spoon or spider to transfer the pasta directly to the sauce to continue cooking until tender but still toothy. Toss the pasta to coat it well, and add 1-2 tablespoons of the pasta water if needed to extend the sauce. Garnish with fresh basil and serve.
Notes
Make the pasta sauce ahead and refrigerate for up to 5 days or freeze up to 1 month, warm the sauce in a skillet then cook the pasta and finish as directed. 
Nutrition
Calories:
366
kcal
|
Carbohydrates:
58
g
|
Protein:
10
g
|
Fat:
10
g
|
Saturated Fat:
1
g
|
Sodium:
414
mg
|
Potassium:
204
mg
|
Fiber:
3
g
|
Sugar:
2
g
|
Vitamin A:
41
IU
|
Vitamin C:
1
mg
|
Calcium:
19
mg
|
Iron:
1
mg
More Pasta Recipes to Try Now
We send good emails. Subscribe to FoodieCrush and have each post plus exclusive content only for our subscribers delivered straight to your e-mail box.
Follow me on Instagram, Facebook, Pinterest and Twitter for more FoodieCrush inspiration.
As always, thank you for reading and supporting companies I partner with, which allows me to create more unique content and recipes for you. There are affiliate links in this post of which I receive a small commission. All opinions are always my own.