Here we sit. Straddling the edges of winter's crustyiness and the cheery hopefulness that this past weekend's gorgeousness delivered.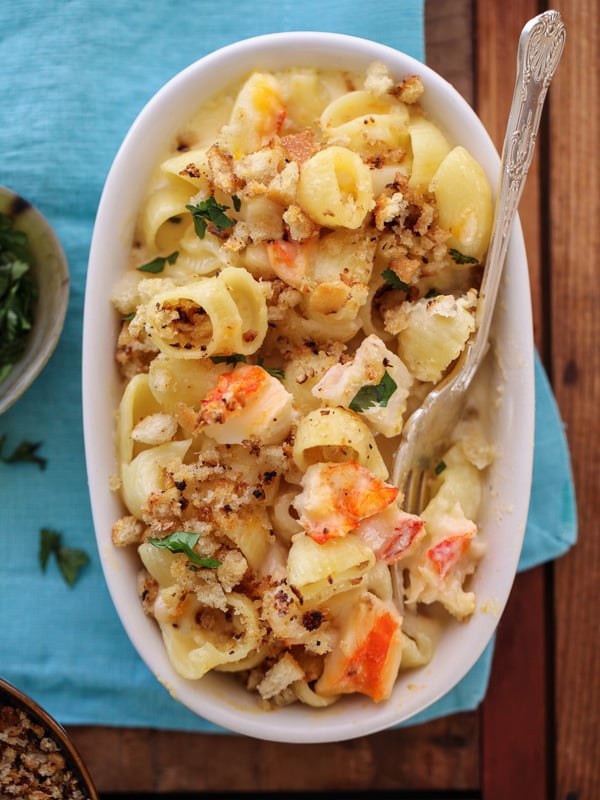 This weekend was a blink of spring that had all of us who've been shuttered inside heading to the great outdoors to stretch our legs, breathe in deep and realize that summer is just one hopscotch jump away.
But, there's still a bit of cozy comfort food I'm craving, that I've yet to have my wintertime fill of. I'm not quite ready to put away my braisers, or break out the grill. Yet.
Which leaves plenty of room for a thoroughly decadent dinner. Comfort food with a swath of luxury. Lobster Mac and Cheese. It's what's on this girl's menu.
Lobster, shrimp, scallops, crab. Give me a shellfish paired with pasta and you've just made me a very camper.
Pair it with a creamy sauce and cheese and you've just sent me to the moon. A very lush moon. Where I smile a lot in between savory, happy bites of cheese drenched macaroni.
The mention of lobster shouldn't put you in a tailspin with dollar signs replacing the corneas of your beautiful baby blues. With this dish, just one large lobster tail—or 2 small ones—will do the trick for the entire feast.
So that when you tell guests you're having lobster for dinner, they think you've really gone all out.
When really, you've only gone half out.
There are three things you want to be sure to do with this recipe.
1. Don't overcook your lobster meat. Some stores carry it already cooked (Whole Foods sometimes offers it in their seafood section) but if you cook your own, steam it whole in the shell for about 7 minutes. That's really all you need. Any longer and you'll have a tough little crustacean.
2. Great cheese is the secret to a great Mac and Cheese. While gruyere is commonly paired with Lobster Mac and Cheese, I wanted to create a lighter, more silky sauce so I chose a meltable fontina with creamy Mascarpone (an Italian style cream cheese) with an edge of super sharp cheddar.
Other cheeses that would be good alternatives to fontina or gruyere are gouda, havarti and monterey jack. Just make them melty and make them good. I usually save mozzarella for my pizza or lasagna since it can become a tad stringy.
3. The final secret to this sauce is a dose of cayenne pepper. I add it right to the butter and flour roux and cook it into the mix as the flour browns. It adds a depth and almost a sweetness you'll really love.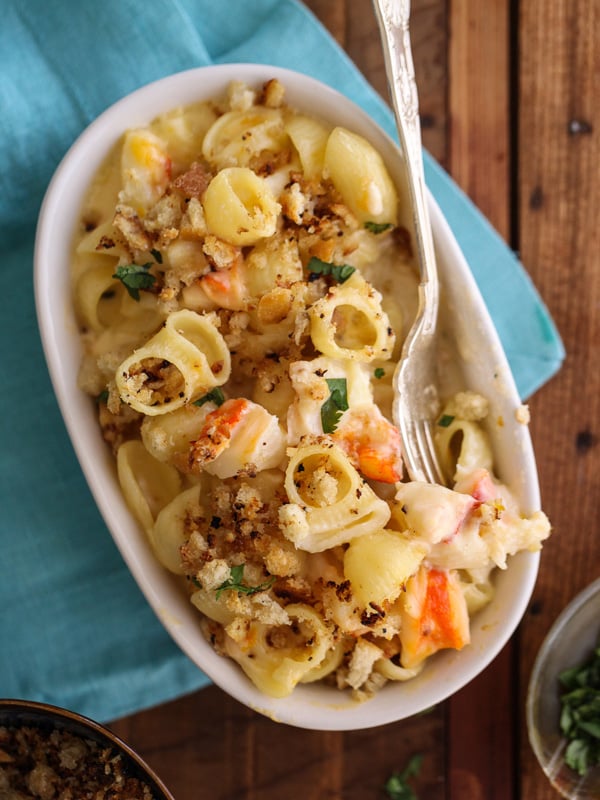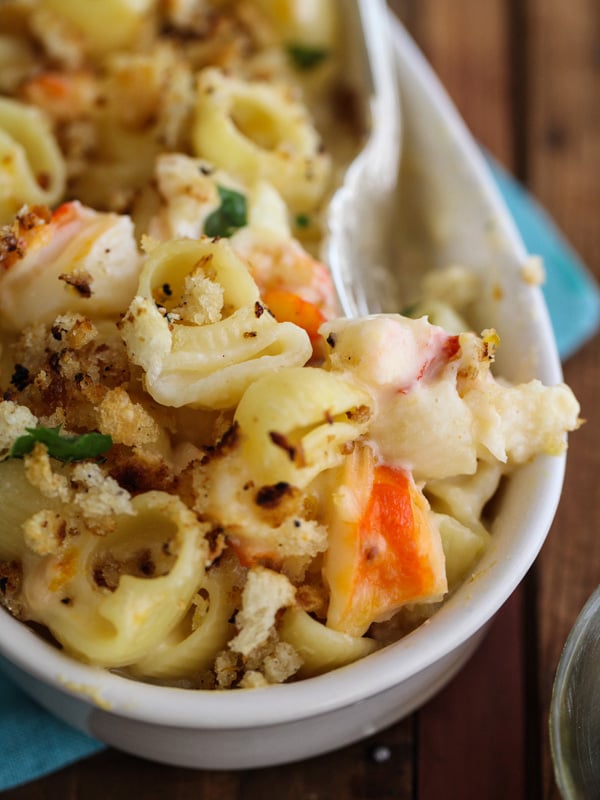 It's Mac and Cheese Mania, come on and join in.
This whole Mac and Cheese Mania shebang is the brainchild of Rachel of Rachel Cooks and Brandy of Nutmeg Granny and is sponsored by Door to Door Organics and OXO.
In their infinite wisdom, Rachel and Brandy spearheaded a food blogging campaign to inspire new Mac and Cheese recipe creations, to inpsire you to toss your recipe into the macaroni and cheesy hat.
Head over to Rachel's site here and Brandy's site here to link up your favorite / your best / your most craveable mac and cheese recipe and you could randomly be chosen to win one of a plethora of prizes listed on their sites. Like, there are some serious prizes to be had, so check them out.
Bonus: You don't have to be a blogger to enter. Just a mac and cheese groupie. And really, who isn't?
Now, those are some Mac and Cheese flavors that would hightail any winter into reverse and put springtime light flavors on definite hiatus. **Hold, please.**
I hope you take the time to visit them all, and also, my recipe for Lobster Mac and Cheese.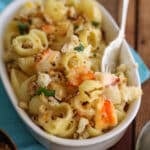 Lobster Mac and Cheese
Ingredients
1

pound

pasta

I used conchiglie, but you could use elbows, shells or capatappi

6

tablespoons

butter

divided

1/4

cup

all-purpose flour

1/8

teaspoon

cayenne pepper

3 1/2

cups

whole milk

3

cups

fontina cheese

shredded

1

cup

sharp cheddar cheese

shredded

8

ounce

tub of mascarpone cheese

1 1/2

cups

fresh breadcrumbs

2

tablespoons

butter

Kosher salt

1

small clove garlic

pressed or minced

1-2

teaspoons

lemon zest

1

pound

cooked lobster meat

cut into bite size chunks

parsley

chopped, for garnish
Instructions
Preheat oven to 350 degrees F.

Cook the pasta to package directions in salted water, make sure the noodles are al dente. Drain and set aside.

While pasta is cooking, prepare the cheese sauce. Melt 4 tablespoons of butter in a large saucepan or dutch oven over medium heat. Add the flour and whisk to combine. Add the cayenne pepper and cook over medium-low heat for about 3-4 minutes, whisking, until the flour mixture becomes light brown in color. Add the milk while whisking and cook over medium heat for about 5 minutes or until the sauce thickens, whisking often. Lower the heat to and cook for about 10 minutes, whisking occasionally.

While cheese sauce is cooking, prepare the breadcrumb topping. Melt 2 tablespoons of butter in a small fry pan over medium high heat. Add the garlic and cook for 30 seconds or until fragrant. Add the breadcrumbs and raise the heat to high and toast for about 1 minute before stirring. Continue until the bread crumbs become toasty. Stir in the lemon zest and season with kosher salt and remove from heat to cool.

Once the sauce has thickened, remove from heat and stir in the mascarpone until melted. Add the fontina and cheddar cheese and stir to melt. If the cheese isn't melting, turn the burner on low and heat until the cheese melts and becomes smooth with the sauce.

Add the drained pasta to the sauce and stir to combine, getting the cheese in all of the nooks and crannys of the pasta. Gently fold in the lobster meat.

Spoon the pasta into a 9 X 13 baking dish or 6 - 8 2 cup gratin dishes. Sprinkle the bread crumb mixture on top of the pasta and bake for about 15-20 minutes or until the pasta is bubbly and lightly browned on top.
Recipe Notes
adapted from Fine Cooking magazine
As always, thanks for reading. And thanks for supporting companies I partner with, which allows me to create more unique content and recipes for you. 
Are you following me on Instagram, Twitter, Facebook and Pinterest? Thanks for reading and  subscribe to FoodieCrush to have each post delivered straight to your e-mail box.
SIGN UP FOR FREE!
THANK YOU FOR VISITING FOODIECRUSH.COM

Subscribe to the FoodieCrush email newsletter and have every new post plus exclusive content delivered straight to your email box,
FOR FREE!