Healthy spiralized zucchini, whole wheat linguine pasta, and garlicky shrimp scampi make a perfect weeknight dinner that's easy to twirl your fork to.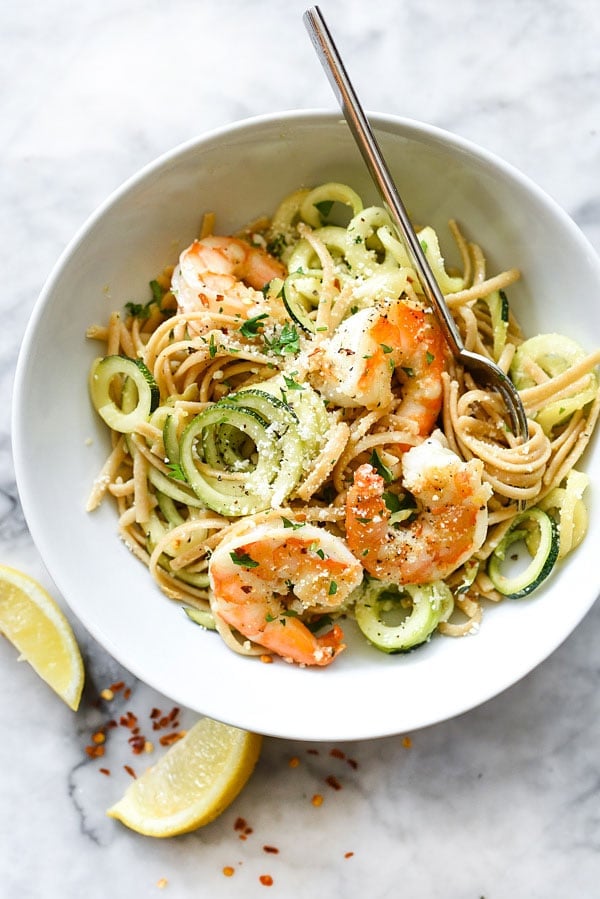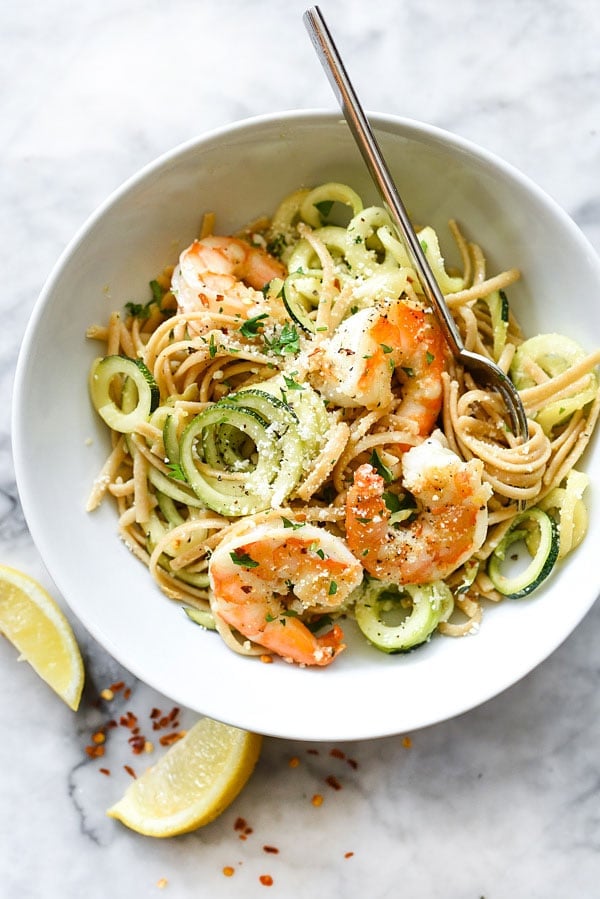 This recipe is brought to you by DeLallo Foods
Noodles vs. zoodles. For me it isn't an issue of either/or, but rather, and/with.
I think pasta and zucchini noodles make the most harmonious of dishes, and when paired with the basics of my favorite shrimp scampi recipe, you get little bites of each in every forkful. Plus, together they turn dinner into a super easy and flavor-filled healthy all-in-one meal.
For the past few years, zucchini noodles have been the darling of the food world and for many have become the introduction to spiralizing vegetables. In fact, spiralizing has been so popular my blogging friend Ali sprializes everything from apples to kohlrabi to rutebegas on her blog and in her cookbook and even has her own branded product to do so, the Inspiralizer.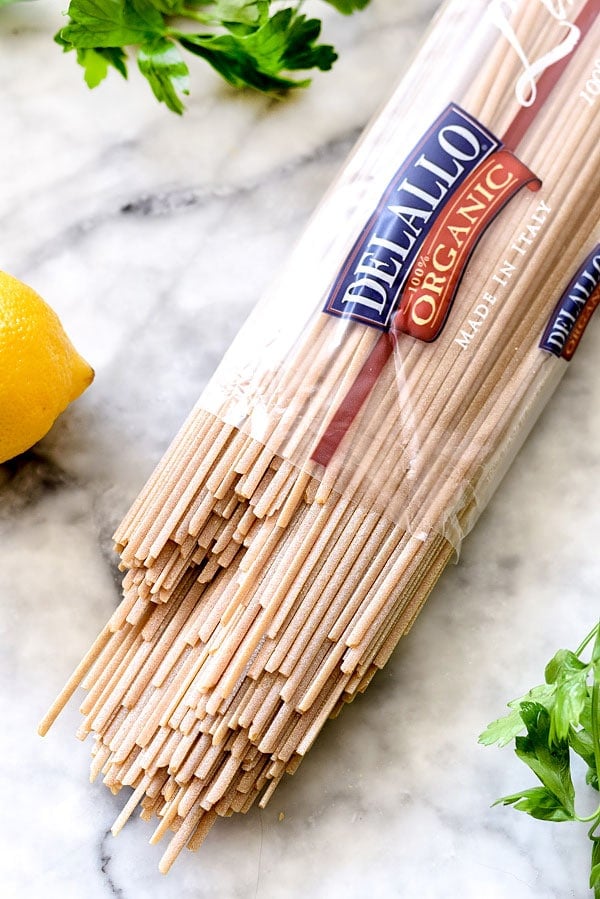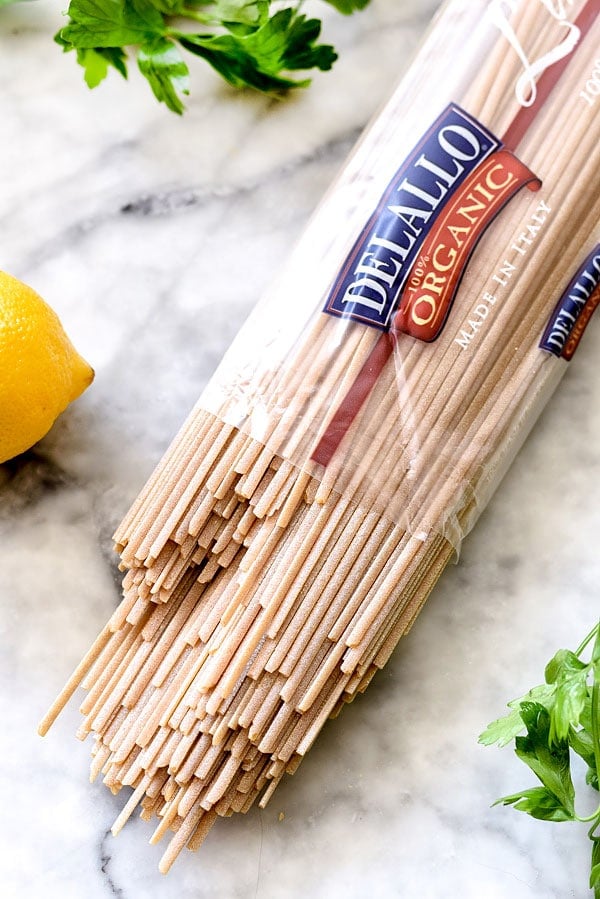 I've partnered with DeLallo Foods in creating easy, family-friendly recipes I hope everyone will love. Creating recipes using DeLallo's products is honestly one of the most fun challenges of this job because they have such a variety of products, all of which I value for their quality and the fact that they're totally delicious. It makes it tough to narrow down my recipe ideas to just fit into just one year.
Just like Santa, my list is long.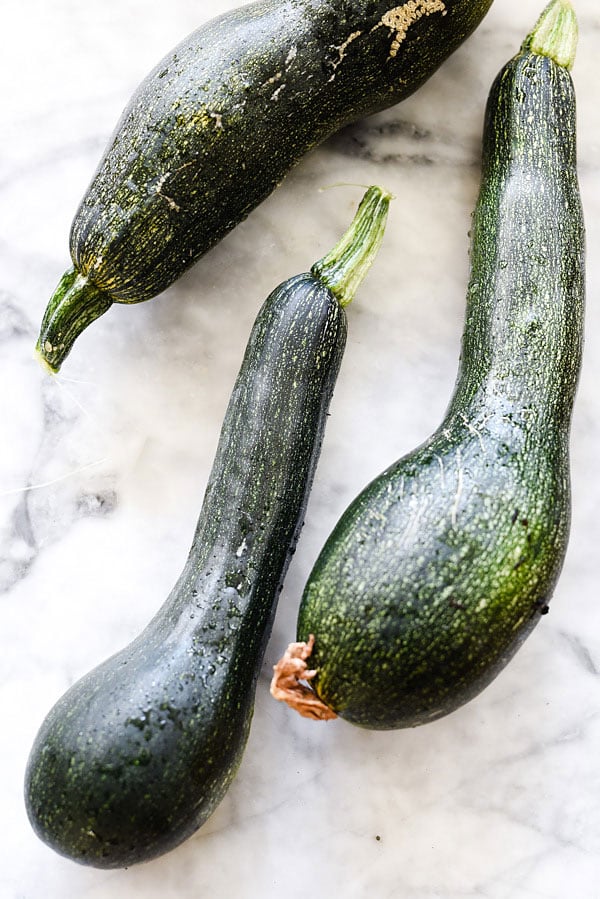 What's In This Shrimp Scampi Pasta
When I was thinking about new recipes for the rest of the year, I wanted to create a dish to show that spiralized zucchini noodles and wholesome whole wheat pasta are not mutually exclusive of one another. In fact, they're perfect compliments to one another.
I felt it was high time to marry them together to create a totally delicious recipe that takes just about 30 minutes (give or take) to make. Now that's a recipe I can get behind.
Frozen shrimp, thawed.
Olive oil
Garlic
Whole wheat linguinie (or use regular linguine)
Spiralized zucchini
Butter
Lemon
Chile flakes
Kosher salt and freshly ground black pepper
Parsley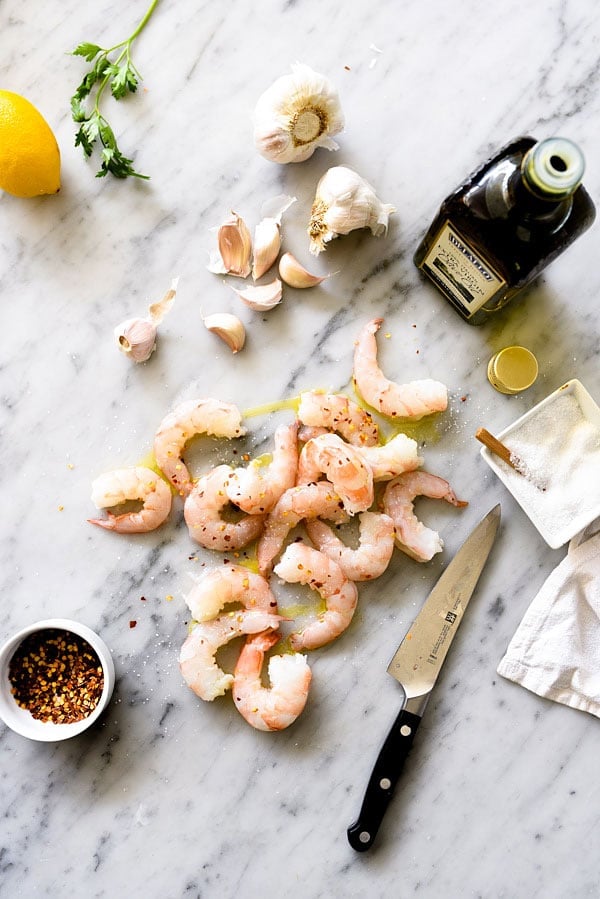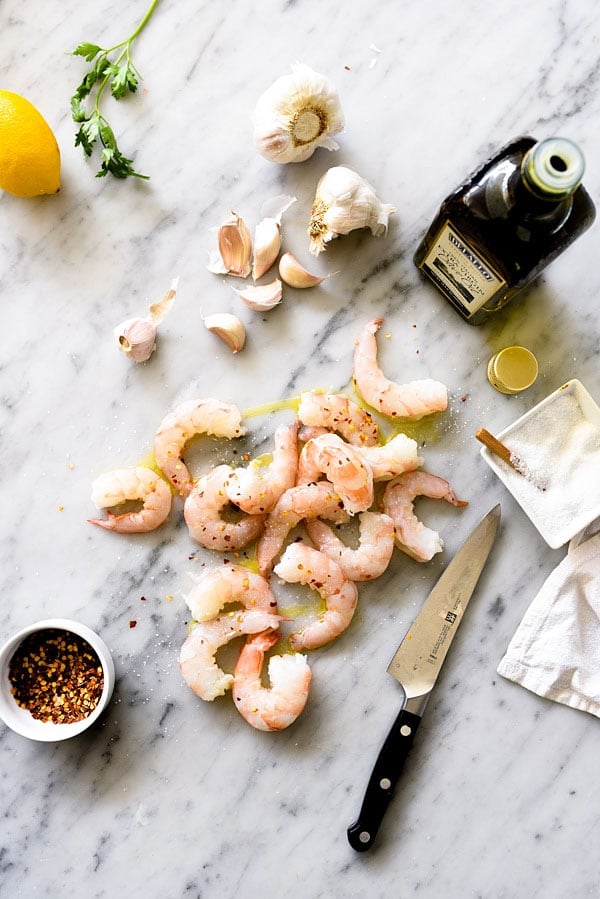 How to Make Shrimp Scampi Pasta
This dish is pretty much made in three different steps of prep and comes together really quickly at the end. Be sure to read through the recipe first to be on top of each step, and check out the how-to video I've posted right before the recipe to see just how it's done.
And now, if you're a cook-by-the-pictures type of person, let's get started…
Step 1: Prepare the Shrimp
To make this dish, I started off with garlicking up my favorite Key West Pink shrimp. As I've mentioned numerous times on the blog, I love the Key West Pinks for their sweeter flavor and firmer bite. I can always find them in the freezer department at my local Kroger store under the Private Selection brand.
You can leave the tails on the shrimp if you'd like, but this time around I took them off so I could savor a bite of shrimp with each twirl without doing any tail-pulling mid forkful.
A drizzle of olive oil and a sprinkle of pepper and kosher salt with freshly pressed garlic steep into the shrimp on the countertop while I set up the rest of the ingredients. Tick tock, let's rock.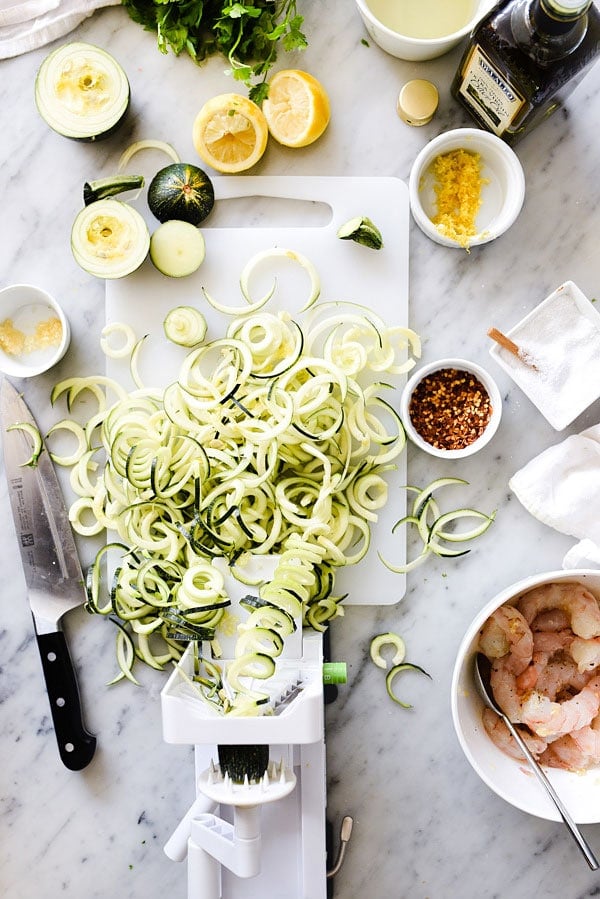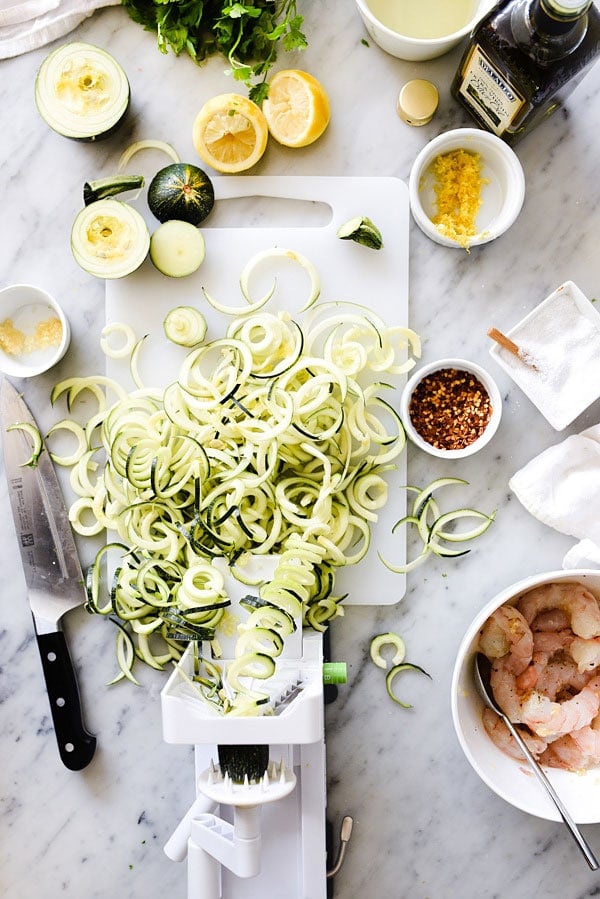 Step 2: Prepare the Zucchini
The Inspiralizer is my favorite kitchen gadget of the moment and it does fine, fast work of my home grown zucchini. I loved it so much I took it with me when I went to Pittsburgh to film the video at the end of this post that accompanies this recipe. Yep, you can bet I checked my bag, there's serious blades in that thing. You won't find me messing around with homeland security.
One thing to note: I used my home grown zucchini for this spiraling feat and they had developed a ball at one end (did I not water evenly? GAH!). The ball is where the zucchini's seeds all end up, so avoid spiraling down too far if you have a zucchini like mine or you'll end up with mushy seeds.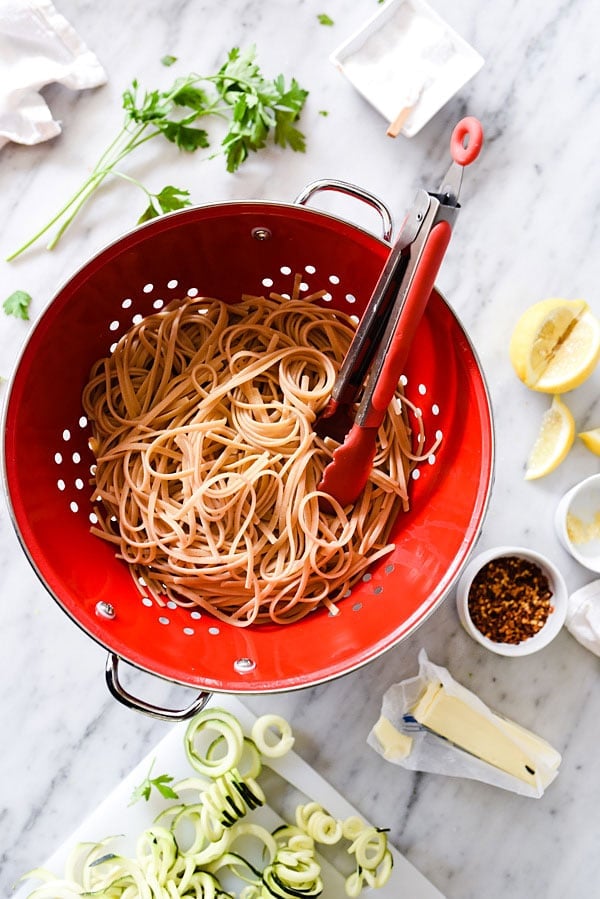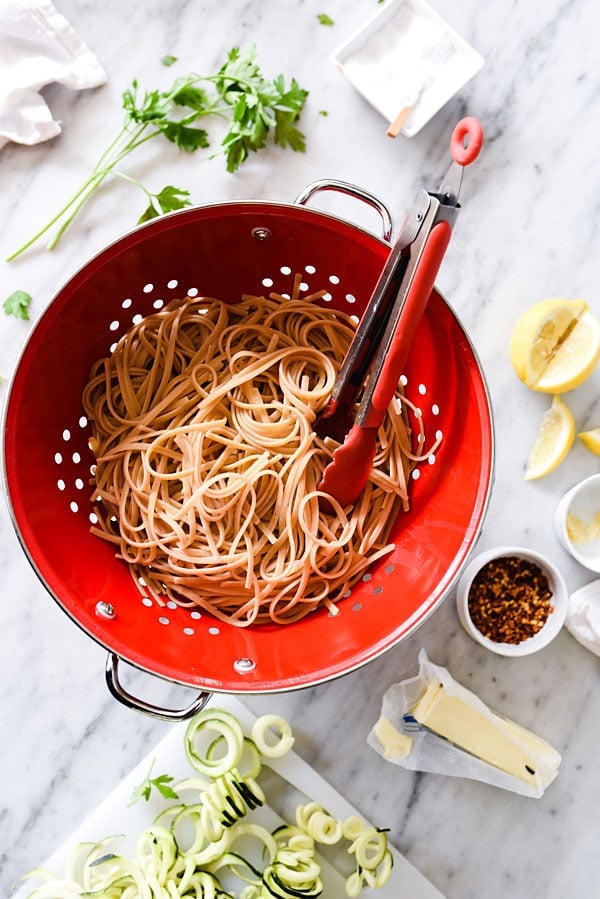 Step 3: Prepare the Pasta
Once the cutting and spiraling is complete, get those DeLallo Organic Whole Wheat Linguine noodles cooking. I usually set my water to start boiling and just let it roll along until I feel like I'm at a stage where I can get the noodles cooking without them becoming overcooked. These noodles should be al dente so you can add them to the sauce to cook a bit more and soak up some of the sauce.
DeLallo makes my favorite whole wheat noodles because they have a little bit of a bite and don't get slimy as some other brands I've tried in the past. And when I use these, I never get complaints from the fam about eating whole wheat pasta. That's worth the price of admission right there.
After cooking your noodles, be sure to reserve the pasta water. You'll be blanching your zucchini noodles in it to soften them just a bit before tossing all of the ingredients together. You'll also be using about ½ cup more to create the garlic and lemon sauce that coats ALL of our noodles just right.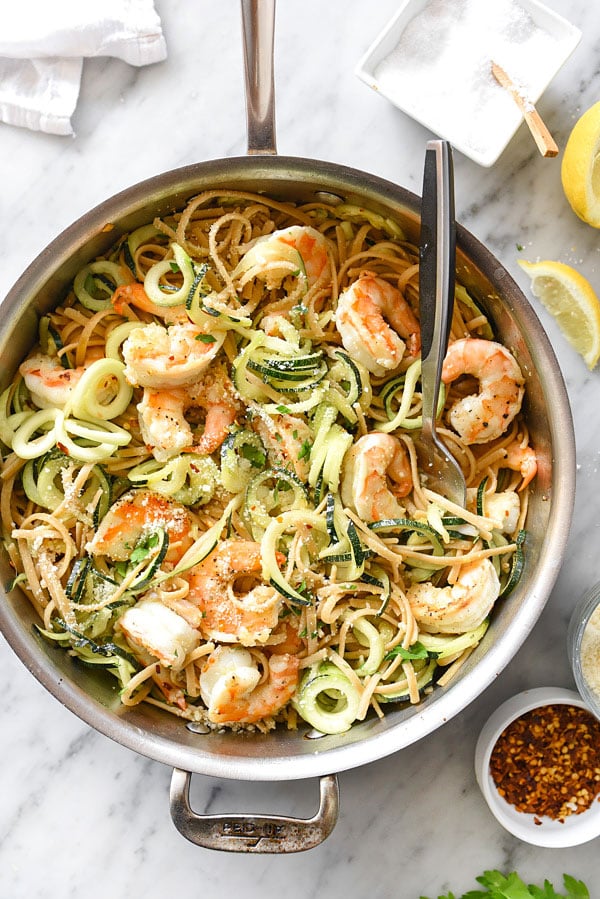 Step 4: Prepare to Bring It to the Table
Now that you've completed your prep, it's time to cook, drain, blanche and quickly cook again. Check out the video below to see just how it's done.
More Shrimp Recipes to Try
If you make this recipe, please let me know! Leave a 
 rating on this recipe below and leave a comment, take a photo and tag me on Instagram with #foodiecrusheats.
Print
Shrimp Scampi Pasta with Zucchini Noodles
Spiralized zucchini, whole wheat linguini pasta and the basics of the best shrimp scampi make a perfect weeknight dinner to twirl your fork to.
Ingredients
1

pound

large shrimp

, preferably Key West Pinks

⅓

cup

plus 2 tablespoons extra virgin olive oil

4

large cloves garlic

, peeled and pressed or minced

kosher salt and freshly ground black pepper

3

medium size zucchini

1 12-

ounce

package DeLallo Organic Whole Wheat Linguine

3

tablespoons

butter

1

lemon

, zested and juiced (about 3 tablespoons of juice)

1

teaspoon

red chili flakes

½

cup

grated Parmesan cheese

Fresh chopped Italian parsley
Instructions
Rinse, devein and remove the tails from the shrimp and add them to a medium size bowl. Drizzle with 1 tablespoon of olive oil and add 2 cloves of the minced or pressed garlic. Season with kosher salt and freshly ground black pepper, toss with the olive oil and garlic and set aside.

Trim the ends of the zucchini and use a spiralizer to create noodles of zucchini. If you don't have a spiralizer, slice into thin coins, cut into matchsticks, or use a vegetable peeler to create long ribbons, then set aside.

Bring a large pot of water to a boil then add a healthy amount of kosher salt to flavor the water. Cook the linguine according to package directions, minus 2 minutes so it is still al dente. Use tongs to transfer the cooked linguine to a strainer and reserve the pasta water, brining it to a slow bubbling simmer.

In a large, high-sided pan or skillet, add 1 tablespoon of olive oil to the pan over medium-high heat. Place the shrimp in the pan and cook for 2 minutes, then turn the shrimp to the other side and cook for 2 more minutes or just until opaque. Transfer the shrimp to a plate. In the same pan, melt the butter over medium-high heat and add the remaining ⅓ cup olive oil. Scrape up the garlic bits and add the remaining 2 minced or pressed garlic cloves, the lemon zest, lemon juice, red chili flakes and ½ cup reserved pasta water. Cook for 1 minute stirring once or twice.

Dunk the zucchini noodles into the pan you cooked the pasta in with the reserved pasta water and cook for 1 minute, stirring, just long enough to take away the rawness. Use tongs to transfer the zucchini noodles to the skillet with the olive oil mixture and toss to coat. Stir in the linguine noodles and ¼ cup of the Parmesan cheese and toss to coat. Add more of the reserved pasta water ¼ cup at a time to loosen the pasta and make more of a sauce if desired. Place the shrimp in with the pasta and zucchini and season with more kosher salt and freshly ground black pepper to taste. Top with the remaining ¼ cup Parmesan cheese and garnish with chopped Italian parsley and serve.
Nutrition
Calories:
521
kcal
|
Carbohydrates:
52
g
|
Protein:
28
g
|
Fat:
22
g
|
Saturated Fat:
7
g
|
Cholesterol:
213
mg
|
Sodium:
783
mg
|
Potassium:
503
mg
|
Fiber:
4
g
|
Sugar:
5
g
|
Vitamin A:
542
IU
|
Vitamin C:
31
mg
|
Calcium:
241
mg
|
Iron:
3
mg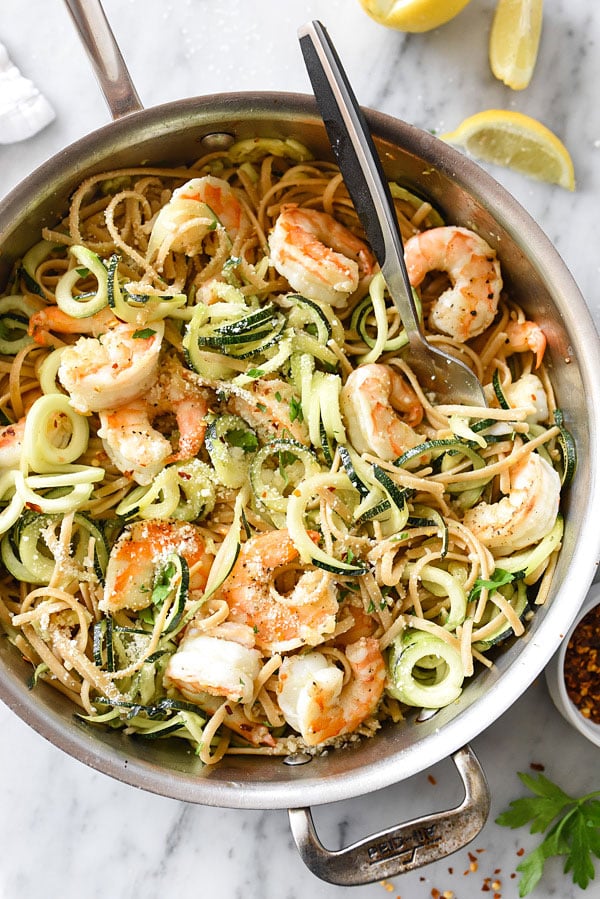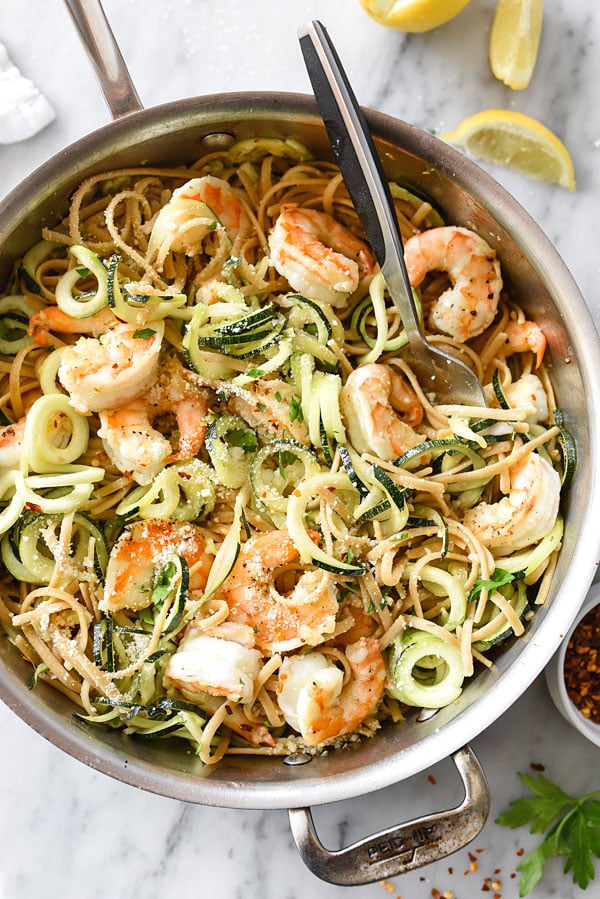 More Healthy Pasta Recipe Ideas
Hey, thanks for stopping by, make it a great day and make something good.
This post is sponsored by DeLallo Foods. As always, thank you for reading and for supporting companies I partner with, which allows me to create more unique content and recipes for you. All opinions are always my own.  
We send good emails. Subscribe to FoodieCrush and have each post plus exclusive content only for our subscribers delivered straight to your e-mail box.
Follow me on Instagram, Facebook, Pinterest and Twitter for more FoodieCrush inspiration.