Hi there! What's for dinner? How about one of these 31 chicken dinner ideas for a recipe every day of the month.
With the official kick off to the holidays a mere 8 days ago, I'm already feeling the flurry of parties, planning, family, and all the other a good/hectic things that come along with the season.
It's too easy this time of year to let the dinner routine suffer amidst the whirlwind of gift-giving and holiday cheer—remember, that plate of fudge is for your neighbors, and gingerbread men alone do not constitute a balanced meal, even if they look super virile.
This month, step back from the appetizer table enjoy one or two cocktails instead of a bottle. It's time to get back to basics, and keep on track with 31 days of healthy, easy, and tasty chicken dinners that are far from the naked chicken breast.
This specially curated list features exotic but accessible flavors, surprising twists on classics, and simple ethnic dishes that will spice up your routine and have you saying "winner, winner, chicken dinner!"
It's December, so dig in.
FoodieCrush
Channel your inner Ina Garten with this easier-than-it-looks comfort food classic. Serve up a complete one-pot dinner that's ready in just one hour for any night of the week.
Cotter Crunch
Keep the pan, pep up the spice. Potatoes, tomatoes, a burst of lemon, and anti-inflammatory turmeric pair up with chicken thighs for a Persian twist on skillet meals.
The Forked Spoon
Butterflied and glazed with an apricot jam, this harissa flavored chicken winner is savory, sweet, spicy, and sticky all in one.
How Sweet Eats
One and done with this creative, yet crazy-simple skillet meal. Toss traditional stir-fry veggies (or whatever's in your fridge) with tender chicken thighs in a richly balanced sesame sauce for a quick weeknight meal that comes together in a single pan.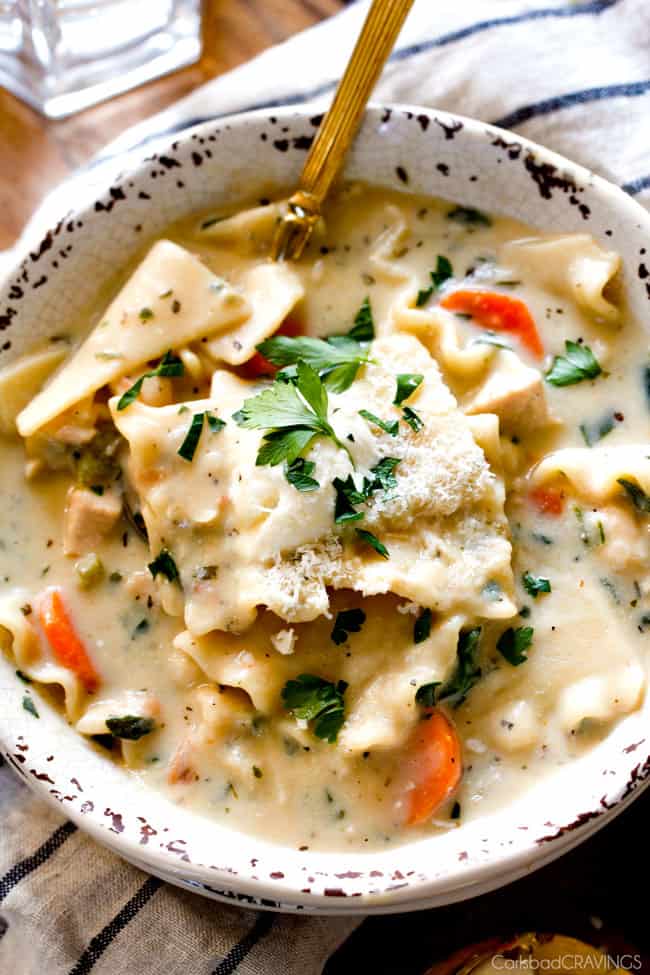 Carlsbad Cravings
Skip the steps but keep the layers of flavor with this creative comfort soup. Cheese, noodles, chicken, and lots of herbs combine for perfect white lasagna taste, all in one bowl.
FoodieCrush
When your belly needs a break from the holiday cookie crush, reach for these light and healthy restaurant copycat wraps. Sugar and calorie-slashed, so much better than takeout, and you'll still have room for that gingerbread man ;).
Cooking for Keeps
Rosé makes this roast chicken my way. And olives. Pucker up chicken.
Skinny Taste
Your favorite appetizer just got a dinner-friendly makeover. White meat chicken stuffed with jalapeños, cream cheese, cheddar jack cheese, scallions and bacon. Tastes naughty, but Gina from Skinny Taste always keeps it nice (and easy on the waistline).
Modern Proper
Humble chicken thighs get classy with an easy blender marinade, whizzed up with  roasted red peppers, garlic and smoky paprika. I'm adding this to my not-a-meal plan (LINK TO EMAIL) with my Easy Lemon Rice Recipe and Winter Green Salad with Orange Honey Mustard Vinaigrette.
Spicy Perspective
Another take-out fake-out, this quick dish of chicken and rice noodles is made with a pared down list of ingredients to simplify your shopping while staying true to authentic Thai flavor.
FoodieCrush
Forget floury and fried–this traditional Italian dish is re-made healthy in under 30 minutes. Still crisp, juicy, and covered in cheese, this lightened up chicken parm is a delightful meal that only FEELS sinful.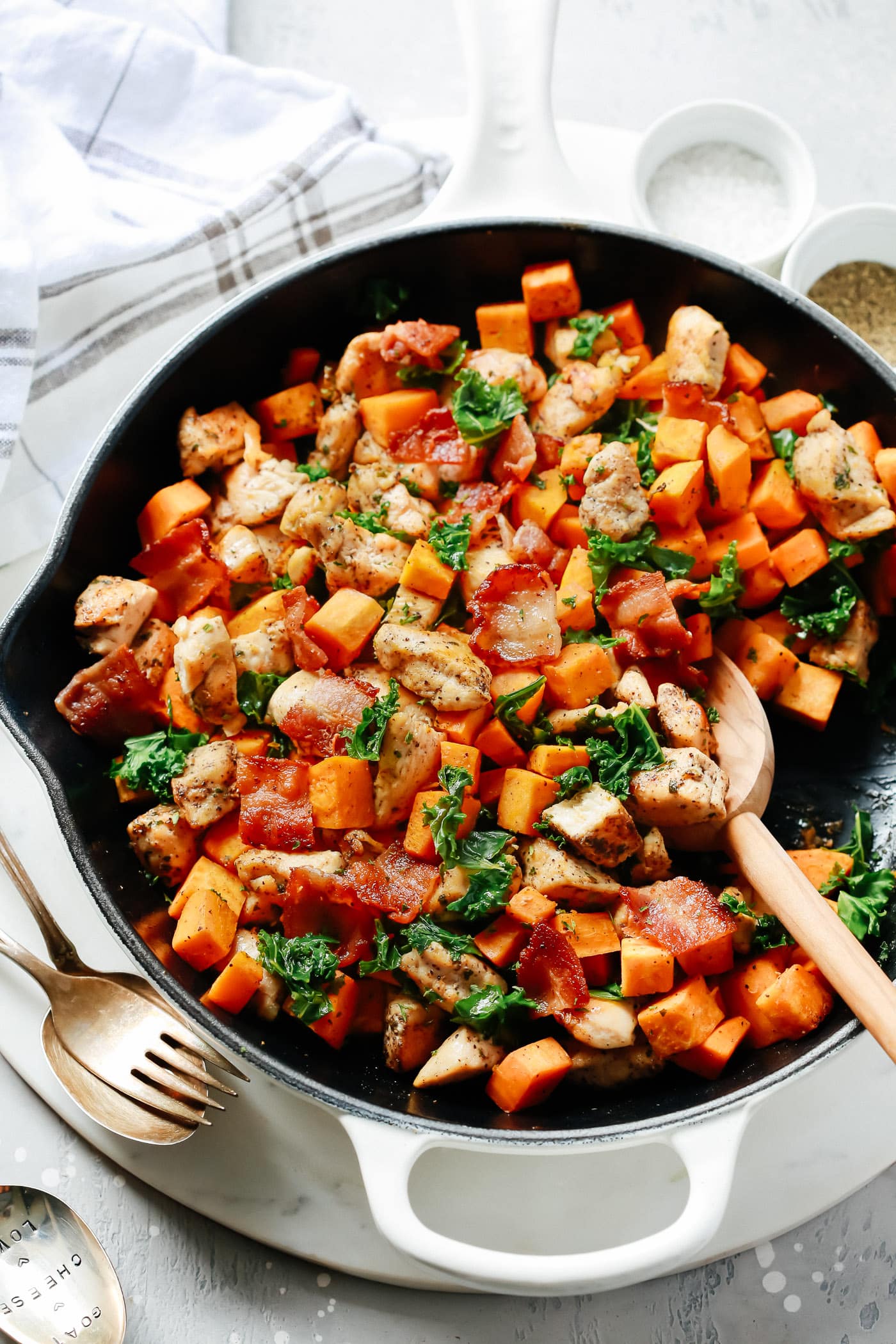 Primavera Kitchen
Dirty a single dish and call it done with this ultra-savory, protein-packed, real food skillet meal. So many superfoods (and BACON) combine to make this quick and clean meal.
13. Oven Roasted Chicken with Lemon Rosemary Garlic Butter
Foodie Crush
One of the most popular recipes on the blog, this super simple roast chicken tastes far more decadent than it's humble ingredients might imply. The PERFECT dinner.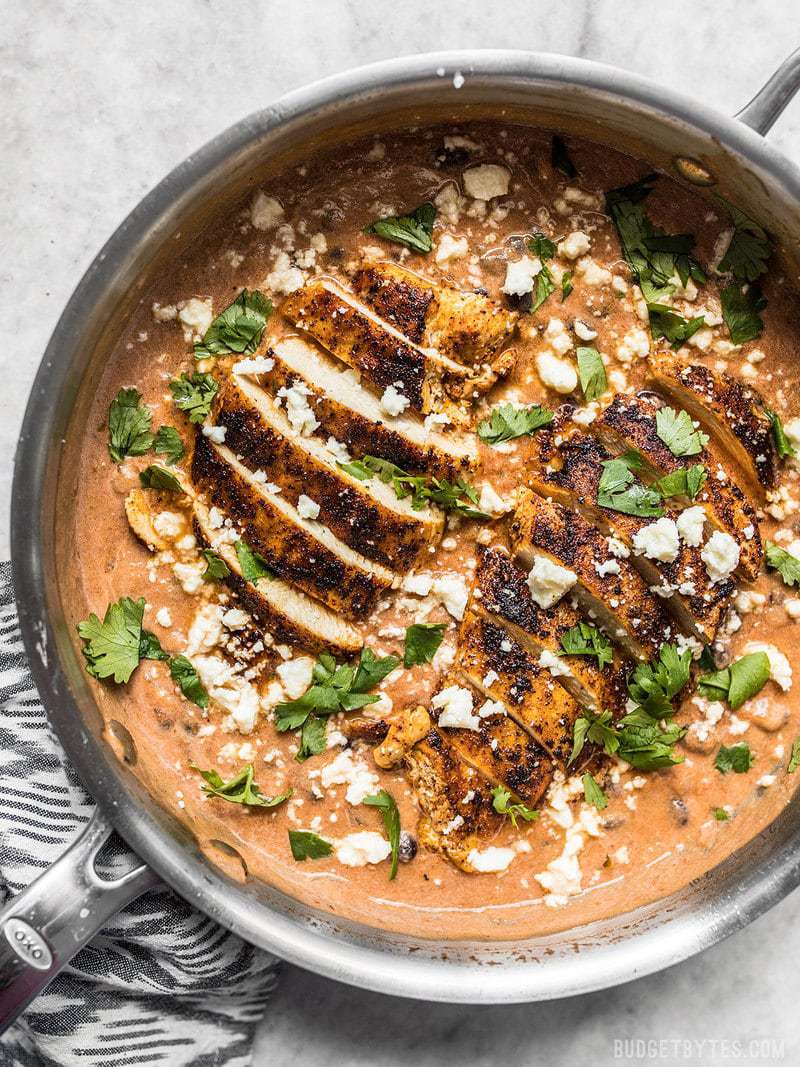 Budget Bytes
Use your favorite jarred salsa to simplify dinner in a snap. Pickup all the ingredients in one fell swoop at the grocery store on your way home, or (bless) you might even have everything in your pantry already. Black beans, corn and tasty toppings balance out this dish, served easily over rice or a salad.
I Am a Food Blog
This sweet and sour one-pan meal uses juicy pineapple and just a handful of other basic ingredients for an easy and healthy main dish that creates it's own sauce as it bakes, ideal for scooping over rice or noodles.
Foodie Crush
You don't need a fancy French cooking degree to master this impressive one-pan skillet. Meaty thighs are stuffed with a mixture of creamy, melty goat cheese, spinach, artichoke hearts, and sun dried tomatoes that sits right under the crispy skin, so you can bid au revoir to chicken deja vu.
Reluctant Entertainer
Classic comfort with the sweet bite of maple is what sets this chicken sheet pan dinner apart and ahead of the rest.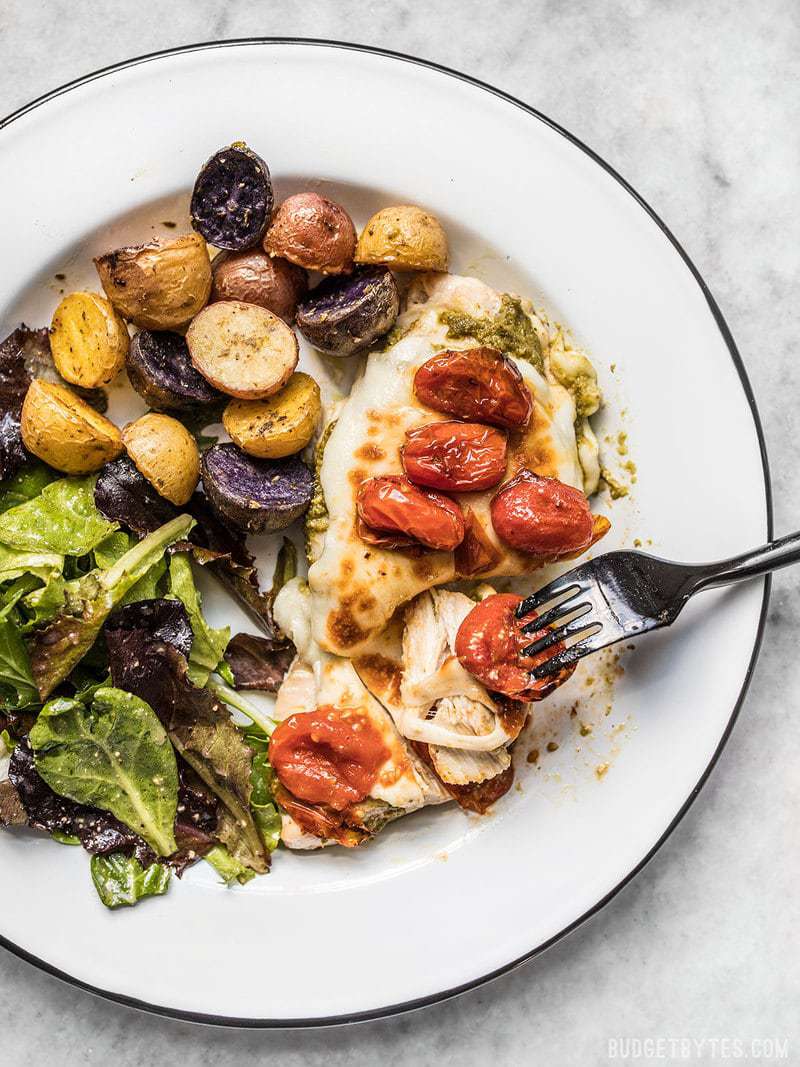 Budget Bytes
You all know I love a good sheet pan meal, and I want to try this one out soon. Basil-y Italian chicken, perfectly complimented by rustic roasted potatoes and a simple Caesar-style salad make a balanced, but comforting, winter meal.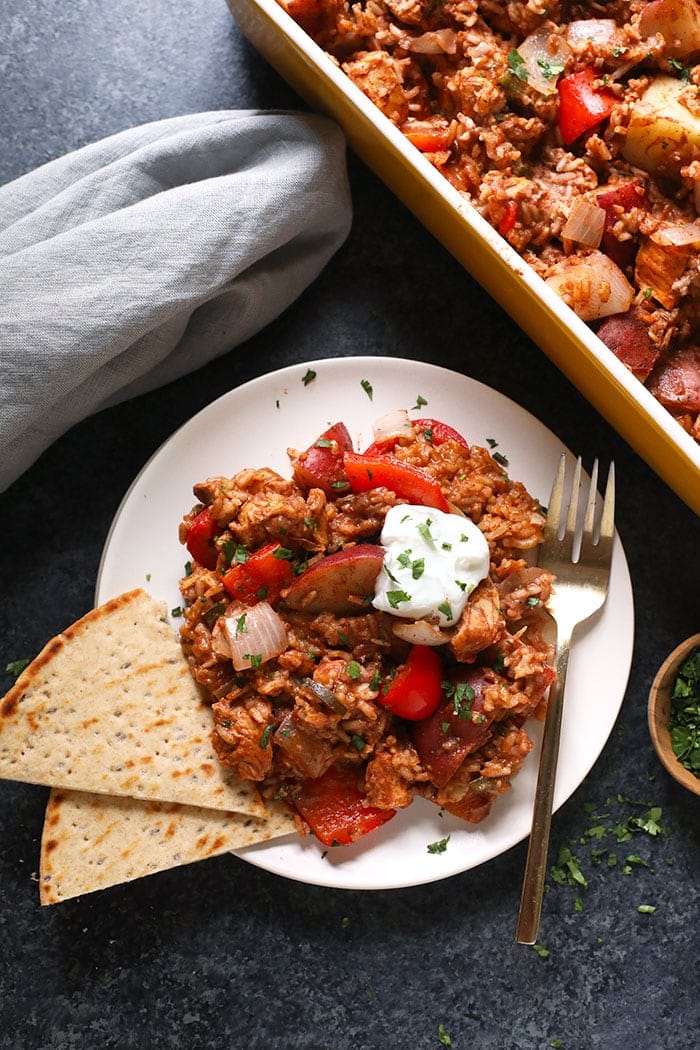 Fit Foodie Finds
Get ready to give your take out the boot with this mind-blowing comfort food take on Indian food. Tender marinated chicken ingeniously baked up with rice, bell peppers, and potatoes for traditional taste without the tandoor.
FoodieCrush
It's not easy being cheesy…but actually, it is with this saucy chicken dish mixed with carrots, peas, chicken and rice for a dinner that feeds four all under 10 bucks.
The Novice Chef
Creamy, dreamy pillows of dumpling heaven that take only 5 minutes to make are just part of the winning ways of this chicken and dumplings equation.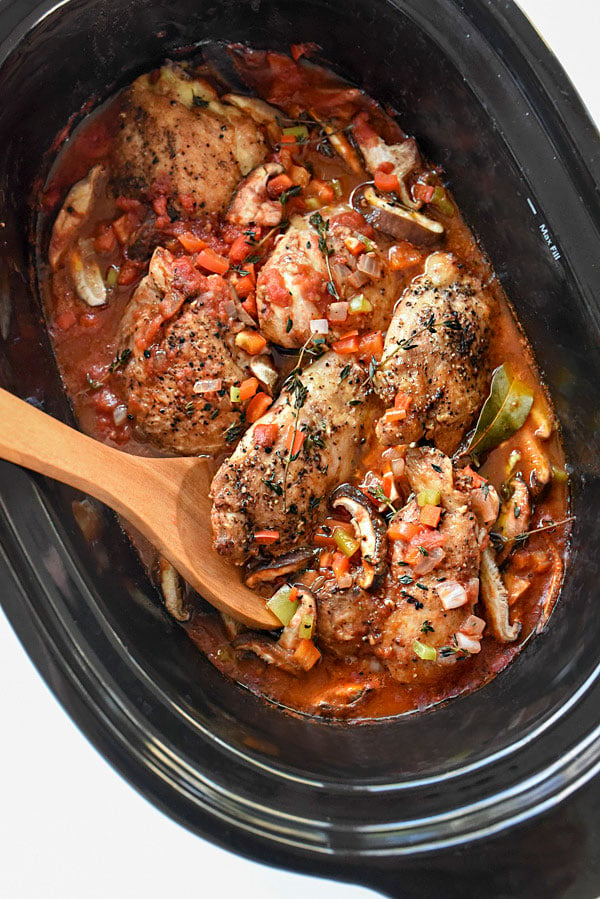 FoodieCrush
This dish is all about old-school Italian flavor made modern with simple slow-cooker instructions. Meaty bone-in chicken thighs add body to savory herbs and rich tomato sauce for flavor that feels like you spent the day cooking. Add my fluffy garlic rolls and some noodles or steamed veggies to round out the meal.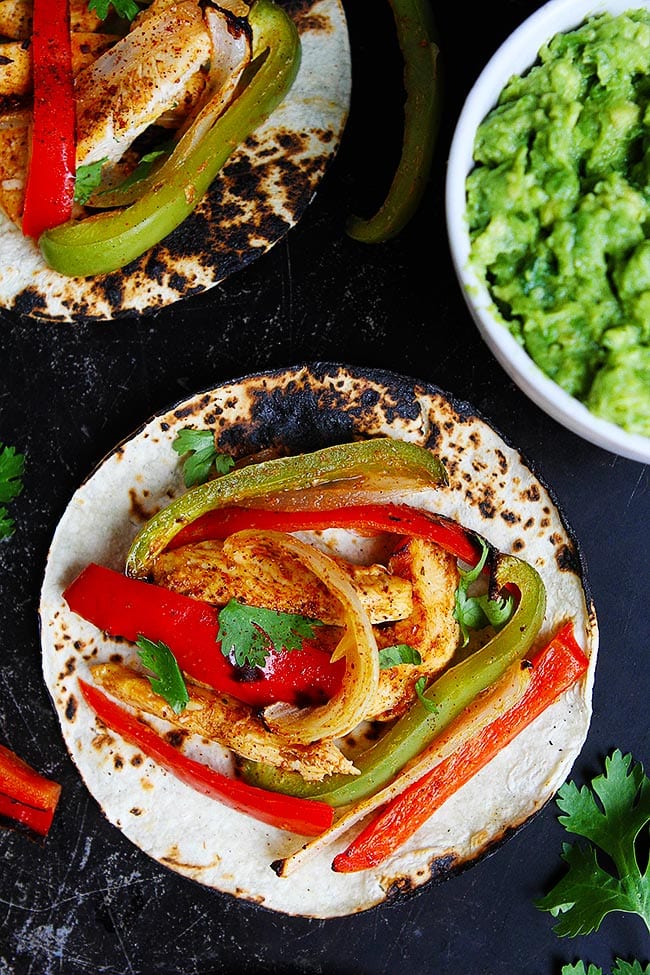 Two Peas and Their Pod
The key to killer fajitas is a good marinade, and this one has all the right stuff. Even better–the chicken and veggies all bake together on a sheet pan to save time and maximize flavor so you can get your Tex-Mex on in a flash. Love this with oven-warmed tortillas, or over crisp lettuce.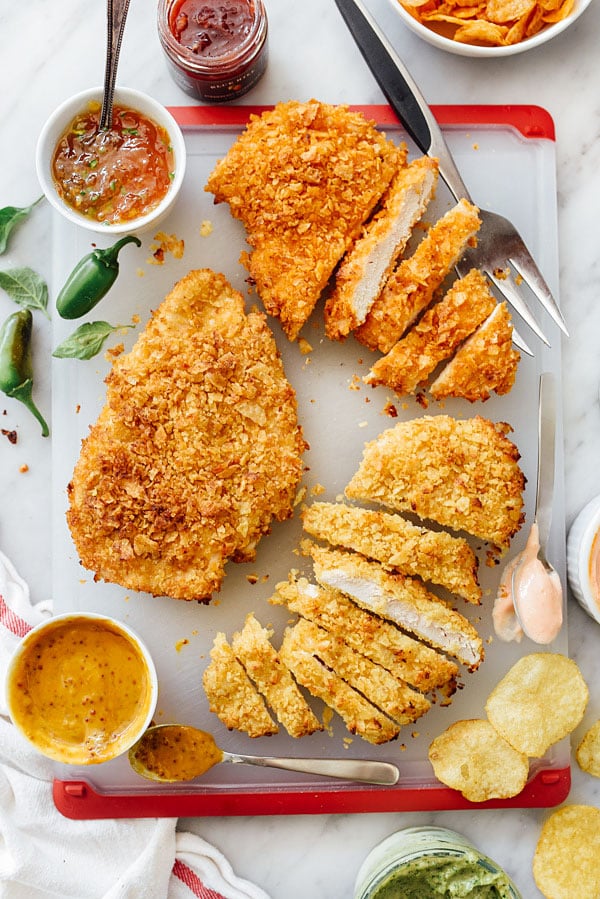 FoodieCrush
The best things about this recipe is how easily you can customize it to your family's tastes. Love barbecue? Craving tangy salt and vinegar? Keeping it real with ranch? Add some creamy mac n cheese and steamed broccoli for a delightfully kid-friendly dinner.
The Real Food RDs
This healthy spin on your favorite Chinese dish is full of veggies, chicken and basic sauce ingredients you'll be able to pronounce for a clean, easy meal prepped in one skillet.
FoodieCrush
Basic be gone–this recipe saves the dinner day with velvety smooth white wine, lemon, and thyme mushroom sauce with a hint of cream. Pro-tip: While I recommend different types of mushrooms, you can pick up the pre-sliced variety in your produce section when you're in a pinch.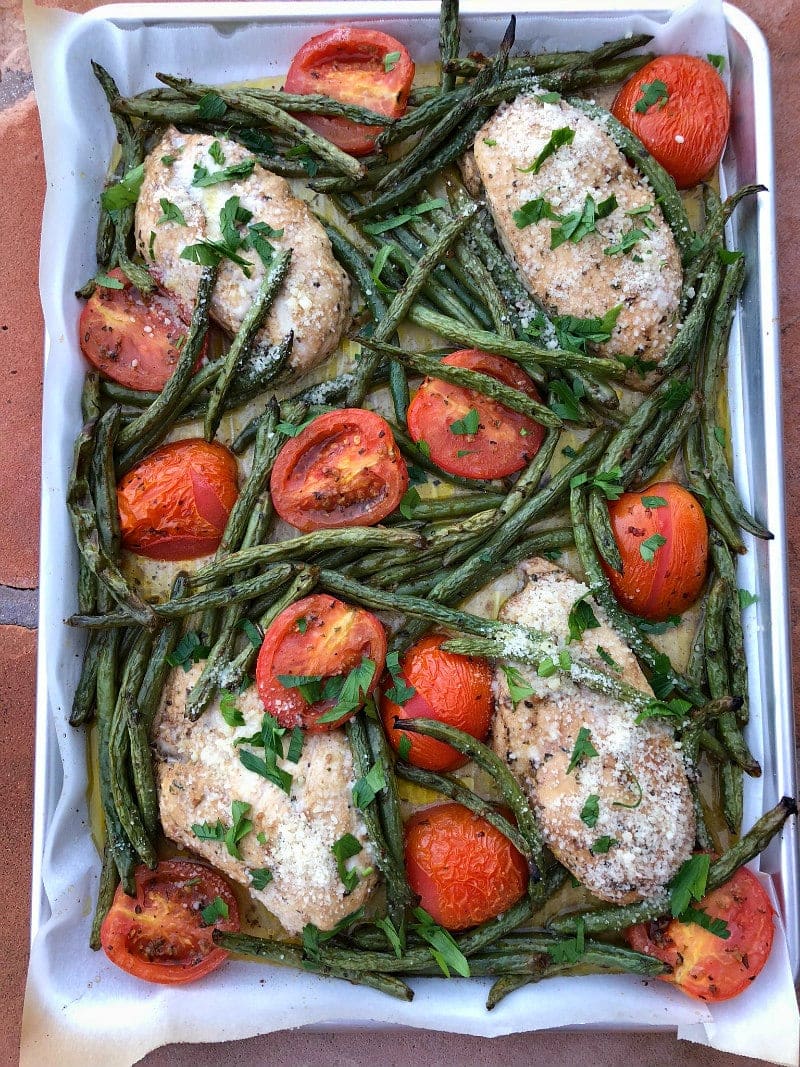 Recipe Girl
Blistered green beans, juicy roma tomatoes, and Parmesan-dusted chicken make a flavorful and nutritious pan dinner when you're short on time. I'd love to try this with my crispy oven-roasted potatoes.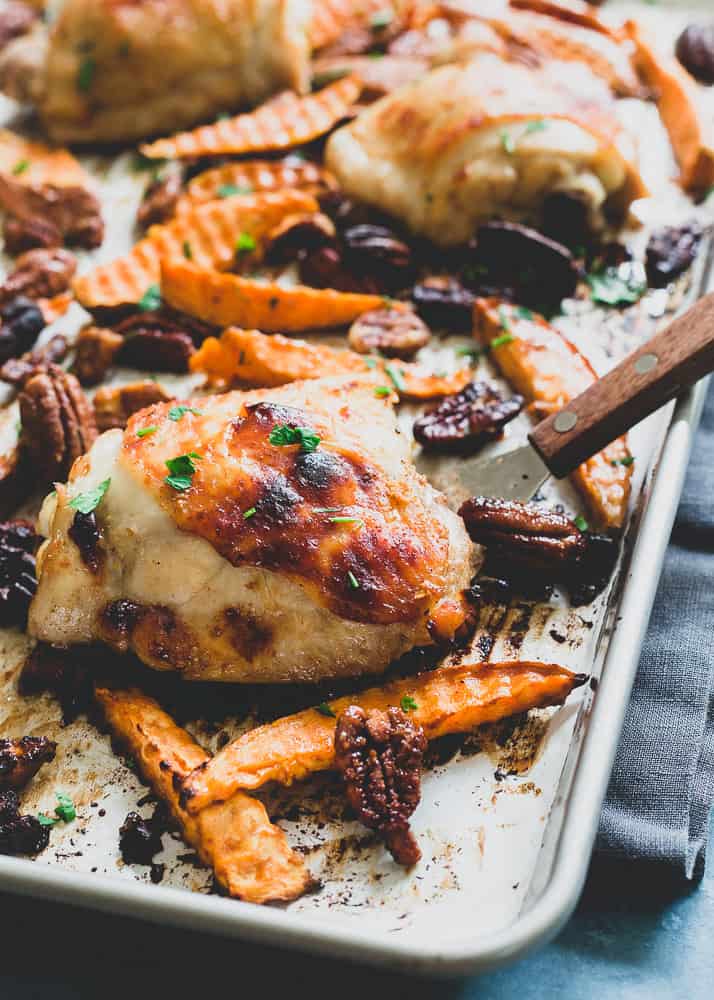 Running to the Kitchen
Cinnamon and pecans bring a special seasonal touch to chicken thighs delicately flavored with maple syrup, and complimented by toasty sweet potato wedges.
FoodieCrush
Fresh green bell peppers stuffed with chicken, rice, mushrooms, and a creamy mushroom-infused sauce create an easy-to-make weeknight dinner in a convenient, nutritious and delicious little package.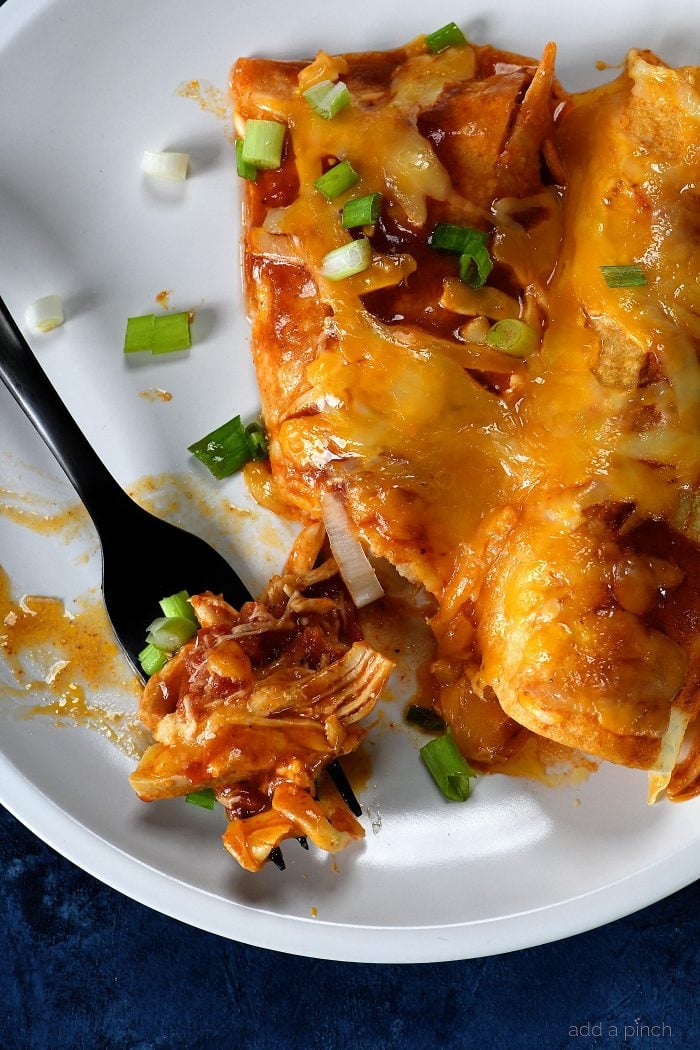 Add a Pinch
Kick up classic chicken enchiladas with a spicy buffalo-style sauce, Monterrey jack  and a sprinkle of blue cheese.
FoodieCrush
Enhance the nutty notes in whole wheat pasta with a smooth and silky cheese sauce, tossed together with broccoli florets and shredded chicken for a nutritious bowl to soothe any winter-weary soul.
Looking for more winning chicken ideas? Get the basics below:
And, don't forget these perfect sides for any chicken dish:
How does your schedule look for December? What recipes can I dream up to make your days a little easier in the mad holiday dash? I'd love to hear from you.
Craving more life balance, less stress, and better health? Check out my Nourished Planner, the daily planner to help create simplicity and under-schedule your life.
We send good emails. Subscribe to FoodieCrush and have each post plus exclusive content only for our subscribers delivered straight to your e-mail box.
Follow me on Instagram, Facebook, Pinterest and Twitter for more FoodieCrush inspiration.
As always, thank you for reading and supporting companies I partner with, which allows me to create more unique content and recipes for you. There are affiliate links in this post of which I receive a small commission. All opinions are always my own.