Crunchy potato chips are a natural coating to create a crispy crust for baked chicken breasts everyone in the family will love for dinner.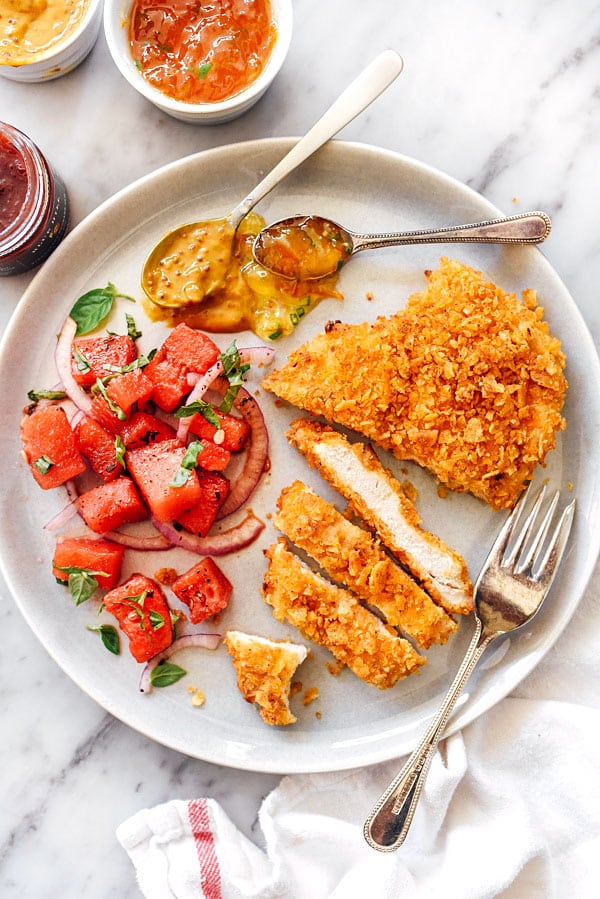 This post is sponsored by Kettle Brand Potato Chips
Growing up, my dad came home nearly every day for lunch. I would eat with him and my mom during the summer months when we girls were home from school wishing we were at the pool instead of home doing our chores. He and my mom would break out the sandwich fixings, usually liverwurst, salami or sausage for him, and for her it was usually a turkey, tuna fish or her classic melted (not grilled) cheddar cheese sandwich.
Their sandwich routine switched up a little every day but there was always one addition to the lunch that never wavered. Potato chips. Salty, crunchy potato chips. To this day, whenever I eat a sandwich with chips (of course I have to stack them inside the sandwich for added crunch value) I happily remember those days of licking my fingers clean of the salty leftovers and briny flavor bits on my lips.
These days, potato chips at our house have an added duty to sitting side saddle (or inside) our lunchtime fare. With this recipe for Potato Chip Crusted Chicken Breasts, they've moved from lunch to dinner, and are putting everyday chicken breasts at the center stage of crunchy flavor.
And with just three ingredients, this is one of the easiest dinners you're going to make all year.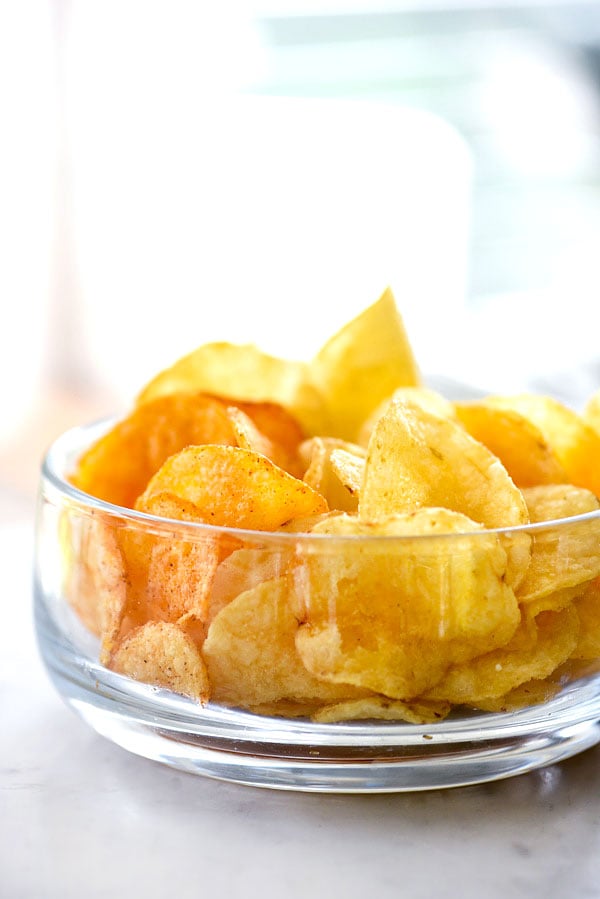 Mix and Match Your Chip Flavors
Coating chicken breasts to create a crunchy outside is absolutely nothing new. You can achieve it with flour, bread crumbs and even cereal.
But nothing gives baked chicken breasts more flavor and more crunch than a coating of crushed potato chips. Kettle Brand Potato Chips give these dinner birds an even crunchier munch because of their thicker, kettle fried potato chip bite.
With this recipe, you can pick and choose any one of the many flavors of Kettle Brand potato chips to serve to the variety of tastebuds in your house. Someone wants a spicy crunch but someone else wants the sweet notes of honey or maple? No problem! You can easily customize these chicken pieces for every eater and because the potato chips have such great flavorings, there no need to even think about adding extra ingredients. Simply choose the potato chip flavors you want, place in a gallon size freezer bag and roll with a rolling pin into small pieces to coat the chicken breasts.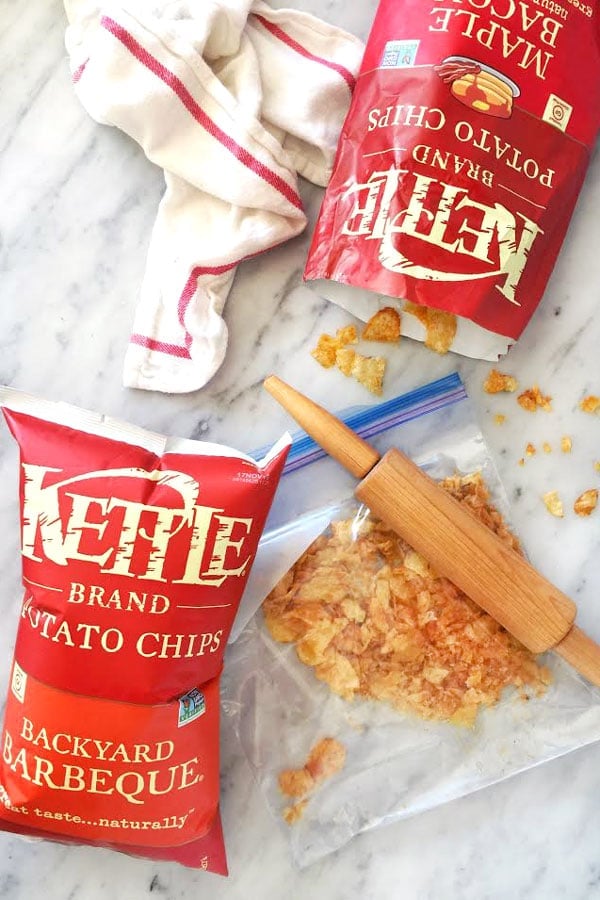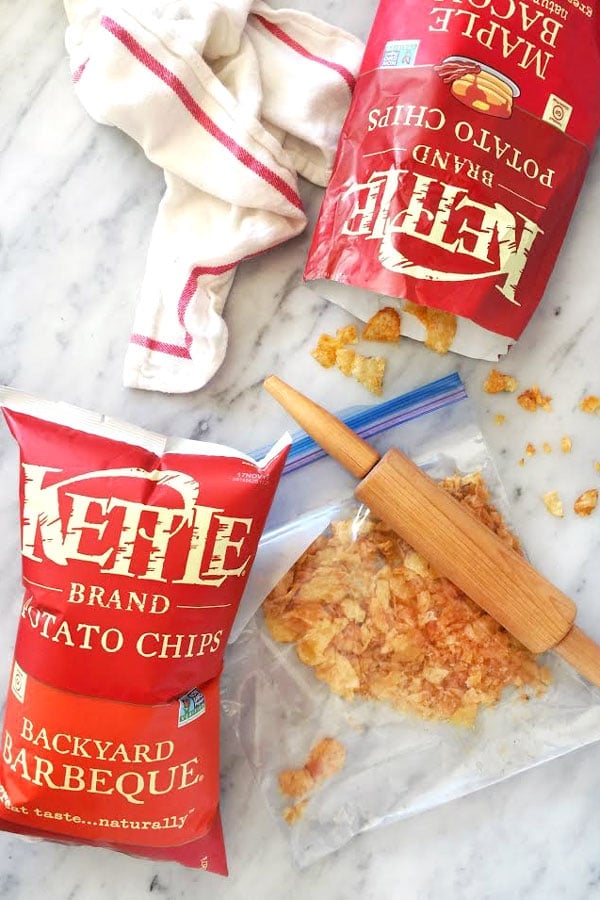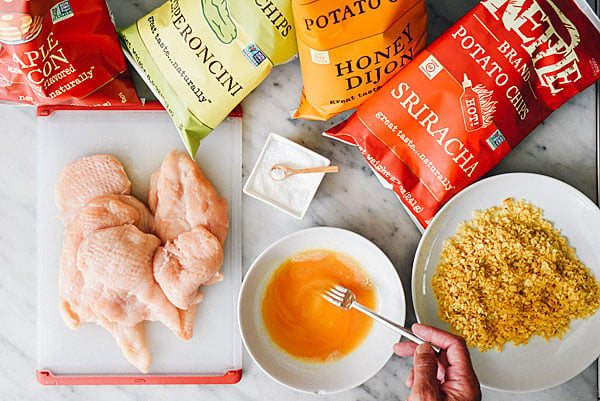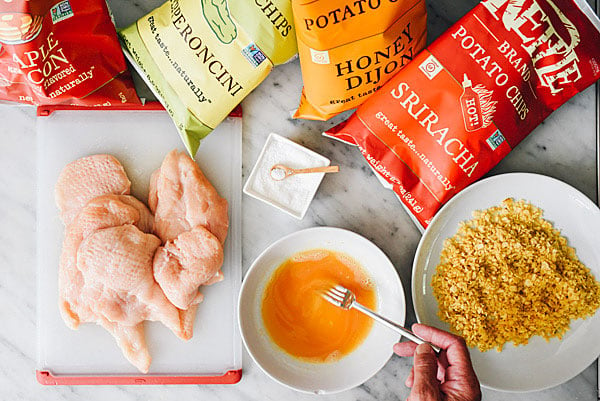 We cut the chicken breasts in half lengthwise so they're thinner and therefore cook faster and more evenly. My husband likes to give them a light tenderization with our little kitchen mallet, too.
Next, simply dredge the chicken in egg, then the chips and place on a baking sheet lined with foil and topped with a cooking or cooling rack. Cooking the chicken on the rack keeps the bottoms of the chicken from becoming soggy, and cooks the chicken on both sides so there's no flipping required.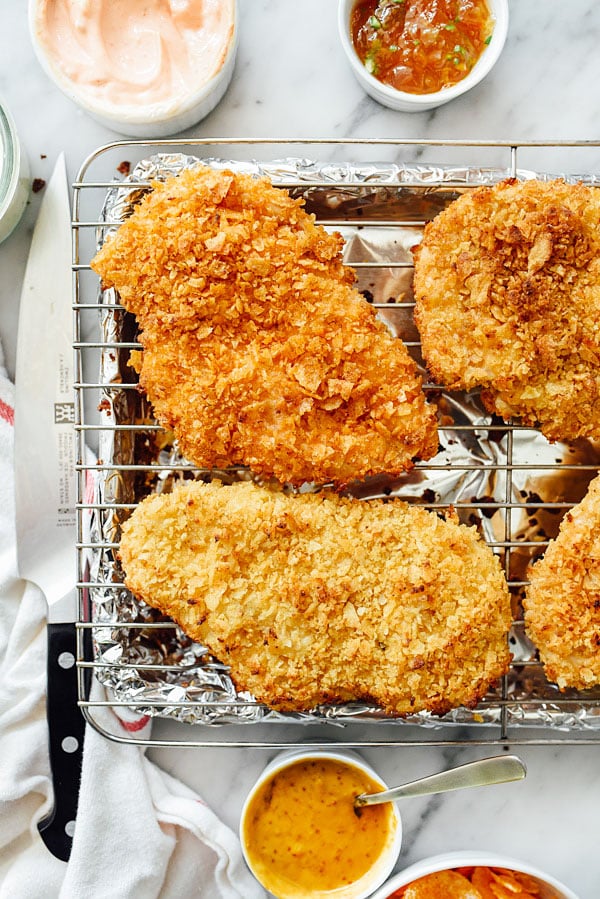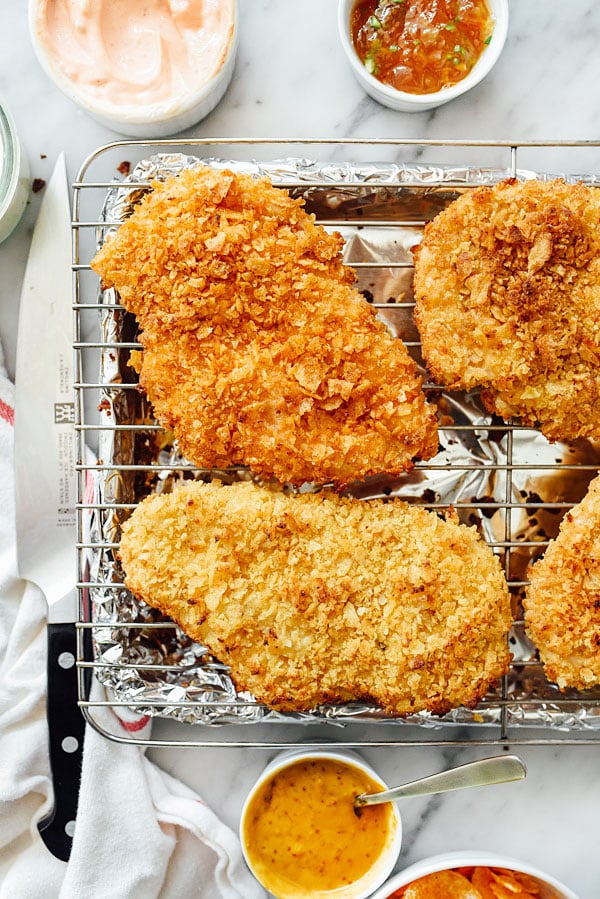 Take a Dip
The chicken is delicious served all on its own, or if you're a dipper, it's super easy to mix up dipping sauces that complement the potato chip flavors. Here are some flavor combos I created, but I totally encourage you to use your craving's imagination and see what you come up with your own.
Maple Bacon Potato Chip crusted chicken breasts with a dip of raspberry jam + a bit of water, or Raspberry Chipotle BBQ Sauce
Honey Dijon Potato Chip chicken breasts amped up even more with a 3 mustard sauce dip (mix grainy mustard + yellow mustard + a small squirt of yellow mustard) or classic ranch dressing or mayo spiked with Sriracha sauce, perhaps?
Pepperoncini Potato Chip crusted chicken breasts with peach preserves + diced jalapeño
Sriracha Potato Chip crusted chicken breasts with a coconut milk + mayonnaise + pesto dip
And for the best bite yet, mix and match the sauces to create an abundance of flavor.
With just three ingredients to make this chicken, it's about to become your favorite weeknight dinner yet…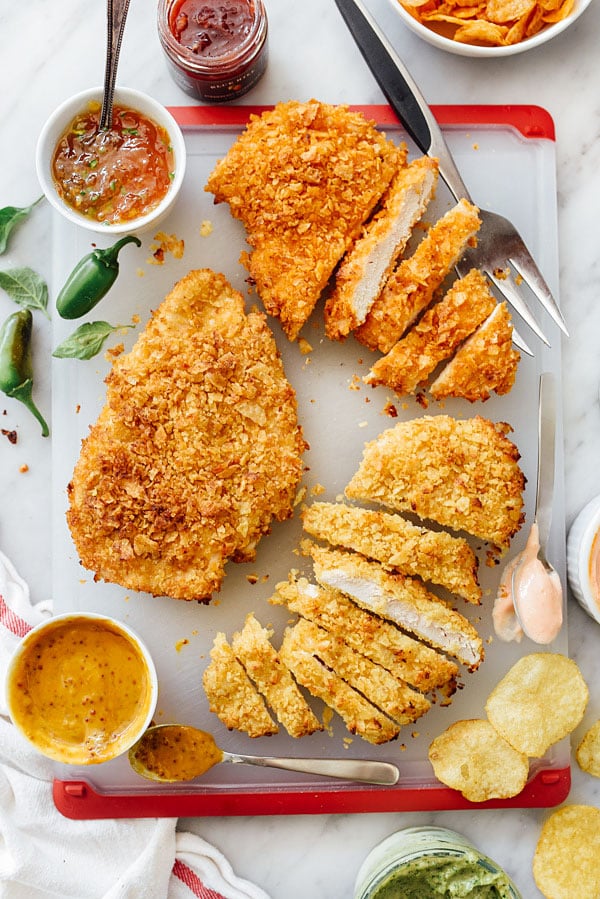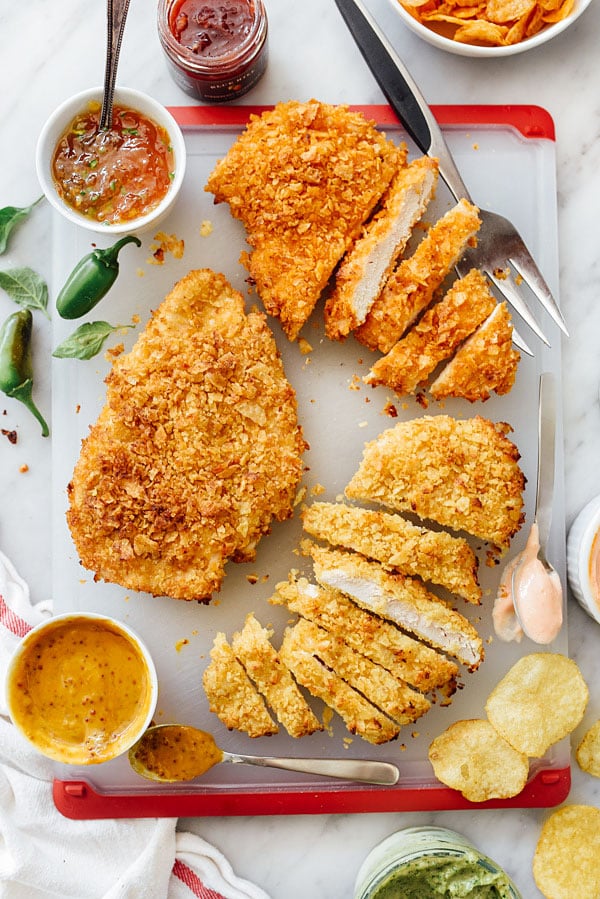 Recipe Ideas to Serve With Your Chip Crusted Chicken Breasts
This addictive chicken can totally be devoured on its own, but why not make a meal out of it?
If you make this recipe, please let me know! Leave a comment below or take a photo and tag me on Instagram with #foodiecrusheats.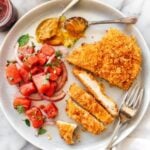 Print
Potato Chip Crusted Chicken Breasts Recipe
Crunchy potato chips are a natural coating to create a crispy crust for baked chicken breasts everyone in the family will love.
Ingredients
4

skinless, boneless chicken breasts

Kosher salt

1 8.5-

ounce

bag Kettle Brand Potato Chips

, (any flavor, or a mix of flavors to equal 4 cups of crushed chips)

2

eggs
Instructions
Preheat the oven to 400 degrees F.

Trim any excess fat from the chicken breasts and split lengthwise to create a thinner chicken breast. Lightly tenderize the breasts with a meat tenderizer. Season both sides with kosher salt.

Prepare a baking sheet with aluminum foil and place a cooling rack on top to create a baking rack.

Add about 2 cups of potato chips to a gallon freezer bag and seal. Gently roll a rolling pin over the chips to crush into small flakes. Add more chips to the freezer bag and crush as long as it's manageable.

Pour the crushed chips into a shallow bowl. In another shallow bowl, whisk the two eggs until smooth. One at a time, dip both sides of the chicken breasts into the egg then place in the bowl with the potato chips. Using the opposite hand you used for the egg, firmly press the potato chips into the chicken breast on both sides to create a thick crust. Place the crusted chicken breast on the baking rack. Repeat with the remaining chicken breasts.

Bake for 18-20 minutes or until the chicken has an internal temperature of 165 degrees F. Serve on its own or with dipping sauces of your choice.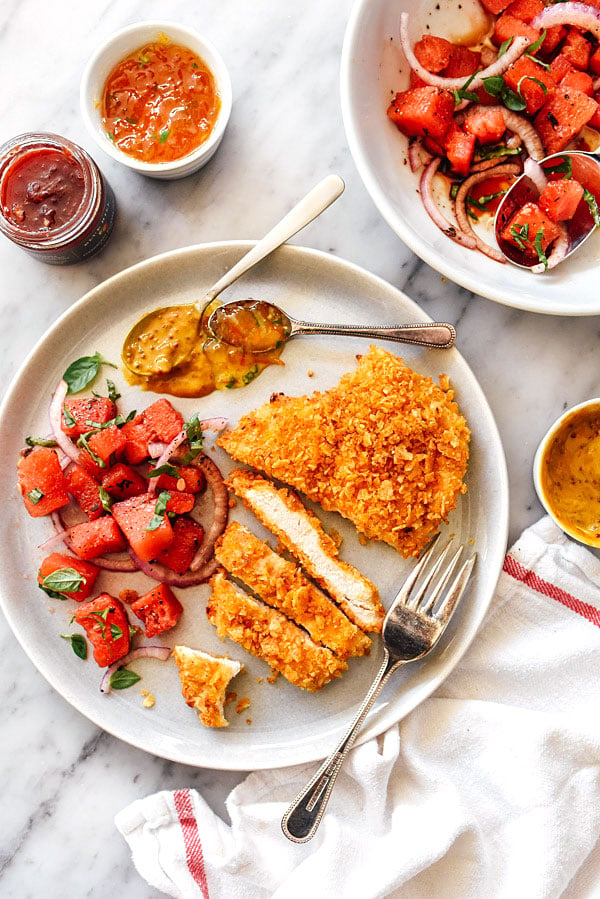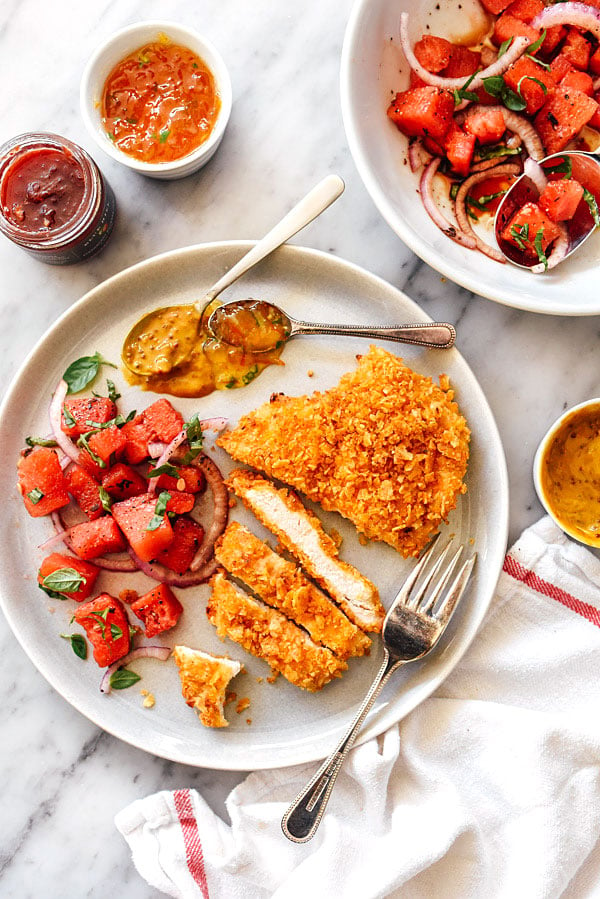 Hey, thanks for stopping by, make it a great day and make something good.
This post is sponsored by Kettle Brand. As always, thank you for reading and for supporting companies I partner with, which allows me to create more unique content and recipes for you. All opinions are always my own.  
Are you following me on Instagram, Twitter, Facebook and Pinterest? 
Thanks for reading and subscribe to FoodieCrush to have each post delivered straight to your e-mail box.