This easy spicy Thai Basil Chicken recipe infuses authentic Thai flavors into a coconut sauce that's dynamite over rice or noodles for a fast dinner you will literally find yourself craving.
When my stock of summer's sweet basil is ready for harvest, I make a mad dash for caprese salads and homemade pesto. But my love of basil roots don't stop there.
Each spring I go beyond the bounds of planting traditional sweet basil. In my garden, I always make room for at least 3-4 Thai basil plants, just so I can have them to make this Thai basil chicken recipe. It's creamy, spicy, and when using rice noodles, it's gluten-free.
In high school, my sister Holly spent a year in Thailand as a foreign exchange student, and our family's taste buds haven't been the same since. Holly originally introduced me to the traditional recipe of Pad Krapow Ga. Then my mom found a variation to this Thai Basil Chicken recipe in an old issue of Sunset magazine.
Over the years I've added this and that to make the recipe my own, and come late summer, it shows up nearly every week on our dinner table, taking full advantage of that sweet but savory, homegrown Thai basil.

What's the Difference Between Thai Basil and Regular Basil?
So what's the difference? Is Thai basil the same as regular basil? Just like lettuces, peppers, and citrus, there's a different flavor found in every type of basil. From cinnamon basil to sweet basil, they all vary just a bit.
Thai basil has a more distinct licorice or anise flavor. It's more more savory and is a defining characteristic in Southeast Asian recipes where it's sturdy leaves hold up well to longer cooking times. Its the perfect herb-ey basil punch for stewed dishes, soups, those with a heavier sauce, and for when you're looking for something to spice up a dish with perfumed licorice and citrus notes.
Which is why it is PER-FECT-O for my go-to summertime dish of Thai Basil Chicken.
Ingredients in Thai Basil Chicken
The ingredients in this Thai basil chicken can easily be found at most any good grocery store. However, there is one quality ingredient you may need to purchase at an Asian market or online, noted below:
Ground chicken: I prefer ground chicken thighs because they have a higher fat content, which lends more flavor.
Shiitake mushrooms: Brown mushrooms can easily be substituted if you like
Red bell pepper: Orange or yellow would be good too
Onion: I prefer red for the color
Fresh ginger: Instead of a knife, use a spoon to scrape off the brown skin
Garlic: Fresh is best
Thai basil: If you can't find Thai basil, sweet basil will work
Mint: Another herb for delicious flavor
Coconut milk: Use the best quality coconut milk you can find, and avoid using the low-fat version. Older coconut milk will separate in the can, with the fat becoming a solid chunk. If this happens, whisk, shake or mix the solid and the liquid into one. I've found organic coconut milks don't separate as much, but that could just be luck of the draw.
Soy sauce: Use light soy sauce for a less salty flavor
Rice wine vinegar: Do not confuse this ingredient with rice wine
Fish sauce: ALWAYS use a high quality fish sauce. Fish sauce sounds weird, but it lends the distinct Thai taste we all love. I like the Red Boat brand the best, and get it from my local Asian market or you can order it here.
Chile garlic sauce: I use Sambal Oelek for it's balanced heat to vinegar bite
Rice stick noodles or rice for serving
Chopped peanuts for garnish
How to Make Thai Basil Chicken
There are just a few simple steps to make this quick and dinner an easy success.
This dish comes together relatively fast so prep all of the ingredients before you start cooking. Having everything chopped, sliced, and ready to roll saves time in the long run.
Start cooking your rice or soften the noodles before you start cooking the veg and the meat so everything finishes at the same time.
Like many Thai recipes, you'll be cooking this dish in the same pan, but in stages.
First, sauté the mushrooms, onion and bell pepper to soften, then remove from the pan and set aside.
Next, cook aromatics with the ground chicken. The garlic and ginger will continue to cook as the chicken does. Use a flat edged wooden spatula to chop the chicken fine as it cooks.
As the chicken cooks, whisk together the coconut milk and sauce ingredients in a 4-cup measuring cup and set aside.
Finally, combine all of the cooked ingredients and add the coconut milk mixture. Cook down until the sauce reduces, then add the herbs.
Serve with cooked brown or white rice, or softened rice noodles. Garnish with more herbs, chopped peanuts, and squeezes of fresh lime juice.
An Easy Recipe for Easy Entertaining
This recipe is great for entertaining. Complete the cooking and keep warm on the stove then re-heat the dish and add the fresh herbs.
This Thai basil chicken recipe makes great leftovers. Store the chicken mixture separate from the rice or noodles for 3-4 days in the fridge. The chicken also makes terrific chicken lettuce cups.
What to Serve with Thai Basil Chicken
If you make this recipe, please let me know! Bookmark this recipe and leave a comment below, or take a photo and tag me on Instagram with #foodiecrusheats.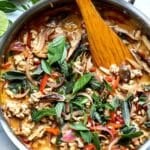 Print
Thai Basil Chicken (Pad Krapow Gai)
Authentic Thai ingredients flavor this super simple dinner with coconut milk sauced ground chicken, mushrooms, onion, and lots of fresh herbs.
Ingredients
1

pound

ground chicken thighs

½

pound

fresh shiitake mushrooms

, sliced

1

red bell pepper

, cored and sliced

1

red onion

, thinly sliced

4

tablespoons

vegetable or canola oil

2

tablespoons

fresh ginger

, minced

3

garlic cloves

, minced or pressed

1 ½

cups

plus ¼ cup for garnish, of thai basil

, (or basil of your preference)

½

cup

fresh mint

1

15-ounce

can coconut milk

4

tablespoons

soy sauce

, (use light soy sauce for less salty flavor)

6

tablespoons

rice wine vinegar

2 to 3

tablespoons

fish sauce to taste

1

tablespoon

chile garlic sauce or Sambal Oelek or more to taste

1

8-ounce

package rice stick noodles or 8 cups cooked rice

ground peanuts and lime for garnish
Instructions
Heat a deep sided fry pan over medium heat. Heat 2 tablespoons of oil in the pan. Add thek the mushrooms, onion, and red pepper and cook until softened, about 8 -10 minutes. Transfer the vegetables to a bowl and set aside. Heat 2 tablespoons of oil to the pan then add the minced ginger and garlic. Cook for 30 seconds or until fragrant. Add the ground chicken. Use a wooden spatula to break the chicken into small pieces as it browns. Cook for 6-8 minutes or until cooked through.

While the chicken is cooking, in a 4 cup measuring cup or bowl, whisk the coconut milk, soy sauce, rice vinegar, fish sauce and chile sauce. When the chicken is cooked through, add the mushroom and onion mixture back to the pan with the coconut milk mixture, 1 ½ cup basil plus mint and simmer until reduced by one third. Serve the chicken mixture over cooked rice or softened rice stick noodles. Serve with additional basil for garnish, peanuts and lime wedges.
Notes
Note: To soften rice noodles, bring 4 cups of water to a boil. In a large bowl, pour the hot water over the rice stick noodles and let the noodles sit and soften for 3-4 minutes. Drain immediately. If using rice stick noodles instead of rice, you can toss the softened noodles directly in the chicken and coconut sauce. Rice stick noodles are super absorbent and will soak up the soupy coconut sauce if cooking in the chicken and coconut mixture. My husband loves this dish even more saucy than given, so we double the sauce mixture portion of the recipe from coconut milk on down to the rice stick noodles for extra napkin swiping opportunities.
Nutrition
Calories:
242
kcal
|
Carbohydrates:
9
g
|
Protein:
16
g
|
Fat:
16
g
|
Saturated Fat:
2
g
|
Cholesterol:
65
mg
|
Sodium:
1333
mg
|
Potassium:
676
mg
|
Fiber:
2
g
|
Sugar:
4
g
|
Vitamin A:
1097
IU
|
Vitamin C:
29
mg
|
Calcium:
36
mg
|
Iron:
2
mg
Try These Thai Recipes Too
Thanks for reading and subscribe to FoodieCrush to have each post delivered straight to your e-mail box.
Follow me on Instagram, Facebook, Pinterest and Twitter for more FoodieCrush inspiration.
As always, thank you for reading and supporting companies I partner with, which allows me to create more unique content and recipes for you. All opinions are always my own.