A juicy, crispy roast chicken with vegetables is one recipe every home cook can—and should—easily master.
Roast Chicken Recipe
Why would a little old bird seem so intimidating to me? Maybe because the little clucker has inspired more failed recipe attempts for me than any other recipe I've tried to master.
Am I alone here?
Roast chicken is supposed to be easy. It's not like you need new technology or fancy schmancy ingredients. It's one of the basics and cooks have been roasting birds for, like, forever.
So what was my problem?
I've attempted various roast chicken recipes, most of which turned out a bird that was undercooked with juices that were far from running clear and which on the next go 'round resulted in cooking too long for a dry, sinewy meat that nobody in the family enjoyed.
My roast chicken attempts were actually becoming a family joke that I found no humor in.
But after cooking a lot of whole chickens, I figured out the secrets, and that's why I'm sharing them now.
5 Tips for Juicy Roast Chicken
I've discovered a few tips along the way that create a juicy, tender and superbly flavored chicken that's good enough to serve for Sunday supper or easy enough for a quick weeknight dinner.
Here's a quick run down that are explained further below:
What's the best roast chicken temperature for cooking? My answer: 425°F.
Do you cook the whole chicken covered or uncovered? My answer: Uncovered —unless is begins to brown too much, then tent with foil.
How long will it take to roast chicken? My answer: A 5 lb. chicken will take between 1 1/4 to 1 1/2 hours plus resting time.
How do you tell when a roast chicken is done? My answer: See tip #5 below.
1. Season generously. Most grocery store rotisserie chickens taste good because the basic chicken meat has been pumped with salt or other brining devices. I'm not a big fan of the Arnold Schwarzenegger "Pump You Up" method, but I do believe in generously seasoning the bird inside and out with a hearty dose of kosher salt and cracked black pepper.
If table salt is all you have on hand, use a little less since processed salt has more iodine and will result in a slightly bitter or metallic flavor.
Don't think you have to limit yourself to the seasoning basics. Think about trying herbs and spices to create flavorful variations to give your clucker a unique flavor, like:
chopped fresh or dried oregano, thyme, rosemary, parsley, and tarragon
smoked paprika
truffle salt
coriander
garam masala
cumin
see more: 25 Lightened-Up, Healthy Chicken Dinner Recipes
2. Add fat and get under it's skin. To get a crispy skin on your roast chicken that's juicy on the inside, slather the bird with a butter blend or olive oil. Both work equally well and will turn your bird into a bronzed Brazilian bombshell from the beaches Rio de Janeiro with a crackin' crispy crust.
Try any of these blended butters for maximum flavor.
Gently work your fingers between the skin and the meat of the breasts and legs, separating the two from one another and work in another layer of flavor with additional butter or oil.
see more: 20 Chicken Dinner Ideas You Can Make On the Sheet Pan
3. Play with your veggies. Veggies play a two-fold role in this roast chicken recipe.
First, stuff your chicken with aromatic vegetables and fresh herbs to deliver a lovely flavor from within that permeates every juicy bite of the chicken meat.
Some of my favorite vegetables and herbs to use are:
lemon
onion
garlic
celery
carrots
turnips
herbs such as fresh rosemary, tarragon, parsley, thyme
Then, create a natural roasting surface on the bottom of the roasting pan. Scattered veggies not only keeps the skin on the bottom of the bird from sticking to the pan, but imparts flavor throughout the bird. They also create an amazing base for pan drippings. Use a variety of seasonal veggies to gear the taste to different flavors throughout the year.
Simply quarter or chop the veggies in large pieces and there's no need to even peel the skins off.
Add 1 cup of water, chicken broth, or wine to the bottom of the pan if you would like.
see more: 30 Dinners to Make When There's No Time to Cook in September
4. The best oven temperature to roast chicken. We're roasting our chicken, not baking it. That's why a high temperature will ensure a crispy skin that's juicy on the inside.
Roast your chicken at 425°F and baste occasionally while cooking.
TIP: Pull your chicken from the refrigerator 30 minutes before cooking to take the chill off and ensure a more even cooking time.
5. How to tell when the chicken is done. Plan on 15-18 minutes of cooking time per pound, then add 15 minutes plus resting time. For a 5-pound chicken, I plan on 75-90 minutes for a roast chicken to be done. There are three ways I use to tell if a chicken is done, and I do each of them every time I roast chicken:
Use an instant-read thermometer inserted between the breast and thigh meat, avoiding the bone. This is my favorite thermometer. The temperature of the chicken should read between 155° to 160° F. Allow 10-15 minutes of resting time once you've pulled the chicken from the oven so the juices seal into the meat where the chicken will continue to cook as it rests, bringing the temperature up to the recommended 165°F internal temperature.
Check to see the juices are running clear with no streaks of blood or color. I can usually tell when I pull my thermometer from the meat and the juices run out.
Wiggle the chicken leg. If it is loose and pliable, the chicken is likely done. As you cook more chickens, you'll become better at using this method by touch.
see more: 31 Days of Weeknight Chicken Dinners to Make In March
What to Serve With Roast Chicken to Make a Meal
If you make this recipe, please let me know! Bookmark this recipe and leave a comment below, or take a photo and tag me on Instagram with #foodiecrusheats.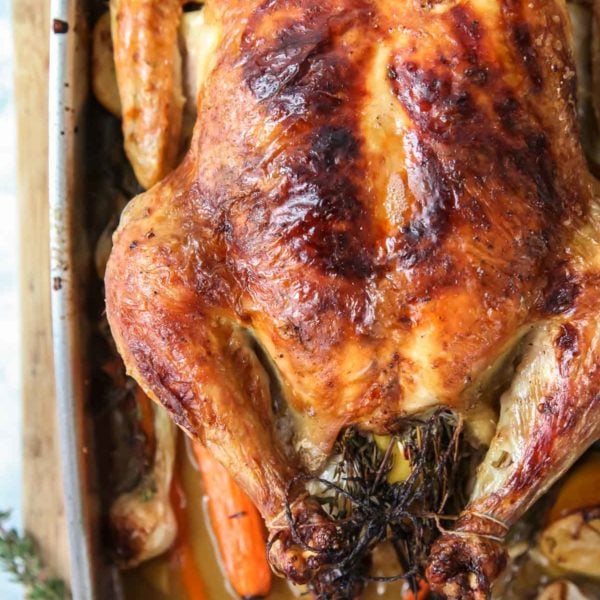 Print
5 Tips for Juicy Roast Chicken
Plan on adding an additional 10 minutes of time for the chicken to rest after it's been cooked. This helps seal in the juices for a tender bite every time.
Ingredients
1

5 pound

whole chicken

, at room temperature

Kosher salt and freshly ground pepper

2

carrots

, cut into 2-inch lengths

1

yellow, red, or bunch of Mexican onions

, quartered

1

head of garlic

, cut in half

2

lemons

, quartered

4

tablespoons

unsalted butter

, softened

1

bunch of fresh thyme sprigs
Instructions
Preheat the oven to 425° and position a rack in the lower third of the oven.

Remove the giblets and the neck and pat the chicken dry inside and out. Generously season the inside of the cavity with salt and pepper. Gently work your fingers under the skin and rub half of the butter mixture on the chicken breasts and the rest over the outside of the chicken. Season with more salt and pepper.

Stuff the chicken with ½ head of garlic, 1/2 of the onion, a few carrots, 1/2 lemon and thyme sprigs. Truss the legs with cooking twine and tuck the wings under the bird.

Arrange the remaining vegetables on the bottom of the roasting pan and set the chicken breast-side-up on top of vegetables in roasting pan.

Roast the chicken for 45 minutes. Baste with the pan juices and rotate the chicken in the oven. Cook for another 30-45 minutes, or when an instant-read thermometer inserted into the inner thigh registers 155° to 160° and the juices are running clear.

Transfer the bird to a cutting board and tent with foil. Remove the vegetables from the roasting pan and serve or discard. Serve the chicken hot, or refrigerate for up to 3 days.
Notes
If you wish for more drippings, add 1 cup of water, chicken broth, or wine to the bottom of the pan before you roast the chicken. 
Nutrition
Calories:
140
kcal
|
Carbohydrates:
10
g
|
Protein:
1
g
|
Fat:
11
g
|
Saturated Fat:
7
g
|
Cholesterol:
30
mg
|
Sodium:
24
mg
|
Potassium:
212
mg
|
Fiber:
2
g
|
Sugar:
3
g
|
Vitamin A:
5445
IU
|
Vitamin C:
32.4
mg
|
Calcium:
34
mg
|
Iron:
0.5
mg
Roast Chicken Meal Prep Ideas
Roast a chicken at the beginning of the week and turn it into more meals all week long.
What's your favorite chicken dinner or trick to get dinner on fast? Tell us all in the comments below.
Craving more life balance, less stress, and better health? Check out my Nourished Planner, the daily planner to help create simplicity and under-schedule your life.
We send good emails. Subscribe to FoodieCrush and have each post plus exclusive content only for our subscribers delivered straight to your e-mail box.
Follow me on Instagram, Facebook, Pinterest and Twitter for more FoodieCrush inspiration.
As always, thank you for reading and supporting companies I partner with, which allows me to create more unique content and recipes for you. There are affiliate links in this post of which I receive a small commission. All opinions are always my own.