Boiled baby red potatoes get an infusion of butter and parsley to make this super easy side dish one of my all-time favorite recipes for any meal.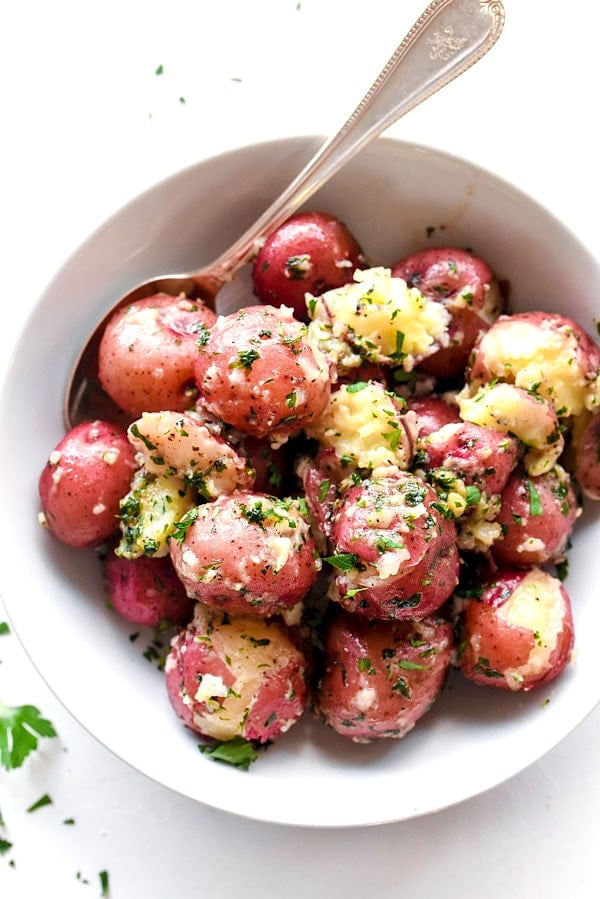 This is one of those recipes that comes so naturally, without much thought, that I didn't really think about sharing it.
Until someone asked for it.
I bet we had these potatoes at least once a week when I was growing up. They're the ultimate pairing for any and all comfort food because they're so insanely simple to add along to any main. And so intensely delicious.
Baby red potatoes are the simple cook's dream side dish. They're creamy in texture. They cook quickly. You don't have to skin them. And they're easy to prepare no matter what your method. Roasting. Grilling. Smashing. And like here, with your basic quick boil in water.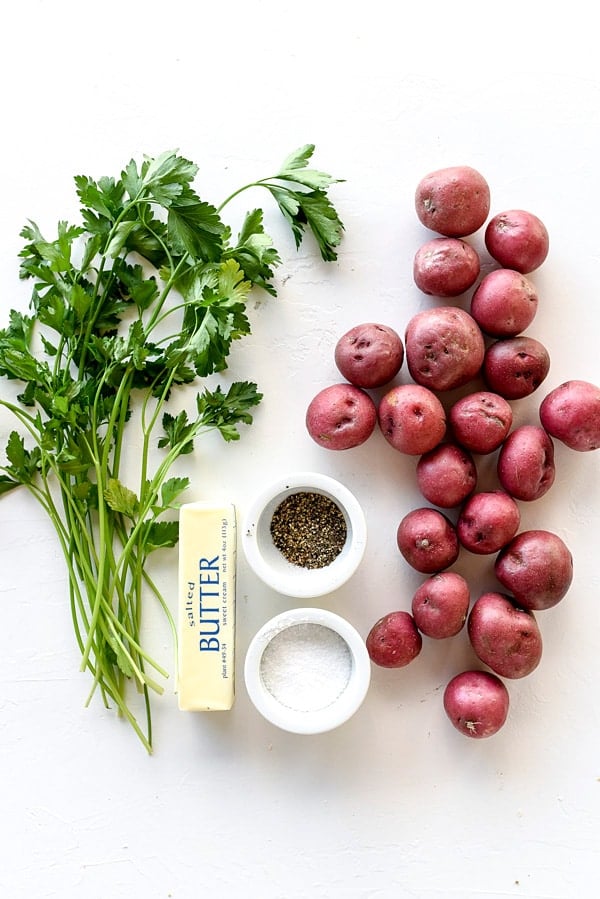 About the Recipe
I think I discovered the secret to making these potatoes extra good thanks to my inability to get food on the table all at once. Invariably when I prepare these, they are ready before the main dish so they end up sitting and steaming in the pan with all that delicious butter, salt, pepper and parsley.
And that's when the magic happens.
Once the potatoes are drained, any remaining water steams these spuds just a little more. Butter infuses into these little red bundles of starch. The skins begin to fall off these little red orbs. And with a vigorous stir and maybe a few good shakes of the pot, the creamy centers become just a bit more mashed/smashed/dashed with love.
Who knew 3 ingredients plus a dash or six of salt and pepper could be so good?
Who am I kidding? We all know, that's who.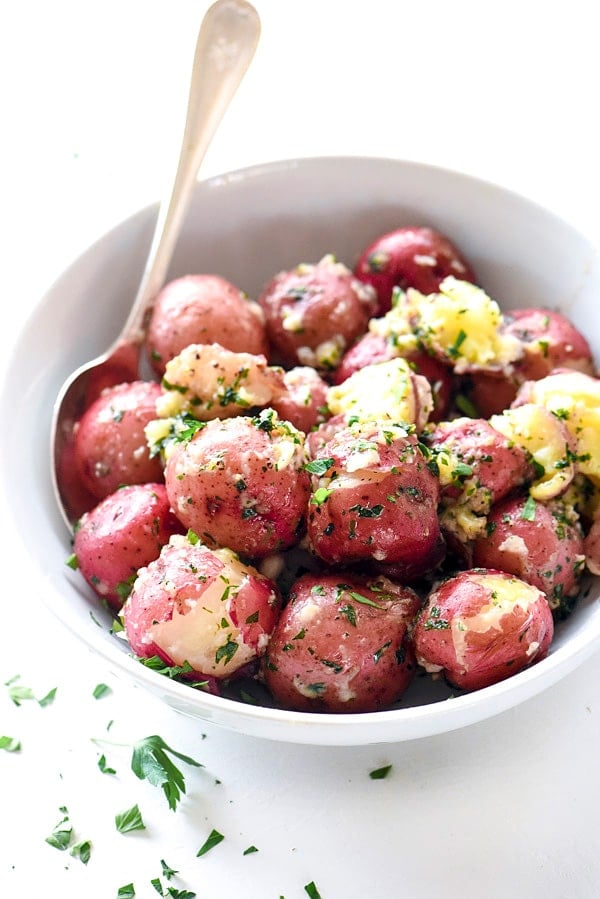 If you make this recipe, please let me know! Leave a comment below or take a photo and tag me on Instagram with the hashtag #foodiecrusheats

The Best Buttery Parsley Potatoes
Boiled baby red potatoes get an infusion of butter and parsley to make this super simple side dish one of my all-time favorites for any meal.
Ingredients
1½ to 2 pounds small red potatoes
kosher salt and freshly ground black pepper
3 tablespoons butter, cut into slices
¼ cup chopped fresh Italian parsley
Instructions
Add the potatoes to a medium saucepan and cover with cold water by 2 inches. Bring to a boil and add 1 teaspoon of kosher salt. Reduce to a rolling simmer and cook until the potatoes are fork tender and the skin is beginning to fall away from the potatoes, about 20 minutes. Drain the water from the pan. Quickly add the potatoes back to the saucepan with the butter and parsley, and season with kosher salt and freshly ground black pepper. Give the potatoes a vigorous stir with a wooden spoon or shake with the lid on so the potatoes break up a bit. Let sit on the still warm (but off) burner for 5-10 minutes and serve.
#eatseasonal December
As we have for the past few seasons, Becky of The Vintage Mixer has posted her list of what's in season to eat now and from that list, has amassed a group of us who are posting #eatseasonal recipes today. Some are some are sweet, some are savory and they're all in season now. They're all good and they're all seasonal and are listed below.
We'd love to see what you're eating seasonal now, too. Share your eats and follow the #eatseasonal hashtag on Instagram to discover more seasonal eats.
Please hop over to their sites, say hi and enjoy their seasonal inspiration.
Potato Leek Soup with Italian Sausage by Completely Delicious
Winter Greens with Pomegranate Seeds and Olives by Letty's Kitchen

Asian Kale Power Salad by She Likes Food
Pomegranate Vinaigrette by Joy Food Sunshine

Crunchy Apple-Pear Salad with Pomegranate, Pine Nuts & Yogurt by Simple Bites

Pesto Pasta with Crispy Brussels Sprouts and Bacon by Vintage Mixer

Winter Fruit and Yogurt Breakfast Bowls with Gingerbread Granola by Floating Kitchen
Mini Cranberry Orange Cheesecakes with Gingersnap Crust by Flavor the Moments

Beet and Root Vegetable Tian with Apple Cider Reduction by Food for my Family
Roasted Persimmon Ice Cream by Cafe Johnsonia
Hey, thanks for stopping by! Make it a great day and here's to cooking something seasonal and good.
As always, thank you for reading and for supporting companies I partner with, which allows me to create more unique content and recipes for you. All opinions are always my own.  
Are you following me on Instagram, Twitter, Facebook and Pinterest? 
Thanks for reading and subscribe to FoodieCrush to have each post delivered straight to your e-mail box.
Subscribe and have every FoodieCrush post delivered straight to your e-mail inbox