This Crockpot whole chicken recipe is an incredibly simple way to cook chicken for a week of easy lunches or dinners.

Crockpot Whole Chicken Recipe
I love making sexy recipes.
You know the kind. The ones that are ooozing with cheese. Or that are slathered in a decadent sauce. Even those healthy recipes made with totally fresh, vibrant seasonal colors can be totally seductive. The kind that when you set them on the table, people exclaim, "Ahhhh…That looks sooooooo good."
This Crockpot roast chicken is a good recipe. Great even. But it certainly isn't sexy.
This is a totally utilitarian recipe. One that you keep in your back pocket. The one you pull out when life's busy schedule is dealing you a mix of 2's and 3's but you're ready to ante up to a full house.
Its true. You can be a winner in the kitchen.
And this is how it's done.
Weeknight cooking is always the worst. And it seems like Monday nights at our house are the absolute bottom of the barrel.
Even though I work at home—creating and photographing recipes for God's sake—half of the time neither me nor my husband can seem to pull it together and plan for the daily $64,000 question, "What do you want for dinner?"
Pulling out your Crockpot (aka slow cooker) on Monday morning makes dinner a whole heck of a lot easier.
The formula is simple. Simply toss in a few vegetables with a whole chicken and you've just created the base for a whole week of eats.
What's in This Crockpot Whole Chicken?
Cooking a whole chicken in a Crockpot is a cinch. Mercifully, you only need a handful of ingredients to make a roast chicken in a Crockpot:
Whole chicken
Kosher salt and black pepper
Paprika
Carrots
Red potatoes
Yellow onion
Anaheim peppers
Garlic
Italian flat leaf parsley
How to Cook a Whole Chicken in a Crockpot
Are you ready to be amazed? To make this Crockpot whole chicken recipe, simply scatter the veggies in the bottom of the slow cooker, then place the seasoned chicken on top.
Cook the chicken until the internal temperature reaches 165 degrees F and the juices run clear. You can serve it immediately, or shred the chicken to use in soups, stews, and sandwiches throughout the week.
How Long to Cook Chicken in a Crockpot?
This Crockpot whole chicken needs to cook on high for 4-5 hours or low for 8-9 hours.
Each slow cooker cooks differently, so adjust your cooking times to reflect the size of your bird, the size of your slow cooker (I use this 6 quart cooker), and cook the chicken to 165 degrees internal temperature or until the juices run clear.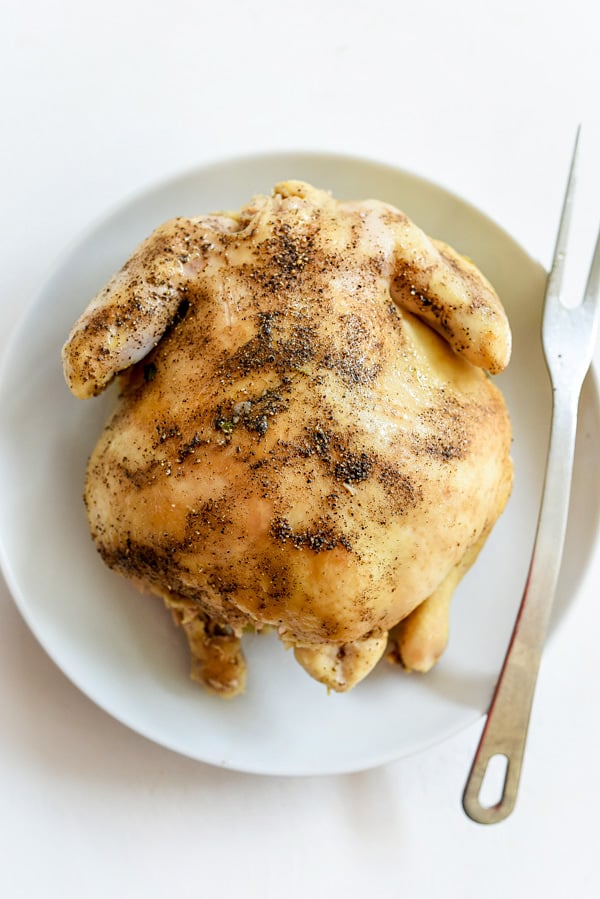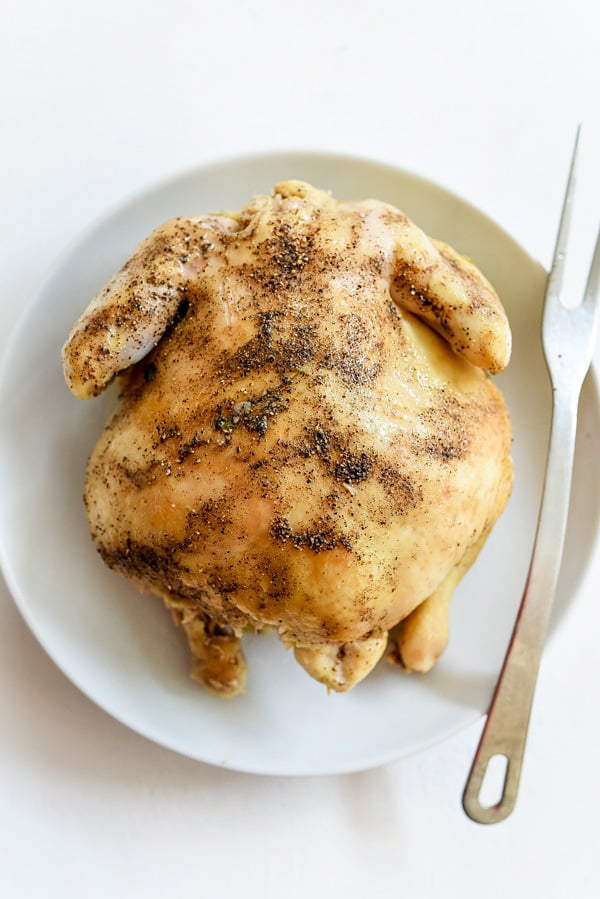 Tips for Making Crockpot Whole Chicken
Cooking a whole chicken in a slow cooker produces a good amount of delicious stock that you can save for soup, or mix a bit into shredded chicken for a super moist bite. If you'd really like some great broth simply begging to be made into matzo ball soup or chicken noodle soup, add 2 cups of water plus 2 chicken bouillon cubes before setting your cooking time. The result is an incredibly flavorful broth worthy of any family recipe.
Slow cooking the chicken won't produce a golden crust since the chicken is essentially braised with the moisture that is produced from the chicken and vegetables. I've combined kosher salt with paprika to add a more colorful skin, but if you want a deeply golden crust, simply transfer the cooked chicken to a baking sheet or roasting pan and place under the broiler for 5 minutes or until desired color.
I've cooked the chicken before with the breast up, and with the breast down. I can't say for sure, but it does seem that cooking the chicken with the breast down produces a bit more juicy breast. However, if you're serving it as a whole chicken for the dinner table, the skin on the breasts won't look as good. I tend to remove my skin after cooking anyway, so I'm more about having a juicy bird.
Recipe Ideas for How to Enjoy Your Chicken
If you make this recipe, please let me know! Leave a comment below or take a photo and tag me on Instagram or Twitter with #foodiecrusheats.  
Print
Crockpot Whole Chicken
This Crockpot whole chicken recipe is an incredibly simple way to cook chicken for a week of easy lunches or dinners.
Ingredients
1 5

pound

chicken

, giblets removed

1

tablespoon

kosher salt

½

teaspoon

paprika

Freshly ground black pepper

8

ounces

baby carrots

, (or whole peeled carrots chopped into 2-inch pieces)

4

large red potatoes

, halved

1

yellow onion

, peeled and quartered

1

anaheim pepper

, halved and seeded

6-8

cloves

garlic

, peeled and smashed

Handful of Italian flat leaf parsley
Instructions
Rinse the chicken well and pat dry. Mix the kosher salt and paprika together and season the chicken generously with the kosher salt mixture and freshly ground black pepper.

Scatter the vegetables in the bottom of a 6 quart slow cooker then place the seasoned chicken on top of the vegetables so they act as a shelf for the chicken.

Cook on high for 4-5 hours or low for 8-9 hours, or until the internal temperature reaches 165 degrees F and the juices run clear.

Remove the chicken from the stock and let the chicken rest for 5-10 minutes. If serving immediately, cut the chicken into pieces. You can serve the vegetables with the chicken or strain the vegetables from the broth and save the broth for up to 1 week in the refrigerator or freeze for up to 3 months.

Or if you want shredded chicken, allow the chicken to cool for about 15 minutes then shred with two forks and refrigerate for up to 3 days.
Nutrition
Serving:
1
g
|
Calories:
596
kcal
|
Carbohydrates:
29
g
|
Protein:
44
g
|
Fat:
33
g
|
Saturated Fat:
9
g
|
Cholesterol:
163
mg
|
Sodium:
1403
mg
|
Potassium:
1186
mg
|
Fiber:
4
g
|
Sugar:
5
g
|
Vitamin A:
5609
IU
|
Vitamin C:
20
mg
|
Calcium:
60
mg
|
Iron:
3
mg
More Crockpot Chicken Recipes You'll Enjoy
We send good emails. Subscribe to FoodieCrush and have each post plus exclusive content only for our subscribers delivered straight to your e-mail box.
Follow me on Instagram, Facebook, Pinterest and Twitter for more FoodieCrush inspiration.
As always, thank you for reading and supporting companies I partner with, which allows me to create more unique content and recipes for you. There may be affiliate links in this post of which I receive a small commission. All opinions are always my own.