This easy chicken piccata recipe with a lemon-caper sauce is a classic you'll find on the menu of nearly every Italian restaurant, and because it can be made in just 20 minutes, it's one of my favorite at-home recipes too.
"I have too many easy chicken dinner recipes," said nobody ever. It's true, I have no shortage of chicken recipes (particularly of the Italian persuasion) like my recipe for chicken marsala and my recipe for chicken parmesan. What can I say, when I'm craving chicken, (easy) classic Italian recipes are the first thing that comes to mind.
When it seems there's nothing to cook for dinner, this easy chicken piccata recipe is one I can always pull out of my magic hat and wow my family with dinner on the table in under 20 minutes. Because nobody ever said they didn't want faster dinners, too.
What is Piccata Sauce Made of?
This chicken piccata recipe is made up of a few super simple ingredients that when put together make a dish that's light, bright, and totally addicting. The key here is that one word: Simple.
Classically served with thin scallops of veal, but I'm subbing in lightly floured and quick fried chicken in this piccata recipe. The tangy sauce over the top is made with lemon, chicken broth or wine, capers, and butter. There's really no need to add extra ingredients to fancy this dish up—garlic, shallots, tomatoes, mushrooms. I save those for my chicken piccata pasta.
Here's what goes into the chicken piccata sauce:
Lemon
Chicken breasts (these get sliced in half to make thin chicken cutlets)
Kosher salt and freshly ground black pepper
All-purpose flour
Butter
Canola oil (you could use olive oil, but I prefer canola because it has a higher smoke point)
Chicken broth or white wine
Capers
Parsley, for serving (optional)
see more: 31 Days of Weeknight Chicken Dinners to Make Now
How to Make Chicken Piccata
Use boneless chicken breasts for chicken piccata. We all know that boneless chicken breasts can be a bit boring on their own, but that's not in the cards here. Thanks to generous seasoning and a quick fry, this chicken is moist and flavorful. Use organic, boneless, and skinless chicken breasts, and trim any excess pieces from the chicken.
To create a thinner scallop, cut the chicken breasts in half lengthwise. Use a thin, sharp knife to slice the chicken breast in half to make two thinner scallops. A thinner breast cooks faster and stays moist.
Season generously with kosher salt and freshly ground black pepper. Seasoning both sides of the chicken breast adds flavor so don't be too shy. All it takes is a little kosher salt and freshly ground pepper to get the job done.
Dredge lightly. Give the chicken a quick dredge in all-purpose flour to create a light crust when the chicken is cooked.
TIP: Use only one hand to dredge the flour so the other stays clean, avoiding two gummed-up hands instead of just one.
How to Fry Chicken Piccata
For a quick fry of the chicken breasts, use a large stainless steel or cast iron skillet. Avoid using a non-stick pan. To build flavor, you want the chicken to leave bits in the bottom of the pan for the piccata sauce. A non-stick pan won't create those bits.
When frying, I use a combination of butter and oil. The oil tempers the butter so it doesn't burn, and the butter adds that golden color and flavor to the chicken. If you're worried about the added fat, start by adding less of both and add more as needed. But don't leave one or the other out for the best results.
see more: How to Make the Best Baked Chicken Breast
How to Make Piccata Sauce
This lush, lemony sauce wins the award for easiest you'll cook all week that doesn't taste like it takes less than 5 minutes to make. Again, we are making this super simple, and nearly impossible to mess up.
Put the pucker in your piccata with lemon and capers. Not familiar with capers? They're pickled flower buds imported from Italy and found in the olive section of your grocery store. They're delicious little flavor explosions and pair amazingly with lemon.
Is there a substitute for capers in piccata sauce? If you don't have capers, try chopped, green olives instead.
Add Tang to Piccata Sauce
For the broth, use both lemons and lemon juice. For flavor and presentation, I use a combination of lemon juice and sliced lemons in my sauce. The sauce will taste pretty lemony on its own but mellows when paired with the chicken.
Deglaze with wine and chicken broth. To make the sauce saucy, use chicken broth or wine, or a combination of both to deglaze those flavor bits from the bottom of the pan. Simmer to reduce the sauce for a minute or two. Be careful not to cook too long, or the sauce will reduce away.
Thicken with butter. To thicken the sauce, add an extra tablespoon of butter to give it body and a lush gloss.
see more: 31 Winter Winner Chicken Dinner Ideas to Make Anytime
Tips for Making the Best Chicken Piccata
To speed up the cooking process, slice the chicken breasts in half lengthwise to make a thinner tenderloin or cutlet. This is a super easy trick that works every time, for quicker cooking and juicy chicken. Use a thin, sharp knife to make this work easiest—this is my favorite knife for the job. Some recipes suggest pounding out the chicken. I find this an extra step that isn't needed if the breasts are cut in half first.
Cook the chicken in two batches. To avoid steaming instead of browning, don't crowd the chicken in the pan when frying. To keep the chicken warm as the next batch cooks, loosely tent it with aluminum foil or place it in a 200°F oven.
How to juice a hard lemon: If your lemons seem hard or under-ripe, microwave them on HIGH for 15-30 seconds to get the most juice out of it.
What Type of Wine Should I Use?
Any dry white wine, such as Pinot Grigio, will do. Choose a wine you'd actually drink, not a cooking wine.
Can I Use Chicken Thighs?
You can, but Italian chicken piccata is best with breasts. If using chicken thighs, they may require more or less time to cook — it depends on how thick they are.
What do You Eat With Chicken Piccata
This dish is perfect for quick weeknight eats and plate straight from the pan, or put it on a platter and serve it up for Sunday dinner. Here's what I serve alongside:
And when there are leftovers, I reheat the chicken piccata to serve for dinner the next night or make an easy lunch sandwich or slice it to top my favorite salads.
More Classic Italian Recipes to Master
If you make this recipe, please let me know! Leave a 
 star rating on this recipe below and leave a comment, take a photo and tag me on Instagram with #foodiecrusheats.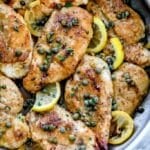 Print
The BEST Chicken Piccata
This easy chicken piccata recipe's lemon-caper sauce is an Italian classic that can be made in just 20 minutes, making it everyone's favorite dinner.
Ingredients
1

lemon

1 ½

pounds

boneless, skinless chicken breasts

1

teaspoon

kosher salt

1

teaspoon

freshly ground black pepper

⅓

cup

all-purpose flour

3

tablespoons

butter

, divided

2

tablespoons

canola oil

1

cup

chicken broth or white wine, or a combination of both

2

tablespoons

capers

, drained and rinsed

Flat-leaf parsley

, for serving (optional)
Instructions
Slice the lemon in half, juice one half, then cut the other half into ⅛" slices and set aside.

Trim any excess fat from the chicken breasts and slice in half lengthwise to make two thin cutlets. Season both sides of the chicken breasts evenly with the kosher salt and freshly ground black pepper then dredge each breast in the flour, shaking off any excess. 

Heat 2 tablespoons butter with the canola oil in a large skillet over medium-high heat. Add 4 pieces of the chicken and cook for 2-3 minutes per side. Transfer to a platter or sheet pan and cover with foil. Continue with the remaining chicken.

Reduce the heat to medium and add the chicken broth or wine (or ½ cup of both) the lemon juice, sliced lemons, and the capers, scraping up the browned bits on the pan and cook for 2-3 minutes.

Stir in the remaining 1 tablespoon of butter until melted. Taste for seasoning and spoon the sauce over the chicken breasts. Top with parsley, if desired. Serve with mashed potatoes or cauliflower, polenta, or noodles. 
Notes
Keep the cooked chicken breasts warm while the sauce cooks by plating on a platter and covering with aluminum foil, or place in a 200°F oven. 
Nutrition
Calories:
381
kcal
|
Carbohydrates:
11
g
|
Protein:
37
g
|
Fat:
20
g
|
Saturated Fat:
6
g
|
Cholesterol:
131
mg
|
Sodium:
1180
mg
|
Potassium:
724
mg
|
Fiber:
1
g
|
Vitamin A:
315
IU
|
Vitamin C:
20.5
mg
|
Calcium:
22
mg
|
Iron:
1.5
mg
More Easy Chicken Recipes
What's your favorite chicken dinner or trick to get dinner on fast? Tell us all in the comments below.
We send good emails. Subscribe to FoodieCrush and have each post plus exclusive content only for our subscribers delivered straight to your e-mail box.
Follow me on Instagram, Facebook, Pinterest and Twitter for more FoodieCrush inspiration.
As always, thank you for reading and supporting companies I partner with, which allows me to create more unique content and recipes for you. There are affiliate links in this post of which I receive a small commission. All opinions are always my own.
5) Stir in the remaining 1 tablespoon of butter until melted. Taste for seasoning and spoon the sauce over the chicken breasts. Serve with mashed potatoes or cauliflower, polenta, or noodles.