Wondering what to serve a crowd at your next party? Make it easy on the hostess with this breakfast and brunch buffet idea: Serve a DIY bagels and lox brunch bar.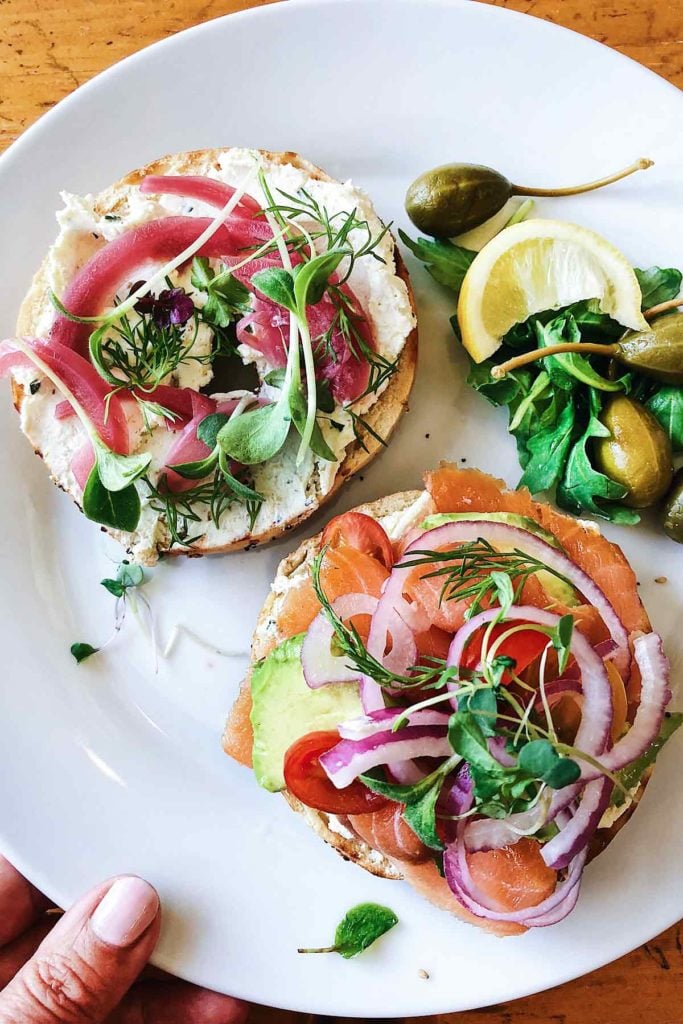 Last year when my niece Chandler announced she was engaged, I knew I wanted to host a bridal shower for her. With her wedding date set for early May, coming up with spring shower ideas would be perfect timing.
So this past weekend with 20 to 30 guests arriving for her bridal shower party (why doesn't anyone RSVP anymore???) something totally unexpected happened, and it pretty much blew my mind.
For probably the first time in my hostessing career, I didn't freak the freak out while prepping for the party.
Why didn't I have my usual pre-party hostessing melt down? Because you guys convinced me to make it easy on myself and create a build your own bagel and lox brunch bar as the centerpiece of our day.
I love a killer quiche so my original plan was to make four homemade, golden crusted quiches served with this sweet blueberry buckle and my cantaloupe caprese salad for the big day. But when I asked on my Instagram stories what you would want to see on the menu, this breakfast DIY bagel bar with lox and cream cheese idea won the popular vote.
That's why when I easily pulled the bagel and schmear bar together the morning of the bridal shower, I praised and thanked every one of you for making my day.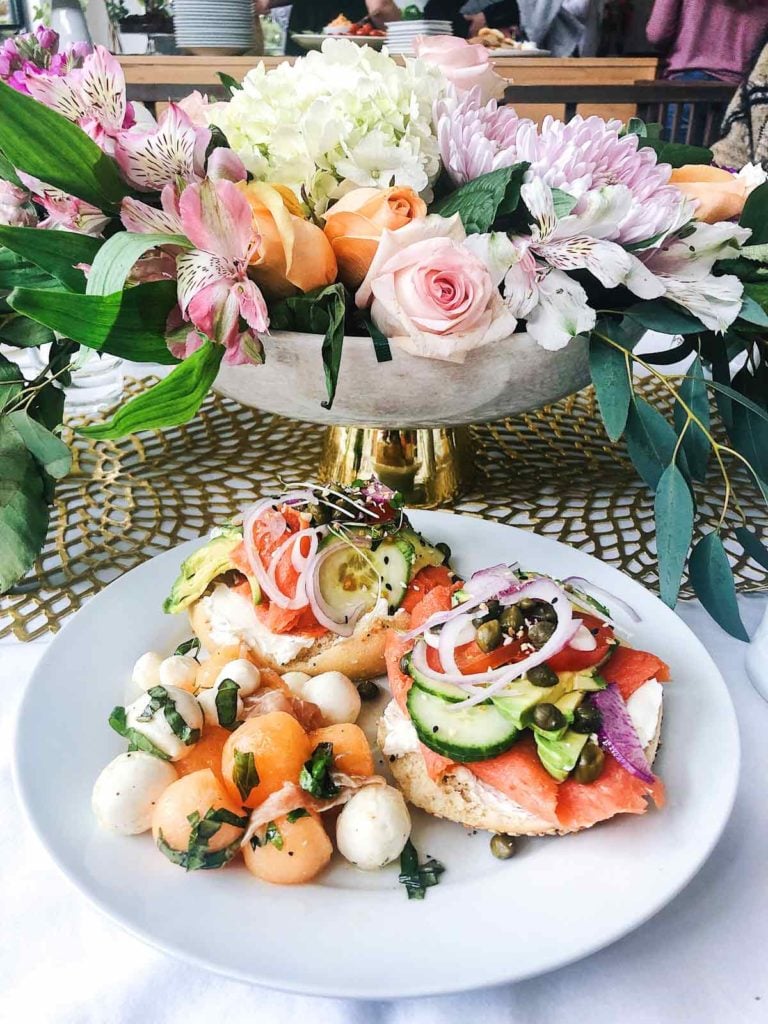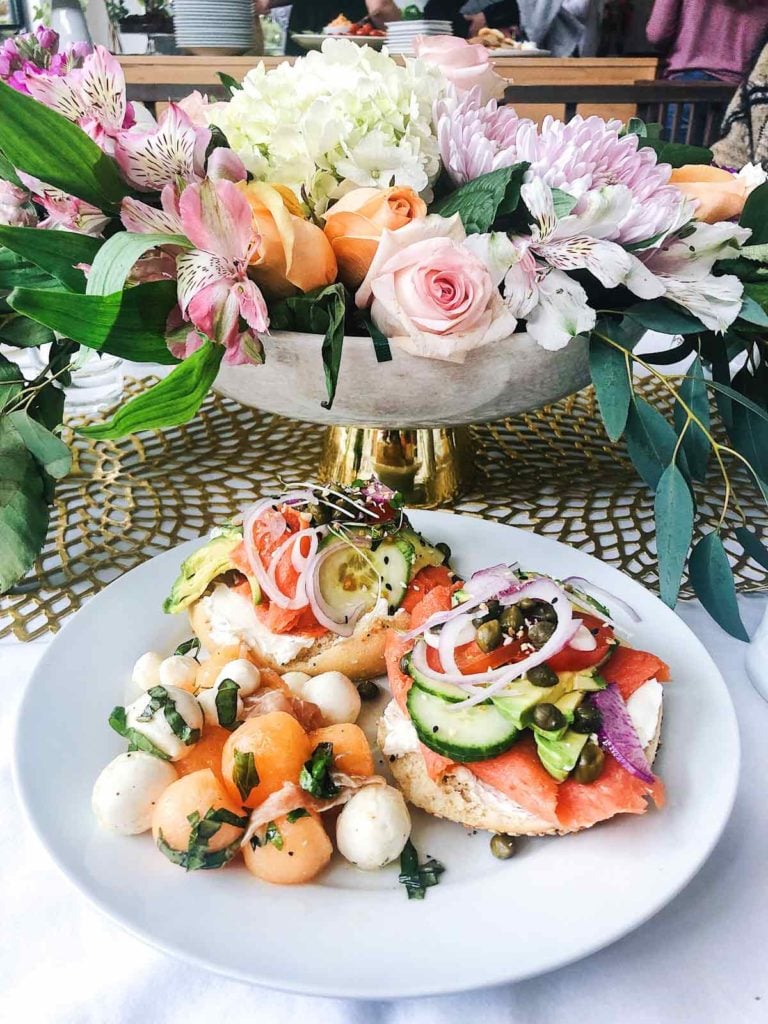 How to Set Up a Bagel Brunch Bar
There's so many reasons to celebrate brunch, like:
bridal shower brunch
baby shower brunch
Mother's Day brunch
Father's Day brunch
Easter brunch
spring or summer brunch
just because it's the weekend brunch
Start off your brunch on a festive note with a mimosa bar or set up a separate table with the best bloody mary bar, or serve tequila sunrises for a fresh juice with punch. Also offer guests coffee, seltzers, and plain juices, too.
The real beauty of choosing this DIY  brunch route is it's totally expandable to serve as a breakfast for four, or a brunch for 100.  Just buy and prep what you'll need and then let your guests do the work.
There's no hard and fast rules to setting up a bagel bar brunch, except to keep it easy to set up and easy on your guests—and you!
see more: 20 Spirited Holiday Punches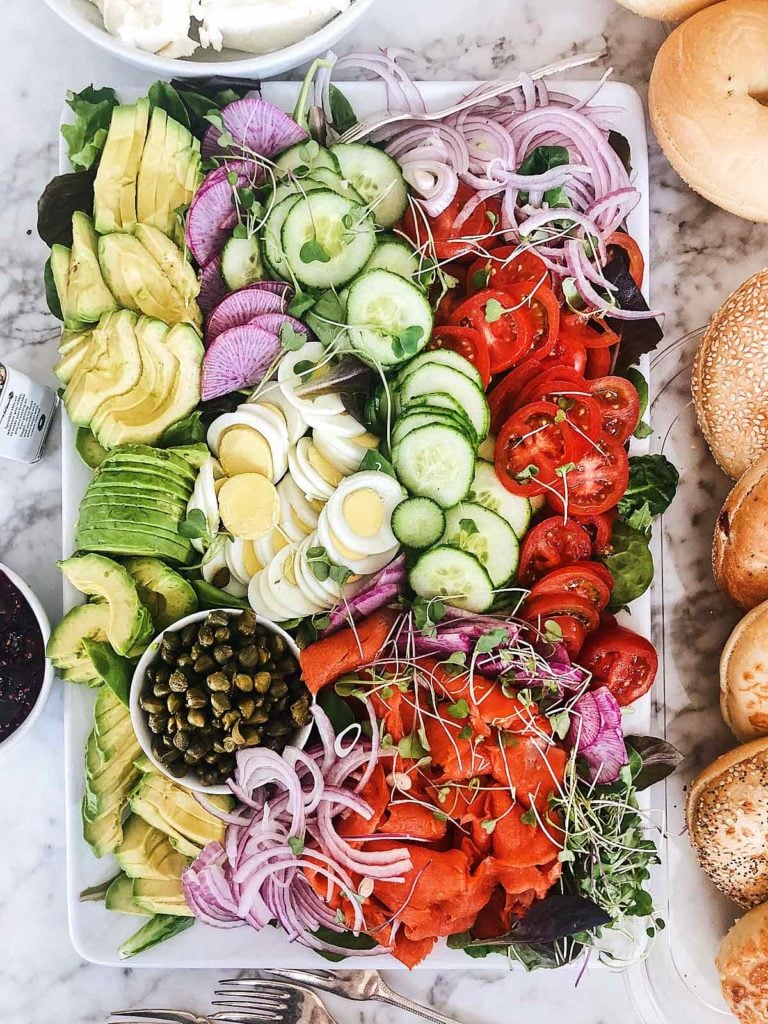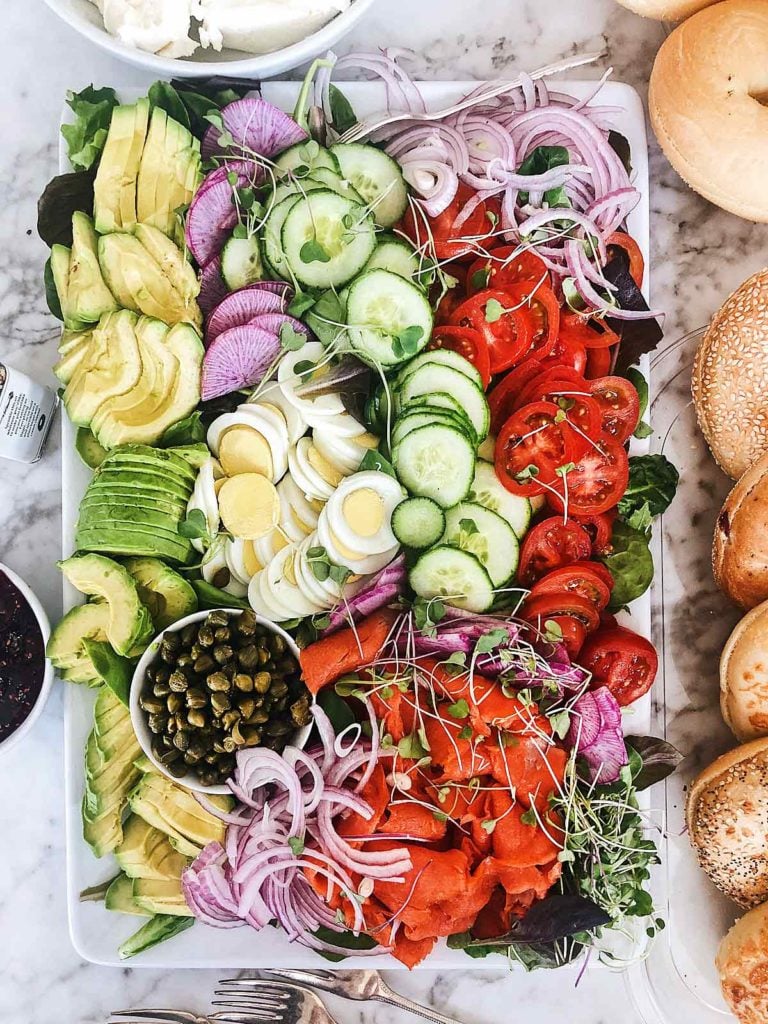 Favorite Bagel Bar Toppings
The fun part of this no-fuss bagel bar is giving your guests plenty of bagel building-options to choose from.
Choose a large platter for your party and layer spring lettuce greens or arugula as the base. I like using a platter to corral all the toppings and keep things orderly. Plus it saves space.
Slice the veggies thinly so they're easy to stack and group on the lettuces. Put small toppings like capers in compact bowls to nestle within the other ingredients.
Here's a few bagel topping ideas to choose from:
cucumbers
tomatoes
capers
red onion (pickled onions are tasty too)
capers (place in a small bowl to separate from the other ingredients)
avocado
sliced hard boiled egg
radishes (watermelon radishes are so pretty if you can find them)
pickled asparagus
roasted red pepper
arugula
fresh dill
sprouts (I love the look of delicate pea sprouts)
lemon slices
kosher salt and freshly ground black pepper
finishing salt
everything bagel seasoning—I can never have too much
jams, nutella or nut butters for those who prefer a sweet-tasting bagel
And of course, lox and cream cheese schmear…coming up now.
see more: The Ultimate Mother's Day Brunch Guide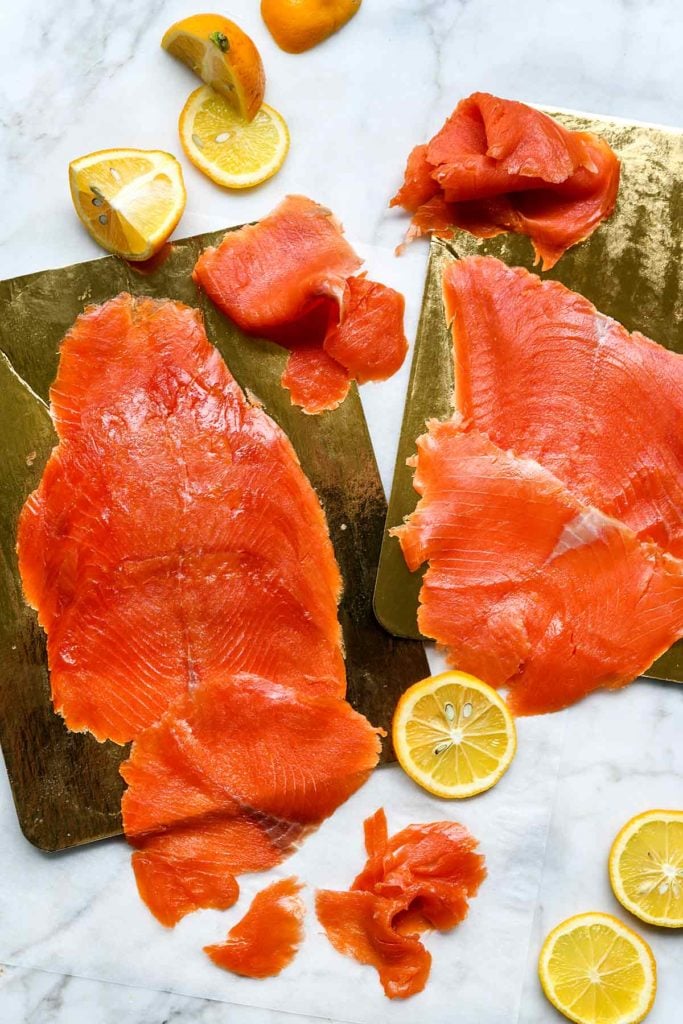 What Is Lox?
Lox (gravlax) and smoked salmon originally came about as a way to preserve the fish without the need of refrigeration. With their buttery flavor and smooth slices, both taste equally delicious on bagels.
But there are subtle differences. As Epicurious explains, smoked salmon is cured or brined, then smoked. Lox is cured, but not smoked.
The cured lox and smoked salmon is a delicate fish to work with. Wondering how to serve lox? Before setting out for guests, use your fingers to gently separate the sheets of fish from one another.
Plan on 2-3 ounces of lox per bagel. 
see more: 14 Days Of Healthy Breakfast Recipe Ideas
Make It a Fresh Bagel
You've gone to all the trouble to lay out your toppings the morning of  so keep your bagels fresh too. I have an Einsteins bagels near me so it's easy to order a variety the day before and pick them up the morning of the party when my husband does the last minute run for ice. When ordering, ask them to slice before pick up to save even more time.
I chose an assortment of bagels for my DIY bar, nearly all of them savory with 1-2 sweet options too.
Asiago was the most popular bagel choice at my party with plain following up next. For me, it's a sesame or everything bagel all the way.
If you want to make your own bagels, give this healthier homemade bagel recipe a try.
I like my bagels toasted, but if I have a big crowd, I keep things simple and save the toaster for another day. If you must toast for a crowd, place the sliced bagels on a baking sheet and broil in the oven until golden brown.
Plan on 1 bagel per person.
see more: Salmon And Bagel Egg Benedict For Mother's Day Brunch
Cream Cheese Schmear
For my bagel bar I kept it simple and offered only plain whipped cream cheese. I figured there was enough going on with the toppings to add all the flavor.
But, if you're keeping your toppings simple, go wild with the cream cheeses and offer a plain and at least one sweetened variety.
Plan on 2-4 tablespoons of cream cheese per bagel. 
Brunch Menu Ideas to Add to the Bagel Bar
The holey bagel isn't the only player in this brunch bar game. Add a few more players to complete the line up, like these:
If you make this recipe, please let me know! Leave a comment below or take a photo and tag me on Instagram with #foodiecrusheats.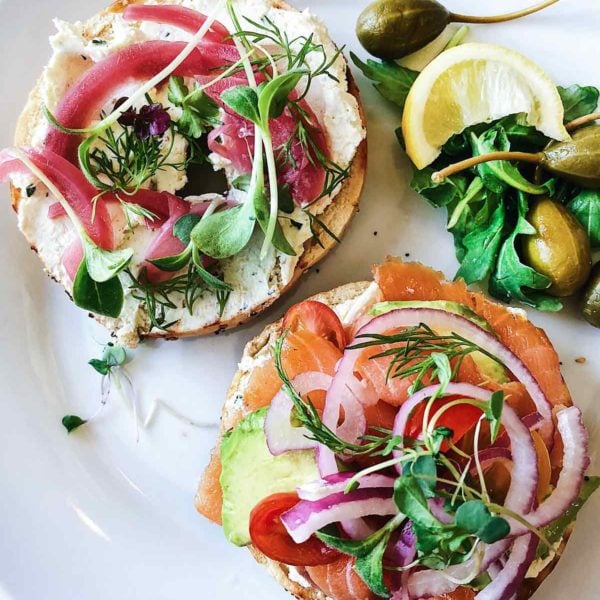 Print
Bagel and Lox DIY Brunch Bar
This is more of an idea for assembly than a hard and fast recipe.. Plan on one bagel per person then choose your favorite toppings for guests to choose from.
Ingredients
assortment of bagels

sliced cucumbers

sliced tomatoes

capers

sliced red onion

avocado

hard boiled egg

sliced radishes

arugula or greens for plating

fresh dill or chives

lemon slices

kosher salt and freshly ground black pepper

finishing salt

everything bagel seasoning

jams, nutella or nut butters
Instructions
Pick up your fresh bagels from a bagel store the morning of your party so they are fresh. Ask for them to be pre-sliced. Arrange the bagels on a platter or large bowl.

Shop for the bagel toppings a day or two before the party. If your bagel bar is being served for breakfast, prep the sliced ingredients the night before. Before serving, lay a bed of greens as the base on a large platter or board and arrange the toppings on top with serving utensils. Serve the cream cheese in small serving bowls and remember to set out enough knives for spreading.

Serve plenty of coffee, juices, and mimosas and encourage your guests to help themselves then sit back and enjoy.
More Brunch Recipe Ideas
Do you have a favorite brunch idea you lean on time and time again? We want to know! Share your ideas in the comments below.
Craving more life balance, less stress, and better health? Check out my Nourished Planner, the daily planner to help create simplicity and under-schedule your life.
We send good emails. Subscribe to FoodieCrush and have each post plus exclusive content only for our subscribers delivered straight to your e-mail box.
Follow me on Instagram, Facebook, Pinterest and Twitter for more FoodieCrush inspiration.
As always, thank you for reading and supporting companies I partner with, which allows me to create more unique content and recipes for you. There are affiliate links in this post of which I receive a small commission. All opinions are always my own.