What can I cook for breakfast? It's a question repeated by millions every single day. And I bet you're one of them.
I talk a lot about my cravings for easy, healthy breakfast recipes, because, hey, it's the most important meal of the day, right?
Why is breakfast important? Because eating breakfast helps with weight loss, brain function, and keeping you moving all throughout the day. That's why I am ALWAYS on the lookout for easy breakfast recipe ideas to keep this healthy habit fresh and fun. Because as we all know, breakfast is too easy to skip, and too often breakfast is boring too.
This list of 2 weeks, or 14 days, of seasonal and simple healthy breakfast recipe ideas offer up WAY better than average starts to your day and make eating breakfast a habit you'll actually enjoy.
These breakfasts focus on all the flavors of fall, with some geared toward on-the-go and others for easy weekend breakfast or brunch. They're seasonal but simple recipes for eggs, breakfast sandwiches, simple frittatas, oatmeal, avocado toast, and protein pancakes will make breakfast your favorite meal of the day.
14 Days of Healthy Breakfast Recipes to Make Now
FoodieCrush
Move over Mickie D's, there's a new Egg McMuffin in town, Make the most of ham and cheese with these quick and easy morning sammies.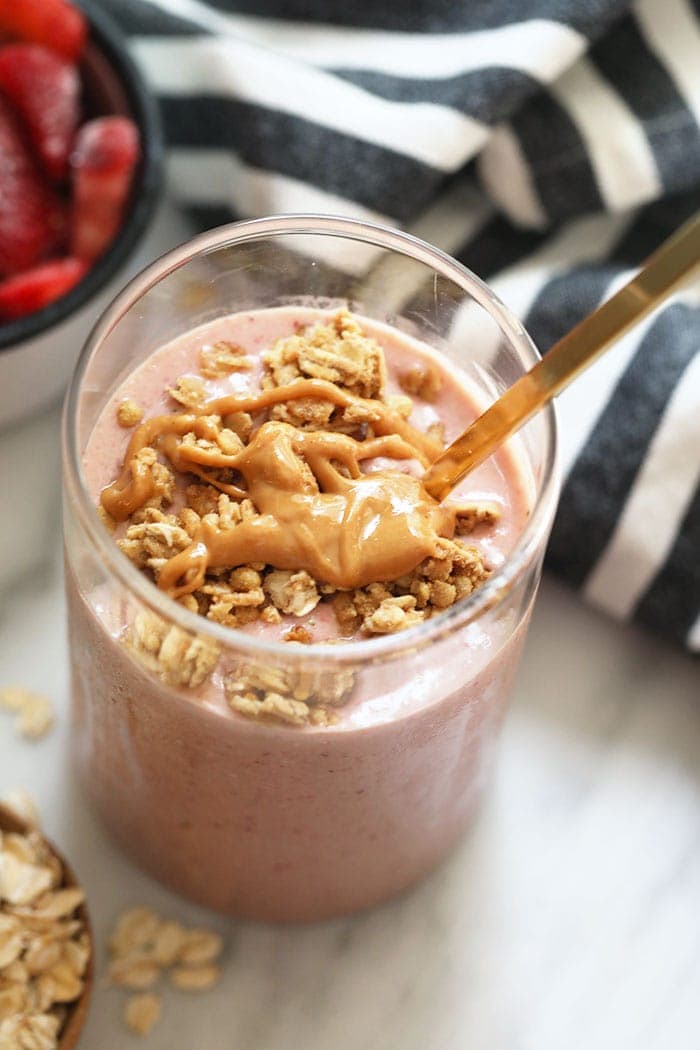 Fit Foodie Finds
Don't mess around with a dinky drink! This protein-packed smoothie is made with fruit, oats, almond milk, and peanut butter to hit all the food groups and keep you feeling full until lunch time.
Fit Mitten Kitchen
Paleo or not, I dare you to say no to this nutrient and texture dense loaf topped with decadent cashew cream.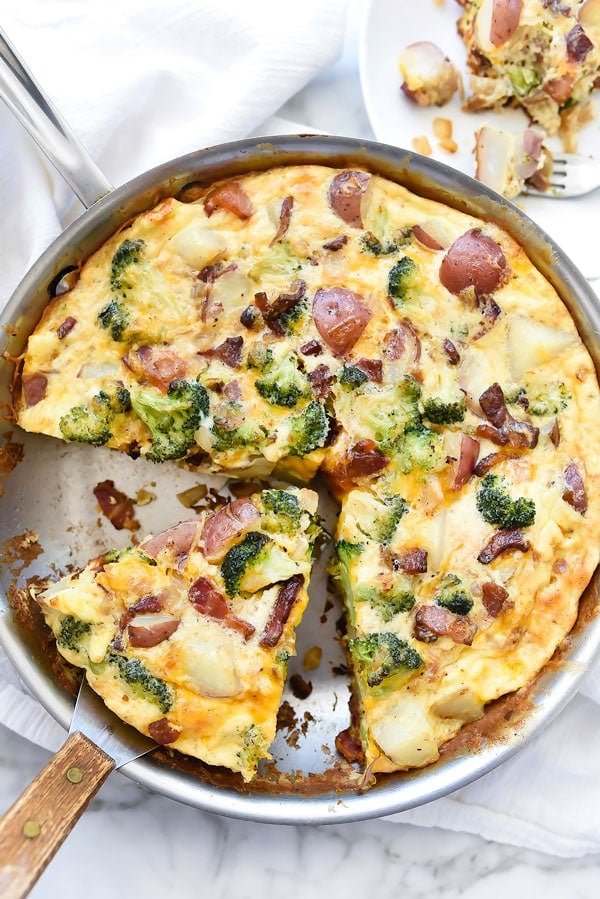 FoodieCrush
This stunner only looks complicated–on-hand ingredients get tossed together for an easy dish that holds over beautifully in the fridge, and can do triple duty as breakfast, lunch and dinner.
How Sweet Eats
Whether or not you're a gym buff, leave the heavy lifting to these powerhouse pancakes made with plenty of pumpkin spice and a secret ingredient that will make your whole body happy.
Minimalist Baker
You may be hearing a lot about buckwheat these days, thanks to it's versatility and deliciously nutty flavor. Try it out with this healthy, ultra-crunchy granola, perfect for sprinkling on yogurt or enjoying as a hearty snack.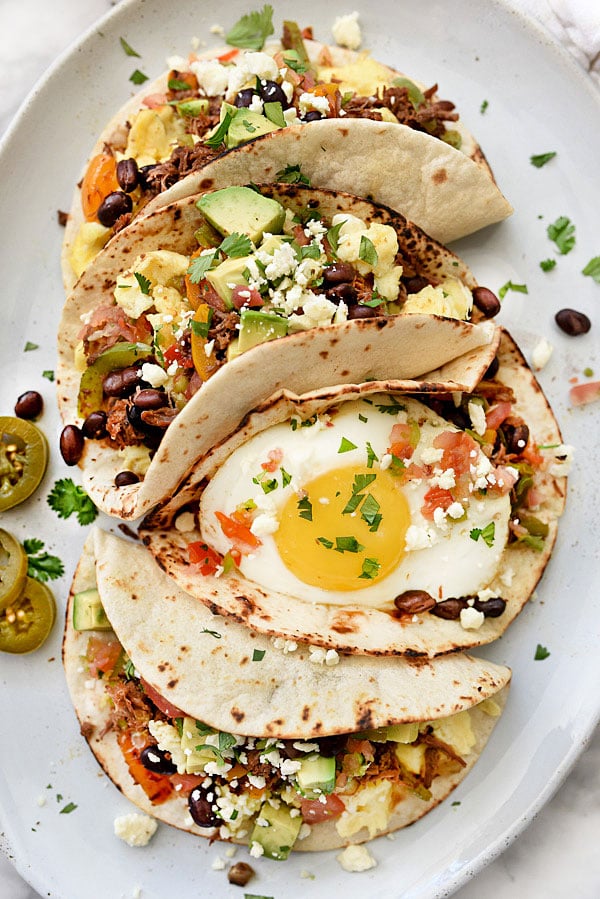 FoodieCrush
Let's taco-bout the ultimate breakfast shall we? I believe in tacos for every meal of the day, especially when they can be put together in under 30 minutes.  Stuffed with shredded beef, sweet peppers, and scrambled eggs, this will be a new family favorite.
Iowa Girl Eats
If you've tried baked oatmeal before (or, especially if you HAVEN'T), you'll want to dig right into these lightly sweetened bars that double as the perfect afternoon snack.
Kim's Cravings
I'm not saying I would NEVER tell you to eat pie for breakfast, but if you're looking for an every day option that's a little easier on the waistline, these creamy, caramely oats are a lighter way to crush that pie craving.
Naturally Ella
Turns out you can have salad for breakfast, too! Think of this as a deconstructed omelette in a bowl with tender greens, potatoes, and perfectly cooked eggs. Add bacon, cheese, or a slice of toast to round out this veggie-friendly meal.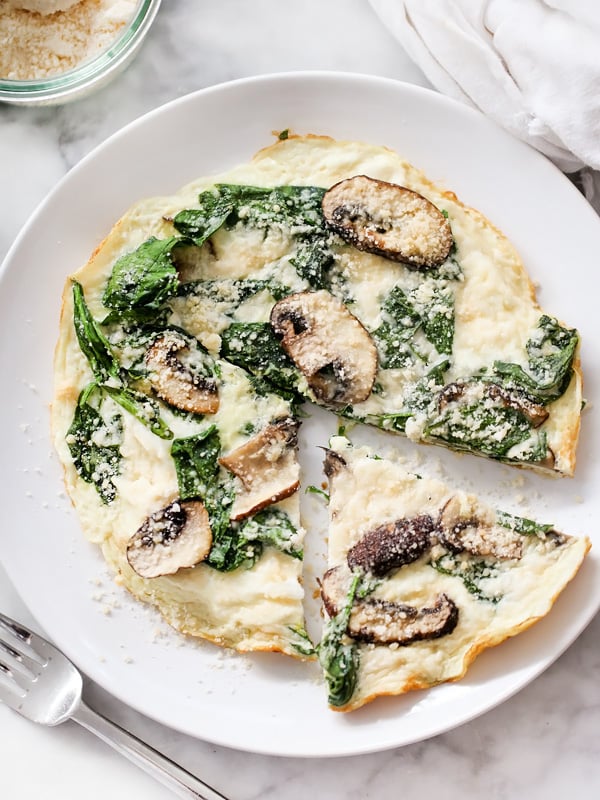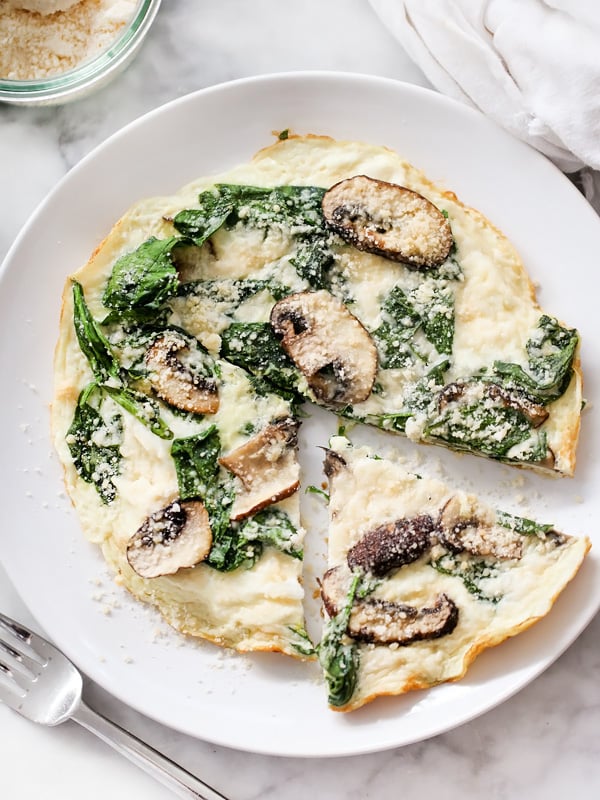 FoodieCrush
This single serving egg white frittata is one of the easiest breakfasts of the week, and totally healthy with protein-packed egg whites, too.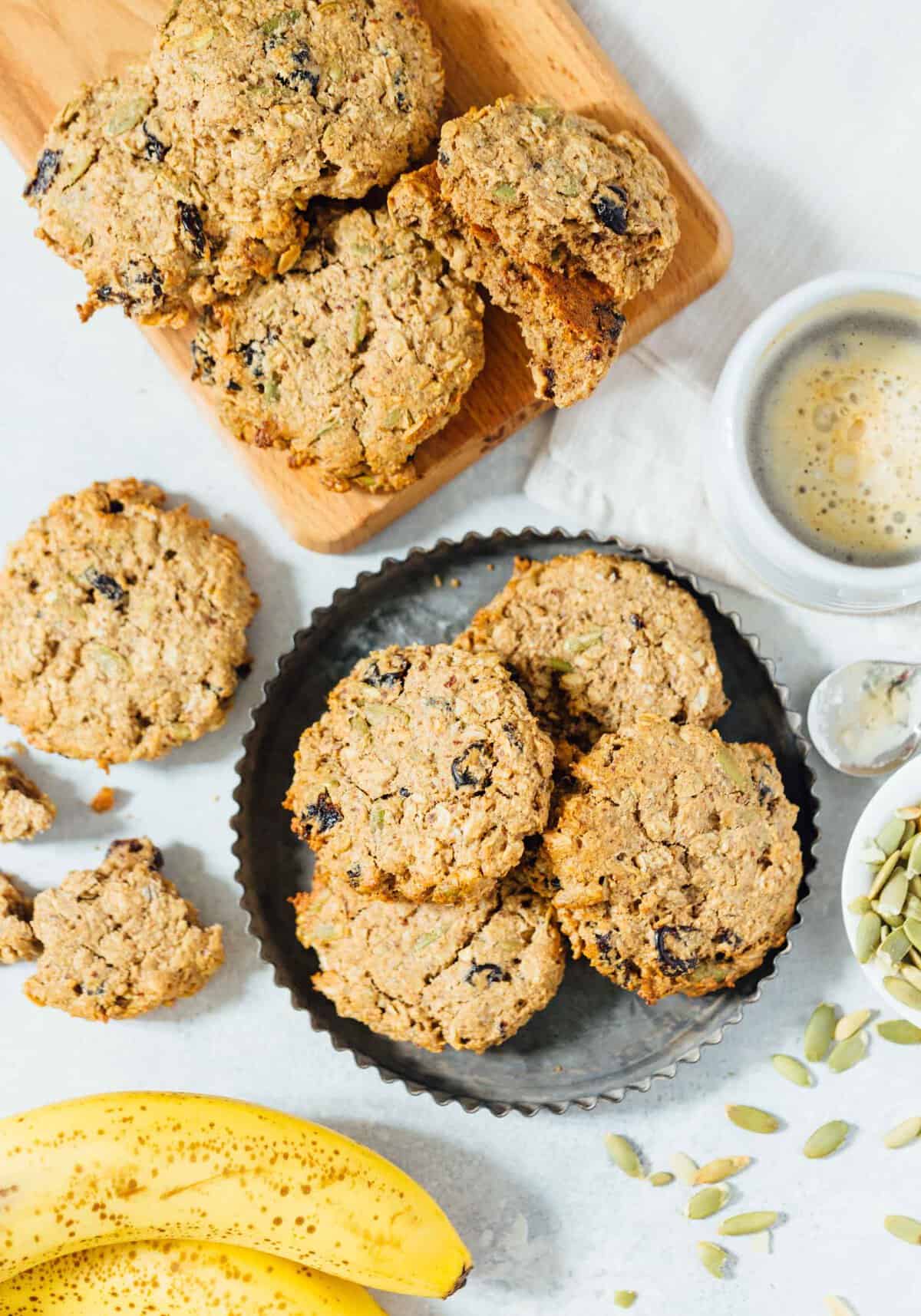 Table for Two Blog
Tacos, pie, salad–we're breaking every rule here, so why not add cookies to the mix? ;) These breakfast cookies are packed with satiating whole grains, fruit, and nuts to hold you over without a major sugar cash before lunch.
How Sweet Eats
Get your breakfast AND your coffee covered with this palate-pleasing creation. Get cozy with this combo of old-fashioned oats, apples, cinnamon, and an eye-opening shot (or two!) of espresso.
Foodie Crush
Cozy up to comfort with this nourishing bowl of healthy and hearty slow-burning carbs. A touch of maple syrup and sprinkle of chopped nuts makes for a truly satisfying and seasonal breakfast.
More ideas to help you power through your day:
What's your favorite breakfast? I love hearing from you!
As always, thank you for reading and supporting companies I partner with, which allows me to create more unique content and recipes for you. There are affiliate links in this post of which I receive a small commission. All opinions are always my own.  
Thanks for reading and subscribe to FoodieCrush to have each post delivered straight to your e-mail box.
Craving more life balance, less stress, and better health? Check out my Nourished Planner, the daily planner to help create simplicity and under-schedule your life.