This fluffy, savory quiche pie recipe made with eggs, artichoke, spinach goat cheese, and Almondmilk makes weekend brunches a tasty breeze!
This is another recipe I've created in my partnership with Blue Diamond Almond Breeze, a breakfast or brunch dish that's lightened up thanks to Almondmilk.
My friend Kelley makes a really great quiche.
The first time I ate one of her quiche creations was at a local blogging brunch where we all brought something along to add to the potluck party. I was immediately smitten with Kelly's quiche-ing skills, likely due to the fact I am always enchanted by a baked custard of any kind. And hers was delicious. 
Quiche is one of those recipes specially reserved for brunching. Why we don't eat it for regular old breakfast any day of the week is a mystery to me. It's mix of humble ingredients combine for a deceptively grand appearance, and is truly a dish with an alter ego. 
With Mother's Day rounding the corner of the calendar, a good quiche is always an impressive entertaining option. Because they require minimal work (especially if you use a store-bought pie dough) any level of home cook can prep ahead and then sit back and enjoy being queen for a day.
About the Recipe
In an effort to curtail extra work on mama's day, I used a store bought pie dough. If you are feeling more industrious and want to bake your shell from scratch, this is one of my favorite pie dough recipes. Because my pie dish is a little deeper than a traditional pie tin, I gave the already rolled out dough an extra roll over with my rolling pin to ensure it fit my pan. 
I use frozen artichoke hearts instead of jarred or canned because the frozen version don't hold water so there's less chance of watering down our quiche.
This recipe starts with a standard base for a creamy baked custard of eggs and Almond Breeze Original Almondmilk. The  shelf stable Almondmilk packages are perfect to have in the pantry, always at the ready. Using Almond Breeze lightens the calorie load of the quiche and still produces a creamy custard filling. 
If you are using a traditional 9-inch pie tin instead of a deep dish pan like mine, adjust the recipe to 4 eggs and 1 ½ cups Almondmilk. If your dish is like mine and a bit deeper, follow the recipe as I've shared. You may have extra egg mixture depending on the depth of your pie pan.
Once you have the formula for the egg custard nailed down, you can simply swap and adapt filler ingredients to switch things up to your taste or what you have until the fridge.
While the quiche is baking, be sure to give it a check at about the half hour mark. If your crust is getting too dark, loosely vent a piece of aluminum foil over the quiche so it continues to bake but the crust doesn't brown.
You'll know when the egg has fully cooked when it puffs up like a souffle and is firm to the touch. The egg will deflate a bit and settle as it cools.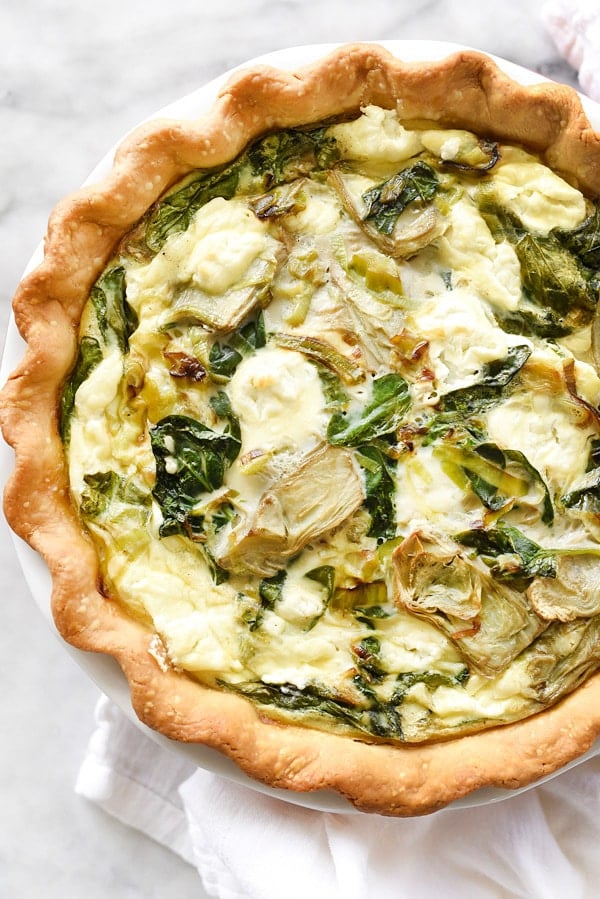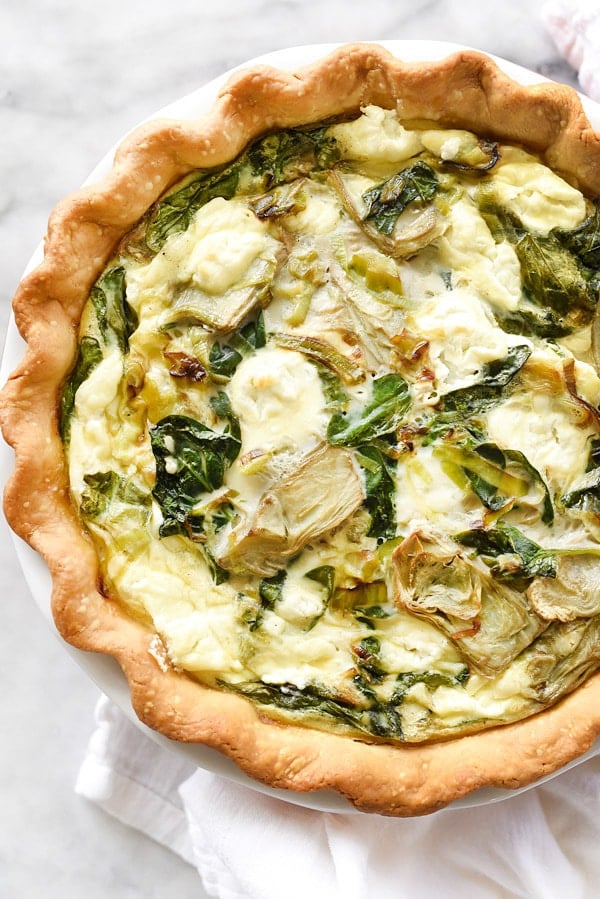 If You Liked This Recipe, You'll Like These:
If you make this recipe, please let me know! Leave a comment below or take a photo and tag me on Instagram with #foodiecrusheats.

Print
Spinach, Artichoke and Goat Cheese Quiche
This savory quiche pie made with eggs and Almondmilk makes weekend brunches a lightened up breakfast breeze.
Ingredients
1

store-bought refrigerator pie dough

or this homemade pie dough

1

tablespoon

butter

1

leek

thinly sliced, white and light green parts only

1

cup

frozen artichoke hearts

thawed and quartered

1 ½

cups

fresh spinach

½

teaspoon

kosher salt

6

eggs

1 ¼

cups

Almond Breeze Almondmilk Original Unsweetened

½

teaspoon

ground mustard

¼

teaspoon

nutmeg

2

ounces

goat cheese

**NOTE: If using a standard

low-edge pie tin, reduce the number of eggs to 4 eggs and reduce the Almondmilk to 1 cup.
Instructions
Preheat the oven to 375 degrees F.

Roll out the pie dough and line a 9-inch pie pan with the dough then place in the refrigerator to keep chilled.

Melt the butter in a skillet over medium heat. Add the leeks and cook until the leeks soften, about 5 minutes, stirring often. Add the artichoke hearts to the pan and cook for another 2 minutes or so. Stir in the spinach, season with kosher salt and remove from the heat and stir so the warm vegetables wilt the spinach and set aside to cool.

Whisk the eggs and Almondmilk with the mustard and nutmeg. Pull the pie tin from the refrigerator and fill the bottom with the cooked vegetables. Top with half of the goat cheese. Pour the egg mixture over the vegetables and top with more goat cheese.

Bake for 45-55 minutes or until the egg is puffed and no longer jiggly. Remove from the oven and let rest for 10 minutes. Serve warm or at room temperature.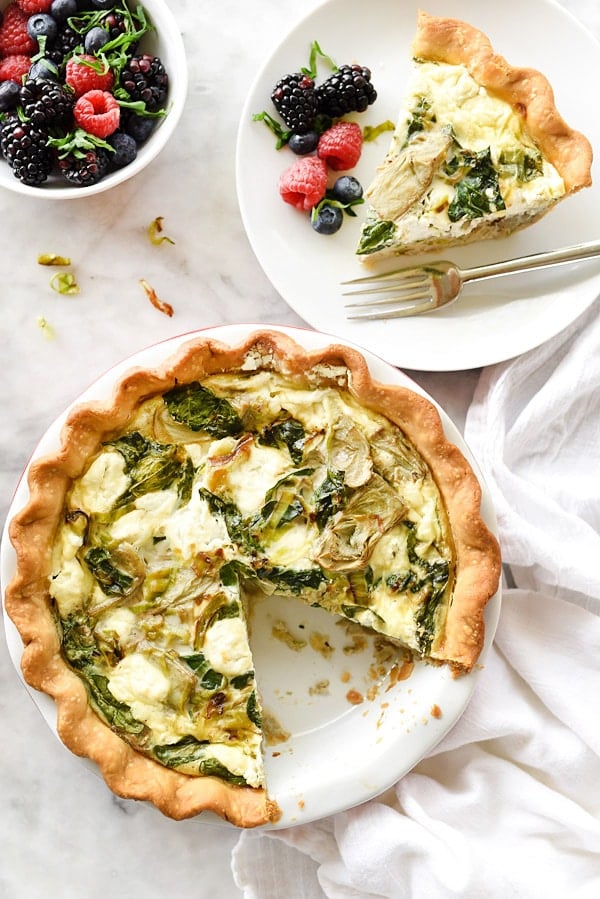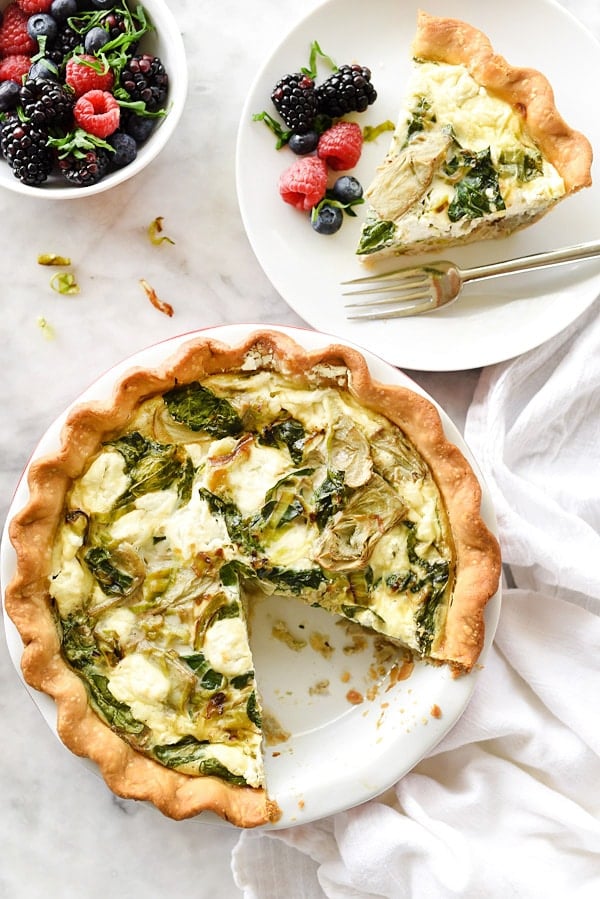 Have a great day, and make something good.

This post is part of a partnered series with Blue Diamond Almond Breeze. As always, thank you for reading and supporting companies I partner with, which allows me to create more unique content and recipes for you. All opinions are always my own.  
Are you following me on Instagram,  Twitter, Facebook and Pinterest? 
Thanks for reading and subscribe to FoodieCrush to have each post delivered straight to your e-mail box.