This list of 60 Mexican food recipes features dishes made by some of the web's best food bloggers and will satisfy your Mexican food cravings any time of year.
If there's one cuisine I could eat multiple times a week without getting sick, it's Mexican food. My recipe index is a testament to this, with traditional Mexican dishes like guacamole, chicken fajitas, and tacos, and spins like my chopped Mexican kale salad, and a creamy corn dip inspired by Mexican street food, there's something for everyone. So in honor of one of the greatest cuisines ever, I'm delighted to share this roundup of 60 of the best Mexican recipes. From margaritas to apps and entrees to sides, this roundup has all the inspiration you need all year round.
see more: 31 Healthy Mexican Recipes to Make Now
Bebidas
If you're feeling too festive for cerveza, these Mexican drinks will set you right.
from FoodieCrush
These mango margaritas with a chile salt rim are easy to make, so refreshing, and the perfect blend of sweet, tart, and spicy!
from Love and Lemons
Just like a margarita but with the addition of fresh grapefruit juice, palomas are wonderfully tart and refreshing, and a stellar accompaniment to your favorite savory brunch dish.
from House of Yumm
Similar to a bloody Mary but with beer and lime juice, this zesty Mexican drink totally hits the spot when it's time to brunch.
from Cookie and Kate
These refreshing mezcalitas are similar to a margarita, but are more orange-forward and have a delicious smokiness thanks to mezcal. The spicy salted rims tie everything together.
from A Cozy Kitchen
Learn how easy it is to make Aguas Frescas (which translates to "cool waters.")—a super fruity, refreshing drink to enjoy on a hot day. Choose from watermelon, cantaloupe, or honeydew recipes.
Mexican Food Appetizers & Sides
From salsas to ceviche, these simple Mexican appetizers and Mexican food sides are delicious ways to start or round out your meal.
from FoodieCrush
Crispy, crunchy, and oh-so-incredibly easy, these chipotle pepper flavored chicken taquito roll-ups call for just 5 ingredients and can be baked or fried for a super fast appetizer, dinner or snack.
from FoodieCrush
Avocado makes this simple, no-cook salsa verde recipe extra creamy for the perfect tortilla chip dipper or as a Mexican salsa topping for tacos, enchiladas, sandwiches, taquitos, and everything in between.
from So Much Food
This refreshing ceviche is the perfect snack to make when it's too hot to cook! It's made with a mix of fresh shrimp, tomatoes, onion, cucumber, cilantro, lime juice, avocado, and habañero for a kick.
from FoodieCrush
Light and fluffy in every forkful, this restaurant-style Spanish rice recipe is quick and easy to make at home, turning out perfectly cooked grains that don't clump every single time.
from FoodieCrush
Made with fresh plum tomatoes, onion, jalapeño and a squeeze of lime, this homemade pico de gallo recipe is unbeatable. Serve it with chips or atop any Mexican food!
from FoodieCrush
These loaded chicken nachos are my version of the perfect nachos. They've got all the essential fixings, they're great for a crowd and are always a hit at parties and on game day.
from FoodieCrush
This chunky citrus guacamole is the perfect accent to any Mexican meal or appetizer and what to eat when you're in the mood to munch on chips.
from FoodieCrush
Grab the tortilla chips, because this zesty, homemade tomatillo and green olive salsa is so easy to make, and full of amazing fresh, tart, and briny flavor thanks to roasted tomatillos lime, cilantro, and green olives.
from FoodieCrush
This super simple, fresh-tasting Mexican-flavored coleslaw is perfect for picnics, BBQs, and potlucks as it doesn't contain any mayo and takes just a few minutes to toss together.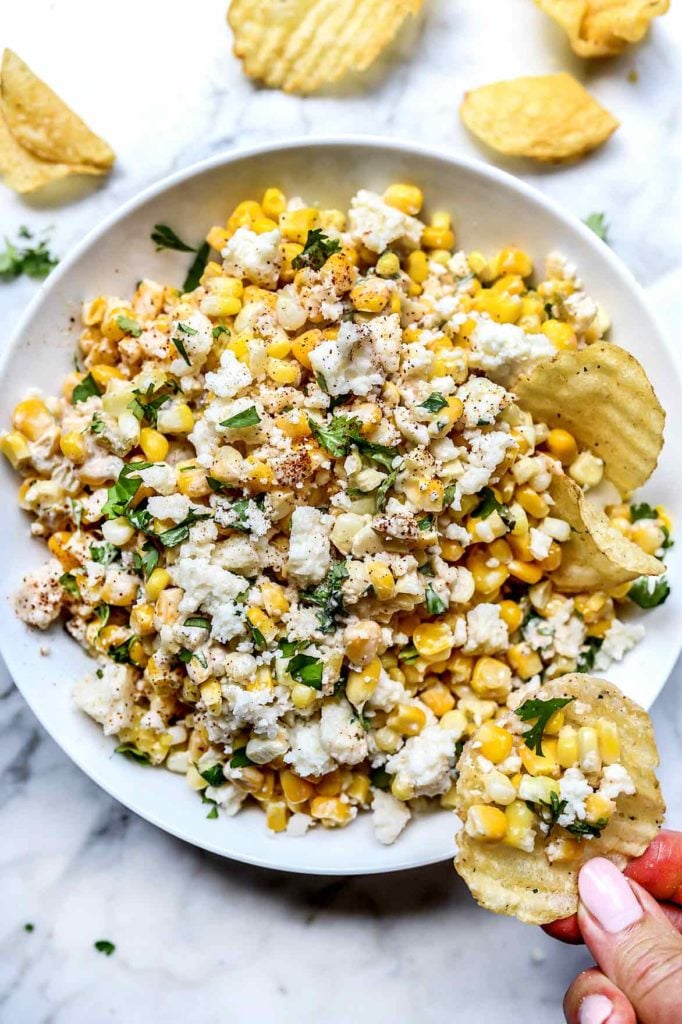 from FoodieCrush
Whether served melty hot or crunchy cold, this easy Mexican corn dip made with roasted green chiles, mayonnaise, cotija cheese, and chile powder will seriously have you considering the double chip dip.
from FoodieCrush
This sublimely creamy queso dip is so easy to make. It features the smooth melt of Velveeta and cream cheese plus amped-up flavor from Hatch green chiles and fresh jalapeños, RO*TEL tomatoes, onion, and spices for the ultimate game-day snack or magnetized party dip.
from FoodieCrush
Use your choice of dried or canned pinto or black beans in this easy refried beans recipe for the best creamy refried beans.
Mexican Breakfast & Brunch Recipes
From Mexican breakfast tacos to Mexican breakfast chilaquiles, these eggy dishes are loaded with bright colors and stellar flavors—just don't forget the michelada (the super delicious Mexican version of the Bloody Mary).
from FoodieCrush
Simple homemade chile enchilada sauce and sunny-side-up eggs make chilaquiles one of the quickest Mexican breakfast recipes to make at home!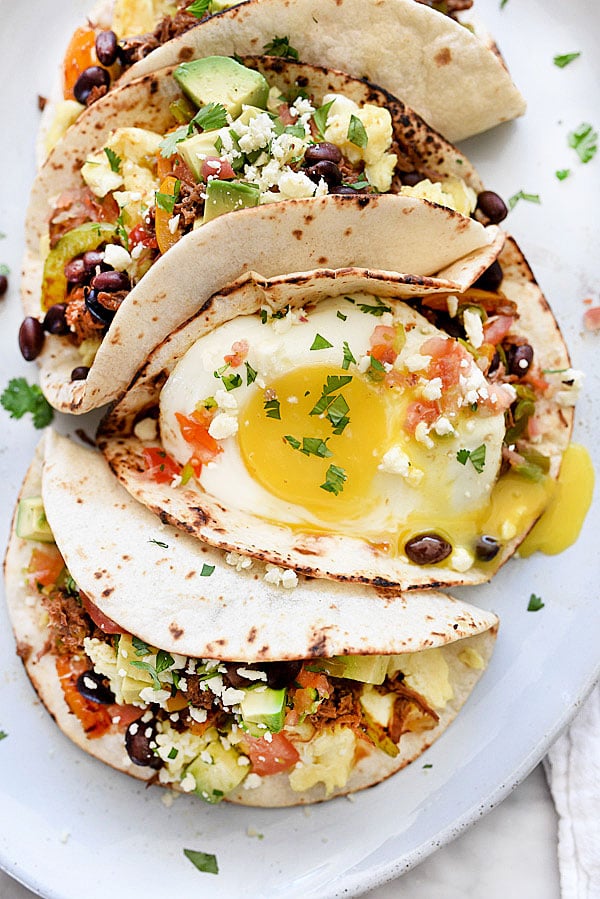 from FoodieCrush
Shredded beef, sweet peppers, and scrambled eggs make this breakfast tacos recipe a family favorite for breakfast, brunch, or brinner in under 30 minutes. Don't forget the hot sauce!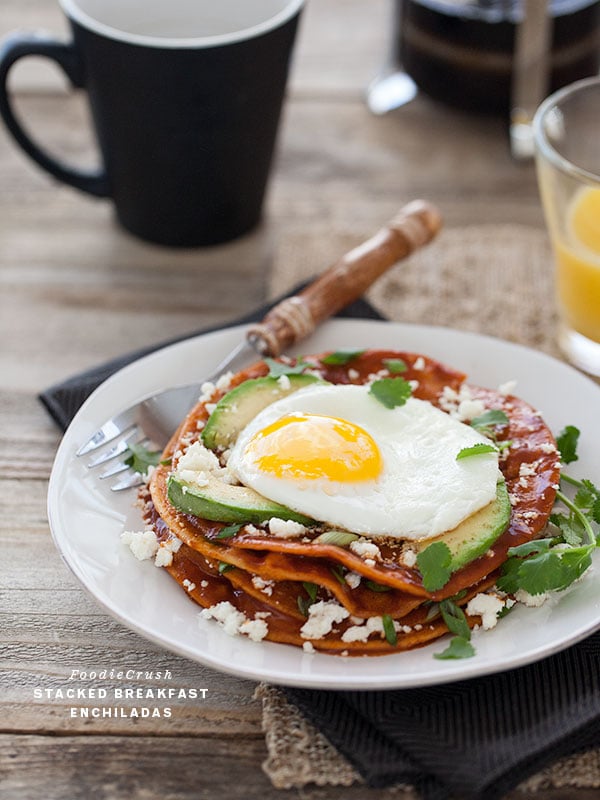 from FoodieCrush
These stacked enchiladas with perfect fried eggs and the best homemade red enchilada sauce make for the yummiest and most filling breakfast or brunch.
from Spoon Fork Bacon
This popular and hearty Mexican breakfast dish is made with fried eggs, charred tortillas, black beans, and the yummiest chipotle salsa.
Burritos & Enchiladas Mexican Food
There's just something about a stuffed tortilla loaded up with all the fixings, a homemade sauce, and plenty of melted cheese. These burritos recipes and enchiladas recipes are great for feeding a crowd.
from FoodieCrush
This super easy, no-cook, homemade mole sauce is made from scratch, and gives regular chicken enchiladas a delicious twist for a super fast Mexican dinner to meal prep or even throw together for a quick and easy weeknight meal.
from FoodieCrush
These authentic Mexican chicken suiza enchiladas are made with the creamiest avocado cilantro sauce for the most delicious and hearty dinner.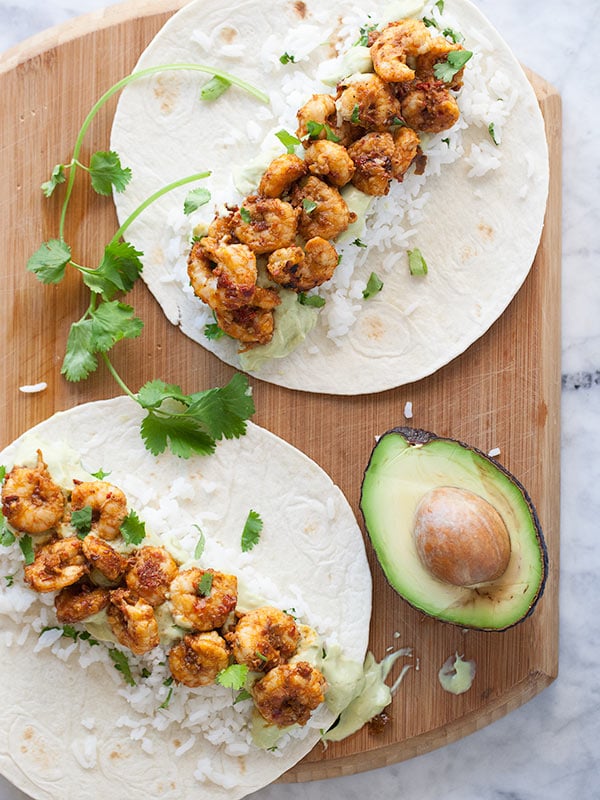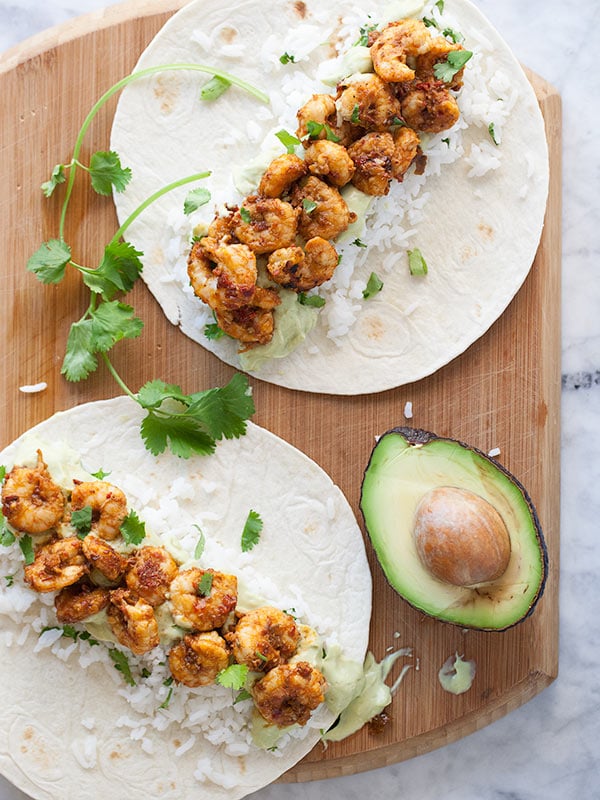 from FoodieCrush
These delicious and filling Chipotle shrimp burritos are stuffed with smoky chipotle shrimp (with just the right amount of heat), rice, and a cool and refreshing avocado crema that ties everything together.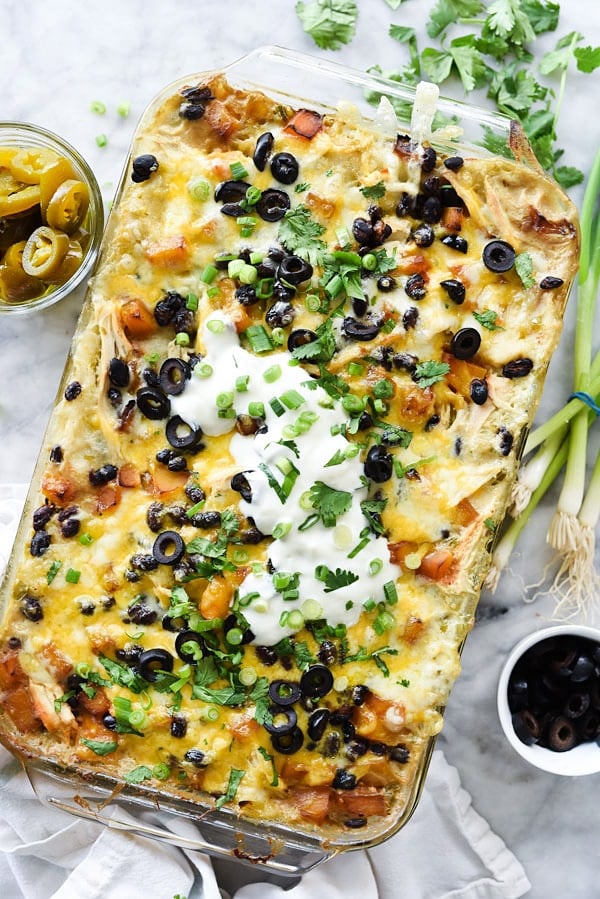 from FoodieCrush
This easy, cheesy Mexican casserole recipe with salsa verde makes it simple to serve a nutritious dinner for a crowd on even the busiest of weeknights.
from FoodieCrush
Homemade chile verde is only a few steps away from your dinner or lunchtime eats thanks to this supremely simple recipe that's ready to create lean pork and Hatch chile-sauced burritos in no time flat.
Tacos
Let's taco bout how delicious these tacos recipes are and how great it is that you can eat them for breakfast, lunch, and dinner, shall we?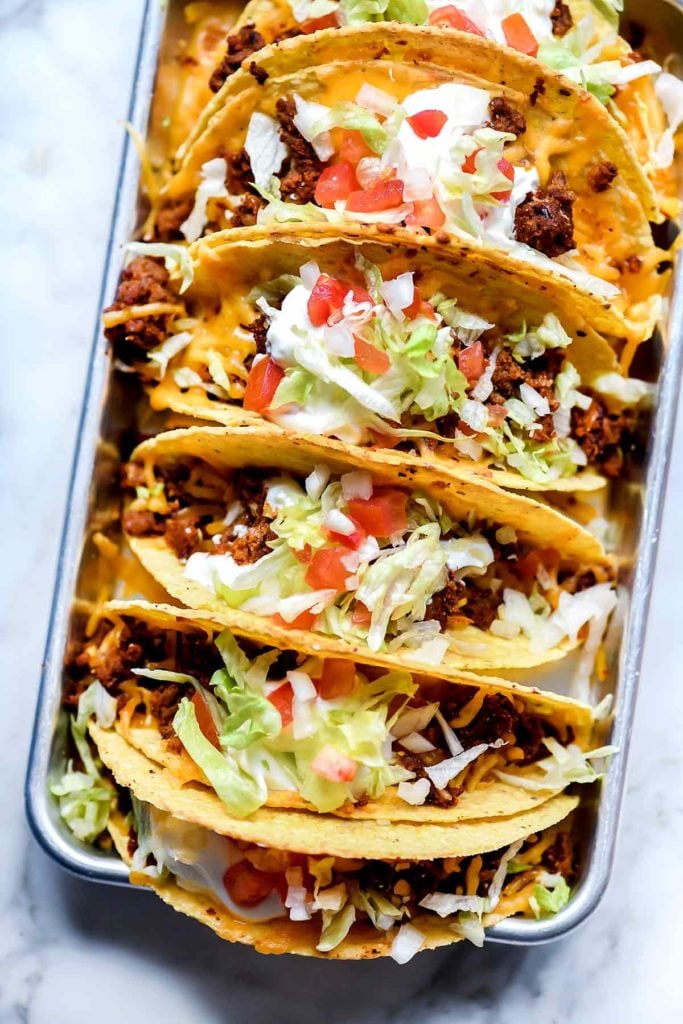 from FoodieCrush
Forget the drive-thru, this is how to make a beef tacos recipe that tastes just like Taco Bell tacos for an easy Taco Tuesday dinner at home any night of the week. Top these babies with shredded iceberg lettuce, cheese, and sour cream, and you'll be in taco heaven.
from FoodieCrush
Mild-tasting tilapia fillets get a kick of cajun spices in one of my favorite ways to eat blackened fish: soft shell Blackened Fish Tacos that are topped with a cool avocado and cilantro tartar sauce to finish each bite.
from FoodieCrush
Just four simple ingredients tossed in your slow cooker make these shredded pork tacos weeknight-friendly. Topped with a crunchy Mexican slaw, smoky roasted salsa, and guacamole, these babies are impossible to resist.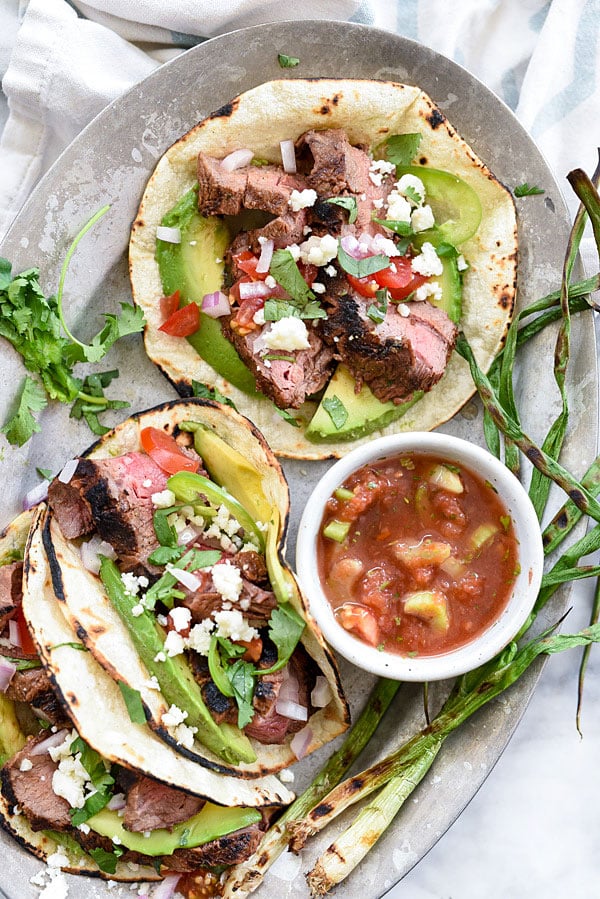 from FoodieCrush
Flat iron steak is an inexpensive but totally flavorful cut of meat, especially when marinated in a citrus adobo sauce to make my favorite steak tacos.
from FoodieCrush
A homemade spice rub makes these easy fish tacos with pickled carrots, avocado, and cotija cheese a total standout.
from FoodieCrush
These slow-cooked chicken tacos simmer away in a mixture of beer, dried New Mexican chiles, and other aromatics until super tender and shreddable, for the yummiest tacos.
from FoodieCrush
These healthy shrimp tacos with tomatillo salsa, avocado crema, and broccoli slaw couldn't be easier, and totally fit the bill for Taco Tuesday or dinner any night of the week!
from FoodieCrush
Easy shredded chicken tacos get a healthy veggie upgrade when diced zucchini is added in for a fast dinner or lunch any day of the week.
from FoodieCrush
These crispy, beer-battered Baja fish tacos wrapped in soft corn tortillas are topped with crunchy cabbage and a tangy white Mexican cream sauce that will instantly transport you south of the border.
Mexican Food Meaty Mains
From a Mexican-inspired pot roast to the easiest fajitas you can make on the grill, these filling Mexican meat recipes will definitely satisfy the carnivores at your table.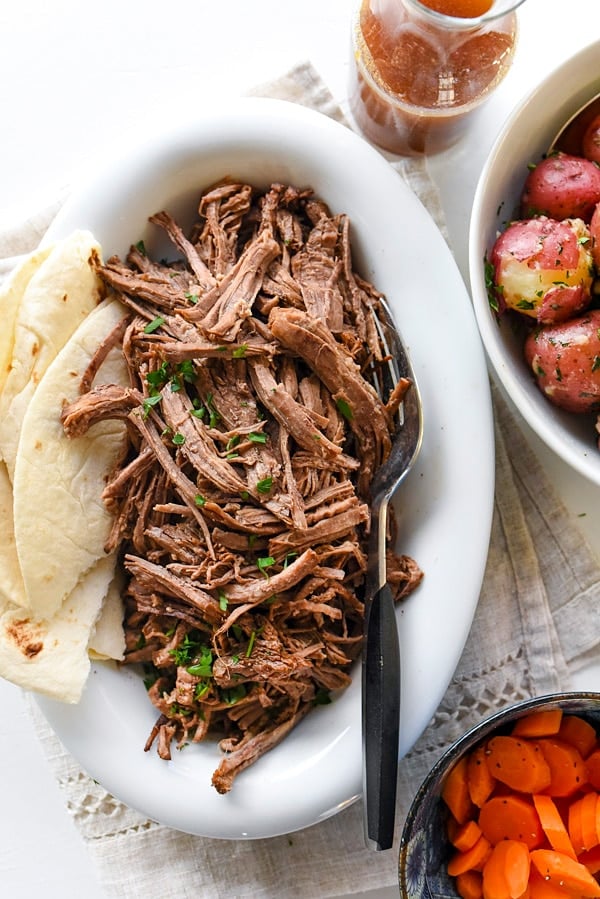 from FoodieCrush
Mexican spices add to the flavor of this easy Crockpot pot roast recipe that comes out tender, moist and delicious every time.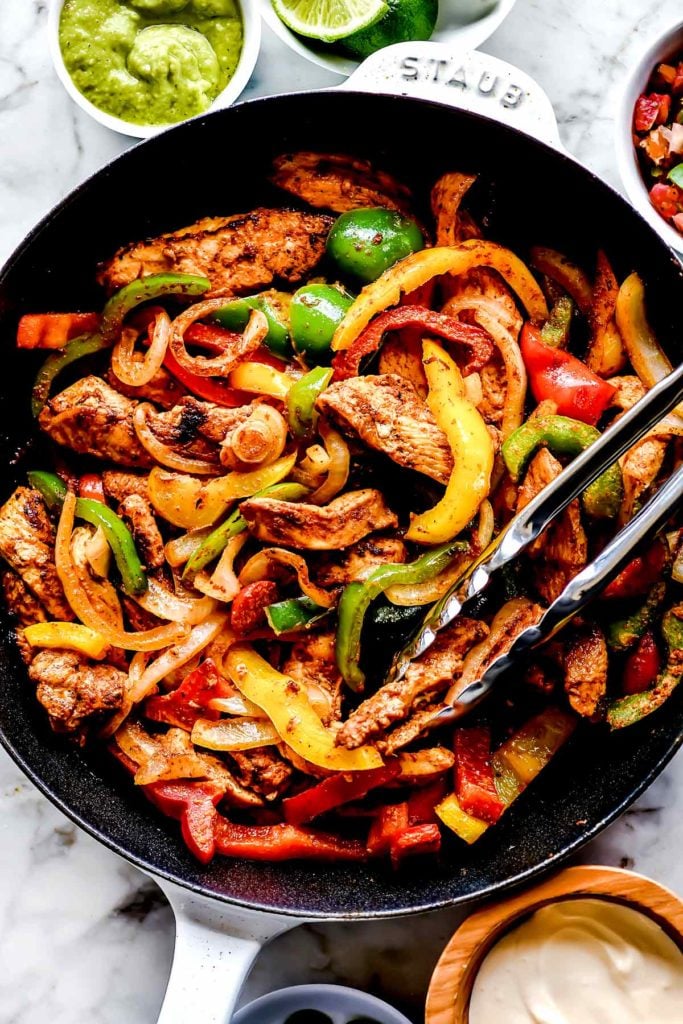 from FoodieCrush
This easy chicken fajitas recipe with a homemade, simple fajita seasoning mix flavors lean chicken breast, onion, and a rainbow of bell peppers that's juicy and delicious and ready to eat in just about 30 minutes.
from FoodieCrush
Mexican-flavored ground beef taco meat fills these stuffed zucchini boats topped with melted cheese and all the taco toppings for an all-in-one, easy dinner.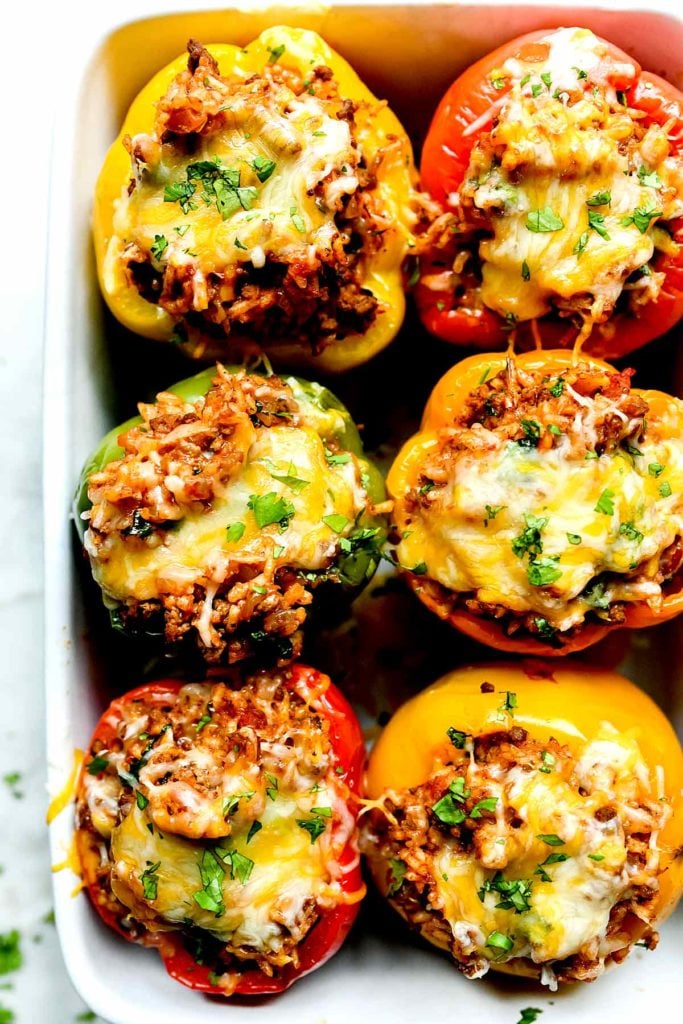 from FoodieCrush
With ground beef, cheese, and rice, think of this Mexican stuffed peppers recipe as your favorite taco in a healthy bell pepper shell, and you'll be halfway to the border asking for more.
from FoodieCrush
This easy chicken tortilla soup is truly chicken soup for the soul, with a warm broth filled with chunky bites of black beans, sweet corn, shredded chicken and tomatoes topped with its namesake tortilla strips and a surprise crispy jalapeño topper.
From FoodieCrush
This authentic Mexican carnitas recipe features pork shoulder and aromatics like garlic, onion, orange, and spices cooked low and slow on the stovetop or in the oven for the best carnitas recipe with a secret ingredient: Mexican Coca-Cola.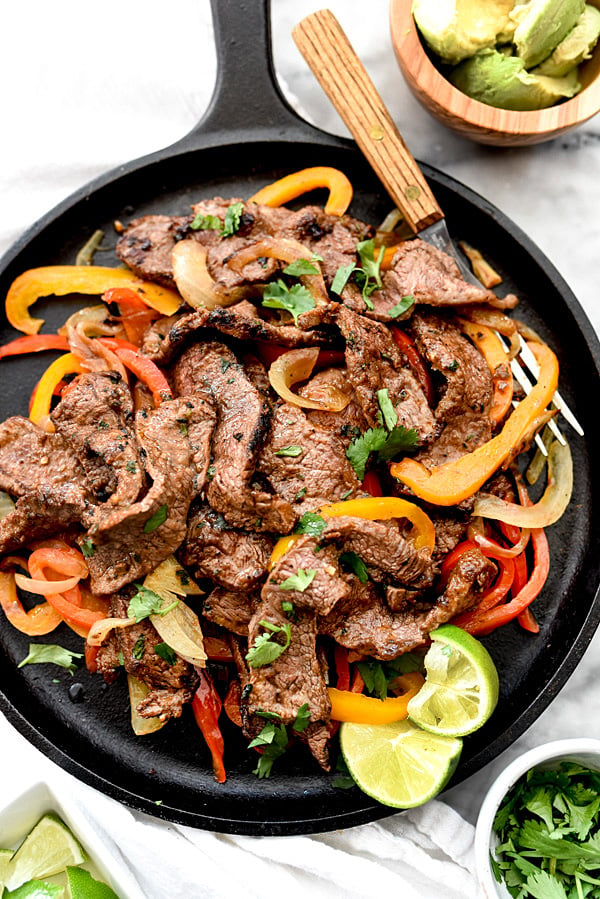 from FoodieCrush
A homemade spice blend and killer marinade infuses flavor into thin-cut steak for these fast and easy homemade steak fajitas made in the skillet.
from FoodieCrush
This grilled cilantro lime chicken recipe delivers lots of flavor thanks to a quick marinade, and with just 7 ingredients and 3 simple steps, it's easy enough to cook any night of the week.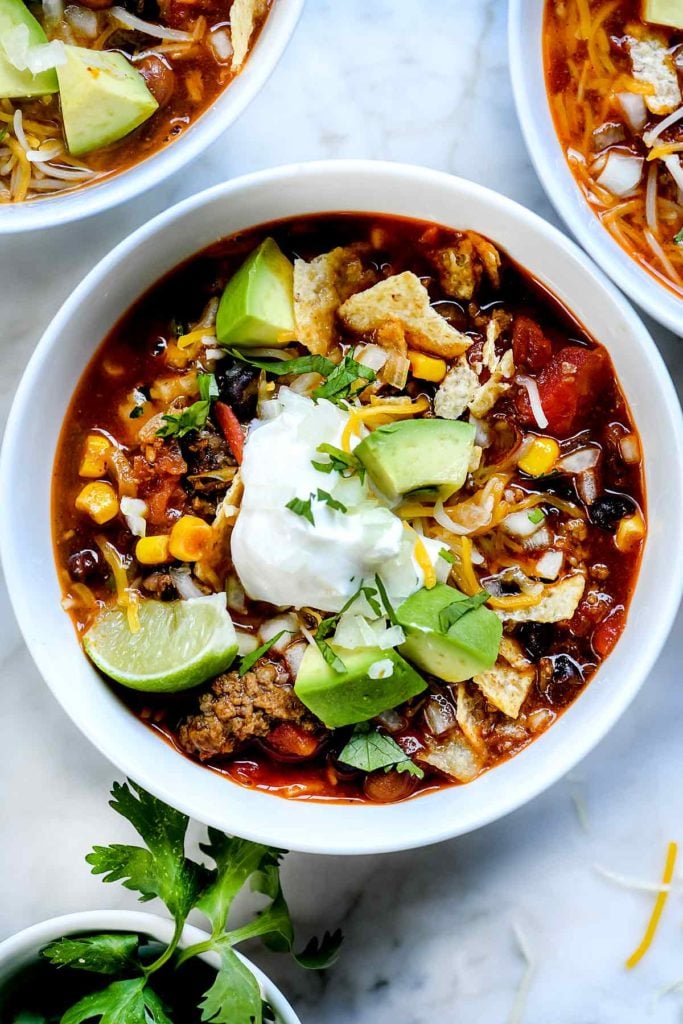 from FoodieCrush
This easy taco soup recipe can be made in 30 minutes on the stovetop, Instant Pot, or slow-cooked in the Crock Pot for a healthy Mexican-inspired, make-ahead, one-bowl meal.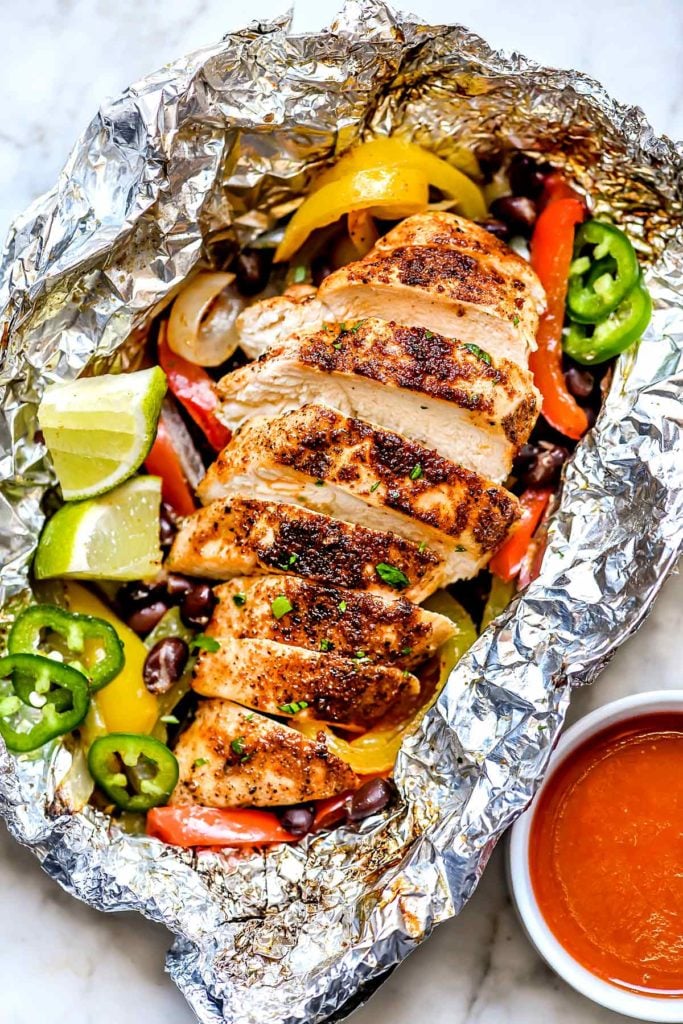 from FoodieCrush
Quick and easy to prep, these chicken fajita foil packet dinners with a simple homemade fajita seasoning mix and jalapeño peppers are cooked on the grill or in the oven and are ready to eat in just about 30 minutes.
from The Food Charlatan
This Carne Asada recipe features tender and juicy skirt steak marinated in the best citrusy mojo marinade.
Seafood Mexican Food
These bright and fresh fish and shrimp Mexican seafood dishes are guaranteed to please all seafood lovers.
from From a Chef's Kitchen
This easy-baked fish dish with a zesty caper, olive, and cilantro salsa is light and healthy, super colorful, and full of amazing flavor.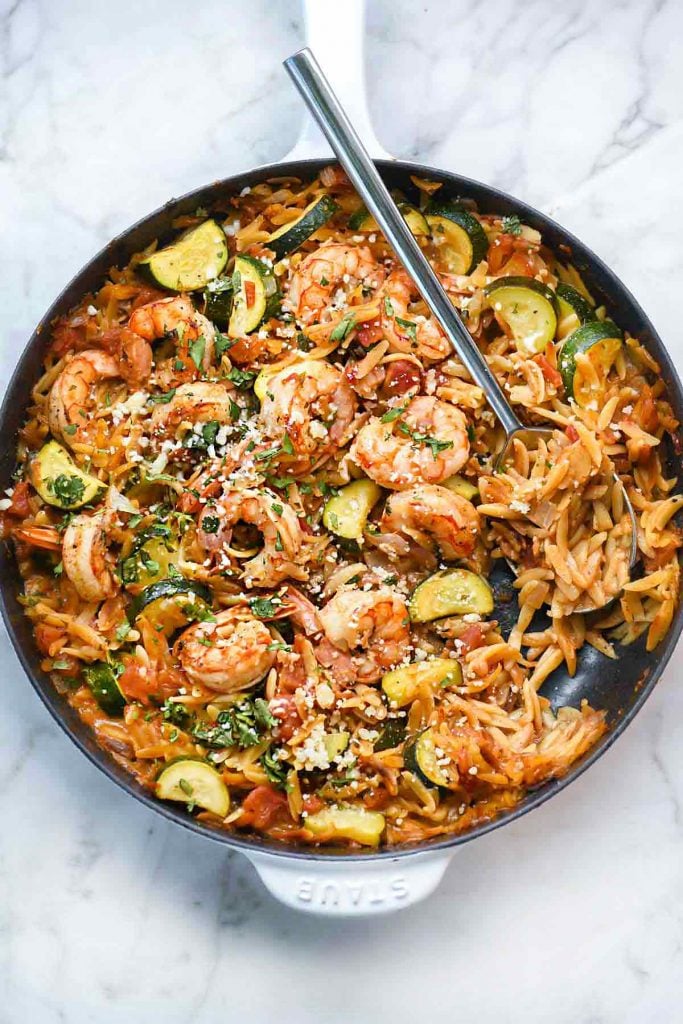 from FoodieCrush
This easy shrimp, zucchini, and orzo pasta recipe straddles the line between a one-pot pasta and a 30-minute meal dinner. But with a healthy dose of zucchini and a bit of heat from Mexican flavors, it should actually fall into the wonder-pot category, because it's all the healthy flavor bites all in one.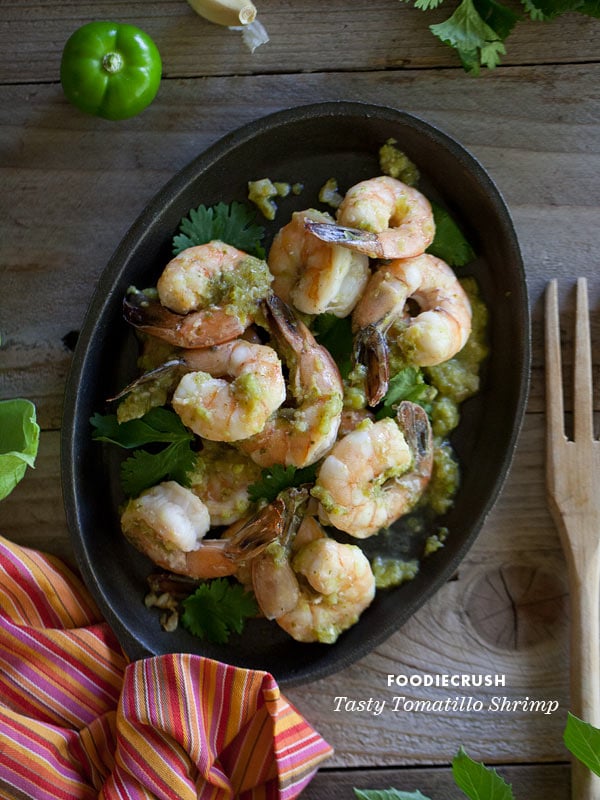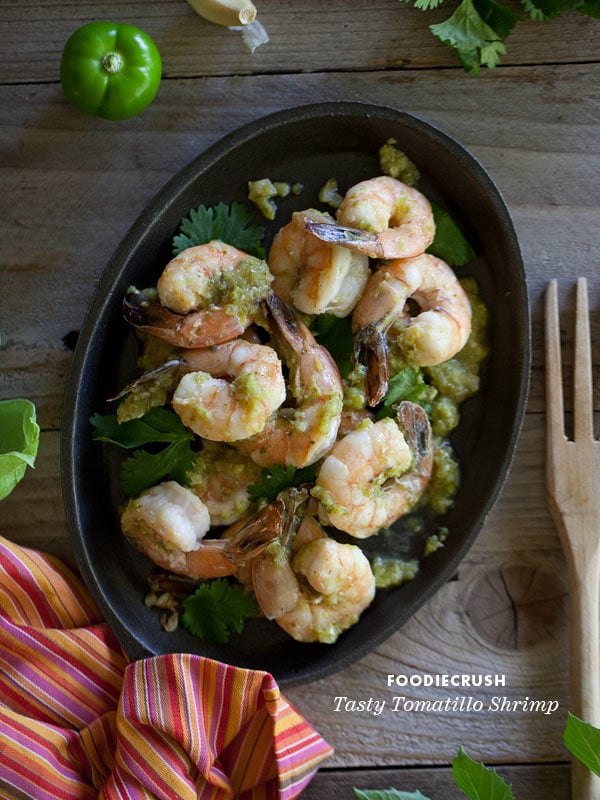 from FoodieCrush
These tomatillo shrimp are sautéed in butter and garlic and then tossed with a zippy, homemade tomatillo sauce and topped with fresh cilantro, for the most flavorful appetizer or main dish.
from Mexico in My Kitchen
This super simple fish recipe with garlic, parsley, and lime is one of the fastest ways to prepare fish filets. You can use just about any type of fish filet, such as cod, sole, or salmon. Serve with rice and veggies or beans for a complete meal.
from FoodieCrush
Quick, easy, and totally flavorful, these chipotle lime shrimp bowls with brown rice, black beans, tomatoes, and avocado have just the right level of adobo spice with a touch of honey to sweeten up meal prep for any lunch or dinner.
Vegetarian Mexican Food Mains
Vegetarians and carnivores alike will love these hearty vegetarian mains.
from FoodieCrush
These easy-to-make vegetarian tostadas with refried black beans, Sriracha lime roasted cauliflower, and mango avocado salsa, bring big flavor for the perfect, weeknight-friendly 30-minute dinner.
from Two Peas and Their Pod
This easy taco skillet is made with beans, quinoa, veggies, and cheese, and is loaded with awesome Mexican flavor. Bonus? It's a one-pan meal, making it ideal for busy weeknights.
from FoodieCrush
These authentic Pasilla peppers are stuffed with a zesty, cheesy mixture and then roasted in the oven for the most delicious vegetarian main or side dish.
from Isabel Eats
Tamales are a Mexican classic, and these are filled with roasted poblano peppers and spicy pepper jack cheese, and also happen to be gluten-free!
from FoodieCrush
Creamy, crunchy, and with mild Mexican flavors, this healthy kale salad with roasted butternut squash is a favorite for lunch, dinner, and potlucks alike.
Mexican Desserts
Whether you opt for traditional Mexican desserts like churros or dessert bars inspired by the margarita, you definitely don't want to miss one of these sweet treats to end your Mexican feast.
from So Much Food
Who doesn't love fried dough rolled in cinnamon sugar and then dipped in a luxurious melted chocolate sauce that's been spiked with a bit of heat? These churros are downright irresistible.
from Isabel Eats
You only need 5 basic ingredients to make this super easy flan—a creamy custard dessert topped a rich caramel.
from Taste and Tell
This ethereal cake is so light and fluffy. It's soaked with three different kinds of milk, topped with whipped cream, and refrigerated until to moist perfection.
from Fork in the Kitchen
These zesty bars taste just like a margarita in dessert form. They feature a salty pretzel crust filled with a smooth, custardy tequila spiked lime filling for the perfect sweet, tart, and salty combo you know and love.
If you make this recipe, please let me know! Leave a ⭐️⭐️⭐️⭐️⭐️ rating on this recipe below and leave a comment, take a photo and tag me on Instagram with #foodiecrusheats.
Print
60 Great Mexican Food Recipes | THE BEST Carnitas Recipe
Pork shoulder, Mexican Coca-Cola, and aromatics are cooked low and slow in the oven or on the stovetop for juicy and tender pork carnitas.
Ingredients
3

pounds

pork shoulder or Boston butt pork roast

3

teaspoons

kosher salt

, divided

2

teaspoons

freshly ground black pepper

½

cup

canola or vegetable oil

12

ounces

Mexican Coca Cola

3

cups

water

½

yellow onion

, thinly sliced

5-6

long strips

orange peel

, peeled with a vegetable peeler, plus the juice of the orange

6

cloves garlic

, peeled and smashed

2

dried bay leaves

2

tablespoons

ground cumin

1

tablespoon

dried oregano

small corn or flour tortillas

finely chopped onion

finely chopped cilantro

limes

salsa verde
Instructions
Cut the pork into large chunks, discarding any stringy connective tissue. Season with 1 teaspoon of the kosher salt and 2 teaspoons of the black pepper. Add the oil to a large dutch oven or heavy bottom pot on the stove and bring to medium high heat. Sear the pork in two batches, turning the pieces every 4-5 mintues until golden on both sides. Add all of the pork to the pan, turn off the heat and let the oil cool slightly. Slowly add the Mexican Coca-Cola and the water watching for hot splatters. Bring to a boil then reduce to a simmer, skimming off and discarding any scum that rises to the top.

Add the onion, orange peel, smashed garlic, bay leaves, cumin, oregano, and remaining kosher salt and stir to combine. Add more water if needed to cover the pork completely.

If cooking on the stove, cover ¾ of the way with a lid and cook at a lightly rolling simmer for 2 – 2 ½ hours or until the pork is super tender and falls apart easily. Cooking time will vary so plan ahead. Add more water if the pot begins to dry.

If cooking in the oven, preheat to 325°F, cover the oven-safe pot with a lid, and cook for 3 hours or until the pork is super tender and falls apart. Again, cooking time will vary. Add more water ¾ of the way through if the pot begins to dry.

Transfer the cooked pork to a baking sheet and reserve the cooking liquid if desired. If you'd like, cook the liquid longer to reduce and thicken then use as a dipping sauce for the carnitas. Once the meat is cool enough to handle, shred with a fork or your fingers.

Before serving, crisp the pork in the oven. Arrange the top oven rack so it's about 4 inches below the heating element. Place the pork on a sheet pan under the broiler on low for 3 minutes. Toss it around and place back under the broiler for about 3 minutes more. Tent carnitas with foil to keep warm while you prepare tortillas or other fixings.

Serve the carnitas in warmed corn or flour tortillas with diced onion, cilantro, salsa verde, and a squeeze of fresh lemon.
Nutrition
Calories:
185
kcal
|
Carbohydrates:
7
g
|
Protein:
21
g
|
Fat:
8
g
|
Saturated Fat:
3
g
|
Polyunsaturated Fat:
1
g
|
Monounsaturated Fat:
4
g
|
Cholesterol:
70
mg
|
Sodium:
961
mg
|
Potassium:
417
mg
|
Fiber:
1
g
|
Sugar:
4
g
|
Vitamin A:
43
IU
|
Vitamin C:
3
mg
|
Calcium:
52
mg
|
Iron:
3
mg
We send good emails. Subscribe to FoodieCrush and have each post plus exclusive content only for our subscribers delivered straight to your e-mail box.
Follow me on Instagram, Facebook, Pinterest, and Twitter for more FoodieCrush inspiration.
As always, thank you for reading and supporting companies I partner with, which allows me to create more unique content and recipes for you. There may be affiliate links in this post of which I receive a small commission. All opinions are always my own.