Flat iron steak is an inexpensive but totally flavorful cut of meat, especially when marinaded in a citrus adobo sauce to make my favorite steak tacos.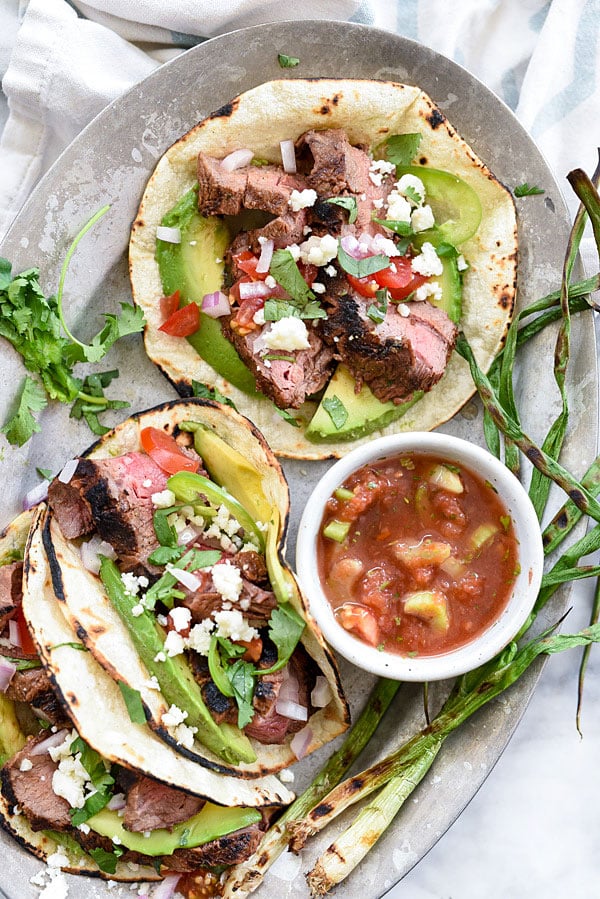 Whether it's 10 people or just two, having people over for a weekend meal doesn't have to put the host into a stress-induced coma. The trick is to serve a popular main (with a twist) that can be prepped ahead and have your guests put their hands to work.
This Grilled Steak Tacos recipe is part of my Weekend Eats series, where I'm sharing a seasonal recipe idea for what to have for dinner come Saturday and Sunday, with the occasional breakfast or brunch thrown in. Rounding out the posts are a few suggestions of what to pair with my main dish, recipes from other food bloggers, and some favorites from FoodieCrush too.
I've made these steak tacos a bunch of times and that's how I knew they'd be the perfect dish for my Smudge's birthday celebration with the family. They're always pretty relaxed affairs but my goal this time was to have EVERYTHING done ahead of time so I could sit back and actually have fun. I'm always jealous of my sister in law Ginni who makes this happen when we head to her house.
And guess what? Smudge may have gotten all the presents, but success was mine.
About the Recipe
Everyone loves steak. It sounds so luxe. But feeding steak to a crowd is a $pendy proposition. However, the flat iron is a very affordable cut and totally delicious, especially after a marinade. It makes for perfect taco fillings. Flat iron is akin to flank steak, but has a bit more fat, hence the lower price tag and the more delicious bite.
For a group of about 15 we prepared 4 flat iron steaks with not much to spare. I'm putting that down to the second-time returns I saw happening after the first round.
Normally I marinade the meat overnight or at least all day for max flavor. But I've made these even with just 1 hour of marinade time and they turned out just as smoky and adobo flavored. Take note for your own timetable.
Assembling the tacos is put into the hands of our guests for them to come up with their own combinations of flavors or whether to load 'em up, or keep 'em lean.
If you make this recipe, please let me know! Leave a comment below or take a photo and tag me on Instagram or Twitter with #foodiecrusheats. 
Grilled Steak Tacos
Flat iron steak is an inexpensive but totally flavorful cut of meat, especially when marinaded in a citrus adobo sauce to make my favorite steak tacos.
Total Time
1
hour
30
minutes
Ingredients
1 1/2

pounds

flat iron steak

1

cup

orange juice

2

cloves

garlic

peeled

2

chipotle peppers plus 2 tablespoons adobo sauce from the can

1/2

cup

or a large fistful of cilantro leaves and stems

1

tablespoon

cumin

1

teaspoon

cinnamon

1

teaspoon

kosher salt

Sliced avocado

Chopped tomato

Chopped onion

Chopped cilantro leaves
Instructions
Poke holes in the steak with a large knife, taking care to make the holes with the grain. Add the steak to a gallon size freezer bag Add the orange juice, garlic cloves, chipotle peppers and adobo sauce, cilantro, cumin, cinnamon and kosher salt into a blender. Puree until smooth then pour into the freezer bag with the steak, seal and refrigerate for 1 hour up to overnight.

Let the steak come to room temperature before grilling, about 20 minutes. Oil grates with grapeseed oil and preheat it on high heat. Reduce the heat to medium high and grill the meat for 10 minutes on each side or until cooked to desired doneness. Allow the steak to rest on a platter, covered with foil, for 10 minutes before cutting.

Warm the tortillas over a gas flame or on the grill. Assemble the tacos with sliced avocado, chopped onion, tomatoes, cilantro, queso fresco, and a squeeze of grilled limes or sliced jalapeño if you like.
Round Out Your Weekend Grilling Fiesta
There are a few essentials that go with every taco, some that are spicy, some that are sweet and some that are drinkably delish. Here's a few recipe combos to put your taco night into action.
You HAVE to have salsa with a taco bar and this salsa from my friend Kelley ALWAYS gets rave reviews. It is my go-to. The only thing I add is a few stalks of chopped celery, because that's how my favorite Mexican restaurant does it. Quick and Easy Blender Salsa, recipe here.
Tacos beg for guacamole. Don't make your guests get on their knees either. This basic recipe is a classic. Guacamole Recipe, here.
This side salad was a surprise to the family, but because I know they're corn lovers, I knew it would be popular even though most of them hadn't had quinoa before. Southwest Quinoa Salad with Grilled Corn, recipe here.
To cool off the spicy Mexican-inspired flavors, I'm thinking this Spicy Grilled Watermelon with Créme Fraiche, recipe here, would be the perfect addition to any grilling bbq.
Or, if like us you're celebrating a birthday, I converted my favorite red velvet cupcake recipe into a cake by simply baking them in 3 9-inch pans for 20 minutes and still had plenty of frosting for licking. Admittedly Modern Red Velvet Cupcakes with Cream Cheese Frosting (baked into a cake), recipe here.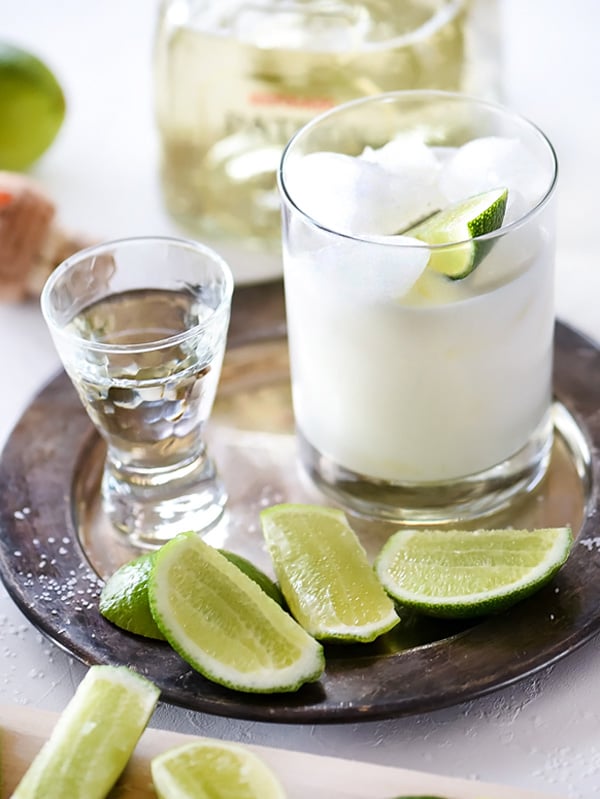 And of course. Margaritas. The Best Coconut Margarita, recipe here.
Candles, Presents and More. OH MY!
Best friends, aunts, uncles, cousins, grammies and grandpa. There's no better reason to gather the fam than to celebrate another year down the drain. Although when you're turning 11, it's all up from here. So, now that the belly's are full, let's get this party started!
Happy birthday Smudge. Your mama and daddy love you to pieces.
Hey thanks for coming to our party! My little family thanks you. You've seen my favorites, now I'd love to know yours. What do you HAVE to have along with tacos? Or birthdays?
That's it folks, have a great day and make something good!
As always, thank you for reading and for supporting companies I partner with, which allows me to create more unique content and recipes for you. All opinions are always my own.  
Are you following me on Instagram, Twitter, Facebook and Pinterest? 
Thanks for reading and subscribe to FoodieCrush to have each post delivered straight to your e-mail box.  
SIGN UP FOR FREE!
THANK YOU FOR VISITING FOODIECRUSH.COM

Subscribe to the FoodieCrush email newsletter and have every new post plus exclusive content delivered straight to your email box,
FOR FREE!