These healthy shrimp tacos with tomatillo salsa, avocado crema, and broccoli slaw couldn't be easier, and totally fit the bill for Taco Tuesday or dinner any night of the week!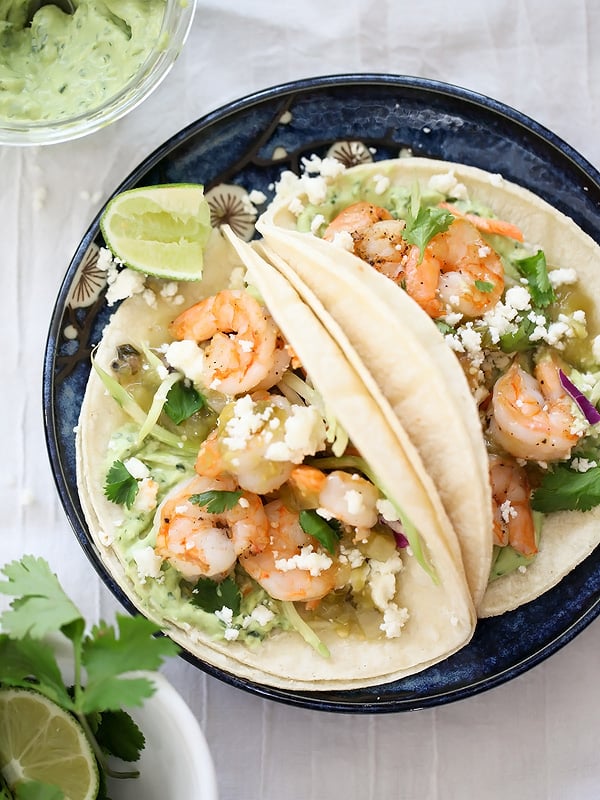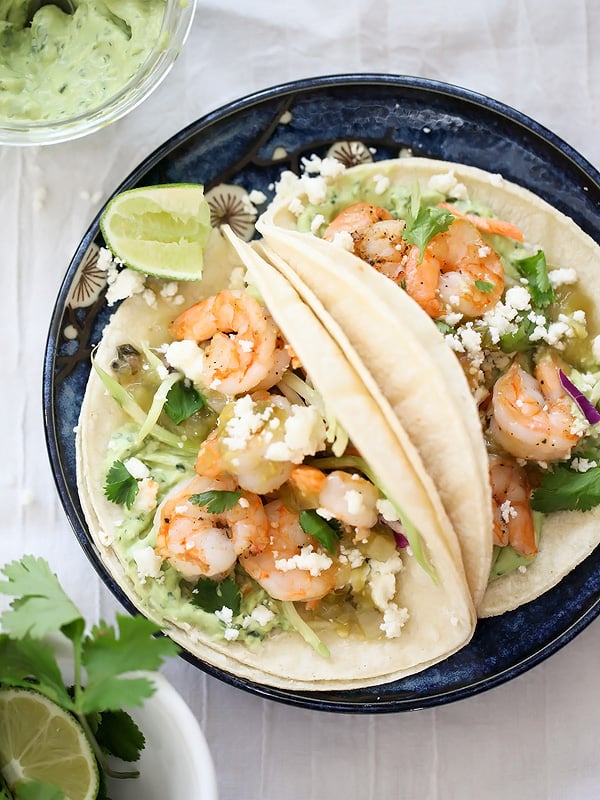 New Years has always been a bit overrated for me.
It was always that one holiday that put on the pressure, that created too much expectation that it was for sure going to be the best. night. ever! and who know's who you might kiss at midnight?!? It could be Prince Charming!!! Fingers crossed!
And then when Prince Charming failed to show, and there was no kiss, all of that hope you pinned as a sign that this year would be YOUR year, suddenly you realize you overshot your expectations, made them bigger than you might truly achieve, and it put your ultra fancy lip glossed pucker into a serious pout. I mean, is there really such a 'thing' as Prince Charming anyway?
It's the same with New Years resolutions. I've had too many years of high expectations, big dreams and plans to restart and recharge that I chart out, document and make lists of that will surely make over my entire life into the perfect dream I wish it could be and BAM! everything will be rosy!
That doesn't work.
Yesterday I got a little personal but made some admissions that needed to be made, and outlined my reSolutions for 2015.
Too much of the time we think we need a complete overhaul to improve our habits, our health our ways of thinking. When really, it's the little victories we choose, those that we can actually achieve, that add up to those big changes.
5 Little Victories
Eating right is at the forefront of my plan to make big changes in 2015. But that's just part of the plan. This month I'm partnering with Kroger to mark my journey's little victories and to inspire you to ponder and discover your own healthier eating and your own little victories.
Here are the I'm going to be focusing on in 2015 that will add up to making those big changes.
Go to sleep earlier. Sleep is the secret weapon against anti-aging. A new study was released that you now only need 7 hours of sleep do maximum benefit. I'm a night owl. I stay up way too late and often don't even get those 7 hours. I'm going to be changing that by going to sleep earlier so I can get up earlier making more time in my day for exercise. 
Jumping jacks while I work. During the winter, my home office is like a walk-in freezer. I complain about how cold it is to my husband and he states the obvious: "Heidi, you need to get up and move."
His solution to make it happen? Every hour do 30 jumping jacks. Really? Well, actually, it just might work. I figure I may as well give it a try and kick up my heat index and metabolism at the same time.
Eat out less. Most days 5 o'clock rolls around and I'm suddenly stricken with the realization we don't have any idea what's for dinner. You'd think as a food blogger I'd have dinner ready and on the table every night. Not the case.
I'm just like most moms and am too busy with family schedules and work—oh the irony that I work with food and recipes all day—so, it's just easier to go out. But going out means bigger portions of meals and a lot more money. This year I'm going to work toward cutting that in half. Just half, because hey, I like going out!
No carbs after 6. Back in the day my husband and I both did a 3 month shape-up program for the health magazine I worked for. It was Biggest Loser before there was a Biggest Loser where we shared all of our stats and before and after stats with readers each and every month. Talk about pressure!
One of the most effective tips I took from my nutritionist was his advice to avoid carbs after 6 pm. I followed his advice and it worked. And I liked it because I could still enjoy pasta, rice and breads for breakfast and lunch so I didn't feel deprived. I'm re-instating the challenge.
Don't deny yourself, just underindulge. This tip is my favorite and I credit my husband for reminding me of it. His strategy is instead of ordering a Taco Supreme (he's a Taco Bell fanatic), he subs 3 chicken tacos but takes the meat out of one of them and adds it to the other two, so bulks them up with protein and tosses the extra tortilla calories behind.
It's not about saying you can't eat it, just eat less and make better choices.
About the Recipe
For busy weeknights I like to keep frozen shrimp on hand. I prefer white shrimp over tiger shrimp because I think they're sweeter, and I discovered that Kroger carries the white shrimp I prefer.
When I don't have my homemade tomatillo salsa, I buy the Kroger brand tomatillo sauce my husband has been a fan of for a while. He piles it on his moring over easy eggs and tops it all with his low-fat sour cream. So we pretty much always have that in the fridge.
This recipe is layered with garlic flavor. First I steep the garlic in oil as it simmers, then I add the reserved cooked cloves (just the soft parts) to the avocado crema along with 1 fresh clove that's been finely minced. I use my hand held KitchenAid 5 speed blender for small blending tasks like this. It's one of my favorite kitchen tools.
I like a little crunch in my tacos and instead of cabbage, I snuck in this Broccoli Slaw I found in the veggie dept at my local Smith's. The mix is fresh and flavorful and adds some color to boot.
Kroger Little Victories Giveaway
Before we get to the recipe, you need to enter this giveaway. Because it's really pretty great with 3 big, big prizes.
1 grand prize giveaway ARV: $1,500
$1,000

Kroger

gift card
$500 in kitchen products
$250 KitchenAid Mixer
$50 Magic Bullet
$200 in cookware  (pots and pans)
2 additional giveaways of $500 Kroger gift cards (Good at any Kroger affiliate store like Fred Meyer, Smith's, etc)
To enter the giveaway, follow the instructions in the Rafflecopter widget! Good luck!
Recipe Ideas to Serve With Your Tacos
These tacos are certainly filling enough, but sometimes you just need a drink, a salad, a side, and a yummy dessert to complete the meal.
If you make this recipe, please let me know! Leave a comment below or take a photo and tag me on Instagram with #foodiecrusheats.
Print
Shrimp Tacos with Garlic Avocado Crema
These healthy and delicious shrimp tacos are made with frozen shrimp, jarred tomatillo salsa verde, store-bought broccoli slaw, and a quick and easy homemade avocado crema.
Ingredients
1

pound

Kroger frozen shrimp

, medium size

1

tablespoon

extra-virgin olive oil

6

garlic cloves

, peeled

2

limes

½

cup

cilantro leaves plus more for garnish

¼

cup

Kroger low fat sour cream

1

avocado

, peeled, pitted and coarsely chopped

½

teaspoon

kosher salt

8-12

Kroger white corn tortillas

½

cup

Kroger broccoli and carrot slaw

Kroger queso fresco

Kroger mild tomatillo salsa verde

freshly ground black pepper
Instructions
Thaw the shrimp and peel the shells off of the shrimp and discard. Season the shrimp with a sprinkle of kosher salt and freshly ground black pepper, gently toss and set aside.

Heat the olive oil in a large skillet over medium heat. Smash 5 of the garlic cloves with the side of a heavy knife and place in the skillet, reserving the additional garlic clove. Reduce the heat to low and simmer the garlic for 10-15 minutes, turning the cloves occasionally until the garlic is fragrant and lightly browned all over. Remove the garlic from the pan, set aside and remove the pan from the heat reserving to use to cook the shrimp.

While the garlic is simmering, finely mince the remaining clove of garlic and add to the bowl of a food processor. Chop the softest parts of the reserved cooked garlic and add to the food processor. Add the juice of 1 lime, the ½ cup cilantro leaves and whiz the food processor until the leaves and garlic are finely chopped. Add the sour cream, the chopped avocado and the kosher salt and whiz until the mixture is smooth and combined.

Bring the pan with the reserved garlic oil in to medium heat. Add the shrimp and cook for 2 minutes on each side.

Stack and cover the corn tortillas in a dish towel and microwave for 30 seconds.

For each taco, stack 2 corn tortillas together and spread a spoonful or two of the avocado crema on the top tortilla. Add some broccoli slaw 4-5 shrimps and top with queso fresco, tomatillo salsa and garnish with cilantro leaves. Serve with lime wedges.
Nutrition
Calories:
362
kcal
|
Carbohydrates:
34
g
|
Protein:
28
g
|
Fat:
15
g
|
Saturated Fat:
3
g
|
Polyunsaturated Fat:
2
g
|
Monounsaturated Fat:
8
g
|
Trans Fat:
1
g
|
Cholesterol:
188
mg
|
Sodium:
471
mg
|
Potassium:
779
mg
|
Fiber:
8
g
|
Sugar:
1
g
|
Vitamin A:
330
IU
|
Vitamin C:
30
mg
|
Calcium:
169
mg
|
Iron:
2
mg
Have a great weekend friends, and make something good.
This post is in partnership with Kroger. As always, thank you for reading and for supporting companies I partner with, which allows me to create more unique content and recipes for you. All opinions are always my own.  
Are you following me on Instagram, Twitter, Facebook and Pinterest? 
Thanks for reading and  subscribe to FoodieCrush to have each post delivered straight to your e-mail box.  
SaveSaveSaveSaveSaveSave
SaveSave