These stacked enchiladas with perfect fried eggs and the best homemade red enchilada sauce make for the yummiest and filling breakfast or brunch.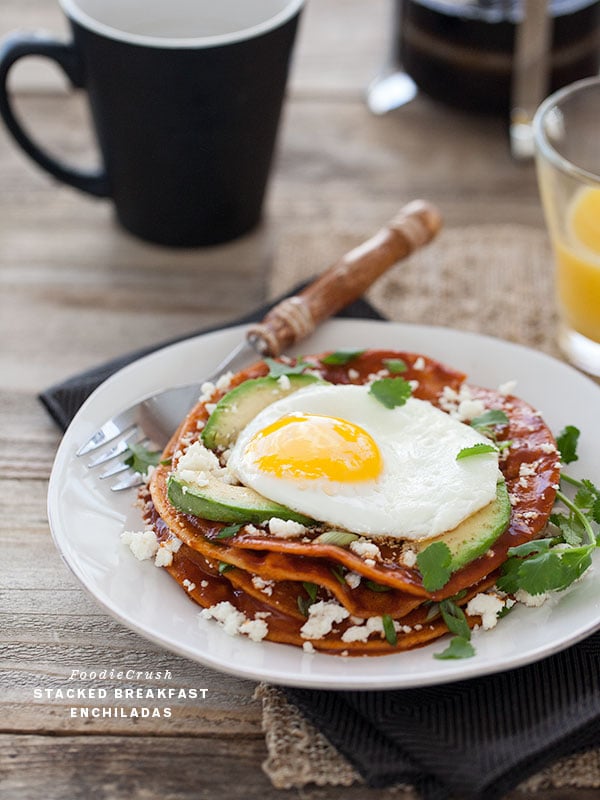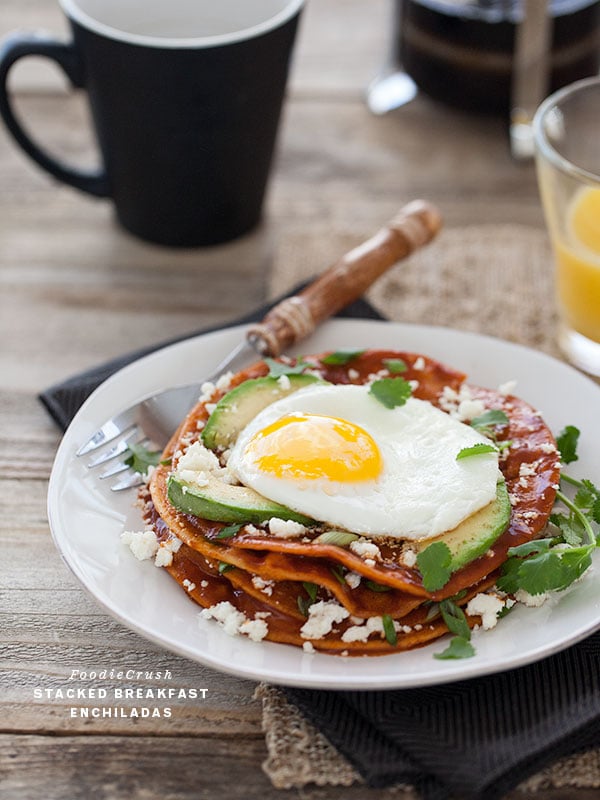 The phrase, "too many cooks in the kitchen," need not apply to the Soza family, who's motto rings, "Pásale, Pásale, vengan a comer," (Come in, come in. Come in and eat).
Since 2010, Evangelina (Vangie) Soza and daughters Yvette Marquez-Sharpnack and Veronica Gonzalez-Smith have preserved three generations of family recipes and memories, celebrating their Mexican heritage in their well-followed blog, Muy Bueno.
I first discovered the cooking threesome when I featured Muy Bueno in the first issue of FoodieCrush magazine, where they shared their Christmas family traditions handed down from one generation and now to another. The role of family and tradition is the centerpiece of their brand, and it all started with their grandmother who they pay homage to in each word written and recipe created.
Before grandmother Jesusita Mendias-Soza's passing, Veronica carefully studied her in the kitchen as she made her homemade flour tortillas. Now, Veronica makes them with the very rolling pin Jesusita had used—weathered and loved from decades of rolling out countless tortillas and empanadas for family and friends. Another of her rolling pins was passed down to Yvette and she too treasures the family heirloom, which serves as a fond reminder of their grandmother and her cooking.
The mother-daughter trio sought to keep Jesusita's memory alive and her presence near by commemorating their family's recipes so they may be passed down to their own children and to future generations. In October of 2012, their collaborative efforts expanded beyond the blogosphere and into the publishing realm, with the release of their first cookbook, Muy Bueno: Three Generations of Authentic Mexican Flavor.
The vibrantly colorful book features over 100 fresh, authentic Mexican recipes, from green enchiladas and tamales to hibiscus popsicles and pumpkin turnovers. Each recipe is labeled with a specially designed silhouette by Yvette—who also designed the logo and layout of the cookbook—to portray which of the three authors created the specific recipe.
"Being that we are three authors we wanted the reader to really get to know us by noting who the story/memory is from. We have heard lots of great feedback and people really love it," Yvette explains.
The collection of recipes incorporates old and new, with dishes from grandma Jesusita's kitchen (traditional northern Mexico cuisine), Vangie's south of the border comfort food—like the Pork in Red Chile—and creative Latin-fusion from Veronica, whose favorites include Green Enchiladas and Tres Leches, and Yvette's remake of Mango Upside Down Cake.
And although geography keeps them apart more often than they'd like—Yvette lives in Colorado, Veronica in Germany and Vangie in Texas—it is not an obstacle, as the gang  remains dedicated to maintaining their blog and striving to preserve tradition. Near or far, nothing brings them back to their roots or makes them happier than when they're in the kitchen with the ones they love. Grandma Jesusita would be proud.
1. Describe your blog in 3 words:
Veronica: Heartfelt, Cultural, Delicious
Yvette: Mexican, Family, Love
Vangie: Informative, Easy, Delicious
2. If you could be one food blogger other than yourself, who would you be?
Veronica: White on Rice
Yvette: Roost Blog. Her blog, photography, design, and videos are spectacular.
3.Which 3 blogs do you follow/are obsessed with/can't live a day without?
Veronica: Katie Pies,  White on Rice, Matt Bites
Yvette:  White on Rice, Roost Blog, and Matt Bites
4. What is the one kitchen tool you could never give up?
Veronica: Lime squeezer
Yvette: Rollin pin. It was one of the two rolling pins I inherited from our grandma. Veronica has the other one.
Vangie: Conical sieve to make red chile sauce
5.  What dish are you obsessed with mastering that you just can't get quite right?
Veronica: Soufflé
Vangie: Yeast bread
6. What did you have for dinner last night?
Veronica: BBQ Pork sandwiches….ooo they were good!
Yvette: Molotes stuffed with veal and pickled red onions. It was a test day in the kitchen and recipe will be on our blog soon.
7. What's one secret talent outside of the kitchen nobody knows about you.
Veronica: LOL…not anything I can admit to here
Yvette: I'm double jointed and I can rotate my shoulders and twirl my arms around holding my hands and not letting go. It's a fun party trick. LOL!
8. You're happiest when cooking/eating:
Veronica: Surrounded by family and friends
Yvette: Ditto
Vangie: Baking
9. The three of you all live in different places, even countries. You recently debuted your Mexican cookbook, Muy Bueno Cookbook. What roles did the three of you take to complete the project and what challenges did you overcome with three authors in three different areas?
We all worked voraciously to complete the project and meet self-imposed continual deadlines. Our biggest challenge was waiting for edits from each other because of the eight-hour time difference. There are times that emailing wasn't enough, lucky for us we now have SKYPE…we did a lot of skyping.
10. The one secret ingredient to your success is:
Love!!! Love for the recipes grandma and mom made for us as kids…love for our delicious cultural recipes, love for each other's differences and accepting of those differences…love is all you need!
To give you a taste of what's deliciousness lies within, I'm sharing their recipe for Stacked Red Enchiladas, or as I've remade them into Stacked Breakfast Enchiladas, a recipe my husband has deemed a new favorite. I couldn't agree more.
If you make this recipe, please let me know! Leave a ⭐️⭐️⭐️⭐️⭐️ rating on this recipe below and leave a comment, take a photo and tag me on Instagram with #foodiecrusheats.
Print
Stacked Breakfast Enchiladas
Ingredients
2

cups

red chile sauce or enchilada sauce

½

cup

canola oil for frying tortillas

12-16

white corn tortillas

1

cup

cotija cheese

4

green onions

, chopped

cilantro leaves for garnish

4

eggs
Instructions
Pour red chile sauce or enchilada sauce into a skillet over medium heat until warm then lower heat to simmer.

In a non-stick skillet, heat canola oil. Drop one tortilla at a time into hot oil and fry until softened, turning once while frying, then drain on paper towels.

To assemble the enchiladas:

Place a fried tortilla into the skillet of warm red sauce, coating it on both sides. Place on a plate then layer with some cheese and a sprinkle of green onion. Place another tortilla on top and repeat until you have a stack of three or four tortillas. Continue to make stacks until all ingredients are used.

Heat a small non-stick fry pan over medium heat and spray with cooking spray. Fry the eggs and place one on each stack. Add another egg if you're extra hungry. Top with more cotija, more green onion and cilantro leaves if desired.
Nutrition
Calories:
632
kcal
|
Carbohydrates:
47
g
|
Protein:
18
g
|
Fat:
42
g
|
Saturated Fat:
9
g
|
Polyunsaturated Fat:
10
g
|
Monounsaturated Fat:
22
g
|
Trans Fat:
1
g
|
Cholesterol:
197
mg
|
Sodium:
1567
mg
|
Potassium:
262
mg
|
Fiber:
7
g
|
Sugar:
9
g
|
Vitamin A:
1317
IU
|
Vitamin C:
5
mg
|
Calcium:
281
mg
|
Iron:
3
mg
We send good emails. Subscribe to FoodieCrush and have each post plus exclusive content only for our subscribers delivered straight to your e-mail box.
Follow me on Instagram, Facebook, Pinterest, and Twitter for more FoodieCrush inspiration.
As always, thank you for reading and supporting companies I partner with, which allows me to create more unique content and recipes for you. There may be affiliate links in this post of which I receive a small commission. All opinions are always my own.