Just four simple ingredients tossed in your crock pot make this easy pulled pork shoulder recipe taco-night ready when topped with a crunchy Mexican slaw, smoky roasted salsa and guacamole.
To be the most efficient in the kitchen calls for a wee bit of planning. But I'm the type of cook who has a habit (good or bad?) of adding a dash of this and a bit of that and ultimately departing from the recipe. I also have a habit of getting so immersed in my day that by the time the dinner bell should be ringing, I'm just starting to think about what the heck we're going to fix for our last meal of the day.
But over the past year, I've made some great strides in being a better kitchen planner and cooker because I've put my idea of the perfect planner into practice (get a free download of it here!) And instead of going to the grocery store every single day, I'm becoming more efficient at planning a few meals for the week and sticking to my idea. Sure, I leave a little wiggle room because hey, life happens, and I like to think I can be nimble on these so-not-a-good-dancer-feet.
One of my main goals this year has been to cook once, eat thrice. Okay, maybe it's more like eating twice with hopefully a few leftovers to throw in for lunch. Slow cooker meals are such an easy solution for cooking this way and I'm pretty much always inspired to extend my batch cooking when a recipe like this one for Slow Cooked Pork beckons.
A few weeks ago I shared the recipe for Smoky Roasted Salsa from my blogging friend Rebecca Lindamood's cookbook Not Your Mama's Canning Cookbook. The cool thing about her cookbook is that not only does she share some super fun, not your average canning recipes, but she uses those recipes as the springboard to whole meals. Exactly what I'm looking for.
So when I made the salsa recipe for the blog, I pretty much knew this recipe in taco form would quickly be following up after.
About the Recipe
With just 4 ingredients, this slow cooker recipe could be one of the simplest you'll ever make. Is it flavorful? You bet it's flavorful. It's the salsa that makes it so. While I canned my salsa, you can certainly, always, always, always just make a half batch, or even a quarter batch and place in the fridge until you're ready to use. Or, choose a really good store-bought brand if you just can't muster the making.
I turned this slow cooker pork into tacos, but you could certainly use as the filler for just about any Mexican-inspired recipe. Tortas. Enchiladas. Tostadas. Nachos. Or go outside the comfort zone and create a spicy Pulled Pork Mac 'n Cheese or Pulled Pork Pizza. Plus, it makes enough to serve in several different iterations, so get creative and get cooking.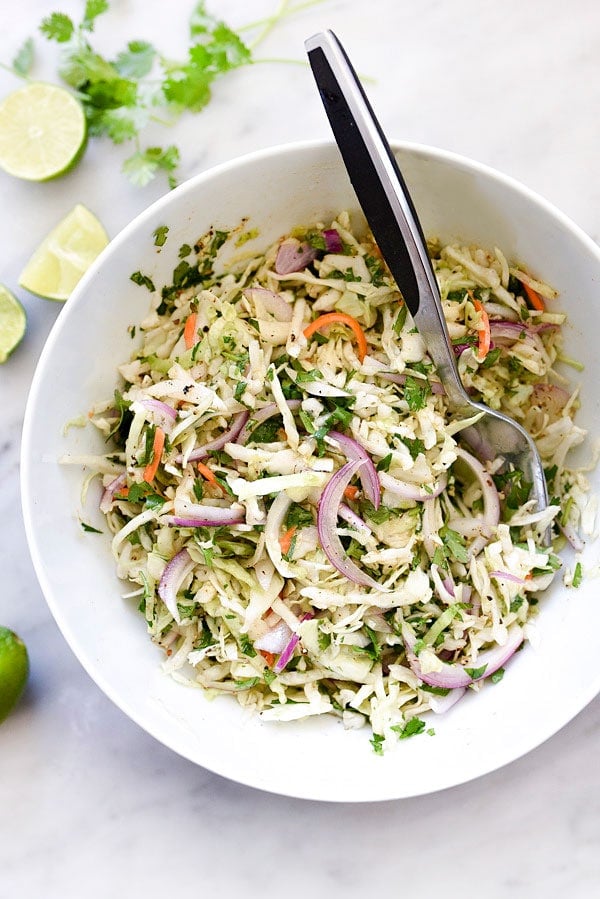 To top my crunchy tacos, I made this crunchy and fresh Mexican Coleslaw. It's so easy to make you'll wonder why you'd ever use plain old lettuce when you can add flavor?
And of course, top with more smoky salsa as needed. It's really the best way.
If you make this recipe, please let me know! Leave a comment below or take a photo and tag me on Instagram with #foodiecrusheats.
Slow Cooker Smoky Pulled Pork Tacos
Just four simple ingredients in your crock pot or slow cooker make this pulled pork recipe taco-night ready when topped with a crunchy Mexican slaw, guacamole and a sprinkle of cheese.
Servings
3
-4 pounds pulled pork
Ingredients
6-8

pound

bone-in pork shoulder

1

pint

jar Smoky Roasted Salsa or smoky-flavored store-bought salsa

6

whole cloves garlic

peeled and smashed

3-4

canned chipotles in adobo sauce

chopped

6-

inch

corn or flour tortillas

Guacamole

Cotija cheese

Cilantro leaves

chopped
Instructions
Place the pork shoulder in a 6 1/2 to 8 quart slow cooker. In a medium size bowl, mIx the salsa with the smashed garlic cloves and the chipotles in adobo sauce. Pour the salsa mixture over the pork. Cover with the lid of the slow cooker and cook on low for 12-14 hour, or until the pork falls off of the bone. Chill the crock with the contents still in it until cold all the way through.

Preheat the oven to 375 degrees F. Scrape away the congealed fat around the pork shoulder and use a bit of the fat to grease a 9 X 13-inch baking dish. Discard the rest of the fat but reserve the cooking juices.

Transfer the meat to a large cutting board and scrape away any visible fat. Use your hands to shred the meat into same-size pieces. Transfer the meat to the baking dish and bake, uncovered for 20 minutes or until the pork is hot all the way through. At the 10 minute mark, check to see if the meat is getting too dry. If so, toss it with a fork to keep it from drying out too much.

While the pork bakes, strain the cooking juices through a fine mesh sieve into a small saucepan. Bring to a boil, then reduce the heat to simmer and cook until reduced to 1/4 its original volume.

When the pork is hot, pour the reduced pan juices over the pork and toss to coat.

Warm the tortillas, either in a damp towel in a warm oven at 200 degrees F, or lightly char the tortillas over the flame of a gas stove. Assemble the tacos with a 1/3-1/2 cup pulled pork, Mexican coleslaw, guacamole and sprinkle with cotija cheese. Garnish with cilantro and serve with more smoky salsa if desired.
More Reasons to Pull Your Pork
Tacos are a delicious solution to enjoy all that piggy pork goodness but there's even more out there to enjoy. Here are a few more ideas from around the www to keep your pork giving-on, giving-on, all throughout the week. Or, freeze a portion of your slow cooked leftovers to save for up to 3 months in the freezer.
Smoky Pulled Pork Sandwiches with Spiralized Apple Slaw
Forget pork chops and apple sauce, this smoky bite gets its zing from slivered apple slaw. FRESH!
Get the recipe | How Sweet It Is
Pulled Pork Flautas with Avocado Crema
Katrina uses a store-bought short cut for her pulled pork, and her idea of baking her flautas, instead of fried, is what totally gets me going.
Get the recipe | Diethood
Breakfast BBQ Pork Tostadas with Cotija Ceese and Lime Crema
We all know pulled pork is stellar for lunch and dinner, but don't forget, breakfast loves itself some porky bites too.
Get the recipe | Wilde Flavors
Thanks for visiting, here's to getting into the kitchen to cook something good!
As always, thank you for reading and for supporting companies I partner with, which allows me to create more unique content and recipes for you. All opinions are always my own.  
Are you following me on Instagram, Twitter, Facebook and Pinterest? 
Thanks for reading and subscribe to FoodieCrush to have each post delivered straight to your e-mail box.  
SIGN UP FOR FREE!
THANK YOU FOR VISITING FOODIECRUSH.COM

Subscribe to the FoodieCrush email newsletter and have every new post plus exclusive content delivered straight to your email box,
FOR FREE!