Whether it's served melty hot or crunchy cold, this easy Mexican corn dip made with roasted green chiles, mayonnaise, cotija cheese, and chile powder will seriously have you considering the double chip dip.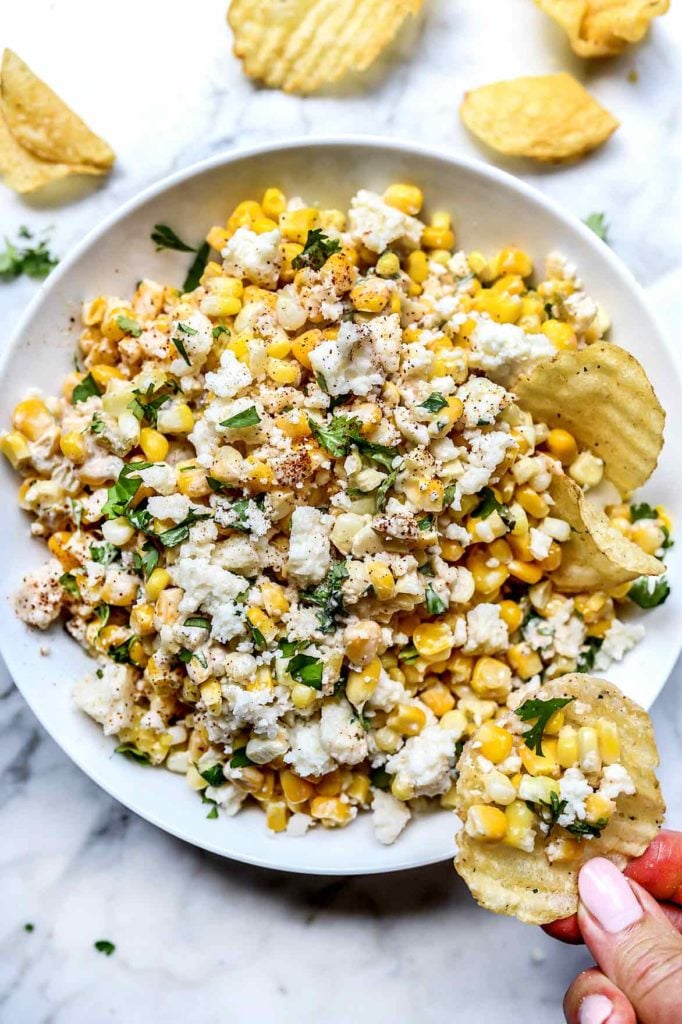 This recipe is brought to you by Kettle Brand
I couldn't really call myself a party thrower until I had a handful of easy potato chip dip recipes mastered and stuffed under my belt.
So by now, after eight years of sharing recipes here on la FoodieCrush and armed with a load of apps that have become reader favorites, I should be capable of throwing a damn fine soirée. And actually—as I no-big-deal brush the self-congratulatory dust off my shoulders—I do.
This Mexican corn dip is just one of the chip dip recipes that always delivers. It's based on the popular Mexican street corn known as elote, or more aptly named in this stripped-off-the-cob salad-esque-form, as esquites. It's light, it's fresh, and it's primo with chips.
But there is one problem with this dip. And it's that I can't decide whether I like this chip dip best served crunchy and cold, or if I like this Mexican corn dip best hot, melty, and cheesy.
But what a good problem to have, because this corn dip is positively delish either way.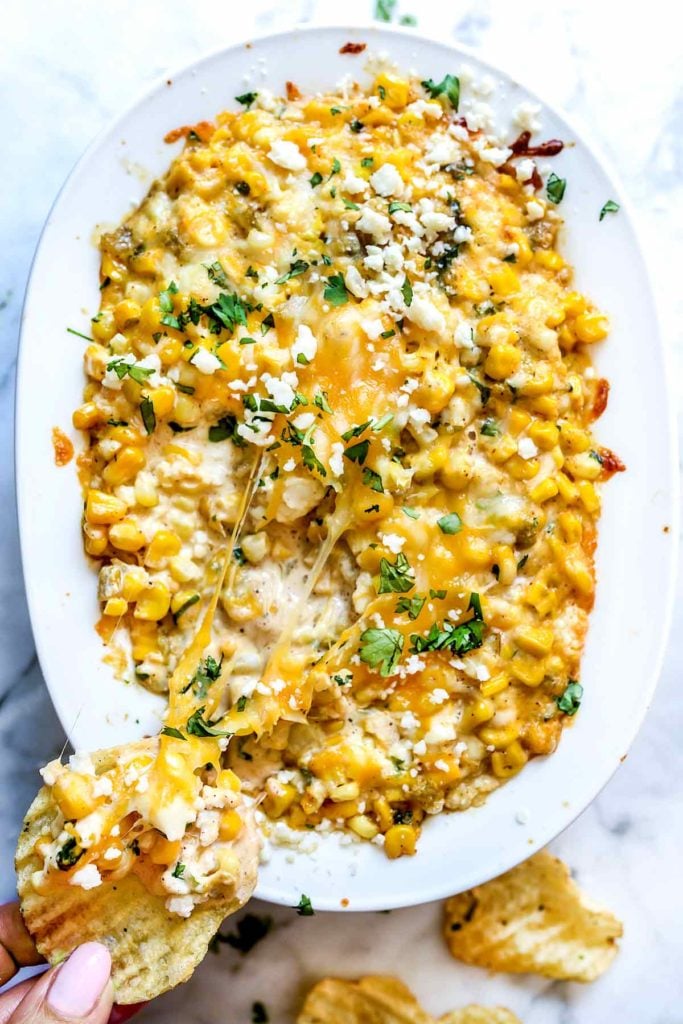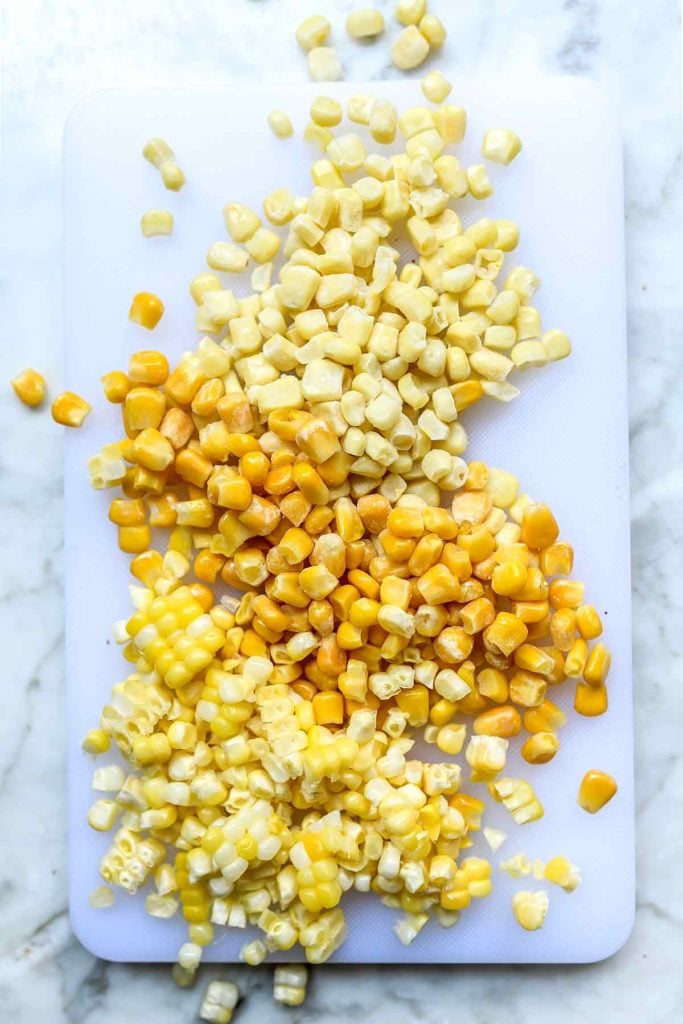 Fresh or Frozen? Which Corn to Use in Corn Dip
This Mexican corn dip is a seasonless dip that tastes totally in season, since it can be made with sweet corn on the cob when in season or frozen corn when not.
Fresh corn. When using fresh corn on the cob, the easiest way to add flavor is to grill the corn straight in its husk like I show here. I cook the corn for just 5-7 minutes or until it becomes fragrant. Then, use a serrated knife to cut it from the cob and you're ready to roll. When using corn on the cob, the rule of thumb is one ear of corn yields ¾ cup corn.
Frozen corn. When fresh corn isn't available, frozen corn works perfectly fine too. Frozen corn can be found in several varieties: yellow corn, sweet corn, petite corn, and more. The corn you'll find in the freezer aisle has been flash frozen and holds all of its nutritional qualities. Once thawed, frozen corn tastes closest to fresh, compared to canned. Before adding the frozen corn to this dip I thaw it for about 3 minutes on HIGH in the microwave.
Ingredients In Mexican Corn Dip
The ingredient list for this easy Mexican corn dip is short and sweet, just like it's Mexican street corn inspiration.
corn, fresh or frozen (see below which is best)
roasted green chiles
mayonnaise
sour cream
fresh lime juice
chile powder
garlic powder
kosher salt
cilantro
cotija cheese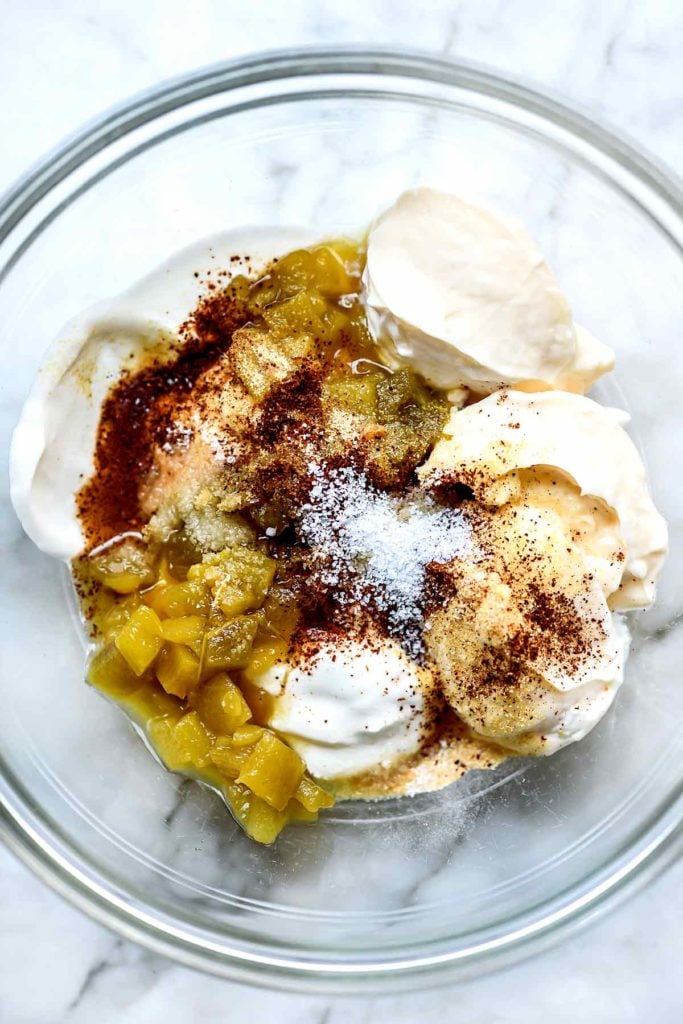 How to Make Mexican Corn Dip
Like so many things, the secret is in the sauce. Or in this case, the creamy but not gloppy base that brings this dip together.
While Mexican street corn is usually slathered only with mayonnaise, I like adding sour cream to this base. The sour cream balances the mayo and adds a creamy tang that lightens the dip. I make it with full fat sour cream. Know that if you use low fat sour cream or Mexican crema, the dip will thinner.
Roasted green chiles add an earthy bite to this dip. Buy a quality brand of canned chiles, or if in season, here's how to roast chile peppers yourself.
To evenly distribute the saucy ingredients, mix them first before adding to the corn.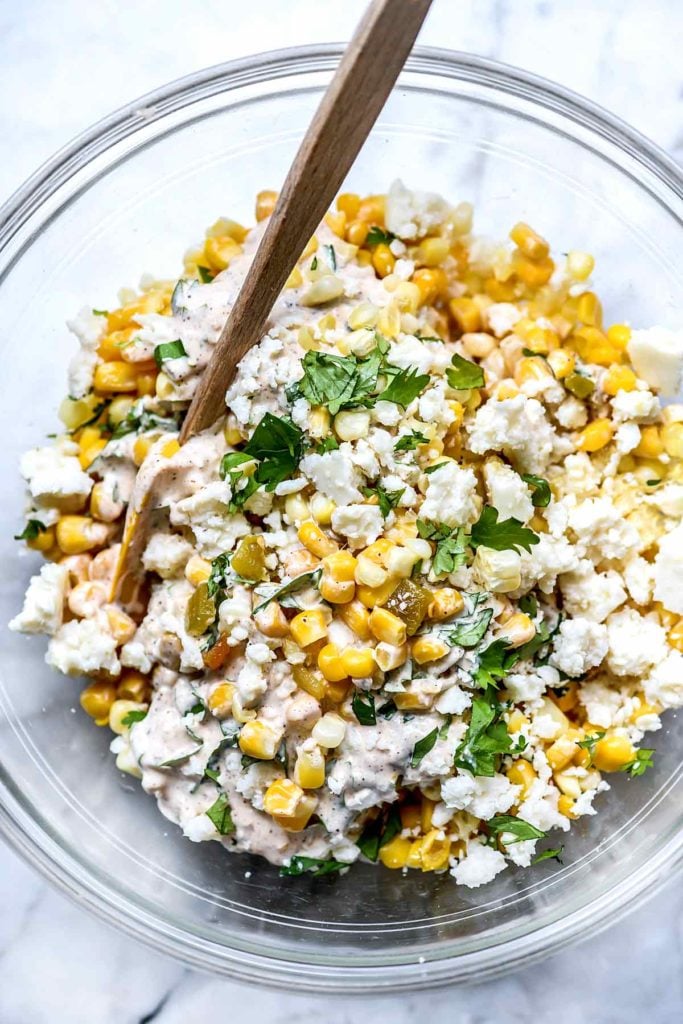 A Good Substitute for Cotija Cheese
Cotija cheese is like feta cheese's less salty, more squeaky cousin. It's an aged Mexican cheese that is firm and dry in texture, and crumbles like a dream. Cotija doesn't melt and holds its shape when added to salads, tacos, or dips like this.
A good substitute for cotija cheese is feta cheese or queso fresco. Queso fresco is a younger, softer, and creamier than cotija with a less spunky flavor that can be found in the Mexican section of your grocery store's refrigerated aisle.
Remember that presentation counts. Reserve some of the cotija cheese and cilantro for garnishing on top of this Mexican dip.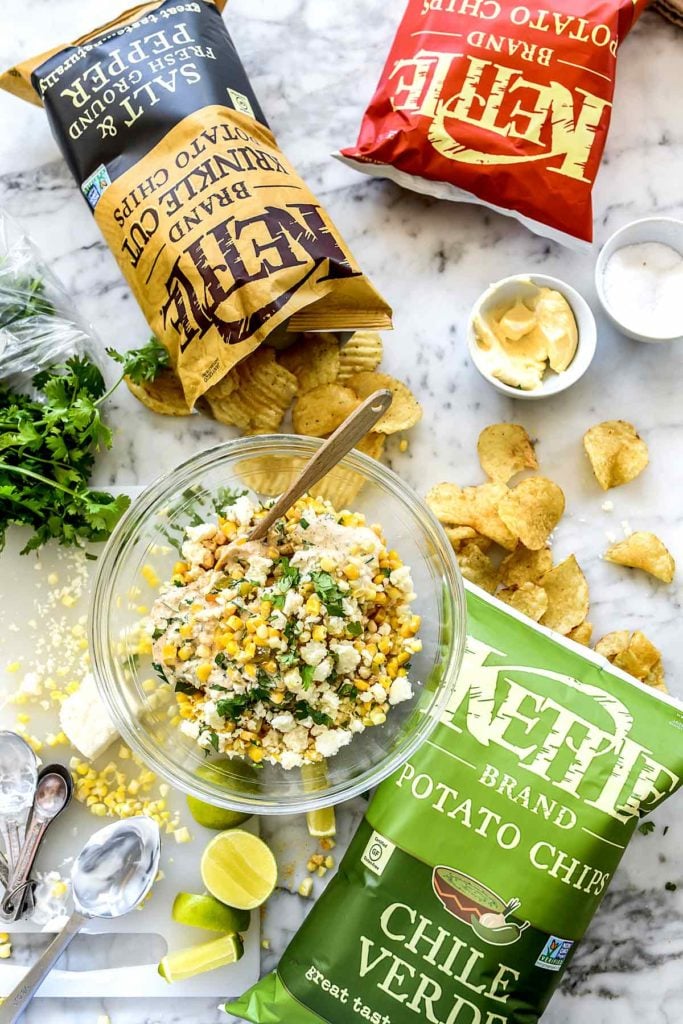 Chips to Serve with Corn Dip
This appetizer recipe is where the the chip meets the dip. I compare my dip to the cheerleader who's lifted high through the air, and I compare my chip to the base that has to be strong and robust enough to hold them.
Enter, Kettle Brand potato chips.
Kettle Brand potato chips are kettle cooked for extra crispness, crunch, and maximum flavor. In fact, 24 different flavors and several different cuts. Krinkle cut. Flat cut. Sea salt and vinegar. Salt and peppered. Pepperoncini. Honey Mustard. Barbecue. Fiery Thai. New York Cheddar. Chile Verde. So. Many. Flavors.
Yet with all these flavors available, Kettle Brand sticks to basic, real ingredients with potatoes cooked in batches in an oil-filled kettle instead of on a conveyor belt. This style of cooking produces chips that are far from the cookie cutter variety, making them imperfectly perfect.
And that's a chip I'm ready to dip.
Make It Melt! How to Make Hot Mexican Corn Dip
With the addition of just one more ingredient, you can have an ooey gooey hot chip dip instead of a fresh and crisp chip dip.
What's it going to take? CHEESE!
Look for a high-quality pre-shredded cheese that has the least apparent coating of cellulose or cornstarch coating the shreds. This helps with avoiding clumps of cheese but it also inhibits melting.
To make this Mexican corn dip hot and cheesy, stir in 1 cup of a good quality shredded Mexican cheese blend to the corn dip, then bake in an oven-safe serving dish for 20-30 minutes. If I'm in a rush, I'll microwave the dip for 4-5 minutes to give it a head start before popping it in the oven for 10 minutes or so to brown and melt the top.
More Potato Chip Dip Recipe Ideas
If you make this recipe, please let me know! Leave a ⭐️⭐️⭐️⭐️⭐️ rating on this recipe below and leave a comment, take a photo and tag me on Instagram with #foodiecrusheats.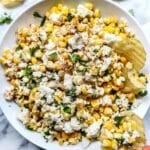 Print
Mexican Corn Dip
You can use fresh or frozen corn for this Mexican corn dip. If using fresh corn, allow time to roast it on the grill to take away it's raw bite. This dip can be served hot and cheesy or cold and crisp, with roasted green chiles, mayonnaise, cotija cheese, and chile powder will seriously have you considering the double chip dip.
Ingredients
3

cups

corn kernels

, (1 pound) fresh or frozen

1 4

ounce

can roasted chiles

3

tablespoons

mayonnaise

3

tablespoons

sour cream

1

teaspoon

chile powder

½

teaspoon

garlic powder

½

teaspoon

kosher salt

2

tablespoons

cilantro

, chopped

½

cup

crumbled cotija cheese

1

cup

shredded Mexican blend cheese

, if making this a hot dip
Instructions
Heat the frozen corn in the microwave for 3 minutes or until warmed. If using corn on the cob, grill the corn in its husks for 4-5 minutes or until tender and fragrant. Cut the corn from the cob and discard the cobs.

Add the corn to a large mixing bowl. In a small bowl, mix the chiles, mayonnaise, sour cream, chile powder, garlic powder, kosher salt. Fold in 1 ½ tablespoons of the cilantro and half of the cojija cheese. Fold the mayonnaise mixture into the corn. Garnish with the rest of the cotija cheese and cilantro. Sprinkle with a few dashes of chile powder and serve with Kettle Brand potato chips.
To Serve Hot
Before garnishing the corn dip, fold in 1 cup of shredded Mexican blend cheese. Spoon into an oven-proof serving dish. Preheat the oven to 375°F and bake for 20 minutes or until the dip is bubbly and the cheese is melted. Garnish with the remaining crumbled cotija and chopped cilantro.
Notes
Variations
Instead of roasted chiles, substitute 1 ½ tablespoons seeded, minced jalapeño for the roasted chiles. 
Instead of sour cream, use full fat Greek yogurt instead. Avoid using low fat yogurt or sour cream as it will be runny and make the mayo mixture extra thin. 
For the no-cilantro-thank-you-very-much fans, use chopped green onion or finely minced parsley.
Nutrition
Serving:
2
T
|
Calories:
113
kcal
|
Carbohydrates:
8
g
|
Protein:
4
g
|
Fat:
8
g
|
Saturated Fat:
3
g
|
Cholesterol:
17
mg
|
Sodium:
335
mg
|
Potassium:
76
mg
|
Fiber:
1
g
|
Sugar:
2
g
|
Vitamin A:
179
IU
|
Vitamin C:
1
mg
|
Calcium:
97
mg
|
Iron:
1
mg
More Recipes to Make with Potato Chips
We send good emails. Subscribe to FoodieCrush and have each post plus exclusive content only for our subscribers delivered straight to your e-mail box.
Follow me on Instagram, Facebook, Pinterest and Twitter for more FoodieCrush inspiration.
This post is sponsored by KettleBrand. As always, thank you for reading and supporting companies I partner with, which allows me to create more unique content and recipes for you. There may be affiliate links in this post of which I receive a small commission. All opinions are always my own.