Chunky with a citrus-ey accent or both lime and orange juice plus a hit of spice and just enough girth to make any chip happy, it's the perfect combo to welcome some spring weather with a few salty corn chips and a nice cold beverage.
If it weren't for guacamole serving as my avocado gateway, the jury is out on whether I would ever have become an avocado fan. Now, they're one of my favorite things to eat, so how could it be there was a time I didn't like them?
Just like artichokes, it wasn't until I was in my late teens that I finally gave in to even trying avocados. I have no idea where my aversion stemmed from. Maybe I just had an aversion to fruits and veggies that started with the letter A?
There are as many guacamole recipes out there in the world as there are stars in the sky and we all have our favorite, and this chunky homemade version is mine.
Our chunky guacamole is a quick and easy solution to be served at everything from tail gates to wedding showers to easy to pull together Taco Tuesdays. Because who doesn't love a dip with a chip into amazing guacamole?
But first off, you need to start with near-perfectly ripe avocados.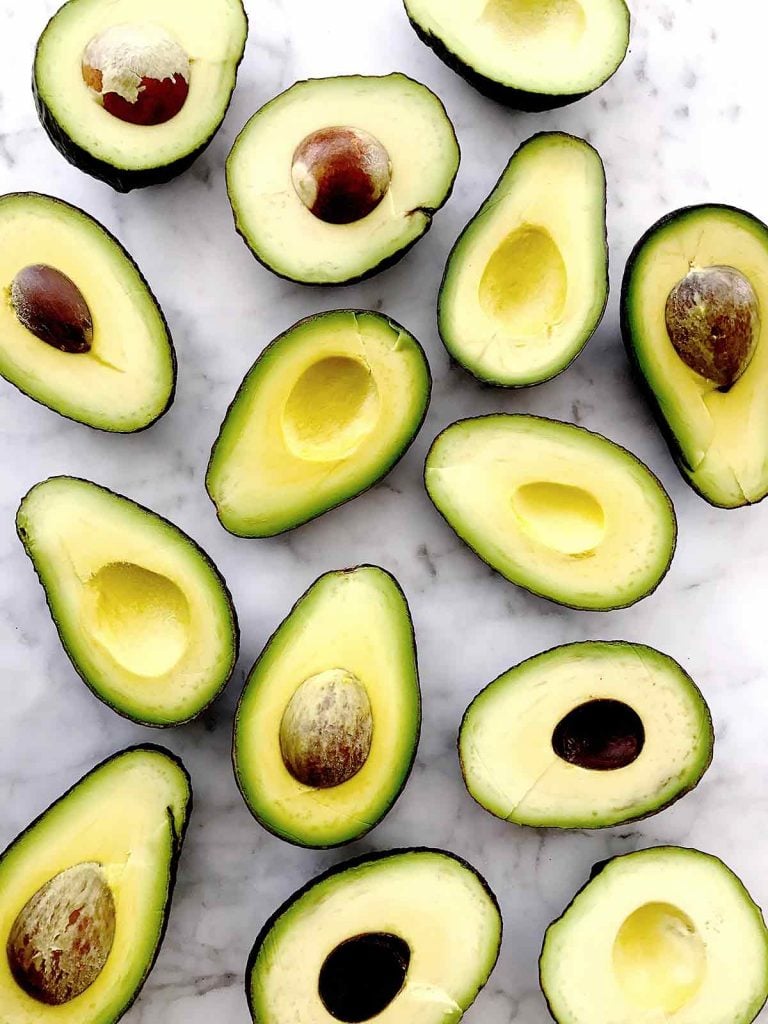 How to Pick a Ripe Avocado
The almighty avocado. It's one of nature's most complete foods thanks to good for you fats, essential fatty acids and phytochemical plus vitamins. It's a nutritional powerhouse and pretty much has it all going on but choosing a ripe avocado can be a guessing game. If your fruit isn't ripe enough and you'll never be able to mash them. Too ripe and the avocado flavor is bitter and the texture mealy. So how to tell if you have a ripe avocado?
First, gently squeeze an avocado and feel for just a bit of softness and give.

Then, take a look at the brown nub of the stem and pluck it off. If the stem comes off easily and shows green underneath, the avocado is ripe and ready to eat.

If it shows brown under the stem, the avocado is likely too ripe and could have dark spots inside.

If the stem is stubborn and won't budge, the avocado isn't ready yet.
About the Recipe
We use a combination of avocados that have been creamed smoother and a few more that are in larger chunks to get just the right ratio per scoop.
Chopped white onion and jalapeño add the heat and bite with a little diced tomato mixed in, with smoked paprika and chili powder sprinkled in to add a smoky, Mexican-flavored bite.
What gives our guacamole a special taste is the addition of fresh orange juice along with lime juice for a creamy, citrusy scoop.
If you make this recipe, please let me know! Leave a comment below or take a photo and tag me on Instagram with #foodiecrusheats.
Print
Chunky Citrus Guacamole
Chunky Citrus Guacamole is the perfect accent to any Mexican meal or appetizer and what to eat when you're in the mood to munch on chips.
Ingredients
5

avocados

chopped

1/3

cup

white onion

diced

1/3

cup

tomato

diced

2

cloves

garlic

minced

1

jalapeno

seeds and veins removed and finely diced

1

small orange

juiced (1/4 cup)

1

lime

juiced (1/8 cup)

1/4

teaspoon

chili powder

1/8

teaspoon

smoked paprika

optional

Kosher salt to taste
Instructions
Mash three of the avocados in a medium bowl. Add two more chopped avocados to the bowl with the chopped, onion, tomato, garlic and jalapeno. Squeeze the orange and lime juices over the avocado mixture and add the chili powder, smoked paprika and salt. Mix welll. Add more of the juice mixture to taste. Serve with tortilla chips, sliced fresh vegetables or as a topping for a tasty sandwich.

As always, thank you for reading and supporting companies I partner with, which allows me to create more unique content and recipes for you. All opinions are always my own. 
Are you following me on Instagram,  Twitter, Facebook and Pinterest? 
Thanks for reading and subscribe to FoodieCrush to have each post delivered straight to your e-mail box.