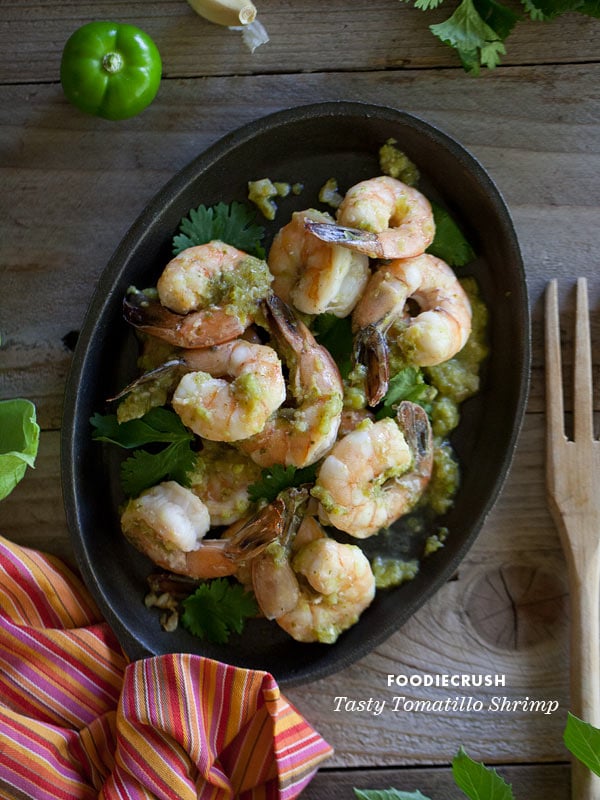 This year in my garden I went above and beyond my basic tomato planting regimen and introduced a new garden bedfellow to the rest of the team: Hello Mr. Tomatillo.
Up until about two years ago I was pretty unfamiliar with raw tomatillos. I don't think I had even put together the fact that they are the main ingredient in my favorite green salsa that I douse my morning eggs in.
But then I started experimenting and made up one of my favorite salsas and posted a plethora of tasty tomatillos recipes.
And that's when I kinda fell in love with the sticky little buggers.
So this year I planted 3 tomatillos plants, and now its harvest time and ba-da-bing, I have a plethora of tomatillos to peel, rinse and create a loving relationship with.
So I started searching out more tomatillos recipes and discovered this one in an issue of Oprah mag. Of course I was instantly attracted to it thanks to the idea of combining delectable shrimp, garlic and spicy chilis.
If you've never harvested or cooked with raw tomatillos, the first thing you'll discover is that within the delicate lotus flower shaped tissue, lies a firm fruit that has an oddly sticky exterior. But not to worry, the raw fruit washes rather clean and the fruit dries clean.
I added a bit more garlic to the recipe and cut down on the amount of sauce from the original since I had about 2 cups left over. So if you're craving more sauce, make it a double.
Print
Tasty Tomatillo Shrimp Recipe
Ingredients
1/2

pound

pasilla or poblano chilis

seeded and chopped

2

tablespoons

olive oil

6

cloves

garlic

minced

1/2

pound

tomatillos

husked, rinsed and quartered

1

teaspoon

kosher salt plus extra for the shrimp

4

tablespoons

butter

1

pound

large shrimp

1

teaspoon

fresh ground pepper

1/2

cup

fresh cilantro leaves
Instructions
Heat olive oil in a large skillet over medium high heat. Add chilies and half of the garlic and cook until chilis soften or about 5 minutes. Add the tomatillos and 1 teaspoon of salt. Reduce the heat to medium-low and cook, stirring occasionally until the tomatillos start to break down or for about 8-10 minutes.

Transfer the tomatillo mixture to a blender and puree. Set aside.

Melt the butter in a large skillet over medium high heat. Add the shrimp, salt and pepper and the remaining garlic. Cook for about 2 minutes or until the garlic becomes fragrant. Add the tomatillo sauce and saute for 2 more minutes or until the shrimp barely become opaque. Serve with sprinkled cilantro leaves.
Notes
adapted from Oprah magazine
Related Recipes
Pasta with Marinated Tomatoes Plus 55 Fresh and Tasty Recipes
10 Top Tomatillo Recipes and Roasted Tomatillo and Olive Salsa
5 Fresh and Simple Avocado Recipes
Thanks for reading and please keep in touch. Subscribe to Foodie Crush and follow me on Twitter, Facebook and Pinterest and check out Foodie Crush magazine and  Cookie Cravings cookbook.