These crispy, beer battered Baja fish tacos wrapped in soft corn tortillas are topped with crunchy cabbage and a tangy white Mexican cream sauce that will instantly transport you south of the border.
The BEST Beer Battered Baja Fish Tacos
Like most anyone on a #TacoTuesday, I'm a big fan of tacos, especially because they're so easy to make at home. Whether it's my MIL's recipe for tastes-nearly-identical-to Taco Bell tacos, or my baked and blackened fish tacos, or brunch-worthy breakfast tacos, these stuffed tortilla bundles are a definite fave.
When we lived in Los Angeles, trips to Baja California's small seaside towns of El Pescador, Ensenada, Puerto Nuevo, propelled my main goal of finding the best Baja fish tacos. And find them I did, with my fish taco discovery on the eastern side of Baja, in the small fishing town of San Felipe. Baja's San Felipe streets are lined with taco carts and stands serving up the crispiest beer battered fish tacos for less than $1 each.
Unlike Americanized tacos, Baja fish tacos are meant to fit easily in one hand and skip the cheese and lettuce. Instead, these street tacos are battered, fried, and tucked into warmed corn tortillas then simply dressed with shredded cabbage, a limey white Mexican sour cream sauce, and pico de gallo with a squeeze of fresh lime.
SoCal's favorite Mexican chain Rubio's Mexican Grill may have brought Baja's fish tacos to the masses, but this is how to make them just as deliciously at home.

Best Fish for Baja Fish Tacos
Mild white fish works best in fish tacos. Due to their abundance, Baja's original fish tacos are typically made with the white meat of small shark or mahi mahi.
The best fish for beer battered fish tacos are:
cod
halibut
tilapia
mahi mahi
grouper
flounder
rockfish
This batter works equally well with shrimp for the best beer battered Baja shrimp tacos too. Be sure to remove the tails before frying.
What You'll Need to Make Beer Battered Baja Fish Tacos
My friend Alejandra confirms that the addition of good old yellow mustard not only adds a bit of tang, but makes the finished taco more golden too. Cornstarch and baking powder added to the flour makes this beer battered fish light and crisp.
All-purpose flour
Cornstarch to make the batter light and crisp when fried
Baking powder to give the batter lift as it cooks
Yellow mustard to give the batter a more golden color and add tang
Mexican beer such as Modelo, Pacifio, or Bohemia's bubbles and carbonation that adds body to the batter
Canola oil is a good frying oil due to its high smoke point
Mild but meaty white fish such as cod, halibut, or mahi mahi
Corn tortillas, white or yellow
Cabbage
Baja white sauce (Mexican crema or sour cream, mayonnaise, lime)
Lime wedges
How to Make Beer Batter for Fish Tacos
These three ingredients lighten the flour beer batter. Cornstarch and baking powder add lift to the batter along with the bubbles from beer's carbonation. Added to the flour, these three ingredients create a crisp and tender coating for the white fish when fried.
Yellow mustard is the surprise ingredient. Adding a light vinegar tang, standard yellow mustard in the beer batter makes it more golden when fried, too.
Use any brand of Mexican pilsner or light lager in the batter. Choose a Mexican beer such as Pacifico or Corona Extra for a lighter flavor, or a darker beer like Negro Modelo for a deeper caramel bite. Don't worry too much about the price point of beer for this batter, just make sure the bubbles are fresh and plentiful.
Add more beer if needed for pancake batter-like consistency. Sometimes 8 ounces will do it, sometimes you need 10 or even 12, but one bottle of beer should leave enough for a sip while you cook.
Whisk all of the ingredients together and let the batter stand for 10 minutes. For the best consistency, break out any clumps with a whisk or the back of a spoon. Hydrate the dry with the wet ingredients for about 10 minutes while the oil is warming.
How to Make the Best Baja Fish Tacos
Cut the fish into 3-inch X ½-inch thick pieces, about the size of a man's middle finger. Because the batter puffs and expands as it cooks, thicker cuts of fish make a fried fish that won't fit into hand held tortillas. Aim for keeping the fish pieces about the same size so they cook consistently, but don't get too precious about it.
Dredge the fish in the batter, then gently shake off the excess. Coat the fish evenly, but don't cake the pieces with batter. These are fried fish tacos, not fried batter tacos.
Batter the fish as you go. You'll find the best success when you dredge the fish in the batter and place it directly in the oil to fry. Don't try and batter the fish ahead of time or it won't cling to the fish.
How to Fry Fish Tacos
Use a dutch oven or wok for frying. To avoid staining my cookware, I use my dark, cast iron Staub pot rather than my stainless steel. Use enough oil so the fish are completely submerged. Depending on the quantity, add more oil as you cook if needed.
Use a candy thermometer to heat oil temp at 350°F. An oil with a high smoke point, such as canola or grapeseed oil works best. Avoid using olive oil which will burn and turn acrid. Or, go ahead and use lard for the most authentic taste.
Avoid overcrowding the pot. Work in batches and fry the fish pieces a few at a time so the fish fries crisp and the oil temperature doesn't drop.
Fry the fish for 5-8 minutes. Rotate the fish as it cooks so it is golden brown on all sides and transfer the fish to a paper towel lined plate or place in a warmed tortilla to dress.
These fish are best eaten hot and don't work for leftovers. Like many fried foods, the crisp bite of these tacos softens with time so they aren't a good option for making ahead or saving as leftovers.
Double Fry: How to Cook for a Crowd and Make Fried Tacos Extra Crispy
Frying in batches makes it tough to have hot food ready for everyone at once. But there's a way to do it and make your fried fish extra crispy in the process: Double fry the fish.
Similar to double fried french fries, cooking the fish all the way through then draining and refrying just until warmed through extracts moisture from the fried batter to make an extra crispy shell while keeping a moist fish inside.
Here's how to double fry a batch of fish tacos to be served all at once:
Fry the fish pieces in the hot oil, then set aside on a paper towel lined plate. Do not cover the plate or the fish will steam, softening the crisp exterior.
Warm the tortillas on both sides in dry, non-stick skillet. Do not use oil or they'll be greasy instead of soft and moldable.
Once all of the fish pieces are fried, re-fry each of the fish strips in the hot oil for 30 seconds or until warmed through.
Place the fish into the warmed tortillas, dress, and serve.
The Best Dressed Fish Taco
Baja fish tacos are meant to be eaten in 3-5 bites so it's best to keep the adornments on the smaller size:
Use small corn tortillas. Street taco size corn tortillas are usually 4 ½ to 5 inches in diameter. Choose white or yellow corn tortillas and warm them in a non-stick skillet or electric fry pan. Or, if you can find them, blue corn are pretty too.
Add thinly sliced cabbage. Sliver crunchy green cabbage to nestle the fish on. Or try a combination of purple and green cabbge that adds variety.
Top with pico de gallo. Combining fresh tomato, onion, and jalapeño, pico de gallo is the shortcut to getting a chunk of Mexican flavors in one spoonful.
Place the fried fish on top then drizzle with white Baja sauce. A mix of Mexican crema (similar to sour cream but with less tang), mayonnaise and lime juice, the white sauce gives these tacos their distinctive Baja flavor.
Add a squeeze of lime for the most authentic bite.
What to Serve With Fish Tacos
If you make this recipe, please let me know! Leave a 
 rating on this recipe below and leave a comment, take a photo and tag me on Instagram with #foodiecrusheats.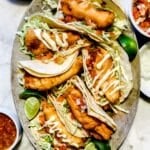 Print
THE BEST Baja Fish Tacos With Baja Cream Sauce
These crispy, beer battered Baja fish tacos wrapped in soft corn tortillas are topped with crunchy cabbage and a tangy white Mexican cream sauce.
Equipment
Dutch oven

Candy thermometer
Ingredients
1

pound

cod or halibut

, or other mild white fish

1 ¼

cup

all-purpose flour

⅓

cup

cornstarch

½

teaspoon

baking powder

2

teaspoons

yellow mustard

8-10

ounces

Mexican beer

, such as Modelo or Pacifico

1

quart

canola oil

20

small corn tortillas

, 4 ½ to 5 inches in diameter

½

head green cabbage

, finely slivered

½

cup

Mexican crema or sour cream

½

cup

mayonnaise

4

limes

kosher salt
Instructions
Cut the fish into 3 inch X ½ inch pieces, about the size of a middle finger. Set aside.

In a medium bowl, whisk the flour, cornstarch and baking powder with the yellow mustard and 8 ounces of beer. Add more beer 1 tablespoon at a time until the batter is the consistency of pancake batter. Press out any clumps with the back of a spoon.

Heat the oil to 350°-375°F, using a candy or frying thermometer to monitor the temperature. Line a plate with paper towels.

One at a time, dredge each piece of fish in the batter, fully coating each piece and shaking off the excess, then gently sliding each filet into the hot oil. Work in batches to not overcrowd the pot. Use a splatter guard or place a lid half way over the pot to avoid oil splashes. Turn the pieces of fish in the oil and cook for 5-7 minutes or until they are golden on all sides. Transfer to the paper towel lined plate and repeat with the remaining fish pieces.

While the fish is cooking, mix the Mexican crema, mayonnaise, the juice of 1 lime and 1-2 pinches of kosher salt in a small bowl. Transfer to a squeeze bottle if desired and set aside.

Heat a dry, non-stick skillet over medium high heat and warm the tortillas on both sides. In batches, dunk the drained fried fish back into the hot oil and cook for 30 seconds until warmed through and crisped on the outside.

Stack two tortillas together then add some cabbage and a few spoonfuls of pico de gallo and top with a pice of fish. Drizzle with the white cream sauce and a squeeze of lime. Serve immediately.
Nutrition
Calories:
350
kcal
|
Carbohydrates:
46
g
|
Protein:
14
g
|
Fat:
12
g
|
Saturated Fat:
2
g
|
Trans Fat:
1
g
|
Cholesterol:
30
mg
|
Sodium:
178
mg
|
Potassium:
434
mg
|
Fiber:
6
g
|
Sugar:
3
g
|
Vitamin A:
137
IU
|
Vitamin C:
25
mg
|
Calcium:
108
mg
|
Iron:
2
mg
Other Mexican Recipe Ideas
We send good emails. Subscribe to FoodieCrush and have each post plus exclusive content only for our subscribers delivered straight to your e-mail box.
Follow me on Instagram, Facebook, Pinterest and Twitter for more FoodieCrush inspiration.
As always, thank you for reading and supporting companies I partner with, which allows me to create more unique content and recipes for you. There may be affiliate links in this post of which I receive a small commission. All opinions are always my own.