What is the best Thanksgiving side dish to serve with your Thanksgiving turkey? Here's your list of 21 easy side dish recipes that are about to become your new classics.
Thanksgiving is all about gratitude and tradition, and when it comes to the Thanksgiving table, everyone has their favorite traditional dishes to share.
Ironically, the side dish is one area of turkey day where you can tweak tradition with simple twist or two.
Whether you're hunkering down at home, or getting ready to brave the busiest travel time of the year, this list of Thanksgiving favorites are sure to set the mood for a festive feast.
From fresh takes on classic comfort sides to flavorful new additions, take a look and add a classic to your table. Dig in!
FoodieCrush
This is THE quintessential Thanksgiving side dish, but I've given it a healthified makeover by swapping out canned veggies for fresh, lightening up a homemade creamy sauce, and topping with baked onion rings for classic crunch.
Recipe Girl
Gratins are a way of Thanksgiving life, and this cheesy roasted squash recipe is one that jump starts the dinner, but surprisingly its on the healthier side. Get a head start on this recipe with my Instant Pot Butternut Squash.
FoodieCrush
This amazingly easy, 5-ingredient recipe makes traditionally bitter brussels sprouts sweet and crazy delicious thanks to roasting in a cast-iron skillet to create a caramelized bite of baby cabbage and salty pancetta for one of our very favorite Turkey day side dishes.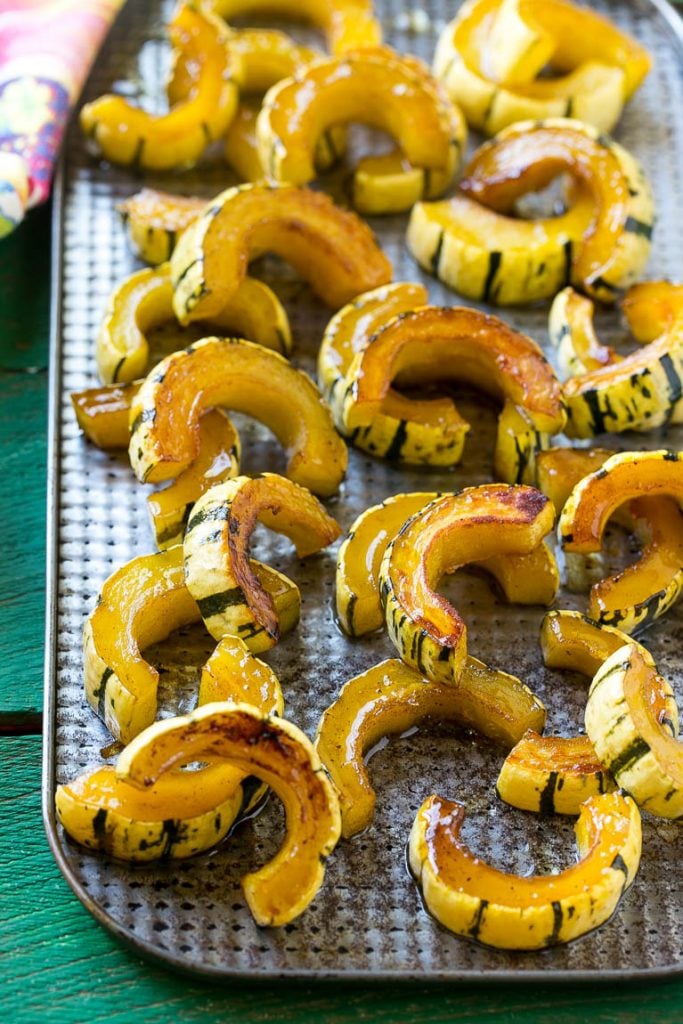 Dinner at the Zoo
Delicata squash is a cousin of butternut, with more tender skin and an airier texture. Give it a try in this simple squash dish, sweetened with a kiss of brown sugar and cinnamon
FoodieCrush
Who says sweet potatoes have to be mashed and topped with marshmallow to have a seat at the Thanksgiving table? Not I! These wedge-style potatoes are seasoned with chili powder, cinnamon, thyme, and a swirl of maple syrup, then oven-roasted to caramelized perfection.
How Sweet Eats
So totally seasonal appropriate, these sliced squashes with a nutty topping announce the holiday's have arrived.
FoodieCrush
Whichever side of the table my husband's sitting on, as along as this 5 Ingredient Slow Cooker Creamed Corn is on it, he's going to be one happy harvest feaster.
Crunchy Creamy Sweet
Another classic side dish with a sweet inside that's somehow made even better with a sweet marshmallow topper.
Cooking for Keeps
A brown butter base creates this creamy pumpkin topper that's made even better with a dose of mozzarella for the ultimate veggie melt.
FoodieCrush
This simple stuffing hits the holiday high notes with seasonal cranberries, walnuts and  fresh herbs in a traditional bread-based casserole.
Kaylyn's Kitchen
This oh-so-simple, yet delicious side is a blessing when your oven is close to bursting with  more time-consuming dishes that take hours to prepare.  Roasted broccoli comes together with just a handful of ingredients and 15 minutes.
FoodieCrush
This classic fruit salad is one of my favorite family holiday recipes because nobody can pass up its tropical fruit and marshmallows bathed in tangy whipped sour cream.
FoodieCrush
Give your guests something to talk about (anything but politics, please!) with these tangy taters. Smooth potatoes are whipped with rich buttermilk and bold blue cheese for a quick and tasty side all parties can agree on.
How Sweet Eats
I had never hear of corn pudding until a few years ago when we did friendsgiving with a neighbor who grew up in Texas. This recipe ups the ante with  crispy jalapenos–a crunchy contrast to the sweet corn souffle.
FoodieCrush
East meets west (did you know butternut squash originated in Mexico and Central America?) in the best way with this unique side featuring season squash in a tempting miso-molasses marinade.  If you have leftovers from this recipe, try dicing up the squash to to my Kale Salad with Butternut Squash, Chickpeas and Tahini Dressing.
Kim's Cravings
I've been obsessed with delicata squash since discovering it in the grocery store a couple of years ago. This savory stuffing uses healthier chicken sausage and pecans as a balance to tender squash and soft bread.
FoodieCrush
I'm not saying it's right to lie to people…but it IS wickedly fun to watch someone's reaction when they learn this smooth and fluffy cauliflower dish isn't prepared with potatoes. This is tasty way to trim off a few of those holiday calories, and sneak in a few healthy veggies along the way.
Nutmeg Nanny
So much goodness that this stuffing doesn't even need a turkey. Loads of fresh herbs make this side dish a happy one to stuff yourself with.
FoodieCrush
If you scream at the idea of creamed greens (try saying that five times fast!), don't run the other direction before you try these. Healthy swiss chard puts a modern spin on this comfort-food dish, with a light but creamy sauce, and topped with crispy garlic panko breadcrumbs.
Well Plated by Erin
This Cauliflower Casserole with bacon is not only worthy of Thanksgiving, but it's also a side dish to put in the archives for future dinner parties and date nights.
FoodieCrush
This green bean recipe was from the first real Thanksgiving I cooked on my own. The crisp beans add a fresh bite leave enough room for seconds.
Looking for more ways to make your Turkey Day extra special this year?
What are you looking forward to making this year–are you trying something new, or sticking with your favorites?
Craving more life balance, less stress, and better health? Check out my Nourished Planner, the daily planner to help create simplicity and under-schedule your life.
As always, thank you for reading and supporting companies I partner with, which allows me to create more unique content and recipes for you. There are affiliate links in this post of which I receive a small commission. All opinions are always my own.  
We send good emails. Subscribe to FoodieCrush and have each post plus exclusive content only for our subscribers delivered straight to your e-mail box.
Follow me on Instagram, Facebook, Pinterest and Twitter for more FoodieCrush inspiration.
SIGN UP FOR FREE!
THANK YOU FOR VISITING FOODIECRUSH.COM

Subscribe to the FoodieCrush email newsletter and have every new post plus exclusive content delivered straight to your email box,
FOR FREE!