An herb-infused butter rub goes all over the skin of this rotisserie turkey, which is roasted over the grill, so it frees up your oven for all the Thanksgiving fixins.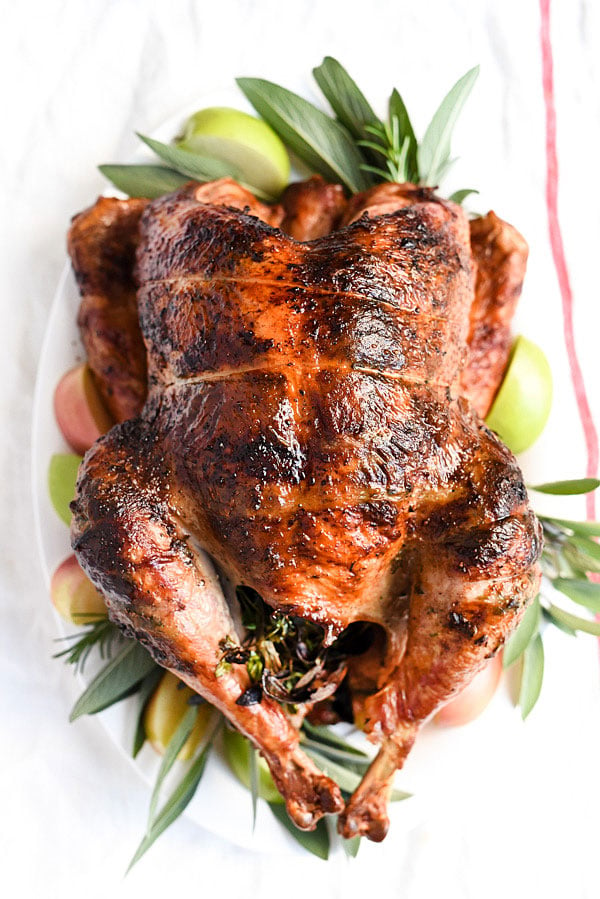 Rotisserie Turkey Recipe
You know how there are some things that are just too good not to be shared? The secret ingredients. The best place to get a pedicure. Your opinions. A bicycle built for two. An easy going, laughter-filled dinner with friends.
And this herb butter turkey. It's one of those things just begging to be shared.
I was originally hired to create, make and photograph this rotisserie turkey recipe for one of my clients, Saber Grills, to be shared on their blog. But it turned out so good. So juicy. And so dang pretty I got selfish and turned into a can't-give-it-up-anti-giver.
And so I'm taking it back. Actually, I'm going to do double duty and share it on both sites. It's a two-fer!
This herb butter turkey recipe isn't grilled, but it IS cooked on a rotisserie on the grill. And let me tell you here and now, Costco's rotisserie chickens got nothin' on this bird!
Preparing a turkey this way is totally hands off. The rotisserie spun this turkey right round baby right round, like a record player right round, round, round. I let it do all the work. And simply reaped the benefits.
I honestly don't know whether I'll cook another turkey any other way. This is the juiciest turkey recipe and the bird is so flavorful thanks to its hours of spinning and an herb-flavored, buttery rub. 
Friends, this is the way to cook turkey all year long.
What's in This Herb Butter Turkey?
This herb butter turkey requires minimal ingredients to achieve a buttery, rich flavor. Here's what I used in this ultra juicy turkey recipe:
13- to 15-pound turkey
Salted butter
Fresh herbs
Kosher salt and pepper
Paprika
Apples
Onion
Garlic
What Are the Best Herbs for Turkey?
For that classic Thanksgiving turkey flavor, I prefer using a mixture of fresh sage, thyme, rosemary, and parsley. I think fresh herbs flavor this rotisserie turkey better than dried as they're not as potent and are more fragrant.
How to Make Rotisserie Herb Butter Turkey
I suggest first brining your turkey with my wet turkey brine recipe here before cooking on the grill for an extra juicy bird.
The flavor builder and juice enhancer continues with a fresh herb-infused butter that's rubbed under, and over the skin. Be gentle but firm when prying the skin from the meat. The resulting crispy crust is something you don't want to tear because it's just too pretty to behold.
Next, I loosely stuffed the cavity with apples, onions and more herbs. Like all poultry, flavor exudes from the inside out and these loose ingredients still keep the hot air flowing. 
Tie the turkey wings back and place the bird on the rotisserie accessory. Let the bird cook over the grill until the juices run clear and the internal temperature registers 165 degrees F.
How Long to Cook a Turkey
The exact turkey cooking time varies depending on how big your bird is. In general, I recommend cooking this herb butter turkey for roughly 15 minutes per pound. 
Can I Stuff the Rotisserie Turkey with Stuffing?
I don't recommend stuffing this bird with dressing or stuffing because it will lengthen the cooking time because it restricts the airflow in the turkey, and by the time the dense stuffing is heated through your turkey will be overcooked. This is just my humble opinion, so if you want to give it a try, let me know how it goes.
Tips for Making Rotisserie Herb Butter Turkey
When using a rotisserie on the grill, be aware of your rotisserie's weight limitations. My Saber Grill rotisserie accessory can only hold up to a 20-pound bird, so feeding a college football team with this version of a turkey won't be in your cards.
The biggest thing with using a rotisserie is one word: BALANCE. Make sure the rod goes through the turkey evenly and the forks of sit evenly too. Make sure the wing nuts that tighten the forks are exactly that — tight! Otherwise, you may lose an end as the bird spins. You may need to wiggle and jiggle a bit to get the turkey tightly into place, so don't feel like you have to make the love connection on the first try.
The only drawback to preparing a turkey this way is no drippings for gravy. But homemade chicken stock worked a-okay. It's the price I paid for a beautiful bird.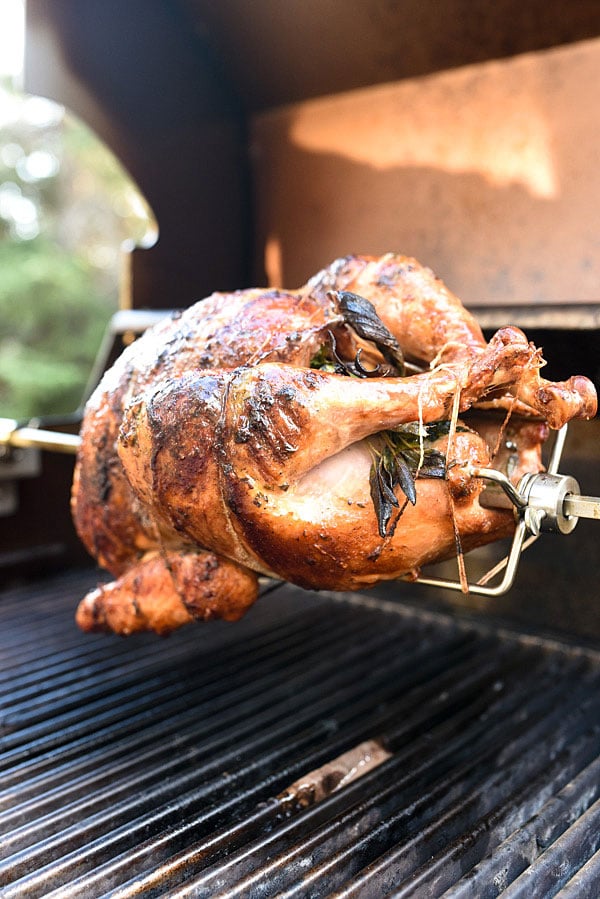 Recipe Ideas to Serve With Your Turkey
Make a proper turkey dinner (or Thanksgiving meal) out of it with the following!
If you make this recipe, please let me know! Leave a comment below or take a photo and tag me on Instagram or Twitter with #foodiecrusheats
Print
Rotisserie Herb Butter Turkey
An herb-infused butter rub goes all over the skin of this rotisserie turkey, which is roasted over the grill, so it frees up your oven for all the Thanksgiving fixins.
Ingredients
For the turkey:
1 13 to 15

pound

turkey

1/2

cup

salted butter

softened

1

heaping tablespoon chopped fresh sage

1

heaping tablespoon chopped fresh thyme

1

heaping tablespoon chopped fresh rosemary

1

heaping tablespoon chopped fresh Italian flat leaf parsley

1

tablespoon

kosher salt

1

tablespoon

freshly ground black pepper

1

teaspoon

paprika
For the stuffing:
2

apples

sliced into large chunks

1

onion

sliced into large chunks

4-5

cloves

garlic

smashed

handful of various fresh herbs
Instructions
Prepare your grill with a rotisserie attachment. Preheat a 3 burner grill on high.

Remove the neck and giblets from the turkey, rinse and pat dry with paper towels.

Mix the butter and chopped fresh herbs with the salt, pepper, and paprika until well combined.

Gently work your fingers under the skin of the turkey breast and legs. Work 3/4 of the herbed butter evenly under the skin, then rub the top of the skin with the rest of the herb butter mix. Season with more kosher salt and pepper.

Stuff the cavity of the turkey with the chopped apple, onion and smashed garlic then add the herbs.

Tie the wings to the sides of the turkey with twine. Insert the rod of the rotisserie attachment through the middle of the turkey stem to stern. Then, attach the forks so they firmly hold and tighten the wing nuts tight so the turkey doesn't shift during cooking.

Place the rotisserie attachment with the turkey on the grill and cook for 10 minutes, then turn the center burner off and outer burners to low for indirect heat. If this is your first time cooking on a rotisserie, you'll want to test the internal temperature of the turkey as it cooks and adjust cooking temperatures of the grill burners so it cooks evenly (so the middle isn't cooking faster than the outsides, etc.).

Cook the turkey 15 minutes per pound. Always check the internal temperature of the turkey in the thigh without touching the bone or rotisserie rod for a finished cooking temperature of 10 degrees less than the temperature you feel safe for cooking (we go for 155 degrees F) and juices run clear. Suggested final temperature for poultry is 165 degrees F, but remember, it will continue to cook as it rests.

Remove from the grill, tent with aluminum foil and let rest for 15 minutes or so until the temperature registers 165 degrees F. If it doesn't come to temperature, pop in the oven at 350 degrees F or on the grill to finish cooking to temperature.
Nutrition
Calories:
1241
kcal
|
Carbohydrates:
12
g
|
Protein:
163
g
|
Fat:
58
g
|
Saturated Fat:
21
g
|
Cholesterol:
582
mg
|
Sodium:
2142
mg
|
Potassium:
1804
mg
|
Fiber:
2
g
|
Sugar:
8
g
|
Vitamin A:
1105
IU
|
Vitamin C:
5
mg
|
Calcium:
103
mg
|
Iron:
7
mg
More Turkey Recipes You'll Love
Craving more life balance, less stress, and better health? Check out my Nourished Planner, the daily planner to help create simplicity and under-schedule your life.
We send good emails. Subscribe to FoodieCrush and have each post plus exclusive content only for our subscribers delivered straight to your e-mail box.
Follow me on Instagram, Facebook, Pinterest and Twitter for more FoodieCrush inspiration.
As always, thank you for reading and supporting companies I partner with, which allows me to create more unique content and recipes for you. There may be affiliate links in this post of which I receive a small commission. All opinions are always my own