One of my favorite parts about cooking is gathering inspiration from different sources and then bringing them together into one, big recipe creating party.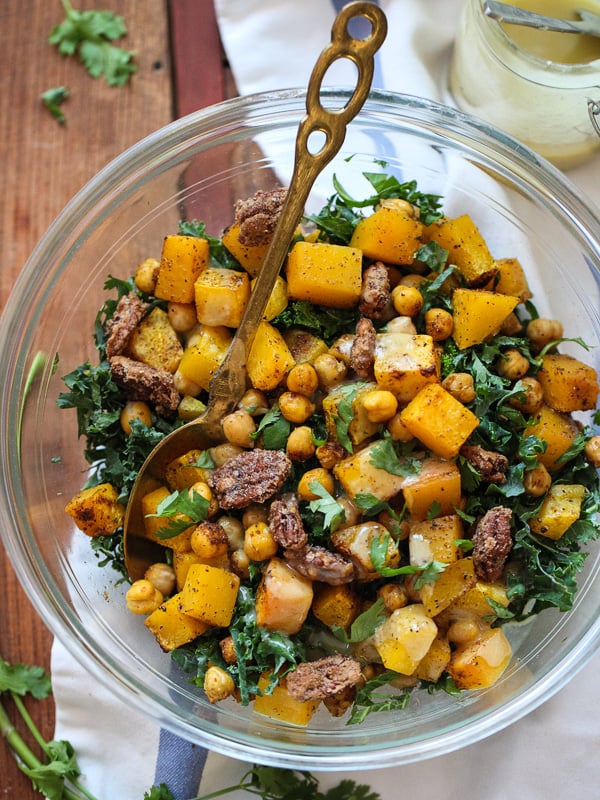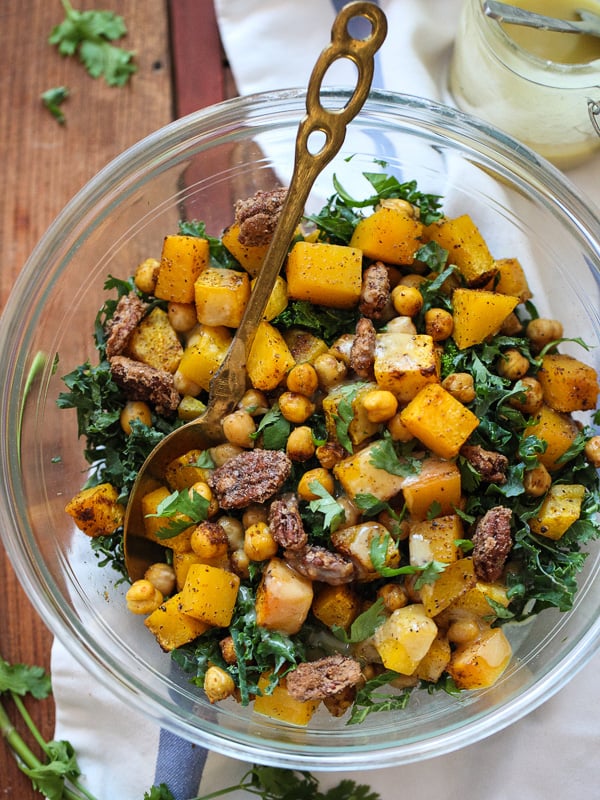 Normally, salads can have the tendency to be predictable, maybe even a bit boring. But if I'm going to sell my husband on the idea that a salad for dinner once a week so we can become part of #meatlessmonday, the salad needs to be hearty and full of flavor.
Wish me luck.
I'd say this kale salad recipe is the perfect example of recent inspiration to hit me over the head when the first bite hit my tongue, meets the jogging of my ever-failing memory thanks to my ever-persistent seasonal cravings and my extreme talents of blog bookmarking and cookbook post-it note tagging.
I have mad skills that way.
So where's all this inspiration stemming from?
Let's take this inspiration ingredient by ingredient and see how this kale salad all came about.
Kale
I think I'd been kale-sheltered for far too long. That is, until almost 3 years ago, when I ate my friend Kelley's amazing kale salad when she made it here. It was one of those recipes that totally enlightened me.
Kale wasn't so bad! In fact, it was just about good! Hey, look what you started Kelley.
So then I added another layer of flavor…
Kale + Butternut Squash and Chickpeas
I've had this autumnal recipe tagged in one of my Food & Wine annuals (2008!) for far too many years as flavor inspiration. Hey! What a great addition to kale for a hearty fall salad.
The squash and chickpeas are dusted with curry powder and a pinch of cayenne then roasted. I liked Food & Wine's idea of a yogurt dressing to cool things down. That is until I had a salad on Saturday night that changed my mind entirely.
And then I changed up the dressing with…
Kale + Butternut Squash and Chickpeas + Tahini Dressing
My man and I went on a date Saturday night (high-fives for keepin' the romance alive!) and started off our movie night at Salt Lake's new-ish restaurant Rye SLC. We had some serious comfort food of Shoyu Fried Chicken and Truffle Mac 'n Cheese, but the Kale Salad with Butternut Squash and a Tahini Dressing is what stuck with me and made me think, "Hey, a dressing like that would be yummy on that one salad I saw in Food & Wine."
The tahini adds a mellow, sesame nutty taste that's sweetened with a bit of honey, and tarted up with a bit of vinegar. It's a nice change up from the usual lemony flavored dressing commonly found on kale salads. Not that there's anything wrong with that…
And then…
Kale + Butternut Squash and Chickpeas + Tahini Dressing  + Candied Pecans
I always crave a little sweet with my savory and this salad is no exception. Plus I did some crunch in my salads. I remembered Ali had posted a recipe for Candied Pecans the other day so I put my husband to work on whipping up a batch.
It was the ultimate compliment.
And guess what? My husband agrees! VICTORY!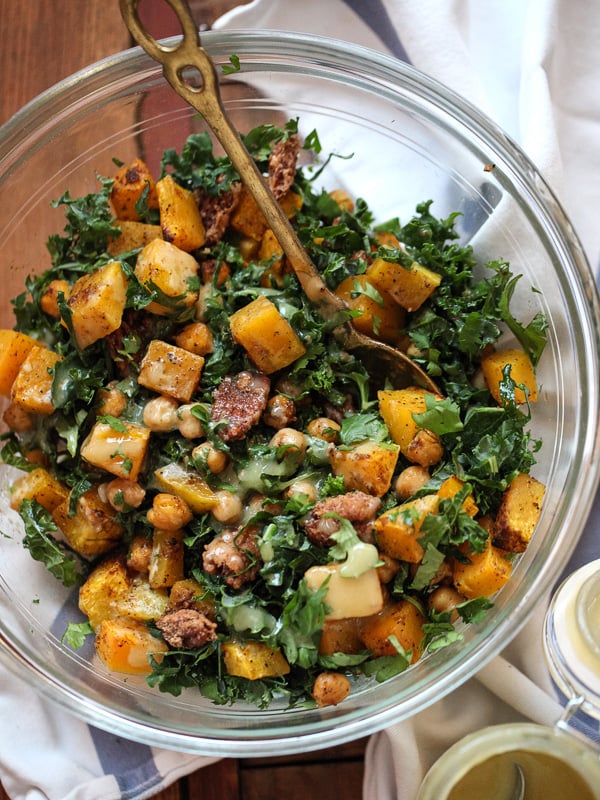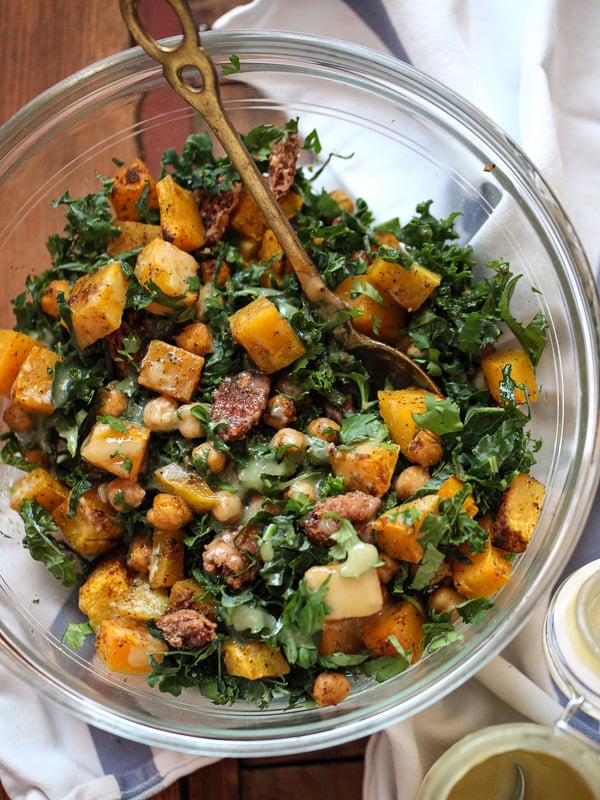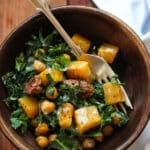 Print
Kale Salad with Butternut Squash, Chickpeas and Tahini Dressing
Ingredients
For the Salad
1

bunch of kale

½

cup

chopped cilantro

, plus more for garnish

2

cups

large diced butternut squash

1 15

ounce

can chickpeas

, garbanzo beans, drained and rinsed

2

tablespoons

extra virgin olive oil

1

tablespoon

curry powder

pinch

of cayenne pepper

Kosher salt

½

cup

candied pecans
For the Dressing
2

tablespoons

tahini

¼

cup

extra virgin olive oil

1

tablespoon

white wine vinegar

1

teaspoon

honey

½

teaspoon

kosher salt
Instructions
Prepare the kale by cutting out the tough ribs of the kale and discard. Thinly slice the kale into ribbons and add to a large bowl. Add the chopped cilantro and toss to combine.

Preheat the oven to 400 degrees F. Add the diced butternut squash and rinsed chickpeas to a baking sheet lined with foil. Drizzle with the extra virgin olive oil, curry powder and cayenne. Mix with your hands until the squash and chickpeas are well coated. Sprinkle with kosher salt and bake for 15-20 minutes or until squash is tender and chickpeas are lightly browned.

Meanwhile add the dressing ingredients to a small mason jar. Shake to mix and taste for more seasoning if desired.

Transfer the butternut squash and chickpeas to the bowl of kale. Add the candied pecans and drizzle with the tahini dressing. Toss to coat. Allow to rest for 10 to 30 minutes before serving so kale softens and flavors meld.
How about a few more kale salads to add to your #meatlessmonday options?
Autumn Kale Salad with Fennel, Honeycrisp and Goat Cheese
This crisp salad pairs sweet apples with licorice-y fennel for a serious fall crunch.
Get Cookie + Kate's recipe here. 
Kale and Quinoa Salad with Apples, Pecans and Cranberries
She's made this salad a few hundred times and claims it's so good that she make it at least once a week. I can totally see that.
Get Flourishing Foodie's recipe here.  
Warm Sautéed Grapes, Autumn Kale and Edamame Salad with Shiso Vinaigrette
The secret to eating whole kale leaves is making sure they're small and ultimately tender. Top it with sweetly sautéed grapes and sturdy edamame and your meal is made.
Get Dolly and Oatmeal's recipe here.  
Get 'yo greens on, 'yo.
Thank you for reading and supporting companies I partner with, which allows me to create more  unique content and recipes for you. As always, all opinions are my own. 
Are you following me on Instagram, Twitter, Facebook and Pinterest? Thanks for reading and  subscribe to FoodieCrush to have each post delivered straight to your e-mail box.