This easy shaved Brussels sprouts salad sweetened with roasted beets and crunchy pecans is delicious as a healthy and vegetarian main dish or served as a side.
Wait. What? How could it possibly be that there are only 45 days left (if I did my math correctly which is not at all likely) before we're ringing in all the good things, tossing out the bad, and setting goals and making plans for all of the inspiration of 2017 with my new printed planner that will organize your life, inspire you to meal plan, get in the kitchen, and make life just a whole lot easier!!!????
Yes, you heard right, now go check it out!
But seriously. How did we skip through 2016 in a blink of an eye? Where.did.it.go?
I'm not really sure of the answer, but I do know I'll be following the shreds of this shaved Brussels sprouts salad all the way through 2017 and beyond. 
This is our 11th month of the year featuring a recipe that is totally seasonal, totally ripe, and totally ready to be made right now.
It's actually the 3rd year of these seasonal posts that are so graciously inspired by one of the most big-hearted foodies I know, Miss Becky of The Vintage Mixer. Sidenote: If you aren't following her yet, this is the time to change that, stat!
This month I've created a recipe featuring of-the-moment Brussels sprouts and dig-from-the-earth rainbow of beets for a salad that is totally worth giving thanks for.
If you've followed me here on FoodieCrush, you'll know I'm a late adopter to the fandom of Brussels Sprouts as I've documented here. Thank goodness tastes evolve and change.
What I love about this salad is it's heartiness. Shredded and shaved raw Brussels sprouts make this salad anything but wimpy, with staying power to sit at the potluck, or on the buffet table, and not wilt into a mushy puddle of goo. In fact, this salad is best when it has a spell to sit and marinate and soak in it's mustardy dressing.
In fact, I ate this salad as leftover lunch the day after I made it for this post. It may not have been as pretty, but it was darn near as tasty.
About the Recipe
While Brussels are considered one of the healthiest foods around, they have their peculiarities too. They can sometimes be a bit bitter, so pairing them with sweet roasted beets, slow roasted pecans (I buy the Private Selection brand at my local Kroger because they're already salted and roasted) and tossing them with a grainy mustard dressing sweetened with maple syrup totally gus this salad up.
The final tang in this Brussels sprouts salad is thanks to creamy crumbles of goat cheese. I tend to have a heavy hand when it comes to cheese, so feel free to use your own seasonal discretion.
If you make this recipe, please let me know! Leave a comment below or take a photo and tag me on Instagram with #foodiecrusheats.
Print
Shaved Brussels Sprouts Salad With Roasted Beets, Pecans and Goat Cheese
This hearty Brussels sprouts salad sweetened with roasted beets and crunchy pecans is delicious as a vegetarian main dish or served as a side. The tangy mustard dressing softens the bite of the Brussels sprouts with a hint of maple syrup that's topped with creamy goat cheese.
Ingredients
6

medium size beets

Extra virgin olive oil

Kosher salt

24

ounces

fresh Brussels sprouts

1/2

cup

slow roasted pecans

roughly chopped

1/3

cup

extra virgin olive oil

2

tablespoons

apple cider vinegar

1

tablespoon

grainy mustard

1

tablespoon

Dijon mustard

1

tablespoon

maple syrup

or more to taste

1/4

teaspoon

kosher salt

1/4

teaspoon

freshly ground black pepper

2-3

ounces

goat cheese
Instructions
Preheat the oven to 400 degrees F. Trim the ends of the beets and wrap in aluminum foil in groups of three, drizzle with olive oil and sprinkle with kosher salt. Seal the foil packets tightly and place on a baking sheet. Bake for 45 minutes or until beets are fork tender. Remove from the foil and allow to cool, then rub and cut the skins off of the beets. Set aside or if making ahead, refrigerate for up to 3 days.

Use a sharp knife to cut away the end of the core of the Brussels sprouts and finely slice around the core of the cabbage heads one at a time, discarding the core. Place in a large bowl.

Slice the beets into bite size pieces and scatter on the Brussels sprouts with the chopped pecans.

In a small jar with a screw top lid, add the olive oil, mustards, maple syrup, kosher salt and freshly ground black pepper. Shake well and season to taste. Pour over the salad and toss well to coat. Season with more salt and pepper if desired. Allow to sit 15-30 minutes before serving for flavors to marry. When ready to serve, sprinkle with chunks of goat cheese.
#eatseasonal November
As we have for the past few seasons, Becky of The Vintage Mixer has posted her list of what's in season to eat now and from that list, has amassed a group of us who are posting #eatseasonal recipes today. Some are some are sweet, some are savory and they're all in season now. They're all good and they're all seasonal and are listed below.
Please hop over to their sites, say hi and enjoy their seasonal inspiration.
We'd love to see what you're eating seasonal now, too. Share your eats and follow the #eatseasonal hashtag on Instagram and Twitter to discover more seasonal eats.
Pesto and Burrata Stuffed Acorn Squash by Vintage Mixer
Quinoa Salad with Roasted Beets, Fennel and Fried Goat Cheese by Food For My Family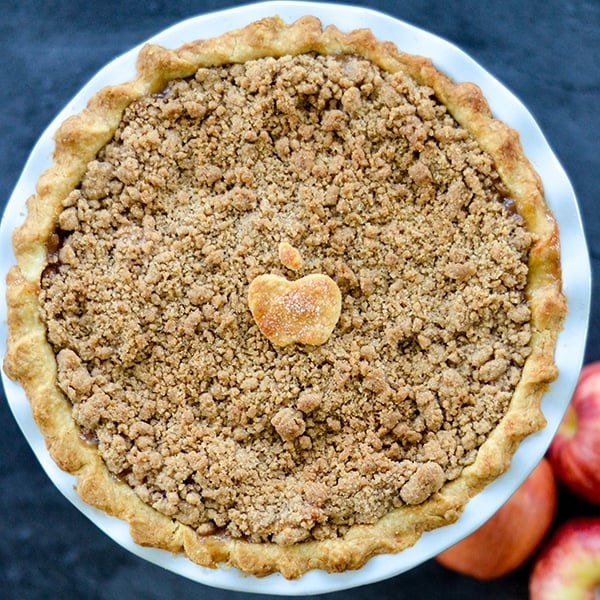 Apple Crumble Pie Joy Food Sunshine

Apple Cinnamon Quinoa Muffins by Letty's Kitchen

Autumn Apple and Kale Salad with Parmesan and Roasted Pumpkin Seeds by Simple Bites

Cheesy Pesto Vegetarian Spaghetti Squash Boats by Flavor the Moments

Maple Spiced Winter Vegetable and Kale Bowl by Floating Kitchen

Butternut Squash, Mushroom and Poblano Enchiladas by Completely Delicious
Thanks for stopping by to check out our delicious seasonal round-up. Cheers to getting into the kitchen and cooking something good!
As always, thank you for reading and for supporting companies I partner with, which allows me to create more unique content and recipes for you. All opinions are always my own.  
Are you following me on Instagram, Twitter, Facebook and Pinterest? 
Thanks for reading and subscribe to FoodieCrush to have each post delivered straight to your e-mail box.