The classic green bean casserole gets a real food upgrade with fresh green beans and an easy to make, homemade mushroom sauce for a creamy side dish with a surprise crispy ingredient-crunch.


This recipe is brought to you by Alexia Foods
Homemade Green Bean Casserole Recipe
I see you over there, saying to yourself, "But Heidi, the classic green bean casserole is my favorite. Why go changing it?"
I get it. The classics are hard to leave behind, especially when they're tied to food memories of time spent with family. But times change, tastes evolve, and the last time I was passed an 11×13-inch casserole dish of green bean casserole, it was a smattering of stunted, semi-green beans slathered in a greasy goop of a greyish gravy instead of a flavorful sauce.
Thanks, but I think I'll pass.
So unless you're still using a rotary telephone or parading to the sock hop in your poodle skirt, I'm betting you'll be more than happy to consider this Thanksgiving side dish upgrade, too.
The original green bean casserole was created during the era of home cooks transitioning from making real-food, from-scratch meals to relishing in the time-saving methods that cooking from a box or can delivered. Now…I am the first one to raise my hand when asked to try a method that saves time in the kitchen. But I won't sacrifice flavor or taste for the interest of time.
That's why when I can call out my inner Sandra Lee and create a semi-homemade dish that combines real, fresh ingredients with real, time-saving ingredients, everyone (especially me) is happy at the table.
Green Bean Casserole Ingredients
To make the best green bean casserole possible, I used only a handful of real, simple ingredients. Although this easy green bean casserole recipe is an upgrade from what I grew up eating, I didn't try to reinvent the wheel when creating this dish. Here are the key ingredients in this green bean casserole recipe:
Better Green Beans The original green bean casserole calls for canned or frozen green beans, and while flash-frozen green beans are a good option because they retain their nutrients, I use fresh green beans because I simply prefer the taste.
Better Creamed Sauce Instead of using high-sodium canned soup, I make my super easy standard white sauce where I can control how much salt goes into it. It's flavored with fresh, sautéed mushrooms and onions with a bit of fresh thyme. The white sauce ingredient ratios are easy to remember –> 2 tablespoons butter, 2 tablespoons flour and 2 cups milk or vegetable or chicken stock = 2:2:2.
Better Crunchy Topping One of the signature flavors of le casserole de green bean is the crispy crunchy topper, and this is where I add another spin to the original recipe and use chef-inspired All Natural Alexia Crispy Onion Rings. I'm a big fan of onion rings, but I want them thick and crunchy, and definitely not greasy—and these rings totally deliver.
The all natural slices of Alexia's sweet Spanish onions get their crunch from a coating of panko breading seasoned with sea salt that bakes up crisp and light. And even better, as I stood in the freezer aisle at my local Smith's Marketplace and reviewed the ingredient list on the onion ring package, I recognized every simple ingredient and discovered they also have zero grams trans fat.
Simple all natural ingredients. Easy to find at the store (like my Smith's aka Kroger). Easy to keep on hand at home.
How to Make Green Bean Casserole
To take the raw edge off, I shock the fresh green beans in boiling water for a minute or two, or until they turn bright green, and drain. Then, I bake the frozen onion rings for 10 minutes and set them aside until I'm ready to assemble the green bean casserole.
While the onion rings bake, I cook the chopped onion in a buttered skillet, just until they turn translucent. I add the mushrooms into the same skillet and continue cooking until the mushrooms are tender.
A little flour, milk, chicken broth, and nutmeg is added to the skillet and that all gets cooked down to create a creamy white sauce. I stir in the green beans, then transfer the mixture to a baking dish and add the baked onion rings on top.
I bake the homemade green bean casserole until the top lightly browned and it's starting to bubble around the edges.
Can You Freeze Green Bean Casserole?
I don't recommend freezing green bean casserole. The onion rings will lose their crispness, and the casserole itself will likely be quite mushy once reheated.
How to Reheat Green Bean Casserole
If you wind up with leftovers of this green bean casserole from scratch, you'll want to reheat them in the oven at 350ºF. Don't microwave leftover green bean casserole, as that will make the green beans and onions rings rubbery.
Tips for Making the Best Green Bean Casserole
Instead of blanching the green beans, you could also steam them for a minute or so in the microwave with a tablespoon or two of water. Or, use the frozen variety if you prefer, just be sure to thaw and drain the excess water so your casserole doesn't get runny.
When making the white sauce, add more chicken stock (this one's my FAVORITE!) if you prefer a thinner sauce. For even more flavor, add white wine. Choose a white wine you'd actually drink, not one labeled as cooking wine.
Also, for the creamiest, most flavorful white sauce you need to use whole milk or half and half. Don't use 2% or skim milk here, otherwise your sauce won't thicken up properly and your green bean casserole will be a runny mess.
More Easy Thanksgiving Side Dishes to Make This Year
If you make this recipe, please let me know! Leave a comment below or take a photo and tag me on Instagram or Twitter with #foodiecrusheats.
Print
Green Bean Casserole
The classic green bean casserole gets a real food upgrade with fresh green beans and an easy to make, homemade mushroom sauce for a creamy side dish with a surprise crispy ingredient-crunch.
Ingredients
1

pound

green beans

fresh or frozen

1 11-

ounce

bag Alexia Crispy Onion Rings with Panko Breading and Sea Salt

2

tablespoons

butter

1/2

cup

chopped onion

10

ounces

brown cremini mushrooms

sliced, about 4 cups

1 1/2

teaspoons

kosher salt

divided

1/2

teaspoon

freshly ground black pepper

1/2

teaspoon

fresh thyme

2

tablespoons

all-purpose flour

2

cups

whole milk or half and half

1/2

cup

white wine or chicken stock

1/2

teaspoon

ground nutmeg
Instructions
Trim the green beans and cut in half, then place in a microwave-safe bowl with 2 tablespoons water and cook for 3 minutes. Drain, and set aside. If using frozen, thaw in the microwave or on the counter and drain any excess water.

Preheat the oven to 400°F and line a baking sheet with aluminum foil. Place the onion rings on the tray and bake for 10 minutes or until the onion rings are crisp. Set aside.

While the onion rings are baking, melt the butter in a large skillet over medium heat and add the onions. Cook the onions for 3-5 minutes or until they begin to soften and become translucent.

Add the sliced mushrooms and season with 1 teaspoon of the kosher salt, black pepper, and thyme. Cook, stirring occasionally, for about 5 minutes or until the mushrooms are tender.

Sprinkle the mixture with the flour, stir to combine, and cook for 1-2 minutes, stirring so the flour doesn't burn but does cook out the flour-y taste. Add the milk or half and half, wine or chicken broth, and the nutmeg and cook for 4-5 minutes, stirring, or until the sauce has reduced by half.

Remove the sauce from the heat and stir in the green beans. Transfer half of the bean mixture to a 2-quart casserole dish, or 11 x 7- or 8-inch square baking dish and top with half of the onion rings, then the rest of the beans and top with the remaining onion rings.

Bake for 10-15 minutes or until the top is lightly browned and the sauce is bubbly. Let sit for 5-10 minutes, the sauce will thicken as it cools.
Nutrition
Calories:
105
kcal
|
Carbohydrates:
11
g
|
Protein:
5
g
|
Fat:
5
g
|
Saturated Fat:
3
g
|
Cholesterol:
14
mg
|
Sodium:
515
mg
|
Potassium:
389
mg
|
Fiber:
2
g
|
Sugar:
6
g
|
Vitamin A:
578
IU
|
Vitamin C:
8
mg
|
Calcium:
99
mg
|
Iron:
1
mg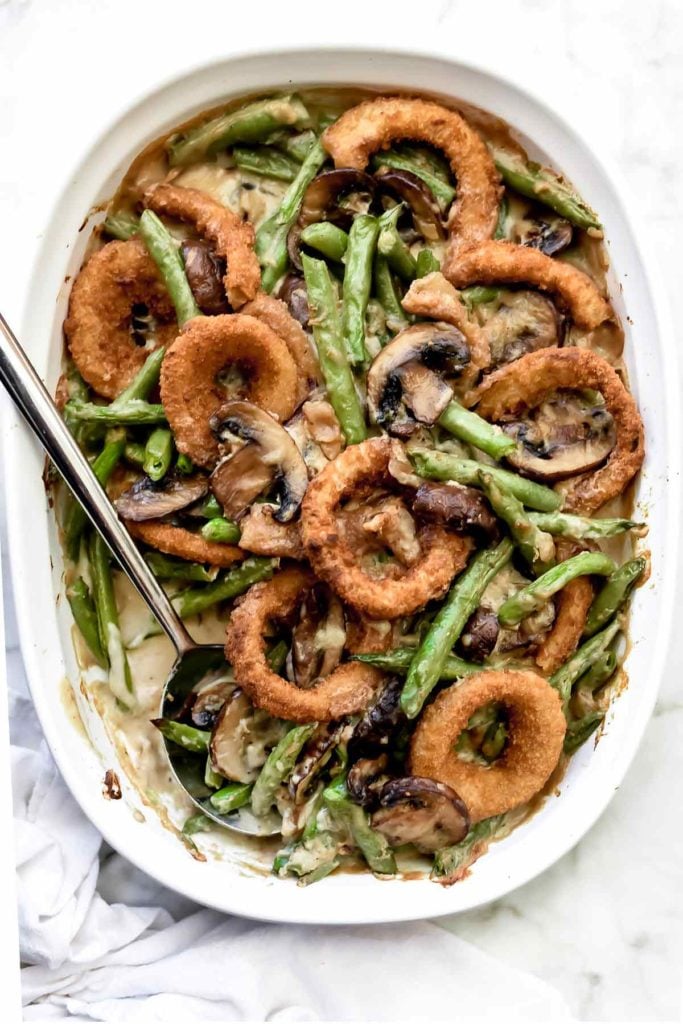 More Classic Thanksgiving Recipes With a Twist
This post is in partnership with Alexia Foods. Follow along on Alexia's Facebook and Instagram, or check out their website to see their chef-inspired flavors, real ingredients, healthy alternatives and recipes. 
Craving more life balance, less stress, and better health? Check out my Nourished Planner, the daily planner to help create simplicity and under-schedule your life.
We send good emails. Subscribe to FoodieCrush and have each post plus exclusive content only for our subscribers delivered straight to your e-mail box.
Follow me on Instagram, Facebook, Pinterest and Twitter for more FoodieCrush inspiration.
As always, thank you for reading and supporting companies I partner with, which allows me to create more unique content and recipes for you. There may be affiliate links in this post of which I receive a small commission. All opinions are always my own.