Roasted or sautéed, dressed with bacon or balsamic, this "best-of" list of 10 healthy Brussels sprouts recipes are literally on everyone's lips.
Ok. I know it might be a bold statement to make, because not everyone loves Brussels sprouts. Really?? But hear me out! These recipes are NOT the gross and gloppy suspicious green mystery orbs of your youth.
I was never a fan of Brussels sprouts, and would sneak them under the table to feed them to the dog whenever my mom made them. But not anymore. Maybe it's the fact that my taste buds have grown up, or America's obsession with revisiting retro classics, but these veggies have received some major glow in recent years.
From the texture (crispy, crunchy, shredded, shaved), to the flavor (blackened, buttery, smokey, salty, sweet) Brussels sprouts are are having their moment.
Welcome them to your table–or at least let them pull up a seat, and give them a try–with the 10 tasty recipes I've rounded up below.
FoodieCrush
Sweeten up those baby cabbages by caramelizing them in a cast-iron skillet with savory pancetta for an amazingly easy side dish, with just 5 ingredients.
Cookie and Kate
Raise your hand if you're ready for a BIG salad! This crisp and crunchy dish is made with arugula, shredded Brussels sprouts, goat cheese, and toasted pecans tossed with a healthy honey-mustard dressing.
How Sweet Eats
Doughy soft pretzels (extra for me, thanks), smokey bacon, crisp apples, and Brussels sprouts are tossed together in a tangy mustard vinaigrette for a perfect Oktoberfest dish that carries well for the rest of fall, too.
FoodieCrush
You might remember this super seasonal salad from my list of 30 Savory Salads for September. It's totally table-ready with tons of fall veggies and satisfying texture from the creamy goat cheese and crunchy pecans.
Primavera Kitchen
During the summer months, we have my famously easy Parmesan zucchini on meal-plan repeat, and this swap with Brussels sprouts, loads of lemon, garlic and salty cheese is the prefect replacement.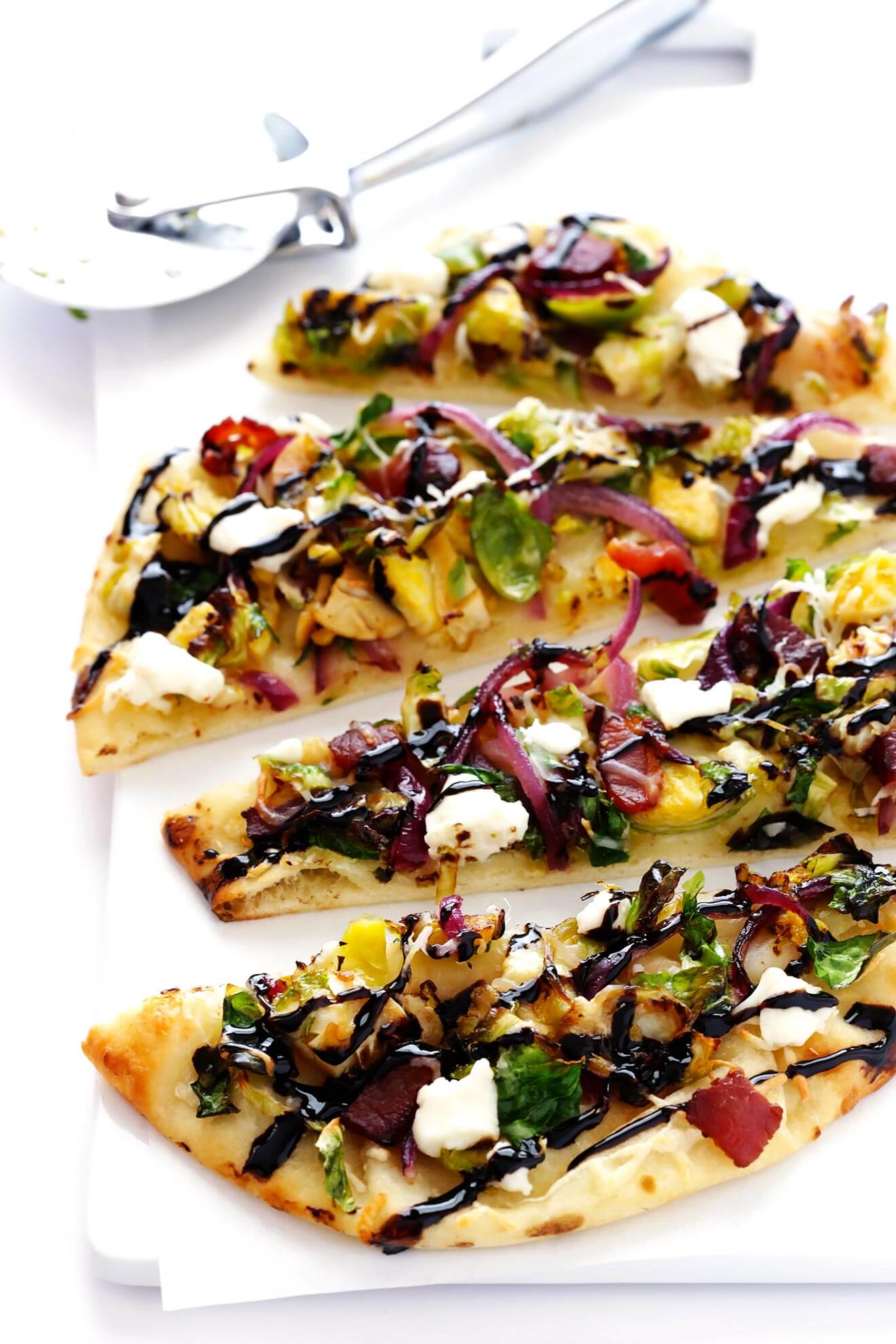 Gimmie Some Oven
Friday nights are pizza nights around here, and I'm so excited to try this healthier version topped with a few of my favorite things like garlic, onions, and a  balsamic glaze.
Yes to Yolks
If  you need a healthy appetizer for your game day menu, I've found your perfect match. Sautée up some sprouts until they're nice an golden brown, then drench in a honey buffalo sauce for a veggie dish with a sweetly spicy kick.
A Spicy Perspective
This stove-top recipe is a cinch to put together, and packs a lot of flavor punch from briny olives and zesty sun-dried tomatoes. Perfect with any Mediterranean-style dish, like Mediterranean Grilled Balsamic Chicken with Olive Tapenade or pair it with my  Easy Couscous with Sun-Dried Tomato and Feta for a light, vegetarian-friendly meal option.
A Cozy Kitchen
Another to-die-for salad! If you think Brussels sprouts can only be boring, I dare you to try this flavorful dish full of sprouts, sweet apples, smooth avocado, sharp peccorino cheese, and candied pecans. Ideal for an upcoming holiday potluck.
FoodieCrush
This right here is the dish that made me fall for brussels big time. Creamy, soothing–it's the ideal fall-fresh comfort food. Dig into an irresistible bowl of whole wheat orecchiette, crispy charred sprouts, and sautéed shiitake mushrooms smothered in a dreamy carbonara sauce.
So what do you think? Love'em or hate 'em? I hope this list convinces you to give them a shot, but if not, don't forget to check out a few other veggie sides to keep it healthy this fall.
More Vegetable Side Dish Ideas
Tell me–what other veggie round-up lists would you like to see on the blog?
xo, Heidi
As always, thank you for reading and supporting companies I partner with, which allows me to create more unique content and recipes for you. All opinions are always my own. 
Thanks for reading and subscribe to FoodieCrush to have each post delivered straight to your e-mail box.
Craving more life balance, less stress, and better health? Check out my Nourished Planner, the daily planner to help create simplicity and under-schedule your life.
Follow me on Instagram, Facebook, Pinterest and Twitter for more FoodieCrush inspiration.