What's the most popular side dish at Thanksgiving at your house? This list of 50 Thanksgiving side dishes covers both the classics and recipes with a twist, to give you plenty of recipe ideas to add to your holiday table.
Thanksgiving is all about gratitude and tradition, and when it comes to the Thanksgiving table, where would the Thanksgiving bird be without a bountiful bunch of side dishes to go with it?  
The Thanksgiving side dish is one area of turkey day where you can tweak tradition with a simple twist or two. Also, if you ask me, the sides are what it's really all about it.
Whether you're hunkering down at home or gearing up to travel to see loved ones this time of the year, this list of Thanksgiving favorite sides is sure to set the mood for a festive feast.
From fresh takes on classic comfort sides to flavorful twists on tradition, take a look and add a few new side dishes to go with that big, juicy bird. Dig in!
GET THE THANKSGIVING PREP GUIDE: Get your FREE Thanksgiving plan, timeline, recipe, and menu inspiration, plus all the tips & tricks you need to pull off the best Thanksgiving yet. AND! FREE printable. 
What to Serve With Thanksgiving Dinner
From traditional turkey day mainstays to some modern riffs on the classics, here are 50 Thanksgiving side recipes to consider as you make your menu. I've totally got you covered because there is something for everyone here.
Thanksgiving Side Dishes: 
Pass the Potatoes, Please
From fluffy, swirly mounds of mash with crooks and crannies of butter to creamy, cheesy casseroles, potatoes should always be on your Thanksgiving menu. Whether you're team mashed (the perfect vehicle for that awesome gravy), or team gratin, I've got you.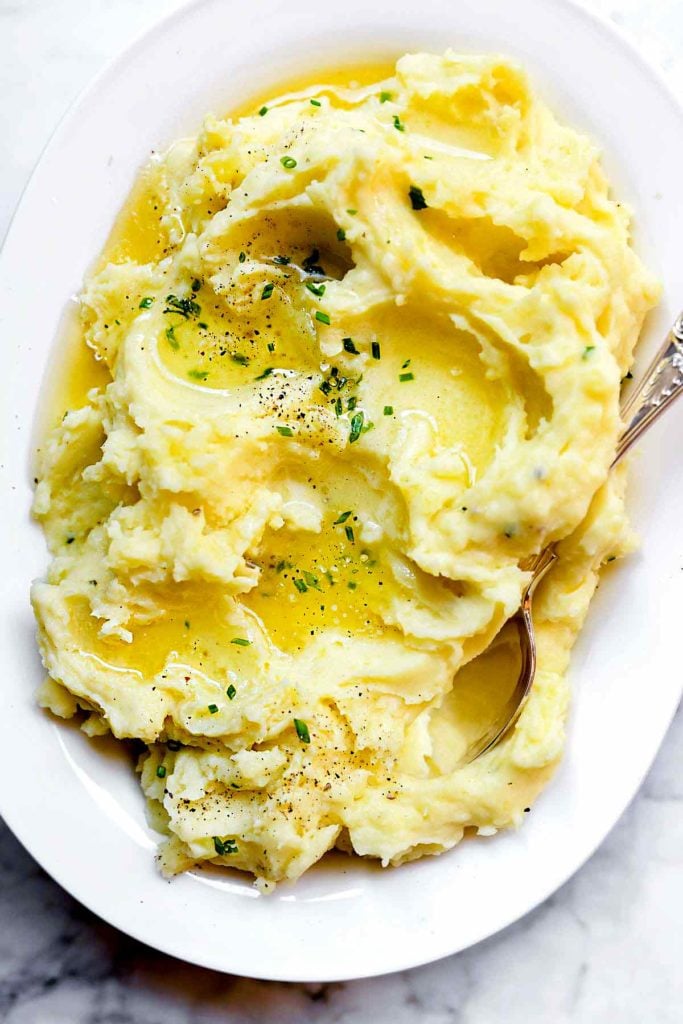 There are lots of different techniques to make mashed potatoes including using a potato ricer or a potato masher. And I have tried them all. But in the end, I go back to the same way my mom and my grandma always made them and this is how.
Funeral potatoes are an easy-to-make and even easier-to-love comfort food casserole with a crispy topping that is totally heaven-sent for a crowd.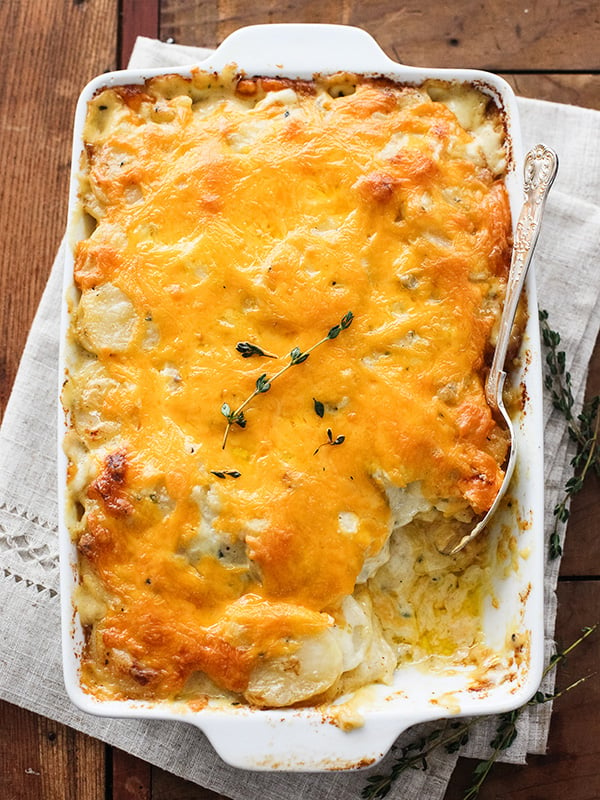 These easy cheesy scalloped potatoes are as comforting a dish as you can make. Pair this hearty side dish with roast chicken, steak, ham, and more!
Give your guests something to talk about (anything but politics, please!) with these tangy taters. Smooth potatoes are whipped with rich buttermilk and bold blue cheese for a quick and tasty side all parties can agree on.
from The Defined Dish
These impossibly creamy and cheesy mashed potatoes are flavored with onions, garlic, chives, and cheddar for a flavor match made in heaven.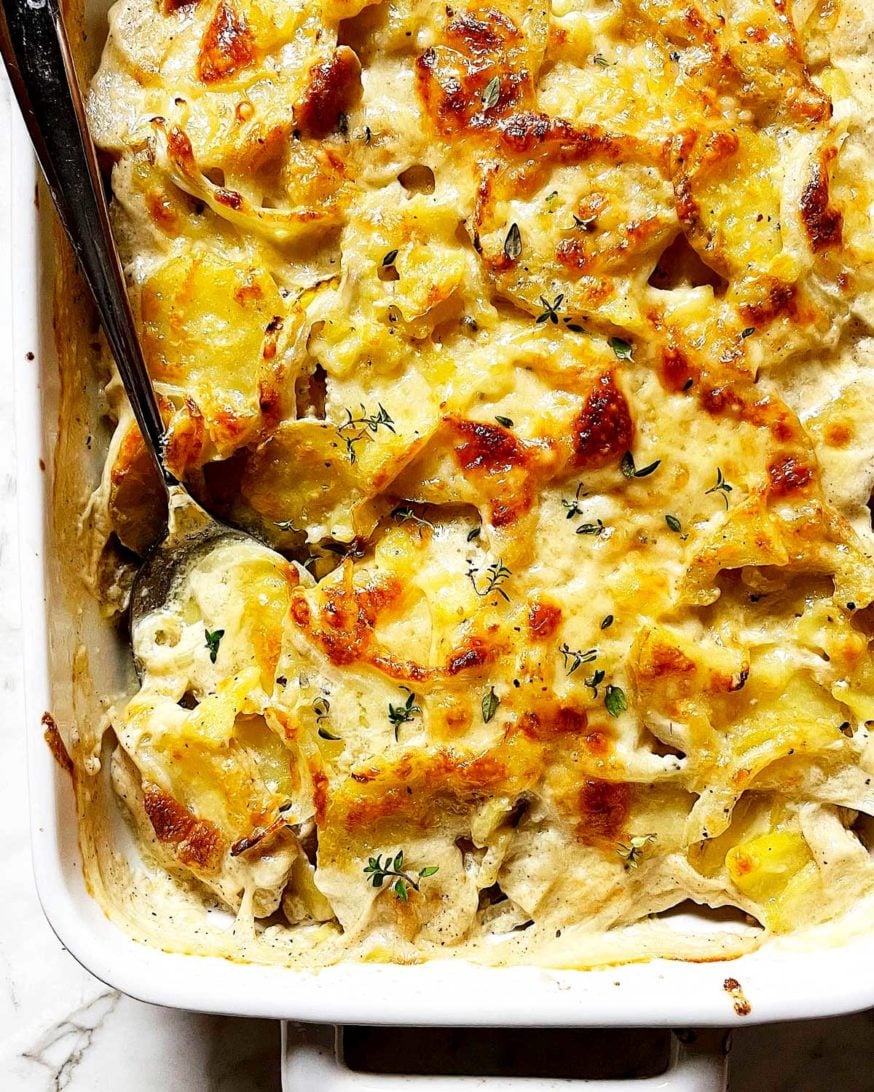 When your main dish recipe needs a decadent side dish sidekick, there's nothing like a creamy, thyme-infused cheesy potatoes au gratin recipe to do the job, and to do it easily too.
Squash & Root Veggies
From carrots to sweet potatoes to squash, these sweet, rugged veggies are a Thanksgiving must-have.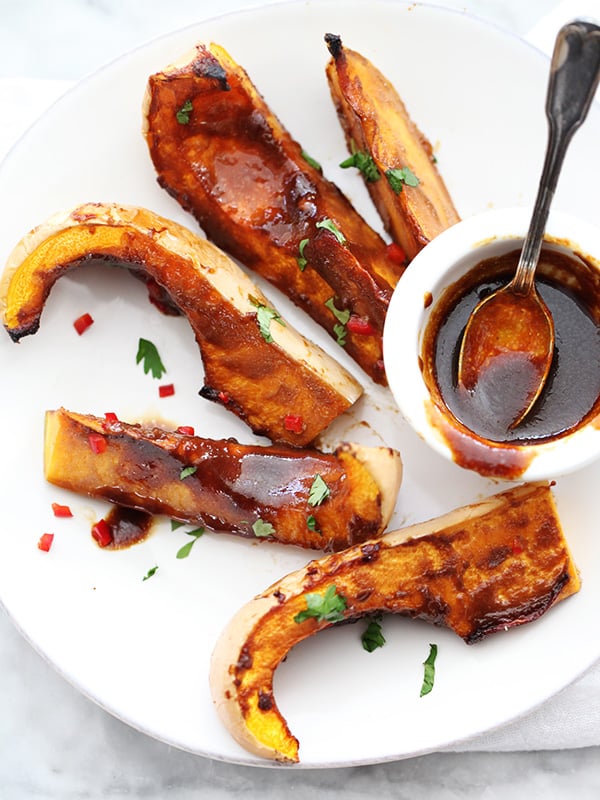 East meets west (did you know butternut squash originated in Mexico and Central America?) in the best way with this unique side featuring season squash in a tempting miso-molasses marinade. If you have leftovers from this recipe, try dicing up the squash to my Kale Salad with Butternut Squash, Chickpeas and Tahini Dressing.
Who says sweet potatoes have to be mashed and topped with marshmallows to have a seat at the Thanksgiving table? Not I! These wedge-style potatoes are seasoned with chili powder, cinnamon, thyme, and a swirl of maple syrup, then oven-roasted to caramelized perfection.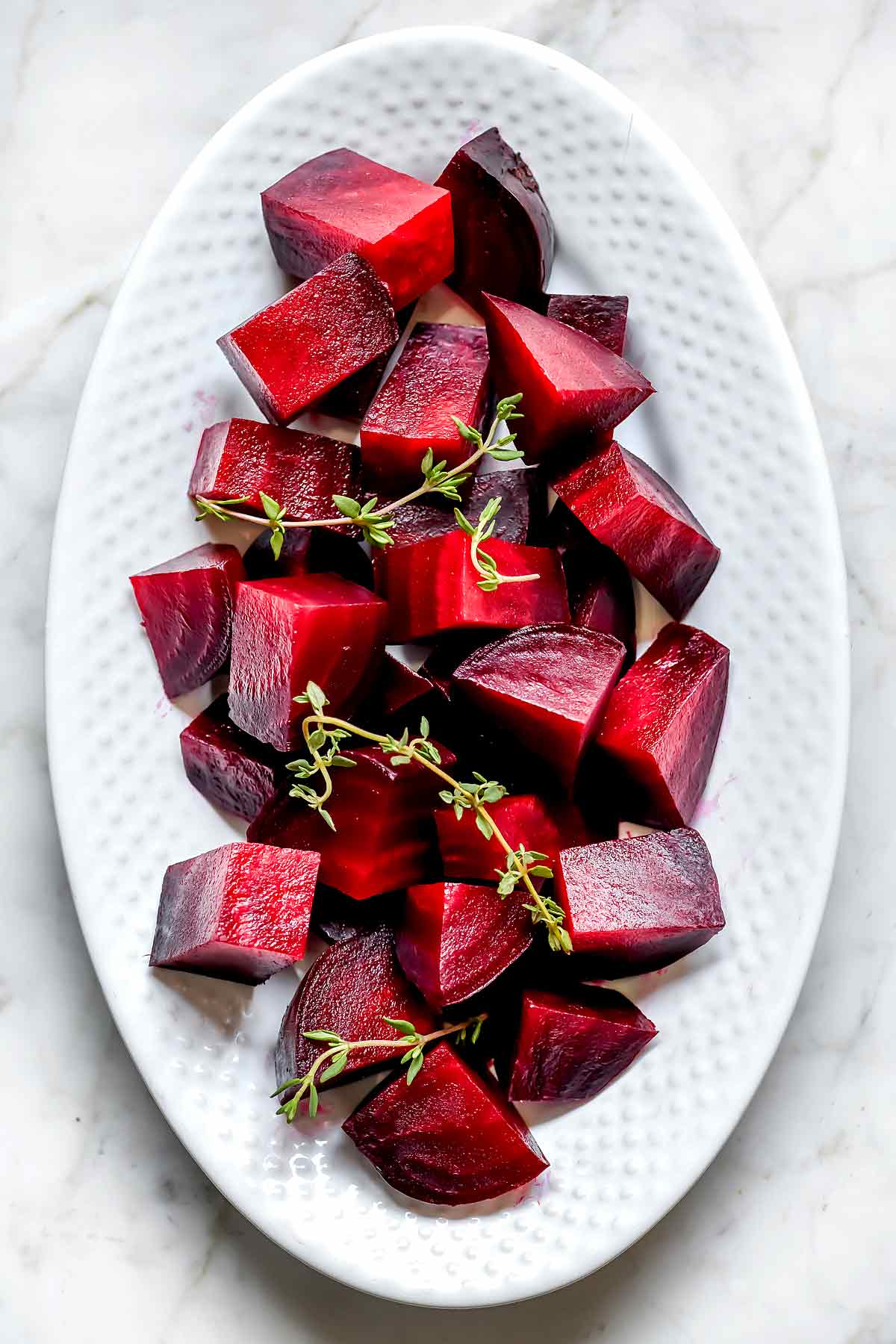 Roasted beets cooked in the oven bring out the sweet side of this humble and healthy root vegetable, and is the easiest way to cook beets.
Sweetened with brown sugar, orange juice, and butter, this glazed carrot side dish is a one-pan side cooked right on the stove, in the microwave, or baked in the oven, too.
Ditch the marshmallows. This classic sweet potato casserole is the perfect blend of sweet and savory, with an irresistibly crunchy, salty pancetta, pecan, and sage crumble topping. 
This roasted butternut squash is drizzled with a to-die-for maple syrup-flavored brown butter with fresh rosemary and sprinkled with flaky sea salt for a delectably savory-sweet fall side dish.
These twice-baked sweet potatoes are an all-in-one creamy side dish served in their own jacked made sweet with maple syrup and savory with white cheddar and brown sugar bacon.
A simple—aka light—glaze of honey and butter sweetens up the orange little jewels with tarragon and orange zest giving them the yin and yang of earthy licorice and fresh citrus in each bite.
This creamy, dreamy soufflé tastes like pumpkin pie without the crust and is so super easy to make with all the ingredients mixed at once in the food processor or blender. 
A little spice from chipotle peppers makes these creamy sweet potatoes a welcome touch to the table.
This creamy pumpkin soup is made with just 7 ingredients! I like to stir in a little mascarpone cheese to bump up the creaminess factor and always add a sprinkle of crispy sage leaves on top.
Sweet, tender, and perfectly caramelized, this roasted acorn squash with kale pesto, dried cherries, and toasted walnuts is a perfectly cozy fall-flavored side dish.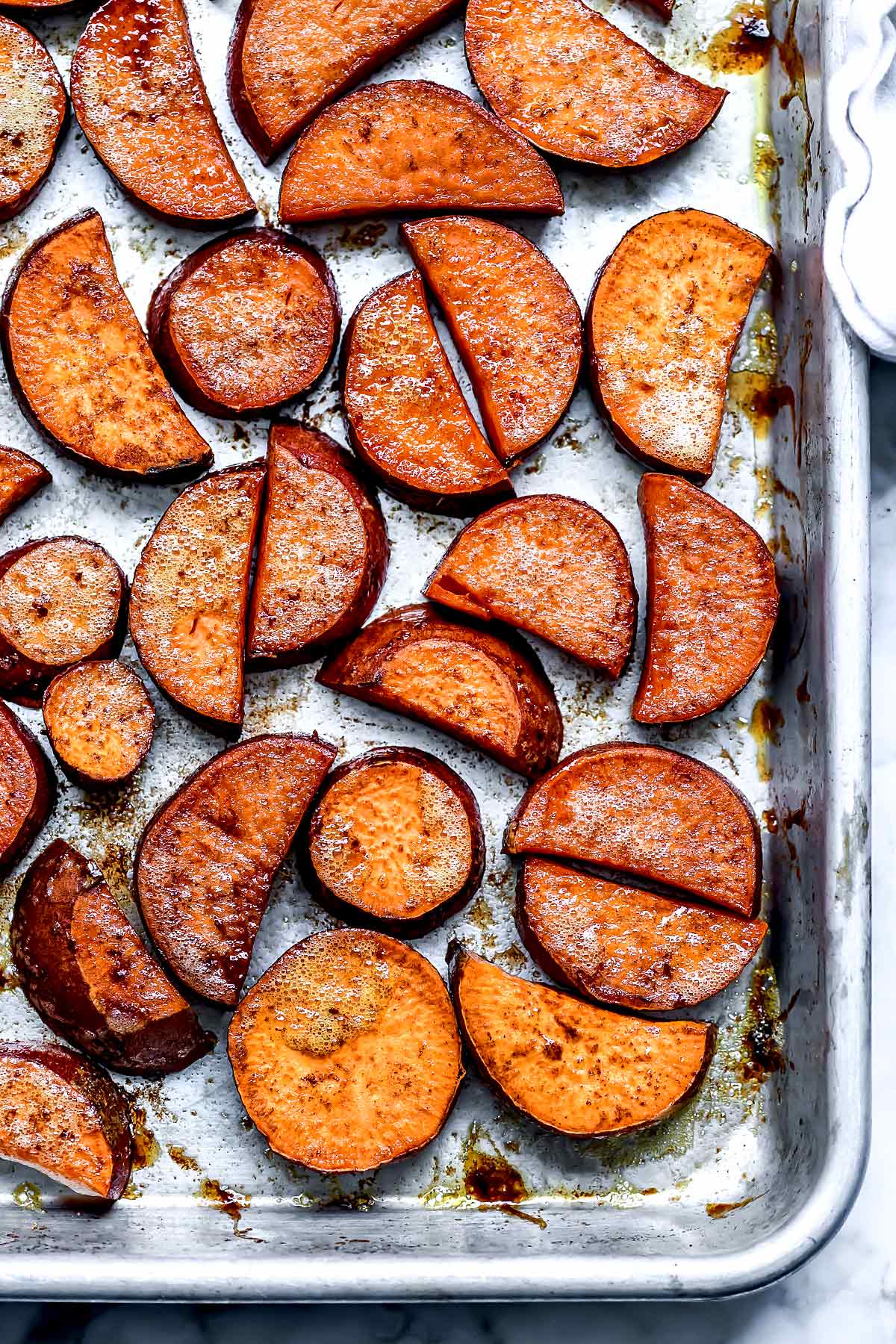 Tossed in cinnamon and maple syrup, these roasted sweet potatoes' perfectly caramelized exteriors give way to tender, creamy centers with each sweet bite.
Thanksgiving Side Dishes Ideas:
Bready Goodness
Rolls and stuffing are Thanksgiving staples. Something bready is definitely necessary for scooping up those delicious gravy dregs, and for making leftover sandwiches in the days that follow. Here are some of my favorites.
There's nothing fancy about this traditional stuffing. It's totally basic. But its simplicity is exactly why I crave it year after year after year.
What's Thanksgiving without rolls? Perfectly tender, fluffy, and buttery, these homemade buttermilk yeast rolls are easy to make and always a hit with company.
This simple stuffing hits the holiday high notes with seasonal cranberries, walnuts and fresh herbs in a traditional bread-based casserole.
from A Cozy Kitchen
Perfectly tender and moist, with crispy edges, this cast iron cornbread gets an autumnal twist with the addition of pumpkin. It's just begging for a pat of butter and a drizzle of honey!
Farro, a healthy whole grain, adds a nutty bite to stuffing's traditional flavors with sausage, butternut squash, and sage with a sweet taste of dried cherries.
from A Cozy Kitchen
These buttery, traditional Parker House Rolls have a fun twist with the addition of Everything bagel seasoning.
from Well Plated 
Lightly sweetened with a touch of honey, this super flavorful cornbread stuffing is studded with chicken sausage, herbs, dried cranberries, and apples.
Greens
Whether it's classic green bean casserole kicked up a notch or tender spinach swaddled in cream, you've got to have something green on your plate. No boring peas or mushy, bland Brussels sprouts here!
This is THE quintessential Thanksgiving side dish, but I've given it a healthified makeover by swapping out canned veggies for fresh, lightening up a homemade creamy sauce, and topping with baked onion rings for classic crunch.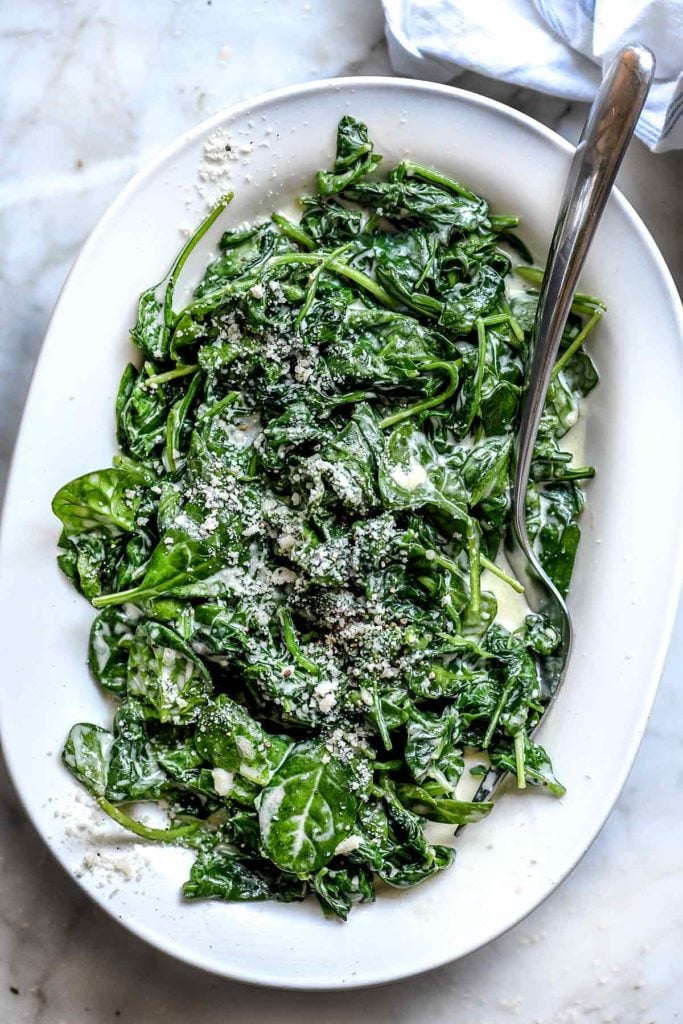 All you need is five simple ingredients and time for the cream to reduce with savory Parmesan cheese for a restaurant-style creamed spinach cooked right on the stovetop.
This amazingly easy, 5-ingredient recipe makes traditionally bitter brussels sprouts sweet and crazy delicious thanks to roasting in a cast-iron skillet to create a caramelized bite of baby cabbage and salty pancetta for one of our very favorite Turkey day side dishes.
These green beans almondine are made in one skillet, steaming the beans right in with the butter and almonds and then finishing them off with some lemon juice.
If you scream at the idea of creamed greens (try saying that five times fast!), don't run in the other direction before you try these. Healthy swiss chard puts a modern spin on this comfort-food dish, with a light but creamy sauce, and topped with crispy garlic panko breadcrumbs.
This easy broccoli casserole au gratin topped with crispy onions could challenge even the best green bean casserole at the Thanksgiving table and definitely win.
from How Sweet Eats
All of the flavors from one of the best pastas ever, but sub Brussels sprouts for the noodles and you've got a winning Brussels sprouts dish. Genius.
This green bean recipe was from the first real Thanksgiving I cooked on my own. The crisp beans add a fresh bite and leaves you with enough room for seconds.
Salads and Fruity Things
From cranberry sauce (non-negotiable) to pomegranate bejeweled salads, it's good to have something fresh, tart, or a little more virtuous to balance out the richness of your other sides. 

This filling kale salad with warm wild rice and roasted butternut squash, toasted pecans, goat cheese, and sweet-tart dried cranberries is dressed with an apple cider and maple dressing full of fall flavors.
This salad's flavor combination of fennel's sweet licorice flavor, juicy tart grapefruit, and smooth avocado topped with salty Parmesan is a welcome addition to any meal any time of the year.
This homemade cranberry sauce calls for both fresh and dried cranberries to make it tart, sweet, and jammy with a dash of orange flavor.
This easy, healthy, delicious kale salad with cranberries, sliced apples, sharp white cheddar cheese, and crunchy sunflower seeds is massaged tenderly with a maple syrup-sweetened apple cider dressing for a savory and sweet salad everyone at the table will love.
The dressing for this roasted beet salad calls for a bit of red wine, and while you can leave it out, I think it adds a nice smoothness to the traditional vinaigrette flavorings and loads of color to the Thanksgiving table.
from Good Life Eats
If you're team "smooth" when it comes to cranberries, this gussied-up version is for you. Made with red wine and pomegranate juice, this delicious sauce gets its smooth texture from the blender.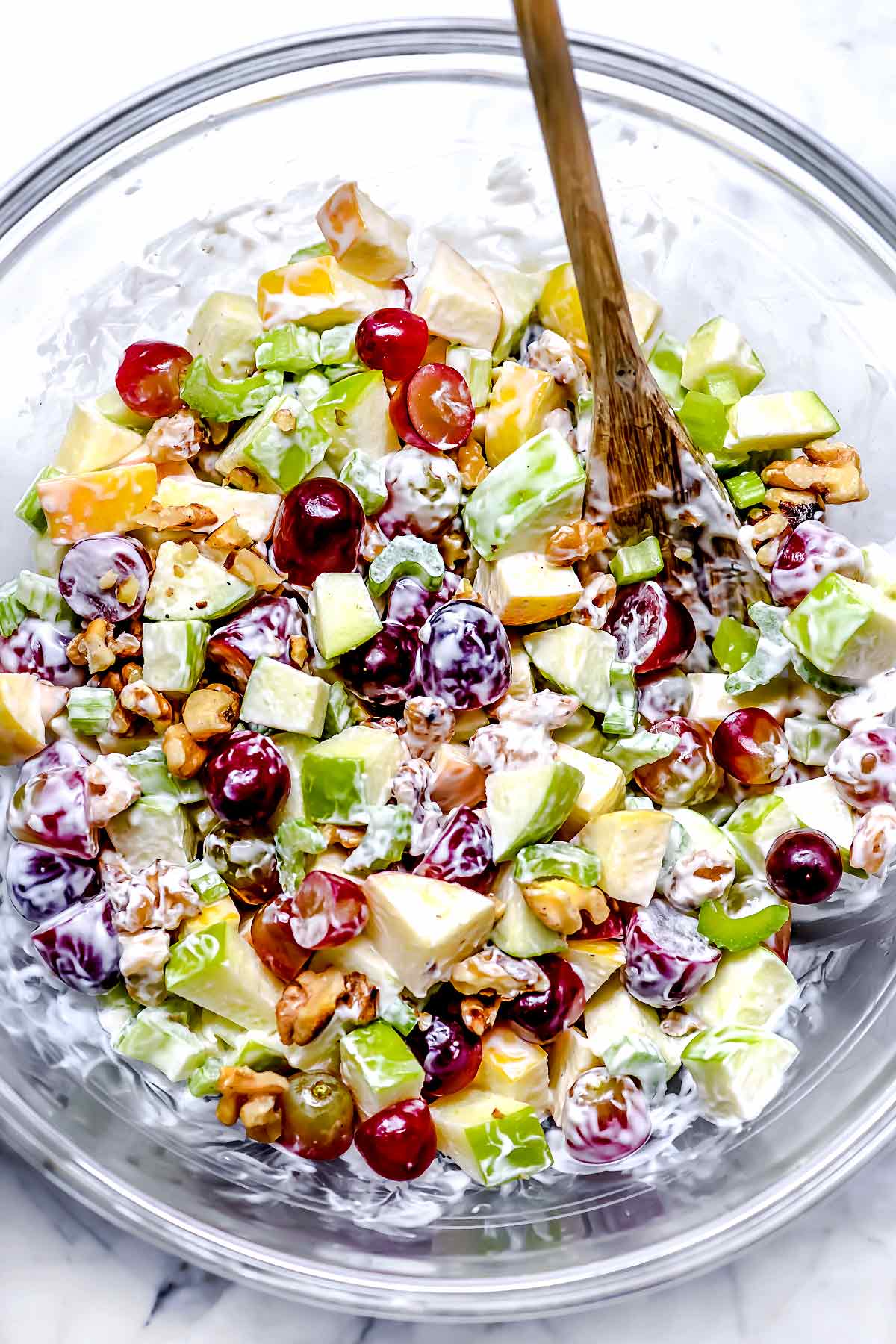 Crunchy with crisp apples, celery, and toasted nuts, this easy Waldorf salad is a classic, crowd-pleasing recipe, especially when it comes to holiday feasts.
This easy shaved Brussels sprouts salad sweetened with roasted beets and crunchy pecans is delicious as a healthy and vegetarian main dish or served as a side.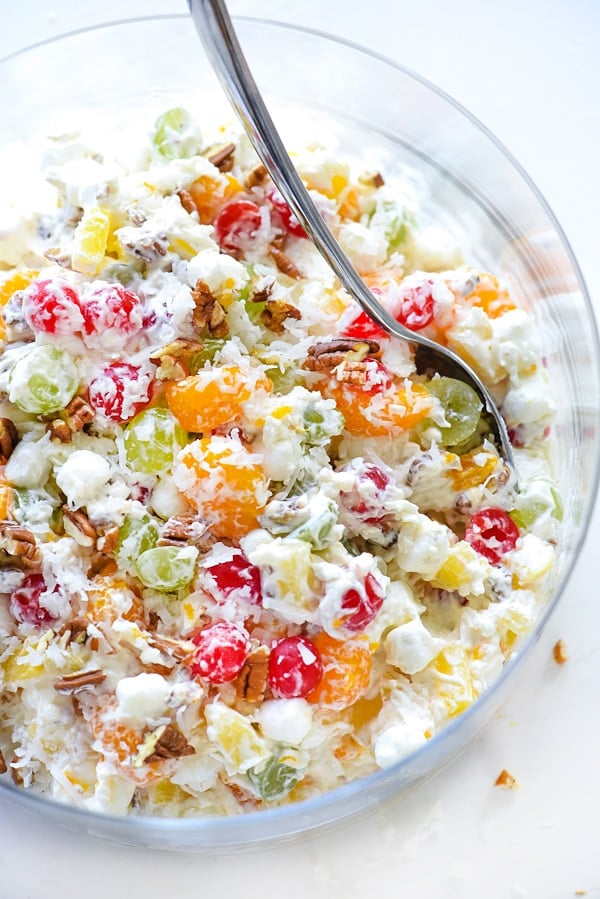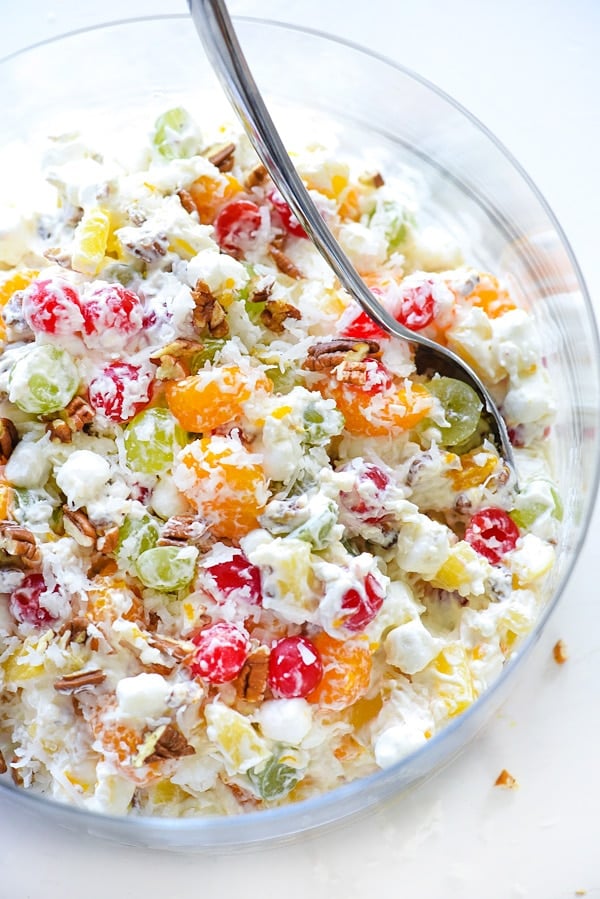 This classic fruit salad is one of my favorite family holiday recipes because nobody can pass up its tropical fruit and marshmallows bathed in tangy whipped sour cream.
Fresh, bright, and clean, this citrus salad adds a whole lot of variety and cuts through the heaviness of the traditional turkey day dinner.
from Tastes Better from Scratch
This zesty relish only has 3 ingredients and is the perfect balance of sweet and tart.
Other Thanksgiving Side Dishes Hits of the Table
Dishes like mac & cheese or potato salad might not show up on most Thanksgiving menus, but sometimes you need to mix it up a bit, and these never disappoint.
Butternut squash, with its mild taste, it's a natural veggie to add in for a little more health in the mac.
I'm not saying it's right to lie to people…but it IS wickedly fun to watch someone's reaction when they learn this smooth and fluffy cauliflower dish isn't prepared with potatoes. This is a tasty way to trim off a few of those holiday calories and sneak in a few healthy veggies along the way.
Whichever side of the table my husband's sitting on, as long as this 5 Ingredient Slow Cooker Creamed Corn is on it, he's going to be happy.
Using other appliances to do the cooking frees up cooking space. This Instant Pot mac and cheese is fast and easy to make and everyone will be asking for more.
It blows my mind every year when I see a  spike in views for my mom's potato salad at Thanksgiving. But then, it's so good, of course, you'd give thanks to eat it all year long!
If you make this recipe, please let me know! Leave a ⭐️⭐️⭐️⭐️⭐️ rating on this recipe below and leave a comment, take a photo and tag me on Instagram with #foodiecrusheats.
Print
How to Make THE BEST Creamy Mashed Potatoes Recipe
How to make THE BEST mashed potatoes recipe and how long to boil the potatoes for easy mashed potatoes that are creamy, buttery, and rich.
Ingredients
2 ½

pounds

Yukon gold potatoes

1

teaspoon

kosher salt

, divided

4

tablespoons

butter

, cut into chunks

⅓

cup

half and half

, or cream, or milk

½

teaspoon

black pepper

, freshly ground

chives

, minced
Instructions
Scrub the potatoes clean and add to a deep pot. Completely cover the potatoes with water, about ½ inch above the potatoes. Bring the potatoes to a boil and add ½ teaspoon of kosher salt. Boil the potatoes for 20 to 30 minutes or until they are very easily pierced with a fork and the skin pulls away from the potato where cut.

Drain the potatoes, and while still hot, use a paper towel to wipe the skin away from the potatoes, then add back to the warm pot.

Gently smash the hot potatoes with the tines of a hand mixer and add the butter to the potatoes. Cover with a lid for the butter to melt, about 3-4 minutes.*

Add the half and half or other liquid dairy to the pot and set it in the kitchen sink so the potatoes don't fly around the kitchen while whipping. Cream the potatoes with the hand mixer until smooth, rotating the pot counter-clockwise as you mix. Don't over mix the potatoes. Add the remaining ½ teaspoon of kosher salt and black pepper to taste, and add more dairy to get the consistency you like best.

Add more butter if you'd like, and garnish with minced chives, green onion, or serve plain.
Notes
*Adding the butterfat to the potatoes before adding the cream, half-and-half, or milk, coats the potato starches and acts as a barrier to ensure your mashed potatoes won't turn out gummy, sticky or overmixed.
Nutrition
Calories:
146
kcal
|
Carbohydrates:
18
g
|
Protein:
4
g
|
Fat:
7
g
|
Saturated Fat:
4
g
|
Cholesterol:
19
mg
|
Sodium:
359
mg
|
Potassium:
599
mg
|
Fiber:
4
g
|
Sugar:
1
g
|
Vitamin A:
211
IU
|
Vitamin C:
16
mg
|
Calcium:
55
mg
|
Iron:
5
mg
More Thanksgiving Recipe Ideas
GET THE THANKSGIVING PREP GUIDE: Get your FREE Thanksgiving plan, timeline, recipe, and menu inspiration, plus all the tips & tricks you need to pull off the best Thanksgiving yet. AND! FREE printable. 
We send good emails. Subscribe to FoodieCrush and have each post plus exclusive content only for our subscribers delivered straight to your e-mail box.
Follow me on Instagram, Facebook, Pinterest and Twitter for more FoodieCrush inspiration.
As always, thank you for reading and supporting companies I partner with, which allows me to create more unique content and recipes for you. There are affiliate links in this post of which I receive a small commission. All opinions are always my own.