The stories are what I remember the most.
Everyone gathered around my Grandma Mary Jane's dining table set with her best crystal and china—that I now have. The ambrosia salad that she'd make just for me. Helping my Aunt Jill make the relish tray and sneaking the squeeze cheese minus the celery.
But the best part of Thanksgiving was my Grandma M.J. retelling the same stories each year, with the same style and wit as if it was the first. Her memories of when my mom and and her siblings were young. No matter how many times we'd heard the story, the entire table would wait anxiously, grinning from ear to ear, and roar in laughter at the punch line.
No one could tell a story like Grandma MJ. Except for Uncle Tom, whose laugh was positively booming and infectious, and whose motto is, "I'm on a seafood diet. I see food and I eat it."
Ah, words to live by.
Lucky for you, I've started—just barely—to move out of my ambrosia salad phase.
This green bean recipe was from the first real Thanksgiving I cooked on my own. The day started with family, bagels on the beach and surfing.
It ended with my husband's coveted Baked Corn casserole erupting into Baked Corn Flambé and Tom the turkey making his post-oven debut at 9:30 p.m. Damn pop-up timers.
Let's just say the martinis made the wait a lot easier .
But that's what Thanksgiving is all about. It's about creating the memories to share with family and friends around a table, with the same story and the same punch line, for years to come.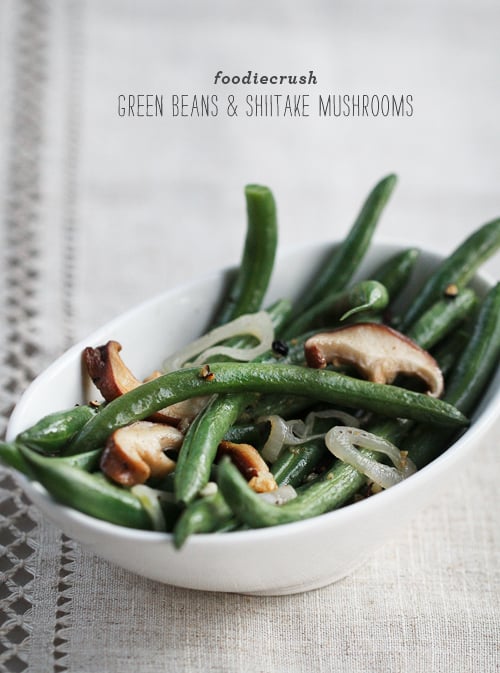 If you make this recipe, please let me know! Leave a comment below or take a photo and tag me on Instagram with #foodiecrusheats.
Green Beans with Shiitake Mushrooms
Healthy and fresh Green Bean recipe with mushrooms and spices.
Ingredients
Bon Appetit Magazine

November 2001

6

tablespoons

butter

¾ stick

2

shallots

sliced thinly

2

pounds

fresh green beans

trimmed

8

ounces

shiitake mushrooms

sliced

2

garlic cloves

minced

2/3

cup

low-fat chicken broth
Instructions
Over medium-high heat, melt 3 tablespoons butter in a sauté pan. Add mushrooms and cook for 5 minutes.

Transfer to a bowl.

In same pan, sauté onion and garlic in the remaining 3 tablespoons of butter for 2 minutes.

Add green beans and chicken broth. Simmer until liquid has evaporated, about 10 minutes.

Add mushrooms back into pan and warm through.

Add salt and pepper to taste and serve.
And now, please enjoy a few more side dishes that just might outshine memories of the bird.
photo > Spoon Fork Bacon
I mean really. Really? How can ANYONE pass by and not stop and stare at these butterliciously-pooled mounds of Spoon Fork Bacon's Heavenly Mashed Potatoes  ? Jenny knows how to throw down the styling and Teri Lyn schools the drools with her heavenly photo skillz.
photo > Cookin' Canuck
Being Canadian gets Dara two Thanksgivings each year. That why Cookin' Canuck's Roasted Cauliflower with Indian Spices adds a spicy-spruce-up to the T-day table. Yeah, she's a pro.
photo > Back to Her Roots
Oh honey, I hear your pain! Like me, Cassie wasn't a fan of Brussels sprouts, but after creating the maple & balsamic roasted Roasted Brussles Sprouts with Bacon and Apples, she became a convert. Looks like there's hope for me yet.
photo > Flavia's Flavors
I've been stalking Flavia's Flavor's recipe for Cranberry Pomegranate Relish all week (check out this great how-to for seeding those beautiful buggers ) thanks to Flavia's marriage of the old dodger cranberry with the hottie ingredient of the moment Miss Pom. Ah, true love, no pre-nup required.
The countdown is on! Look for the debut issue of FoodieCrush magazine. Subscribe to foodiecrush to be the first to see the mag.
Thanks for reading. If you liked this post, please subscribe to foodiecrush and follow me on twitter, Facebook and Pinterest