This classic, refreshing no-cook gazpacho is a mix of fresh veggies and store-bought tomato based vegetable juice for a perfect blend of smooth and chunky textures.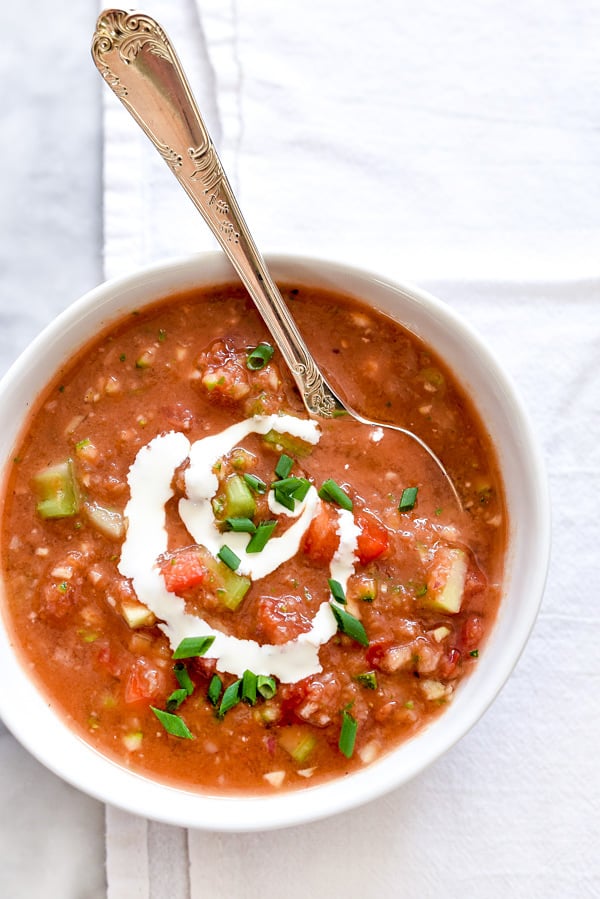 Why am I standing in the closet talking to my phone at 11:30 at night? My husband's in bed. My Smudge has been tucked in for hours.
And I'm talking into my phone.
He probably thinks I'm crazy.
Or that I'm cheating on him with someone else on the line.
But I'm not either of those two. Or at least not the latter.
I'm dictating a blog post as I get ready for bed. Because something popped into my head, and Lord help me, if I don't write it down, or talk it into my phone, the thought will disappear as quickly as my dog eats her dinner as if she hadn't been fed for days. Oh…this brain of mine.
I can ramble on about a recipe like anybody else, but when I'm sitting at my computer really trying to write something good, or brainstorm an idea for something not so totally run of the mill, it often doesn't happen.
I think I've always been a person who does better when I can let an idea sit and percolate. To let my mind rest and not actually think so hard about what I need to create. Because there's simply no forcing it. It usually happens when I simply shut off and let me mind wander like when I'm in the tub, or blow drying my hair or walking the dog.
The synapses sync and suddenly the idea is there, even when it's just a nugget. Because a nugget's better than nothing, especially when it's a little nugget to nosh on.
Inspiration to the Rescue
My husband has been making gazpacho for years. He's always been more of a fan of it than I. But that's changed. Now I'm the one craving it. How can I not with all of this garden and farmers market bounty looming about?
But the problem is, I can't find his dang recipe anywhere. So my husband took to the internet and found one very similar to the base that he has always used, a recipe that needed just a couple of adjustments to fit his palate.
Thank you Pioneer Woman, you saved the day with your gazpacho recipe inspiration.
About the Recipe
Classic gazpacho can run the gamut from smooth-as-silk-where's-the-straw to bring-on-the-chips-and-pass-the-tequila-let's-eat-chunky-salsa. I prefer mine well blended but with a bite, with just enough chunk to make me feel like I'm eating something instead of sipping. I want to feel satiated!
I've made Bloody Mary Gazpacho and a Mango Gazpacho but there's something in the simplicity of plain old tomato that always works for me. We use a mix of fresh tomatoes and vegetable juice like V-8 to complete our soup. I've tried the spicy version but prefer the regular so I can adjust to my liking.
One of our folly's in the kitchen is to think more garlic is always better. Guess what? It isn't. Stick to the 2 cloves and you'll be much happier, as will your mate. Or your co-workers. And even your dog.
You can use run of the mill cucumbers but I prefer the Armenian seedless cucumbers because, like the name says, no seeding! If you do use regular cucumbers, be sure to cut in half first and use a spoon to remove all of the seeds before chopping.
I garnished this soup with a simple mix of sour cream thinned down with a little water. I'm also partial to serving it with grilled shrimp and avocado. Fresh snipped chives are always a must. And if you're thinking of serving this for a party, serve it in small cocktail glasses like my dad's martini glasses. His—that are now mine—are over 40 years old, but you can find a similar style here.
If you make this recipe, please let me know! Leave a comment below or take a photo and tag me on Instagram or Twitter with #foodiecrusheats.
Classic Gazpacho Recipe
This classic no-cook gazpacho is a mix of fresh vegetables and store-bought tomato based vegetable juice for a perfect blend of smooth and chunky vegetable flavors.
Ingredients
3

stalks celery

diced

1

seedless hot-house cucumber with skin on

diced

1

zucchini

diced

3/4

whole medium red onion

diced

4

cups

tomato juice such as V-8

2

cloves

garlic

pressed or minced

1/4

cup

extra virgin olive oil or grapeseed oil

1/4

cup

red wine vinegar

2

tablespoons

sugar

2

tablespoons

Chohula hot sauce or other hot sauce to taste

1

tablespoon

celery salt

1

tablespoon

garlic salt

6

cocktail or campari tomatoes

diced

Kosher salt and freshly ground black pepper

1/4

cup

sour cream

Fresh chives for garnish
Instructions
In the bowl of a food processor or in a blender, combinehalf of the celery, cucumber, zucchini, red onion, 2 cups of the tomato juice with the pressed or minced garlic, olive oil, red wine vinegar, sugar, hot sauce, celery salt and garlic salt.

Pulse all of ingredients until well blended. Add the rest of the tomato juice and pulse to mix. Add the

celery, cucumber, zucchini and the diced tomatoes and pulse once or twice. Season with kosher salt and freshly ground black pepper and adjust the hot sauce to taste.

Chill the soup for at least 1 hour before serving.

Serve the soup with a drizzle of the sour cream that has been thinned with water. Top with fresh chopped chives.
Adapted from The Pioneer Woman
5 Wow Recipes for Gazpacho Grazing
If you're thinking, tomato gazpacho might be a little ho-hum, take a walk on the gaz-wild-pa-whoa-cho side with these recipe I think you'll find particularly inspiring.
Beet Cilantro Gazpacho
Save the tomatoes for another day, this sweet beet soup is sure to cool your jets.
Get the recipe from The Kitchen Paper.
Sweet Corn Gazpacho
This creamy corn soup is dairy-free, making it the perfect cool to drool soup for one and all.
Get the recipe from The Endless Meal
Tomato Watermelon Gazpacho with Pistachios and Basil Oil
Craving some crunch with your lunch? Pistachios and basil infused oil make this sipper a stunner.
Get the recipe from Love and Olive Oil
Zucchini Gazpacho
Zucchini, basil, spinach and parsley ring in the green in this superfood soup.
Get the recipe from Bijouxs
Thai Spicy Tom Yum Goong Tomato Gazpacho
Self-proclaiming it the best soup she's ever made, this soup is nothing short of a show stopper.
Get the recipe from Lady and Pups
Have a great day guys, and get in the kitchen to cook something good!
As always, thank you for reading and for supporting companies I partner with, which allows me to create more unique content and recipes for you. All opinions are always my own.  
Are you following me on Instagram, Twitter, Facebook and Pinterest? 
Thanks for reading and subscribe to FoodieCrush to have each post delivered straight to your e-mail box.