Happy April, friends!
We're proud to bring you our fourth installment to our 31 Days Series (you can check out the first one here, the second one here, and the third one here). This month is all about big, bountiful salads—you know, the kind that stick to your ribs and are hardy enough to make a meal of.
We're craving healthy foods, but ones with substance and staying power, because we don't want to be hungry two hours later and find ourselves tucking into a bowl of cereal at 10 o'clock at night.
We've all been there.
These salads are colorful, healthy, filling, and easy to prepare. We can't guarantee they'll help you fit into last summer's shorts by the end of the month, but we promise they'll definitely help!
Here's how to make meal planning your salads a snap.
First, download this free printable weekly meal planner/to-do list to fill in, tape to the fridge, take to the grocery store, or use for reference next year when you can't remember what the heck were your fave recipes from this one.
And then sign up for your free weekly meal plan and prep list here.
All right already, let's dive into these salad bowls!
from Creme de la Crumb
Crunchy, cool, savory, and sweet, this bold and colorful salad is far from boring. Bonus? It comes together in just 30 minutes!
from How Sweet It Is
Ahhh, the allure of the chopped salad. There's just something so satisfying about neatly sectioning each ingredient into its own little corner of the bowl, only to then messily toss them all together. This one has all the right flavors and textures.
from FoodieCrush
Okay, so technically there's not any actual lettuce in this salad, but that's just a minor, detail. With crunchy carrots, cool cucumber, and crisp red bell pepper, there's enough healthy veggies hanging out in this yummy and refreshing bowl to deem it worthy of its salad classification.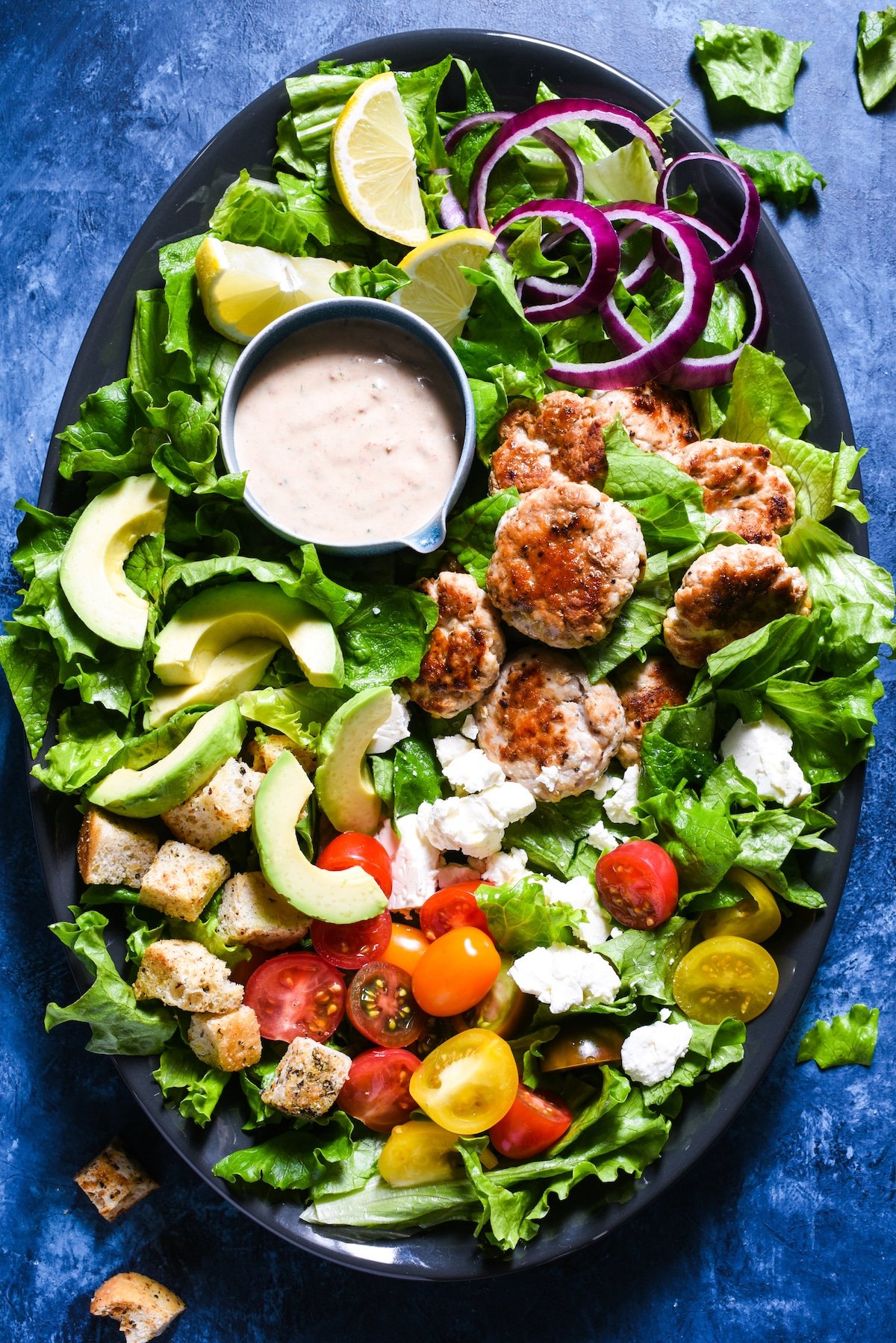 from Foxes Love Lemons
Where's the bun? Who cares. This burger-salad mashup is light, healthy, and filling, and features the best tangy, creamy sun dried tomato dressing.
from Minimalist Baker
The roasted, spiced masala chickpeas are reason enough to fall in love with this salad, but throw in some roasted sweet potatoes and a 3-ingredient tahini dressing, and you've got yourself one stellar bowl of leafy greens.
from The View from Great Island
This fully-loaded Mediterranean salad hits all the right notes in the flavor department, mainly thanks to an addictive feta dip and a tangy tahini sauce. It's vegetarian, but the hearty falafel patties make it completely filling.
from Foodness Gracious
Hail Caesar! After trying this recipe, we're wondering why we never ate Caesar salad this way before. The crisp, tart apple, crunchy almonds, and red cabbage are welcome additions, as is the waistline-friendly dressing.
from Diethood
Who doesn't love a good cobb salad? Baked salmon steps in for the turkey, and healthy spinach, avocado, feta, and a zippy lemon-mustard dressing all add a nice twist to the original.
from RecipeTin Eats
With tropical flavors of coconut rice, chicken marinated in coconut and pineapple, and a cilantro lime dressing, this vibrant salad transports us to the breezy beaches of Hawaii with each bite.
from Pinch of Yum
This crunchy chopped salad is full of dark, leafy kale, edamame, bell pepper, carrots, cilantro, green onions, and cashews, and features the most addictive sesame garlic dressing. It's vegetarian, but steak, chicken, or tofu would be fabulous in this, if you wanted some protein.
from Andie Mitchell
Juicy tomatoes, creamy mozzarella, and fresh basil make a pretty sublime trifecta, and this salad celebrates those flavors we look forward to every summer. Add some crispy parmesan crusted chicken, spicy arugula, and bitter radicchio to the mix, and you've got a winner of a salad.
from Cafe Delites
This salad is low-fat and low in carbs, but not low in flavor. Spicy, blackened shrimp and asparagus, avocado, red onion, and basil all tango with crisp romaine lettuce, and a zesty lemon-yogurt dressing ties everything together.

from FoodieCrush
Could we offer you a salad you can't refuse? Inspired by the legendary chopped salad at La Scala, in Beverly Hills, this one is super crave-worthy, and is singing with the best Italian flavors.
from Heather Christo
This salad totally had us at "creamy avocado green goddess dressing," but peppery arugula, juicy tomatoes, thick-cut bacon, and flakey salmon flaky salmon are also some of our favorite things.
from Healthy Seasonal Recipes
Who doesn't love breakfast for dinner? This brunch-inspired salad is classy and irresistibly yummy.
from Recipe Runner
This hearty salad is packed awesome flavors and crunchy textures from radishes, tortilla chips, and spicy toasted pepitas. Oh, and the light and creamy Greek yogurt-based dressing has queso fresco, avocado, and lime in it — need we really say more?
from FoodieCrush
Packed with fresh, good-for-you ingredients, Mediterranean-inspired salad is a lovely trifecta of savory, sweet, and crunchy. It may be vegetarian, but with its protein-rich quinoa and chickpeas, it's plenty filling.
from Carlsbad Cravings
Sweet, sticky teriyaki chicken and toasted macadamia nuts and coconut, and a wealth of crisp veggies make this rainbow salad full of amazing flavors and textures. The real showstopper though? Three words, pineapple. sesame. dressing.
from The Candid Appetite
Featuring a colorful array of roasted veggies on a bed of silky butter lettuce, this cobb salad is all gussied up for spring. The vegetables are plentiful and hearty, so you won't even miss the meat. Oh, and don't even get us started on that garlic-butter dressing.
from Simply Recipes
In this simple salad, tender, juicy steak, and sweet apples, carrots, and radishes sit atop a bed of greens. A sweet and savory miso vinaigrette packs an umami-punch and rounds everything out.
from Ambitious Kitchen
This is pretty much the lunch (or dinner) salad of our dreams. Toasted walnuts, tart dried cranberries, and apple, creamy goat cheese, grapes, avocado, and a light balsamic vinaigrette blow the original Waldorf Salad out of the hotel.
from Wild Greens and Sardines
We can't help but feel très French when eating this salad. There's just something very sophisticated about it, and this recipe in particular is quite the showstopper.
from Two Peas and Their Pod
Roasted cauliflower, dried cherries, red onion, orzo, feta, and spinach, tossed with a honey-lemon vinaigrette, make this salad pretty darn irresistible.
from Cafe Delites
Mango salsa combined with the most irresistible sweet and zesty cilantro-lime marinade (which conveniently doubles as a dressing), make this refreshing salad taste just like summer!
from Gimme Some Oven
Feta, chicken, bacon, avocado, tomatoes, red onion, romaine, and blue cheese all get tossed with a zesty red wine vinaigrette in this simple chopped salad. We're convinced we could eat this one every day.
from Climbing Grier Mountain
The star of this Middle Eastern-Mexican mashup is homemade spicy baked pita chips (which we can't stop eating), but it also includes a roster of other awesome ingredients, like queso fresco, grilled corn, and fresh dill and cilantro. It's one heck of a hybrid!
from Spoon Fork Bacon
There's a lot of healthy deliciousness going on in this springy salad, which features the most irresistible poppy seed vinaigrette!
from How Sweet It Is
Here, the boring old iceberg lettuce taco salad gets an exciting makeover. Loaded with healthy ingredients, and yummy flavors and crunch, it features a chipotle lime avocado dressing that we want to pour on everything.
from The Bojon Gourmet
This salad is the loveliest expression of spring. With a colorful array of fresh, crisp veggies, crusty sourdough croutons, hard-boiled eggs, and a creamy, tangy buttermilk-miso dressing that is to die for, this one's a keeper.
from FoodieCrush
Inspired by the CPK Original BBQ Chicken Chopped Salad, this one has all of the awesome flavors, but isn't a hidden calorie bomb. No one should have to work their salad off on the treadmill.


This recipe round-up was curated  and written by FoodieCrush contributor Hayley Putnam of Seven Day Weekend. Follow her foodie tastes and other flights of fancy on Pinterest and Instagram.

Thanks for stopping by and visiting FoodieCrush. Have something to say? I'd love to hear from you. Let me know in the comments below.
As always, thank you for reading and supporting companies I partner with, which allows me to create more unique content and recipes for you. All opinions are always my own.  
Are you following me on Instagram,  Twitter, Facebook and Pinterest? 
Thanks for reading and subscribe to FoodieCrush to have each post delivered straight to your e-mail box.