This simple, bright, and fresh shrimp recipe is ready in under 30 minutes, making it an easy dinner for anyone on the go or the perfect appetizer to take to a party. The lush orange and lemon citrus sauce coating the pan-seared shrimp leaves out the butter and cream but will still have you dipping your bread in for more.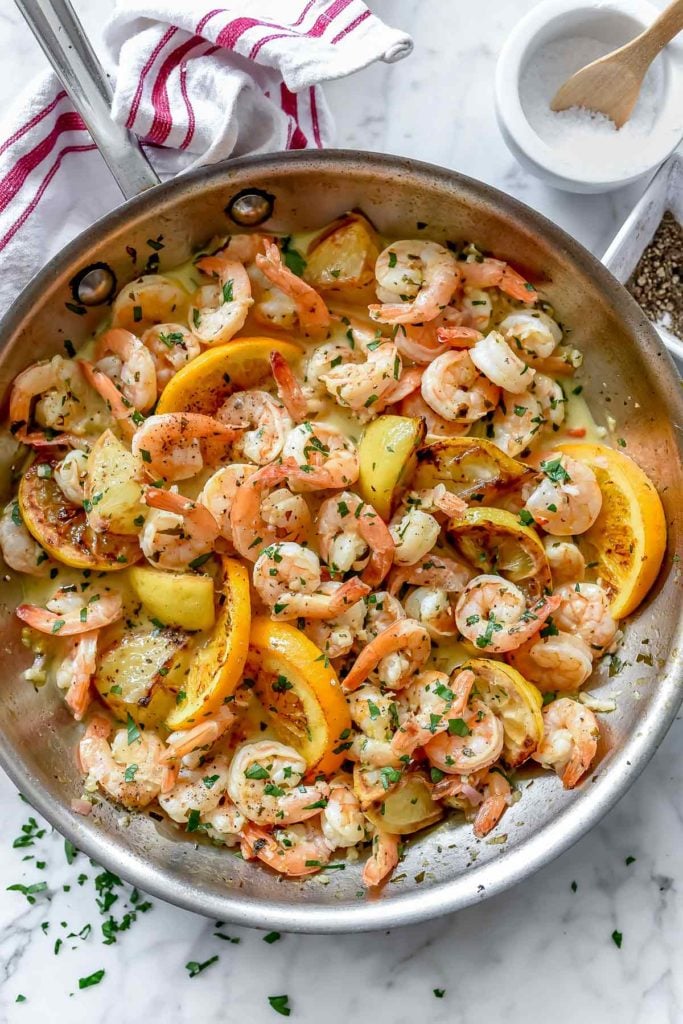 Easiest Shrimp Recipe
I'd have to say one of the most common complaints I hear about cooking at home is when you suddenly realize it's one of those days when dinner slips up in front of you and you have absolutely nothing planned to cook. Typically, that's when some would throw their hands up in the air, concede defeat, and then reach for a bowl, some cereal, and milk—or the closest take-out menu, whichever is easiest to get to first.
I know. I've been there.
That all-too-common predicament is one reason why this simple shrimp recipe spoke to me, because:
The ingredient list is short and simple.
It's healthy, low-cal, high in protein, and frigging delicious.
99% of the time I have the ingredients in my freezer, fridge, and in my pantry.
It's ready in under 30 minutes.
And it's amazingly adaptable to be served with a variety of sides or re-invented in other dishes for just about every one of the picky eaters.
Sorry cereal, you'll have to wait for your time to come.
This pan-seared shrimp recipe is one of the many fast, convenient, and classic dishes shared in my fellow blogger Robyn Stone's cookbook, Add a Pinch: Easier, Faster, Fresher Southern Classics. Robyn's blog of the same name has always featured recipes tied to her Southern roots, so when she decided to author a cookbook, her story was already well defined by her heritage of family cooking, one that she's embraced for years and we all love.
And I'm not the only one, others agree, including Amazon who recently named it one of the Best Cookbooks of 2017.
Add a Pinch features loads of classics that are familiar to many, but with a healthier twist. These recipes don't rely on canned soups or processed foods, but instead use fresh ingredients to showcase their true Southern charm.
I love recipes like these. Simple, not too pretentious, and the kind of food you'll be craving again and again. With a modern spin, these dishes all contribute to this new Southern cooking handbook that belongs in every home cook's kitchen
Flipping through Robyn's cookbook is like taking a tour of the South, and with the recent surge of love for Southern cooking rounding about the country, its classic recipes are sure to ring a bell for many. Choosing what to make first from her cookbook was a challenge because I'm always drawn into comfort-food make for real families.
There's no shortage of inspiration here thanks to recipes like Weeknight Chicken Pot Pie, Sausage and Grits Casserole, Lulu Belle's Lemon Meringue Pie, and her Grandmother Earlene's Biscuits, because every Southerner or Southern wannabe needs to have a proper biscuit recipe at the ready.
But echoing the fact I had all of the ingredients handy for her Citrus Shrimp recipe made it all the easier to decide. And then, after tasting this recipe I knew it was one of my favorite types: One that can be dressed up for special occasions, or dressed down for a simple weeknight dinner. It's pretty much perfect in every way.
What's in Pan-Seared Shrimp?
To make the best citrus sautéed shrimp, you'll need:
Olive oil
Orange juice
Lemon juice
Garlic
Red onion
Fresh parsley
Red pepper flakes
Shrimp
Orange and lemon slices
What Type of Shrimp Should I Buy?
I typically like to use Wild Caught Key West Pink Shrimp (10/15) because they're bigger and sweeter than most imported from other countries. This time around I used smaller white shrimp (31/40) because it's what I had, and, they're cheaper by the pound.
I keep a bag in the freezer exactly for times like this, and then simply run lukewarm water directly into the bag of frozen shrimp to defrost them, draining the water and repeating the process until the shrimp have thawed, usually in about 10 minutes or so.
How to Cook Shrimp on the Stove
Haven't yet learned how to sauté shrimp? Don't sweat, it's easy and takes just minutes to complete.
The shrimp I purchased came deveined with the shells on, so a quick swipe of the shells was all that needed to be done. I like to keep the tails on for presentation sake, but feel free to remove them if you'd prefer.
Once the shrimp are prepped, this recipe seriously couldn't be easier. The olive oil, citrus juices, garlic cloves, and onion are all whisked together and then cooked all at once until reduced by half when the shrimp is added in. Then, it's just 5 minutes more before it's time to garnish, season and BOOM! Shrimpies are on the table.
What I found totally surprising about this recipe is how lush, and creamy, and utterly decadent the citrus sauce became once it reduced and cooked down—and yet, no cream or butter is called for in the recipe. Simmering the citrus juices with the shrimp resulted in a sauce that was so flavor-infused I couldn't stop licking my fingers, or dipping chunks of bread to sop up the sauce, similar to my favorite steamed clam recipe that DOES include butter and cream. This one is definitely on the healthier side.
Serving Suggestions for Citrus Shrimp
As mentioned above, these shrimp can easily be adapted for oh, so many dishes. Here are a few ideas I had once I'd made them:
Serve with chunks of warm, buttered sourdough bread as the perfect community appetizer, as witnessed above.
Or for party size, top the shrimp over slices of toasted garlic crostini with a slather of creamy goat cheese or ricotta for a super simple finger food.
Toss with linguine or angel hair pasta and serve hot with a sprinkling of Parmesan cheese.
Add cut asparagus spears or spiralized zucchini with the shrimp in the last 5 minutes of cooking, and then serve alongside white or brown rice, or a nutty farro or other favorite grain.
Use the shrimp as a fast and easy filler for tacos with crisp Mexican coleslaw and a mango, strawberry and avocado salsa.
Add to a simple spinach, arugula, or green salad that makes a meal with fresh chunks of avocado and red onion tossed with lemon infused olive oil.
Tips for the Best Pan-Seared Shrimp
I didn't veer too far from Robyn's original recipe except for the fact I cut the recipe in half to serve my family of three. Her original recipe as noted below calls for 3 pounds of shrimp and serves six, but for just the three of us, that's a whole lot of crustacean, and we still (thankfully) had leftovers. I also added a few more garlic cloves and some crushed red pepper for a little heat.
Be sure to use freshly squeezed orange juice and lemon juice for this pan-seared shrimp recipe. Freshly squeezed makes a huge difference here!
If you wind up with leftovers, I recommend enjoying the shrimp cold since seafood typically doesn't reheat that well.
If you make this recipe, please let me know! Leave a ⭐️⭐️⭐️⭐️⭐️ rating on this recipe below and leave a comment, take a photo and tag me on Instagram with #foodiecrusheats.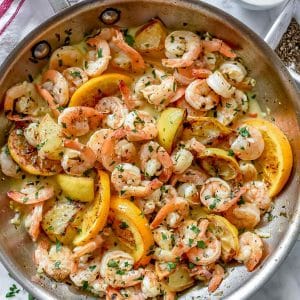 Print
Pan-Seared Citrus Shrimp Recipe
This simple, bright, and fresh shrimp recipe is ready in under 30 minutes, making it an easy dinner for anyone on the go or the perfect appetizer to take to a party.
Ingredients
1

tablespoon

olive oil

1

cup

fresh orange juice

, (about 2 oranges)

½

cup

fresh lemon juice

, (about 3 lemons)

5

garlic cloves

, minced or pressed

1

tablespoon

finely chopped red onion

, (or shallot)

1

tablespoon

chopped fresh parsley

Pinch

red pepper flakes

Freshly ground black pepper and kosher salt

3

pounds

medium shrimp

, peeled and deveined

1

medium

orange

, cut into wedges or slices

1

medium

lemon

, cut into wedges
Instructions
In a medium bowl, whisk together the olive oil, orange juice, lemon juice, garlic, onion, 2 teaspoons of the parsley, and pinch of red pepper flakes. Pour the mixture into a large skillet set over medium heat. Bring to a simmer and cook until reduced by half, about 5 to 8 minutes.

Add the shrimp, season with kosher salt and freshly ground black pepper, cover, and cook until they turn pink, about 5 minutes.

Top with the remaining parsley and serve with orange and lemon slices on the side.
Notes
Fresh Gulf shrimp is a luxury for some of us landlocked folks, so I use frozen shrimp here instead. But if you can find fresh gulf shrimp, especially the sweet Key West Pinks of Florida, definitely go that route instead.
*Note that you can add the orange and lemon slices to the sauce to cook and brown slightly if desired.
Nutrition
Serving:
1
g
|
Calories:
291
kcal
|
Carbohydrates:
11
g
|
Protein:
47
g
|
Fat:
6
g
|
Saturated Fat:
1
g
|
Cholesterol:
572
mg
|
Sodium:
1764
mg
|
Potassium:
359
mg
|
Fiber:
1
g
|
Sugar:
7
g
|
Vitamin A:
188
IU
|
Vitamin C:
61
mg
|
Calcium:
351
mg
|
Iron:
5
mg
More Easy Shrimp Recipes to Try
Discover more recipes by Robin on her site Add a Pinch, and purchase her cookbook here.
We send good emails. Subscribe to FoodieCrush and have each post plus exclusive content only for our subscribers delivered straight to your e-mail box.
Follow me on Instagram, Facebook, Pinterest and Twitter for more FoodieCrush inspiration.
As always, thank you for reading and supporting companies I partner with, which allows me to create more unique content and recipes for you. There may be affiliate links in this post of which I receive a small commission. All opinions are always my own.