This sweet, spicy and smoky BBQ sauce is ready for ribs, wings, chicken and pork, plus 10 more favorite BBQ recipes that are finger lickin' good.
In my book, a good old summer barbecue simply isn't up to snuff unless you've exhausted the supply of napkins.
Go ahead and leave be those fancy-schmancy cloth napkins you so out of character ironed after last Thanksgiving for next year's turkey throw down, because when it's Q-time, manners that fit dinner with the queen go right out the window. BBQs are the time to get in touch with our inner caveman, dig in with our hands, gnaw our way to the bottom of the pile and finally swipe that barbecue mustache off your lip. Don't miss that bit on your chin, either.
A spicy and sweet bbq sauce is the ticket to my flights of food fancy. This BBQ sauce is the epitome of the two and is ready and willing to submit to your grilling pleasures.
Now that's a partner in grilling I can get down with.
The beauty of this BBQ sauce lies in it's versatility. This past weekend we slathered it stem to stern over baby back ribs one night, then grilled chicken thighs the next. And while I don't know when we'll slather it over fish that's hot off the coals, it would surely make a tasty dipping sauce for a grilled cheesy bread concoction.
I'm getting an idea…
About the Recipe
Fresh, sweet raspberries are at the heart of this sauce. If you're one who isn't into a seeded sauce (because I am) strain the seeds from the cooked sauce by scraping it through a metal strainer with a rubber spatula. Be patient, it will take a few minutes, and remember you'll end up with less sauce in the end.
The next layer of sweet comes from the addition of not just one sugar, the traditional brown sugar, but also granulated white to deliver a balanced sweetness that isn't too molasses-ey, nor too Jolly Rancher sweet.
Heat comes from both a sautéed jalapeño and the smoky-rich chipotle pepper in adobo sauce. You'll want to add your chipotles, and the sauce, to taste. We found that making the sauce spicier than you would expect (like when you sneak a bite because your husband isn't looking) gave it a more pronounced heat on the ribs and grilled chicken. This might take some experimentation on your part, to make it to your liking.
I'll be sharing my ribs recipe the first weekend of June when I'll be rolling out a new Saturday recipe series in the theme of "Weekend Eats." The recipes will be created and shared in hope to inspire you to get yourself into, and for the summertime sometimes out of, the kitchen for a meal to share with friends and family.
Because that's what good eats are all about.
If you make this recipe, please let me know! Leave a comment below or take a photo and tag me on Instagram or Twitter with #foodiecrusheats.  
Print
Raspberry Chipotle BBQ Sauce Plus 10 Finger Lickin' Barbecue Sauce Recipes to Light Up the Grill
Ingredients
1

tablespoon

vegetable oil

½

large or 1 small jalapeño

minced

2

chipotle peppers

minced, plus 1-2 tablespoons adobo sauce depending on heat

1

teaspoon

garlic powder

16

ounces

raspberries

⅓

cup

granulated sugar

⅓

cup

light brown sugar

⅓

cup

apple cider vinegar

¼

cup

water

1 ½

teaspoons

liquid smoke

1

teaspoon

kosher salt

1

tablespoon

cornstarch
Instructions
Heat the vegetable oil in a medium saucepan over medium high heat. Add the minced jalapeño and cook for 2 minutes or until softened, stirring often. Add the garlic powder, chipotle pepper and adobo sauce and cook for 1 minute. Add the raspberries, granulated sugar, brown sugar, cider vinegar, water, liquid smoke and kosher salt and bring to a boil. Stir in the cornstarch, reduce to simmer and cook for 15 minutes or until thickened. Add more adobo sauce to taste. Cool and refrigerate until ready to use. Serve on BBQ ribs, pork or chicken.

** Note: If you prefer a smooth sauce, strain the sauce through a mesh strainer to get rid of the seeds.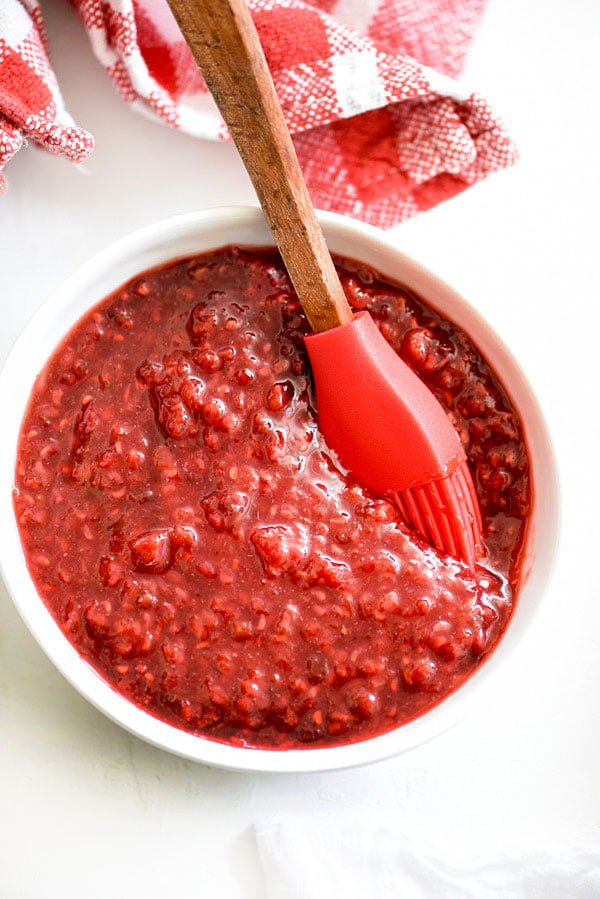 10 More BBQ Sauces to Wet Your Whistle
There's as many "favorite", "best" and "unbelievably good" barbecue recipes out there than you can shake a stick at. Here are a sampling of 10 that will put you in the double down napkin-wiping frame of mind.
Homemade Kansas City Barbecue Sauce from Gimme Some Oven
Sriracha Bourbon Barbecue Sauce from Barefeet In the Kitchen
Roasted Strawberry Rhubarb BBQ Sauce from In Sock Monkey Slippers
Brown Sugar Barbecue Sauce from Baked by Rachel
Spicy Mustard BBQ Sauce from Add a Pinch
Blueberry BBQ Sauce from The Taylor House
Maple Bourbon Barbecue Sauce from Chef Savvy
Dr. Pepper Barbecue Sauce from Miss In the Kitchen
Cilantro Orange Barbecue Sauce from Mountain Mama Cooks
Korean BBQ Sauce from Little Spice Jar
Thank you for reading and here's to cooking something good!
As always, thank you for reading and for supporting companies I partner with, which allows me to create more unique content and recipes for you. All opinions are always my own.  
Are you following me on Instagram,  Twitter,  Facebook  and  Pinterest? 
Thanks for reading and subscribe to FoodieCrush to have each post delivered straight to your e-mail box.