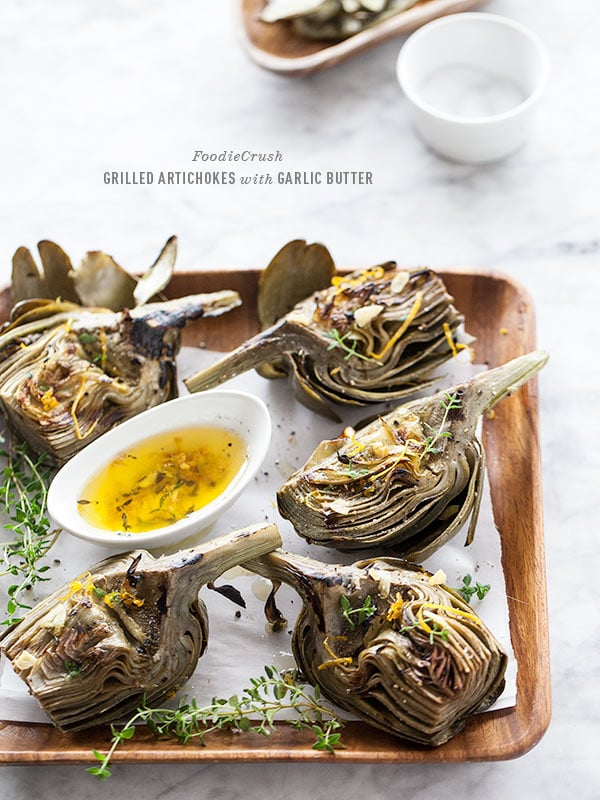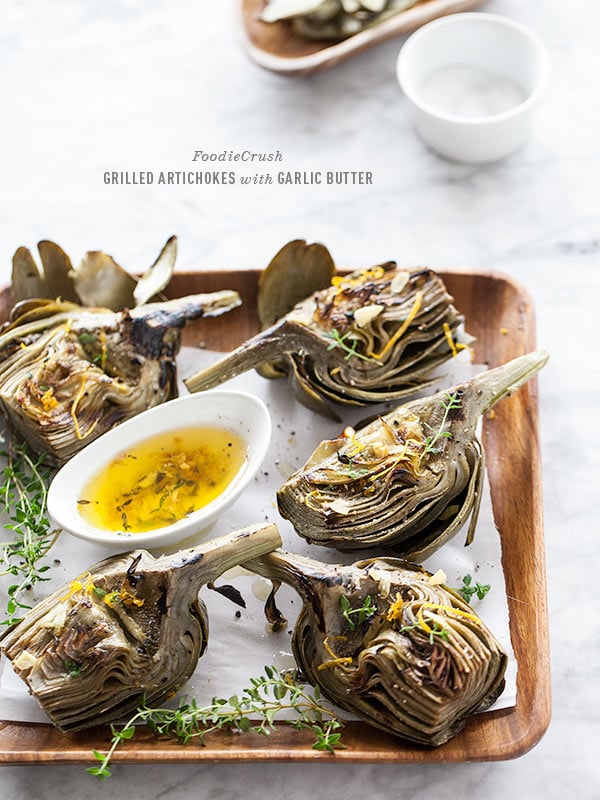 This weekend is a biggie for one 8-year-old about to be 9-year-old in our house. Birthday time!
If you've followed be for very long, you know my daughter Smudge prefers pie over cake any day, which means I'll be making and adorning her favorite Yellow Cake Pie with candles for the third year in a row. This year I'm going to pardon the mousse pudding mix in favor of the homemade pudding I made in Lauren's Chocolate Cream Pie recipe mixed with some whip cream for loft. 
I'm pretty sure it's going to be a hit once again for the twelve 9-year-olds who are sleeping over. All those girls in one house, high on sugar and water slides and karaoke? Why oh why do I do this to me and my husband? Oh, that's right. Because I'm a mom to a rock-star-lover-girl! I'd do anything for her, especially on her birthday. 
Once we've sent the gaggle of girls home with their own parentals, it'll be time to get the family birthday BBQ into high-speed prep. While we have a few menu ideas on the short list, we haven't quite made up our minds as to which direction we're going. Traditional cookout, Mediterranean or something Asian inspired? Any input here readers?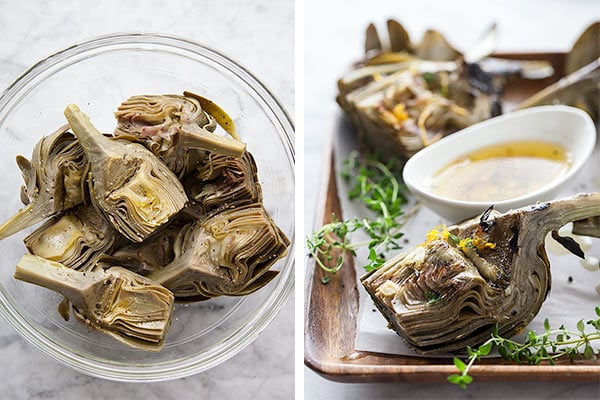 If we go for the traditional grilling route, this Grilled Artichokes with Garlic Butter recipe I created for Go Bold With Butter would be tops on the list. I made them for dinner just two nights ago since my favorite artichoke producer finally showed up in Costco.
I don't know if I'll ever eat a choke with plain butter and mayo again thanks to the caramelized garlicky chunks I now scoop up with each leaf. More napkins please.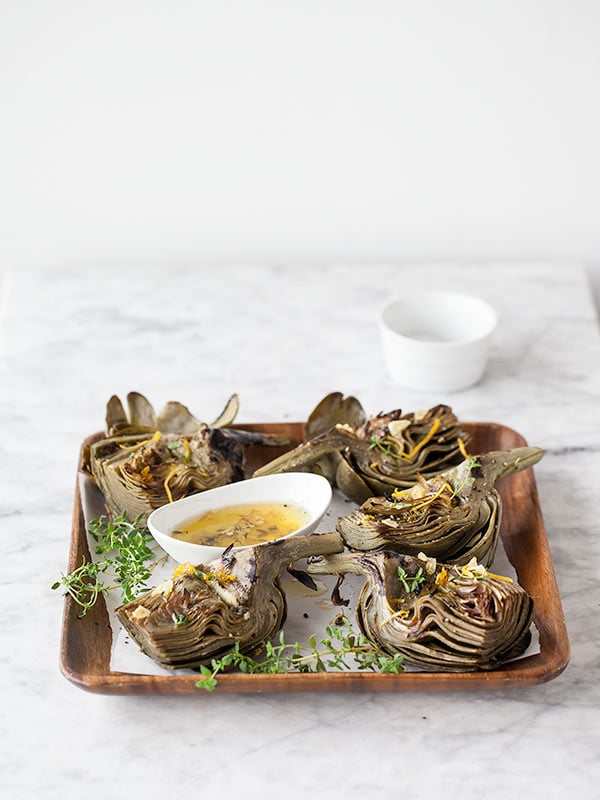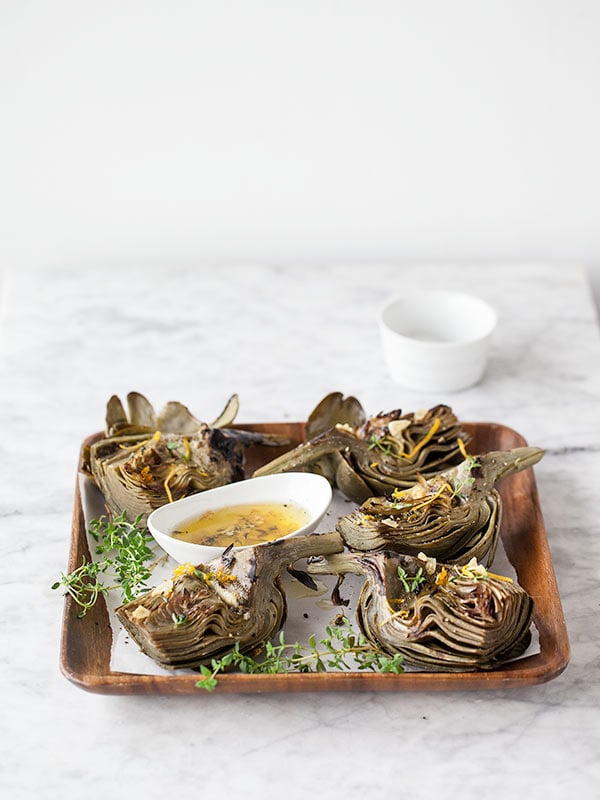 Print
Grilled Artichokes with Garlic Butter
Ingredients
For the Artichokes

2

large artichokes

1

tablespoon

black peppercorns

4

cloves

garlic

1

lemon

halved

Olive oil

Kosher salt and freshly ground black pepper


For the Lemon Garlic Butter

½

cup

1 stick butter

2

lemons

zested and juiced

2

cloves

garlic

thinly sliced

½

teaspoon

kosher salt

Leaves

from 6-8 sprigs of fresh thyme
Instructions
For the Artichokes

With a serrated knife, cut artichokes into quarters and cut sharp tips of leaves off. Scoop out the prickly center part of the artichoke, and discard. Immediately rub the cut side of the artichoke with a lemon half to help avoid yellowing. Place artichokes in a large stockpot filled with cold water.

Add peppercorns and garlic cloves. Squeeze the juice of the lemon into the water and add the leftover lemon skin/peel to the water. Bring artichokes to a boil, reduce to simmer and cook for 20-25 minutes or until artichoke leaves easily pull from the head and the bottoms of the artichokes are tender.

Remove from the stock pot and drain.

Prepare a grill with hot coals or a gas grill over high heat. Drizzle artichokes with olive oil and kosher salt and pepper.

When grill is hot, place artichokes on grill and cook for 3 minutes each side or until nice grill marks appear. Remove and serve immediately or at room temperature with garlic lemon butter (recipe follows).


For the Lemon Garlic Butter

Melt the butter in a small saucepan over low heat. Remove from heat and allow the solids to cool slightly, then skim the fat solids from the clear butter below and discard the solids. Add lemon zest, garlic cloves, kosher salt and fresh thyme and cook on medium until garlic browns slightly and becomes aromatic, about 5 minutes.

Add lemon juice to butter mixture and mix well.

Drizzle over artichokes or on the side as a dipping sauce.
Thanks for reading and please keep in touch by subscribing to FoodieCrush and follow me on Twitter,Facebook, Pinterest. This site includes affiliate shopping links of which I receive a small percentage of sales to allow me to create new and special content like this for my readers, so thank you for your support.