A garlic marinade infuses grilled skirt steak topped with a garlic and herb chimichurri sauce with fresh cut tomatoes and red onions.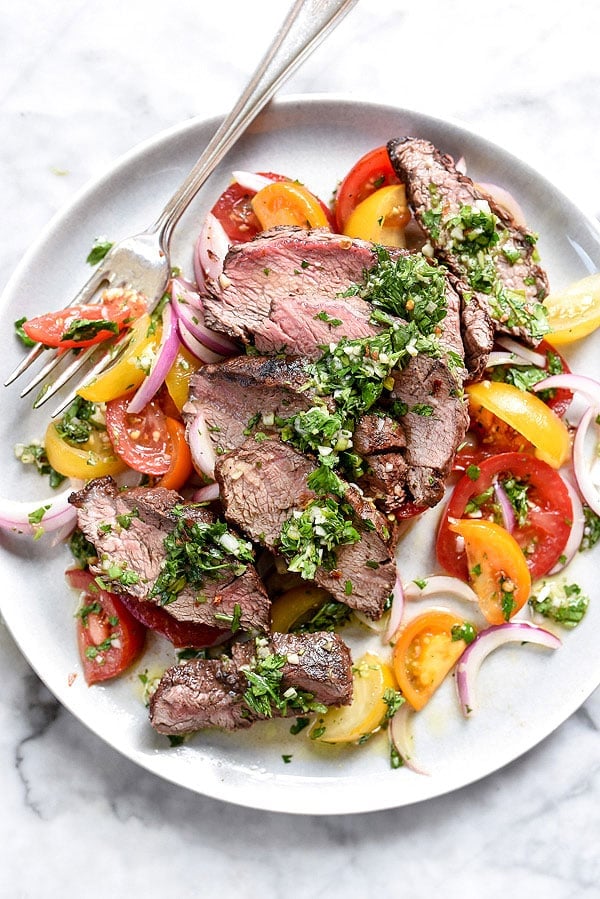 Everyone has a love language and blogger Heather Christo's is food.
Her way of saying "I love you," comes in the form of sweet and spicy apricot chicken wings, creamy mushroom pasta, and blackberry scones with vanilla glaze. Those are just a few of the recipes from her new book, Pure Delicious: More Than 150 Delectable Allergen-Free Recipes Without Gluten, Dairy, Eggs, Soy, Peanuts, Tree Nuts, Shellfish, or Cane Sugar.
We've been fans of Heather's for years (as featured on my list of 5 Food Blogs I'm Following Now), and always come back to her blog for the brightly-hued, eye-catching photography and inspiring recipes. This culinarian honed her culinary chops at the famous Le Cordon Bleu and for years brought those skills to family favorite recipes on her blog Heather Christo.
But then things took a swift left turn.
Two years ago, Heather and her young daughters, Pia and Coco, discovered they ALL had a slew of food allergies that were wreaking havoc on their health. As a result, they were forced to drastically change their diets.
As daunting of a task as it sounds, Heather changed her cooking style without sacrificing any flavor, and transitioned the recipes on her blog to food-allergen-free recipes fit for families, that then turned into a cookbook with delectable recipes like this Grilled Skirt Steak with Chimichurri recipe at the bottom of this post.

Heather recalls, "When I got our diagnosis, the first place I went was to Amazon to find the allergen-free cookbooks. Besides the gluten, dairy, egg trifecta, all three of us have other random food allergies, and my oldest is also allergic to hazelnuts, peanut, soy, garlic and cane sugar among others, so we really needed help!" she explains. "What I found freaked me out."
Resources for her situation were limited at best. "There was almost nothing — just a book here or there that focused on one or two of the allergies or just gluten free. So, I tried to piece-meal together something that worked, only it didn't. When I couldn't find the resources I needed, I decided I would just figure it out myself," she says.
"I got really focused on ingredient exchanges. Like figuring out what grains we could have instead of wheat (a lot it turns out), what we could use in place of dairy, and how to mimic eggs in baked goods. Baking especially was a long and complicated learning curve. I would say in no longer having access to all of the foundational items that I was used to cooking and baking with, I was forced to become really adventurous with new ingredients and techniques. Ultimately I am grateful, not only for the better health, but for being pushed outside of my comfort zone. I have really grown as a recipe developer and a creative."
Heather turns to the seasons for her cooking inspiration. "I am lucky to live in the Pacific Northwest where we have pretty much every ingredient you could think of at your fingertips, and the freshness and constantly changing produce is very inspirational," she says.
Pure Delicious is proof of Heather's evolution of a savvy and adaptable culinary creative. It's chockfull of vibrant photography and healthy, mouthwatering recipes, including Heather's personal favorite, spaghetti and meatballs.
Heather admits writing the book was an intense process.
"It was probably the most challenging thing I have ever done as a recipe developer, a creative, and now a mad scientist! It was just a frenzied year of rapid pace cooking and experimenting. I looked like I had been put in a blender and spit out for the majority of 2014."
Her hard work was rewarded by being able to bring her children some normalcy in their diets. "They got pizza night back, donuts and pancakes on the weekends and always have a delicious cupcake for birthday parties. There is nothing like the look on their faces when I come up with a new recipe that they thought they would never be able to have again.
Her cooking style is motivated by the health and happiness of her children, but she also loves taking care of her friends and family, who frequently eat at her house. "I just want to make them all happy, and my way to take care of them is through feeding them."
And now, my list of 10 Q's for Heather's A's
1. Describe your blog in 3 words:
Innovative, inclusive, delicious!
2. If you could be one blogger other than yourself, who would you be?
That is hard because I admire so many. Can I just wish that I was as warm as Ree Drummond, as funny as Bev Weidner, as imaginative as Tieghan Gerard and could take pictures like Naomi Robinson, while being as carefree as Gaby Dalkin? If I could just be that person, I would be soooo happy….
3. Which 3 blogs do you follow/are obsessed with/can't live a day without?
Shutterbean
— her pictures are AMAZING and I love everything that comes out of her mouth, errr, I mean keyboard.
Half Baked Harvest
 — I have to see what gorgeous recipe she has come up with every day. I am just fascinated by how much obscenely beautiful content she can crank out.
Byrdie Beauty Blog
 — I can't help it, I am a beauty product junkie, and I love to see what's new. Like every day. 
4. What is the one kitchen tool you could never give up?
My blender and I have a deep relationship. I use it about 4 times a day on average.
5. What dish are you obsessed with mastering that you just can't get quite right?
Gluten Free Vegan Cinnamon Rolls. But when the day comes when I do get it right, look out — I'm going to gain 10 lbs, STAT.
6. What did you have for dinner last night?
Sushi and lots of saki.
7. What's one secret talent outside of the kitchen nobody knows about you?
I'm an artist. Oh! and I'm freaking amazing at scrabble.
8. You're happiest when cooking/eating?
No, I'm happiest on a beach in Greece, drinking white wine. But other than that, yes, and what a tremendous gift to be able to do this as a profession.
9. The one ingredient to your success is?
Perseverance. In the words of Lukas Graham, "I only see my goals, I don't believe in failure."
10. How did your decision to go gluten-free (and dairy and egg!) affect your whole family and your cooking dynamic?
Because it was three of the four of us with food allergies, my husband had to come along for the ride! Initially I would have said, "what didn't it change?!" but once the dramatics cooled off I realized that it was going to be all about fresh whole foods until I could get a firm grip on the changes (and there is nothing bad about that!) A lot of it we were already doing in an attempt to "be healthy," but it turns out the details are where it counted. No more flour — ever, no pat of butter or splash of cream to round out a sauce, and no sprinkle of cheese across a salad. It really changes the way you cook and live when almost all packaged foods are out the window, and when you know you can't just turn to the foods you have known and loved your whole life. I really had to become accountable for everything going into my children's mouths — it was an awesome responsibility. But lucky for me our health was based on a cooking challenge, so I did what I do best, I got cooking.
Thank you Heather for sharing your inspiring story, and being one of our favorite foodie crushes.
Grilled Skirt Steak with Chimichurri Recipe from Pure Delicious
Heather's cookbook is loaded, and I mean LOADED, with recipes that are totally accessible for those with food allergies and are mutually attractive to those without.
In fact, when leafing through the book, you'd never even think it is based on allergy-free recipes. Fresh. Flavorful. And totally family friendly. These are recipes that are simply delicious, fulfilling and totally cravable.
But for anyone dealing with transitioning to a special diet, this book is more than just recipes. It also includes 50+ pages on how to transition yourself and your family to a clean diet free of the major allergens. But with recipes everyone in the family will adore.
This grilled skirt steak is a simple recipe totally ready for weeknight but special enough for weekend entertaining. We've made it four times already, and it will surely be on the menu time and time again.
The recipe calls for skirt steak, a less expensive cut of meat similar to flank steak. You can also substitute hanger steak, or if you're feeling money, splurge for flank steak.
The steak is marinated Argentinian style in olive oil, red wine vinegar, garlic and fresh oregano. The longer you marinate, the more flavor is infused. Overnight marinating is optimal, but if you're in a pinch like I have been, even an hour will give it a substantial flavor hit.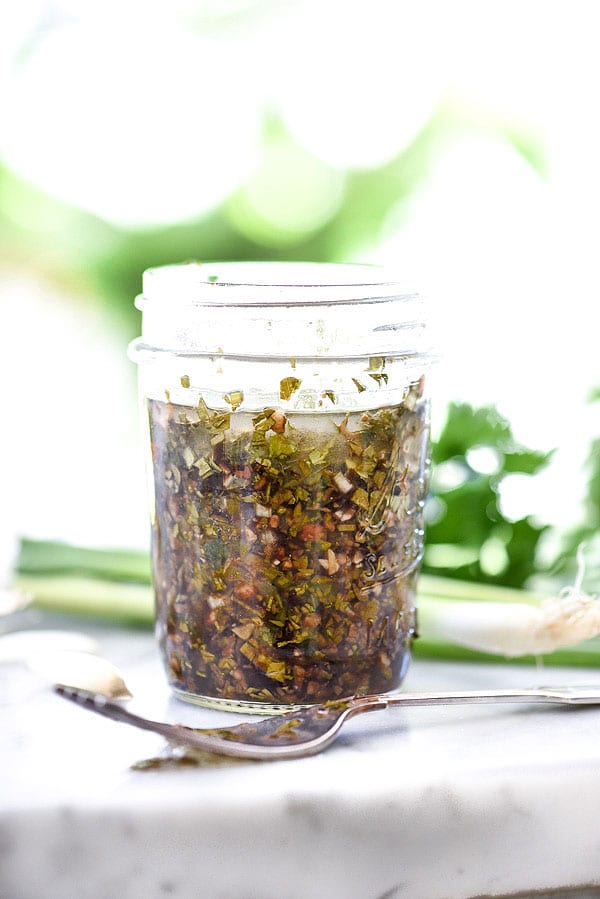 The garlicky-herby flavor is layered with the topping of a classic chimichurri sauce drizzled over the top of the steak and mixed into the tomato and onion salad. No carbs here! Just tons of flavor.
I'm planning on eating my tomato salads this summer with this sauce whether there's steak or not!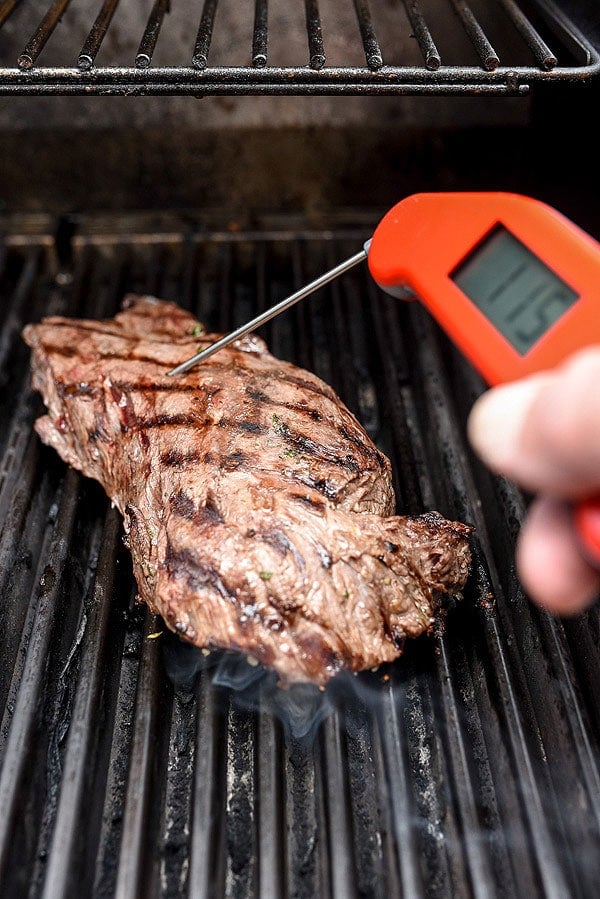 In my opinion, skirt steak is optimally grilled to a medium rare, and once pulled from the grill will continue to cook. So be sure to check your temperature and pull from the grill about 10 degrees before your preferred doneness.
Because we like our meat medium rare so we pull it at 125 degrees F, cover with foil, and allow to rest so the juices stay in the meat, not on the platter when cut. The Thermoworks Thermopen is essential in our kitchen. Sure, it's an investment, but it's the best temperature gauge I've yet to find.
If you make this recipe, please let me know! Leave a comment below or take a photo and tag me on Instagram with #foodiecrusheats.
Grilled Skirt Steak with Chimichurri
A garlic marinade infuses grilled skirt steak topped with a garlic and herb chimichurri sauce tossed with fresh cut tomatoes and red onions and spooned on top of the grilled steak.
Ingredients
For the Steak

2

pounds

of skirt steak

6

garlic cloves

chopped

1

tablespoon

kosher salt

2

tablespoons

fresh oregano leaves

1/2

cup

red wine vinegar

2/3

cup

olive oil

4

cups

sliced ripe tomatoes

1/2

red onion

thinly sliced

For the Chimichurri Sauce

1

cup

fresh Italian parsley leaves

1/4

cup

fresh oregano leaves

3

green onions

3

garlic cloves

1/2

teaspoon

red pepper flakes

1/2

cup

olive oil

1/4

cup

red wine vinegar

3

tablespoons

fresh lemon juice

Kosher salt
Instructions
Place the meat in a plastic gallon freezer bag and add the garlic, salt, oregano, vinegar, and olive oil. Seal the bag and massage the ingredients together and into the meat. Marinate in the refrigerator for at least 4 hours up to overnight.

To make the chimichurri sauce: Finely mince the parsley, oregano, green onions, and garlic. Combine them in a medium bowl with the red pepper flakes, olive oil, vinegar, and lemon juice. Mix well and season with the kosher salt and add more to taste. Make a day ahead and store in the refrigerator until ready to serve.

Preheat the grill to high. Pull the steaks and allow to rest at room temperature for 30 minutes. Pull the steaks from the marinade and place on the hot grill. Baste the steaks with the remaining marinade and grill for 3-5 minute son each side for medium rare, or until steaks come to 125 degrees F. Transfer to a plate or cutting board and rest for 10 minutes.

While the meat is resting, place the tomatoes and onion in a medium sized bowl and add two heaping tablespoons of the chimichurri sauce. Gently toss to coat and transfer to a serving platter.

Slice the steak across the grain and pile on top of the tomato salad. Drizzle with generous amounts of the chimichurri sauce, and pass at the table for more.
Visit Heather and her blog at Heather Christo.
Purchase her book Pure Delicious: More Than 150 Delectable Allergen-Free Recipes Without Gluten, Dairy, Eggs, Soy, Peanuts, Tree Nuts, Shellfish, or Cane Sugar here.
This post was compiled by Heidi and FoodieCrush contributor Hayley Putnam. Follow Hayley and her foodie tastes and other flights of fancy on Pinterest and Instagram.
As always, thank you for reading and for supporting companies I partner with, which allows me to create more unique content and recipes for you. All opinions are always my own.  
Are you following me on Instagram, Twitter, Facebook and Pinterest? 
Thanks for reading and subscribe to FoodieCrush to have each post delivered straight to your e-mail box.  
SIGN UP FOR FREE!
THANK YOU FOR VISITING FOODIECRUSH.COM

Subscribe to the FoodieCrush email newsletter and have every new post plus exclusive content delivered straight to your email box,
FOR FREE!