This hearty and delicious grilled romaine salad is dressed with a sweet and tangy balsamic vinaigrette and topped with prosciutto wrapped shrimp, cranberries, walnuts, and creamy goat cheese.
I like to think I have an adventuresome palate. Not that you'll find me eating deep-fried crickets anytime soon—or should I say again—like that time I did in Thailand. But that is another story for another day.
Boring salads are my nemesis. I'm more into loading it on with a fresh and vibrant variety of flavors when it comes to dressing up the greens. Just one reason why I'm happy to share this salad recipe as part of my partnership with DeLallo Foods and their new line of SaladSavors®.
I've been on a grilling charge this month and could see no reason to stop at lettuce. Crunchy romaine hearts are sturdy enough to embrace a charcoal sear so that's whey they were my top choice as the base of this hearty salad.
Next up, protein. If I'm making a salad for a main meal I need to add a dose of protein to get me through to my next mealtime. Shrimp is one of my favorite salad pairings, and since I was already heating up the grill, a wrap of salty prosciutto around my soon to be crusty crustaceans thanks to the char of the embers was exactly what was in order.
Then it was time for my favorite part, the colorful accoutrements. That's fancy speak for tasty toppings.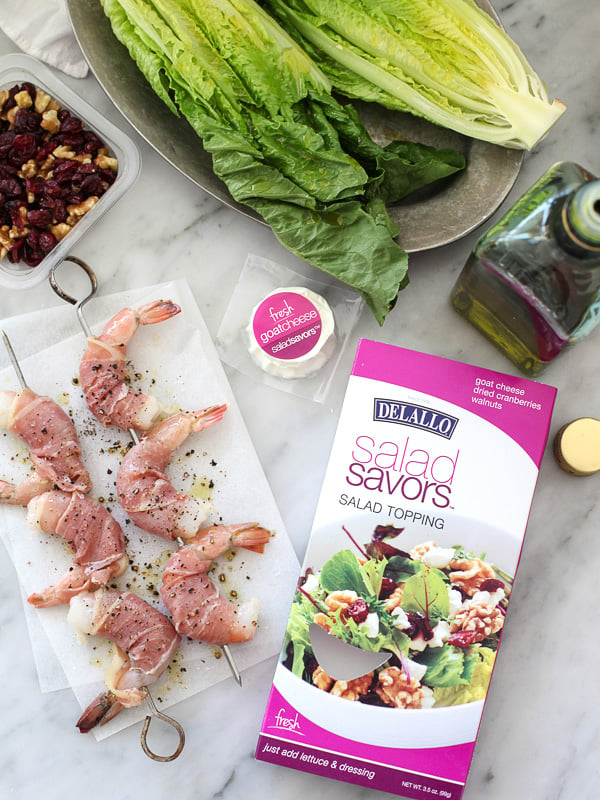 I'm always drawn to the mash-up of salty and sweet, creamy with crunch. Which makes DeLallo SaladSavors® variety of salad toppings a happy addition to my usual salad fare.
They should maybe think about renaming them to TimeSavors because they provide just the right pre-portioned amount of toppings in one simple box, sitting right next to the bagged salads at the grocery store. You don't even have to think about what flavor combo is going to work well together because they already have. Each DeLallo SaladSavors includes a featured cheese paired up with a complementary antipasti, nuts and dried fruit. Just grab and go.
Or maybe change the name to MoneySavors because I'm not buying a log of goat cheese to go bad in the fridge or a bag of cranberries to become stale in the cupboard because I got bored with the salad combination before I used up my one and done ingredients.
I'm really liking that.
This time around I chose the Fresh SaladSavors, their salad topping combo that includes goat cheese, dried cranberries and chopped walnuts. Oh how I loved how the goat cheese melted just a bit when it hit the warmed, grilled lettuce.
The final touch came when I mixed up a batch of creamy balsamic dressing (which is essentially this recipe, just a smaller batch, and with a touch of cream).
My salty / sweet cravings were completely satiated and I was even full 'til dinner. Take that!  Never shall a boring salad pass by these lips again.
You can find SaladSavors in the refrigerated section of the produce department in Winn/Dixie, King's, Giant Eagle and select Walmart stores with more stores added in the near future. If you can't find them locally you can always order them online and download a coupon to try them for yourself.
Print
Grilled Romaine Salad with Prosciutto Wrapped Shrimp
Ingredients
⅓

cup

extra-virgin olive oil

, plus 2 tablespoons

1

tablespoon

balsamic vinegar

1

teaspoon

minced garlic

, about 1 small garlic clove

1

teaspoon

dijon mustard

1

teaspoon

cream

pinch

of sugar

kosher salt and freshly ground black pepper

6

large raw shrimp

, U-15, shells removed

6

slices

prosciutto

2

hearts of romaine lettuce

, split in half lengthwise

1

DeLallo Fresh SaladSavors® salad topping
Instructions
Preheat an outdoor grill to high heat for about 10 minutes.

In a blender or food processor mix ⅓ cup extra virgin olive oil, balsamic vinegar, garlic, dijon mustard, cream and a pinch of sugar and process until smooth. Season kosher salt and freshly ground black pepper to taste.

Wrap each shrimp with a slice of prosciutto. Thread 3 wrapped shrimp on metal skewers or wooden skewers that have been soaked in water for about 10 minutes. Repeat with remaining shrimp.

Drizzle shrimp with one tablespoon of olive oil and season with kosher salt and freshly ground black pepper.

Drizzle the additional tablespoon of olive oil on the heads of romaine lettuce and season with more kosher salt and pepper.

Grill the shrimp for 2-3 minutes on each side or just until opaque. Grill the heads of romaine lettuce cut side down for about 3-4 minutes on one side or until grill marks appear.

Plate the heads of lettuce on a platter cut side up. Sprinkle with the SaladSavors® salad toppings—goat cheese, dried cranberries and walnuts. Drizzle the balsamic dressing and season with kosher salt and freshly ground black pepper to taste.
This post is in partnership with DeLallo Foods. As always, thank you for reading and supporting companies I partner with, which allows me to create more unique content and recipes for you. This post contains affiliate links. As always, all opinions are my own.  
Are you following me on Instagram, Twitter, Facebook and Pinterest? Thanks for reading and  subscribe to FoodieCrush to have each post delivered straight to your e-mail box.